Feature F1 Unlocked
THE STRATEGIST: Did one split second decision cost Ferrari a 1-2 in Singapore?
The Singapore Grand Prix finally brought us a winner who wasn't a Red Bull driver with Ferrari's Carlos Sainz dominating the race from start to finish. He was joined on the podium by Lando Norris and Lewis Hamilton – but should it really have been Sainz's team mate Charles Leclerc on the second step?
What could Ferrari have done differently to seal a 1-2 finish at the Marina Bay night race? Ex-Aston Martin race strategist Bernie Collins delves into the data to see if it could have been an even better night for the Scuderia in Singapore…
READ MORE: Sainz holds off Norris and fast-charging Mercedes pair to take sensational Singapore Grand Prix victory
Ferrari started P1 and P3 on the grid, and thanks in part to Leclerc starting on the soft tyre and thus being able to jump ahead of George Russell, were sitting comfortably in first and second during the opening stint.
Russell from P2 started on medium tyres on the dirty side of the grid and had dropped back behind Leclerc.
During this stint Sainz carefully pace managed the tyre, telling his team over the radio that there was at least one second of lap time in hand.
There were likely two main reasons for doing this: firstly with Leclerc on soft tyres pace management was needed to ensure his tyre life was extended to the almost inevitable Safety Car deployment, which in this case came on Lap 20.
The second reason is slightly more complex in that both Mercedes drivers had carried an additional set of the medium tyre compound into their race allocation. This gave Mercedes a method of switching to a two-stop race should a Safety Car be deployed at the correct time.
But by controlling the pace Ferrari prevented Mercedes having a free pit stop window.
READ MORE – MONDAY MORNING DEBRIEF: The two crucial Singapore Grand Prix moments that stopped Russell and Mercedes claiming victory
Towards the end of the second stint Ferrari began to open a gap between the drivers with Leclerc being encouraged to create a gap of five seconds to Sainz.
This again was important for two reasons: firstly it created a gap should there be a Safety Car to allow the cars to stack and pit one after the other, and secondly it increased Sainz's margin to the cars behind – and crucially pushed Max Verstappen outside of Sainz's Safety Car window.
The result was when the Safety Car was deployed Sainz could stop and still emerge in front of Verstappen.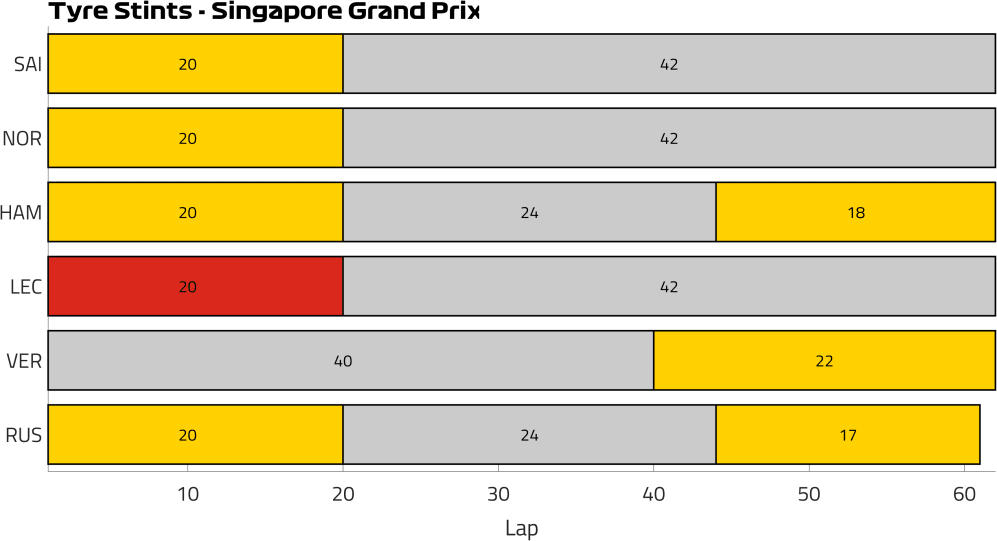 At the Safety Car deployment on Lap 20 things did not, however, run so smoothly for Leclerc. When the Safety Car came out the gap to Sainz ahead was 4.9 seconds. As they entered the pit lane that had grown to 9.2 seconds.
This gap is more than sufficient to stack the cars. Leclerc's pit stop seems to have gone smoothly and the car was ready to be released. This is when the day could have changed for Ferrari.
READ MORE: 5 Winners and 5 Losers from Singapore – Who impressed under the lights at Marina Bay?
In each pit lane teams are required by regulation to place a marker board for pit lane release a set distance from their pit box. If another car is closer to the pit box than this board it is unsafe for them to release their driver. In this case the board for Ferrari's pit box was at the beginning of the Red Bull pit wall.
The cars following Leclerc into the pit lane immediately behind were Russell, Norris and Hamilton. As Hamilton was opening a gap to Russell in order for Mercedes to double stack this resulted in a 2.6 second gap between Hamilton and Norris.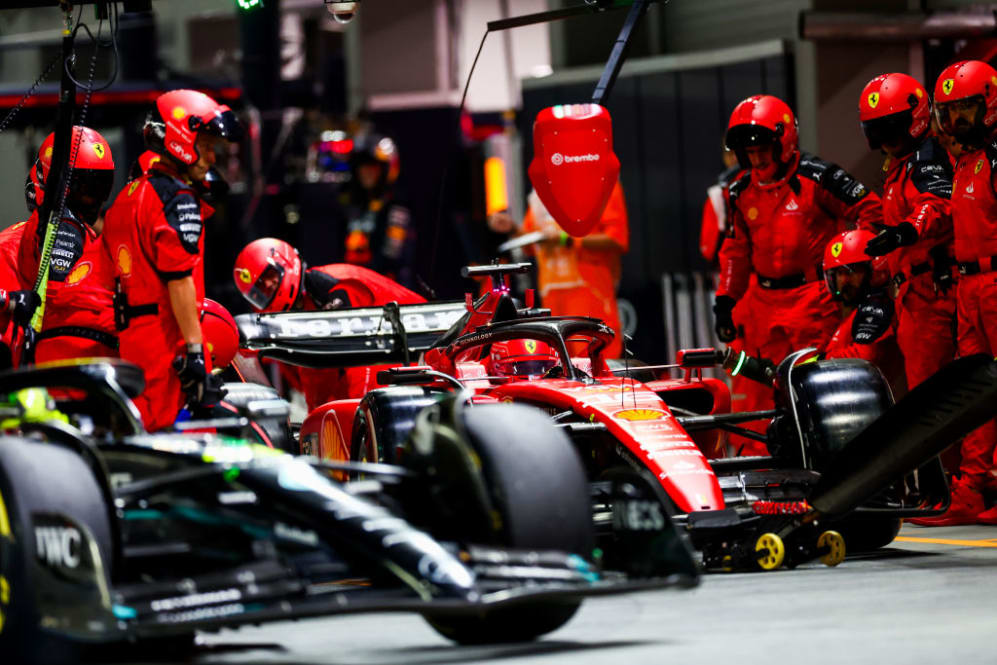 As the Ferrari crew appeared to be finished with Leclerc's pit stop Hamilton was just reaching the marker board. With a clear gap between Hamilton and Norris, as well as Hamilton slowing for Russell's pit stop ahead, it could be argued there was an opportunity to release Leclerc and not hold for Hamilton.
Additionally McLaren with Norris were much more aggressive on release and gained the position over Leclerc. These are split second decisions between hold and release. However, in this case the hold cost Leclerc two positions – to Russell and Norris – so was very costly.
F1 NATION: A Carlos Sainz smooth operation and George Russell's heartbreak – it's our Singapore GP review
From video footage it is difficult to determine for sure that the Ferrari crew were finished in time to achieve this gap but the alternative (assuming a collision was avoided) would likely have been a five-second time penalty for unsafe release.
Arguably come the end of the race that time penalty would not have been as costly as the positions lost during the stop. In my view there was opportunity to release the car without occurring a penalty – and therefore retain P2.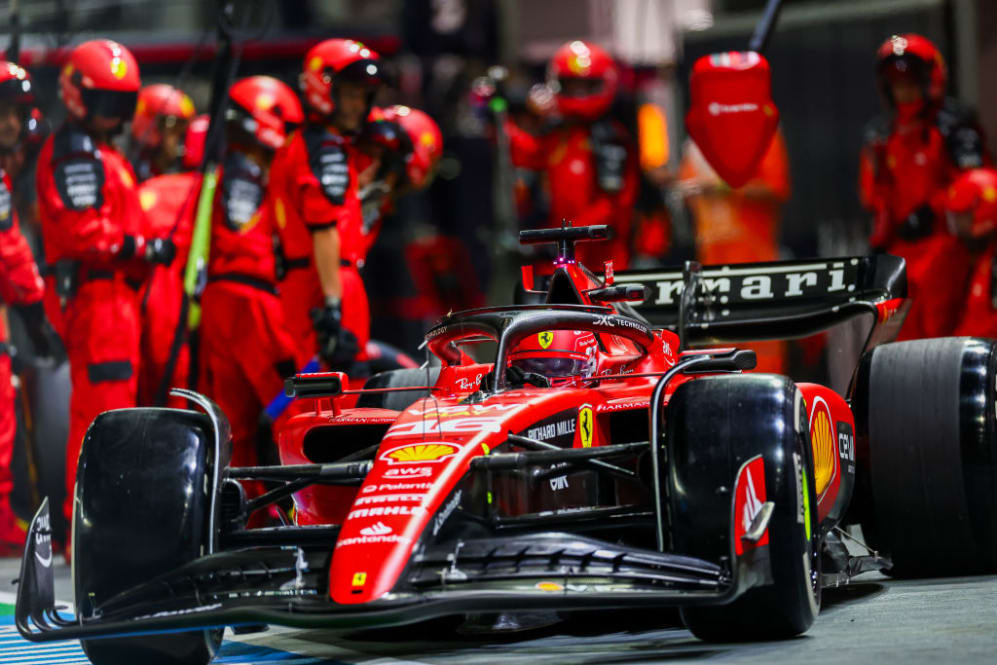 The pit stop hold also had a knock on effect of Leclerc emerging on track behind Sergio Perez, who had elected not to pit. Then at the Safety Car restart Leclerc lost further a position to Hamilton while avoiding Norris and Perez fighting.
The overtake on Perez and dealing with the additional traffic will have damaged Leclerc's tyres for the long final stint much more than the free air Sainz enjoyed out front.
READ MORE: Sainz credits key 'Carlando' moment for preventing him being 'dead meat' on his way to Singapore victory
During the second stint again Sainz controlled the pace again to preserve tyres and to prevent Mercedes having a free pit window to convert to a two-stop strategy.
Unfortunately due to the slow pace of the field this was not enough and by Lap 37 both Mercedes had a Safety Car window to stop into. The Virtual Safety Car was then thrown as the leaders crossed the line to start Lap 44 – therefore there was a full lap for discussion on what action to take.
The two Mercedes both boxed for medium tyres and Leclerc – who also had a new set of mediums available – was given the 'box to overtake Hamilton' call. This means that if Hamilton boxes then Leclerc stays out, but if Hamilton stays out Leclerc pits.
Having stayed out, when Leclerc is told of the Mercedes strategy he responded "I think it is the right choice," and goes on to say maybe they should consider it one lap later. However the stricken car of Esteban Ocon was quickly cleared and the Virtual Safety Car ended before action could be taken.
HIGHLIGHTS: Watch the best of the action as Sainz wins in Singapore and Russell crashes on the final lap
If Leclerc had stopped at this final VSC alongside Mercedes then likely he still would have emerged behind both – although potentially on soft tyres, as he stated this was his preference earlier in the stint.
It's unlikely that Leclerc had the pace to overtake either Mercedes but rather would have joined this chasing pack to catch the leaders and been much safer to the Max Verstappen threat in P5.
But a more aggressive pit stop release would have allowed Leclerc the best chance to stand on the second step of the podium beside team mate Sainz to complete the 1-2 dream for Ferrari. I'm sure the team will review their actions before the next race in Japan.
To read on, sign up to F1 Unlocked for free
You'll unlock this article and get access to:
Live leaderboard data
Epic experiences and rewards
Money-can't-buy competitions