Feature F1 Unlocked
THE STRATEGIST: How did Ocon leap up to P4 from P16 in Las Vegas – and why did Gasly's race go the other way?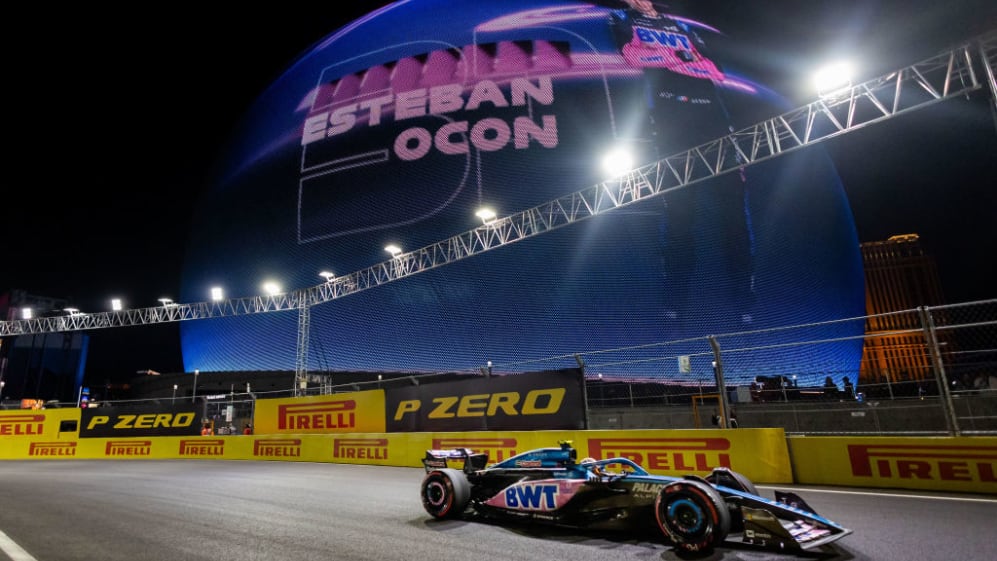 Pierre Gasly impressed in qualifying in Las Vegas to finish P5 on the timing sheets and therefore line up P4 for the race after Carlos Sainz's penalty was applied. His Alpine team mate Esteban Ocon meanwhile exited qualifying in Q1 and started 16th. However in the race their fortunes were reversed with Ocon finishing P4, having gaining an impressive 12 positions, while Gasly dropped from his second row grid slot to finish outside the points – and seven positions behind Ocon.
Both drivers ran very similar strategies – a one-stop strategy starting on the medium tyres and moving to the hard – neither had any incidents nor penalties to disadvantage them and neither gained from a Safety Car deployment or red flag. So why the dramatic difference in fortunes for the two Frenchmen in the same car? Former Aston Martin strategist Bernie Collins investigates…
READ MORE: Ocon hails 'amazing feeling' after surging from P16 to P4 in Las Vegas as Gasly laments 'pretty chaotic' issue
In the first stint Gasly ran largely within one second of George Russell ahead and was pushing to overtake. Whereas Ocon ran largely in free air, although he was defending from Oscar Piastri and Lewis Hamilton behind.
The additional traffic and faster lap times for Gasly caused additional tyre degradation towards the end of the stint, and he called for an earlier stop lap due to the drop in lap time.
Gasly therefore stopped three laps earlier than Ocon, which resulted in a three-lap longer final stint on the hard tyres.
Ocon however managed his pace much earlier in the first stint and then was able to produce faster lap times towards the end of the stint which allowed the stop lap to be delayed. Alpine even allowed Piastri to stop earlier than Ocon and undercut for position knowing the McLaren man would need to stop again.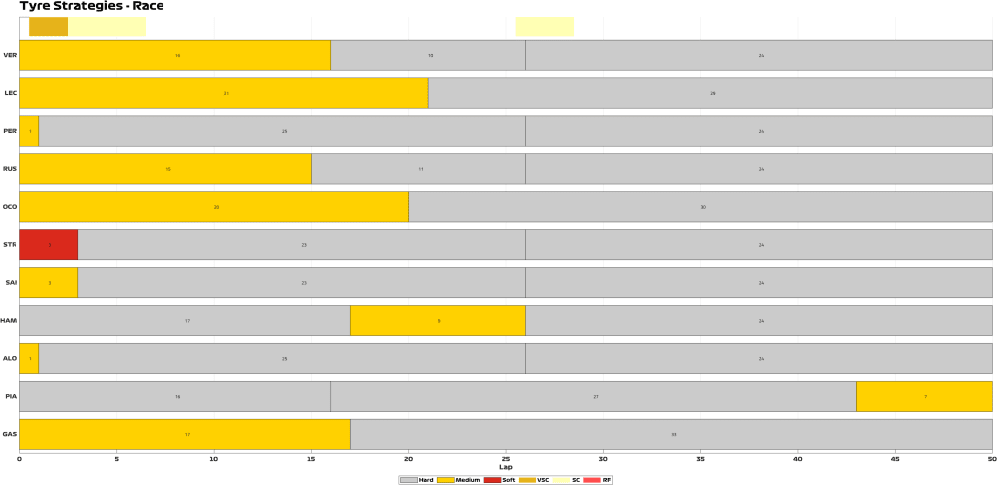 Post pit stop Gasly emerged on track in clear air. The medium tyre in the first stint had only lasted 17 laps before high degradation. Now, with 33 laps required on the hard tyre, Gasly began pace managing immediately.
Ocon however had managed 20 laps on the medium tyre with only 30 required on the hard. Three laps may not sound like a big difference across drivers but in this case it is 10% greater distance.
READ MORE: 5 Winners and 5 Losers from Las Vegas – Who hit the jackpot in Sin City?
Throughout the second stint Ocon was much quicker than Gasly – especially in the opening laps when protecting the tyre from graining is often most important.
Post Safety Car the drivers ran side-by-side and battled on track for several laps before being told to hold position. On Lap 35 Ocon was ahead in P5 with Gasly behind in P6, while Piastri ahead needed to stop again.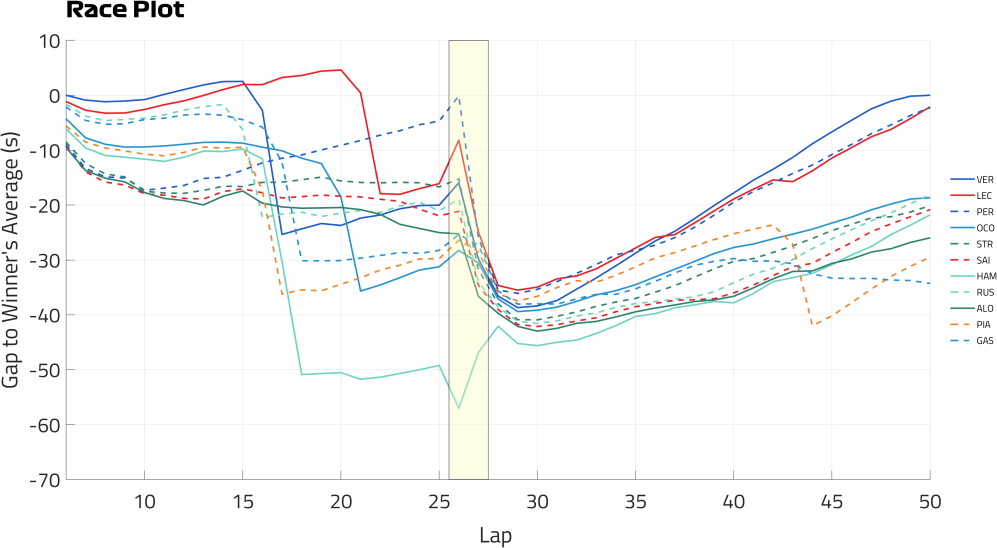 But from Lap 37 onwards Gasly's lap times fell away badly (as you can see in the chart below). He reported on the radio that the tyre was degrading and that a new tyre would be two seconds a lap faster.
Gasly tried to convince the team to change strategy and stop again, but remaining on track provided an opportunity for a higher finishing position – if the tyres could either recover or stabilise.
However the lap time loss resulted in losing six positions in the final 10 laps of the race.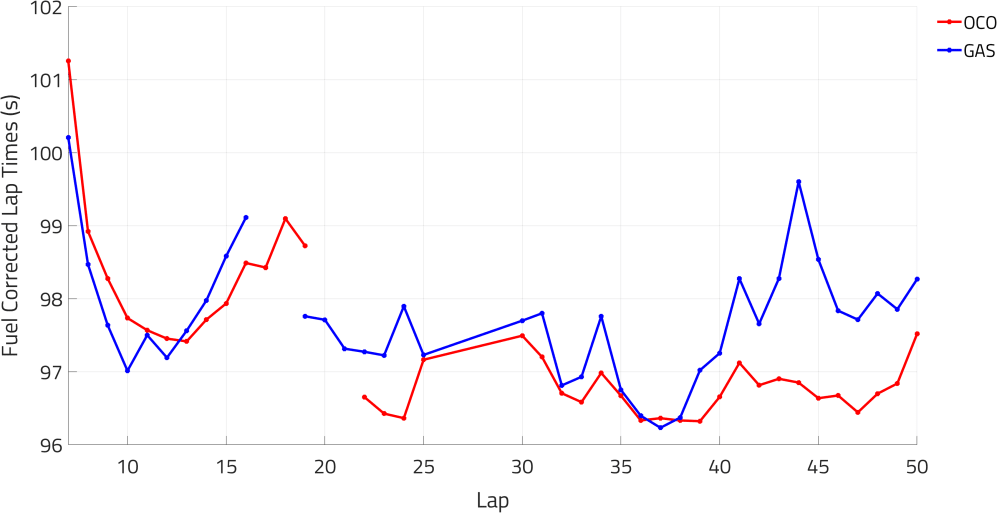 There are several reasons for the differences between Ocon and Gasly in the final stint. Using a GPS overlay of the two drivers from Lap 22 when both were in largely free air and on the hard tyre we can see two of these differences (see the chart below).
Firstly Ocon was using lower gears through Turn 1. In this example Ocon dropped to second gear while Gasly remained in fourth gear. Throughout the race Gasly was pushed to use a lower gear to help with energy charging and therefore battery level.
HIGHLIGHTS: Enjoy the best action from a thrilling Las Vegas Grand Prix as Verstappen takes victory
For a given car speed a lower gear will have higher engine speed, and therefore more ability for the battery to charge from the engine. Ocon had more energy deployment and therefore a slightly better lap time. Ocon also was closer to the car in front so benefited from a tow.
Secondly from the GPS we can see that in general Ocon had a slower corner apex speed, particularly in Turns 1 and 12. This resulted in Ocon losing time to Gasly in every corner – but crucially it reduces demand on the tyres. Ocon then wins this time back on the straights.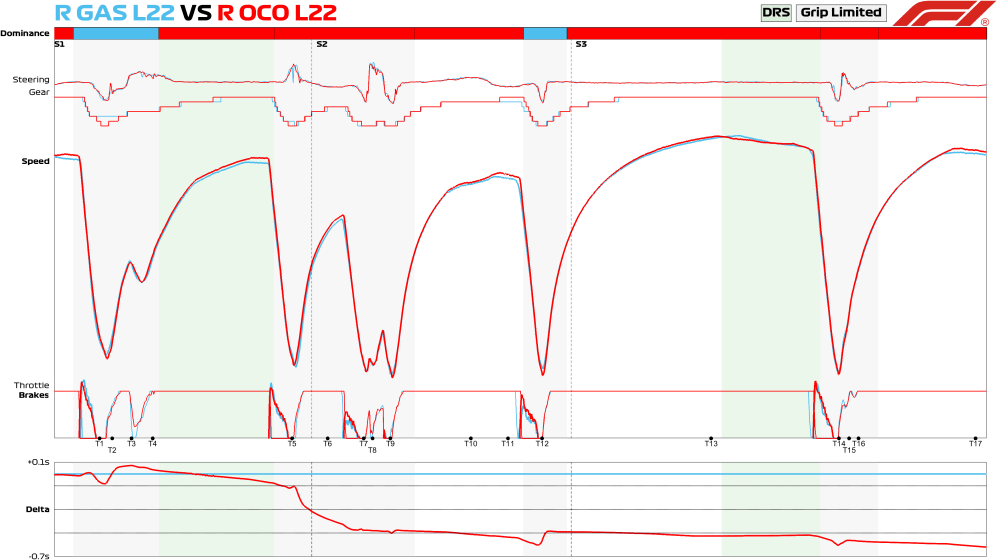 The majority of the lap time difference between the drivers (0.4 seconds) was through Turn 5 and Turn 6 where Ocon was faster – but these corners were not important for tyre management.
The result is that Ocon, through careful management of the tyre graining, did not suffer the loss in lap time or the drop in positions suffered by Gasly.
READ MORE: From being assured of podiums to P10 – what went wrong for McLaren in Las Vegas?
Even without changing the tyre management in the final stint it is possible that simply extending the first stint by three laps would have allowed Gasly to remain in the points ahead of Piastri.
This all goes to show that a slower lap time does not always equate to better tyre management.
To read on, sign up to F1 Unlocked for free
You'll unlock this article and get access to:
Live leaderboard data
Epic experiences and rewards
Money-can't-buy competitions