Feature F1 Unlocked
THE STRATEGIST: Playing team tactics is a risky game – so did it pay off for McLaren, Mercedes and more in Japan?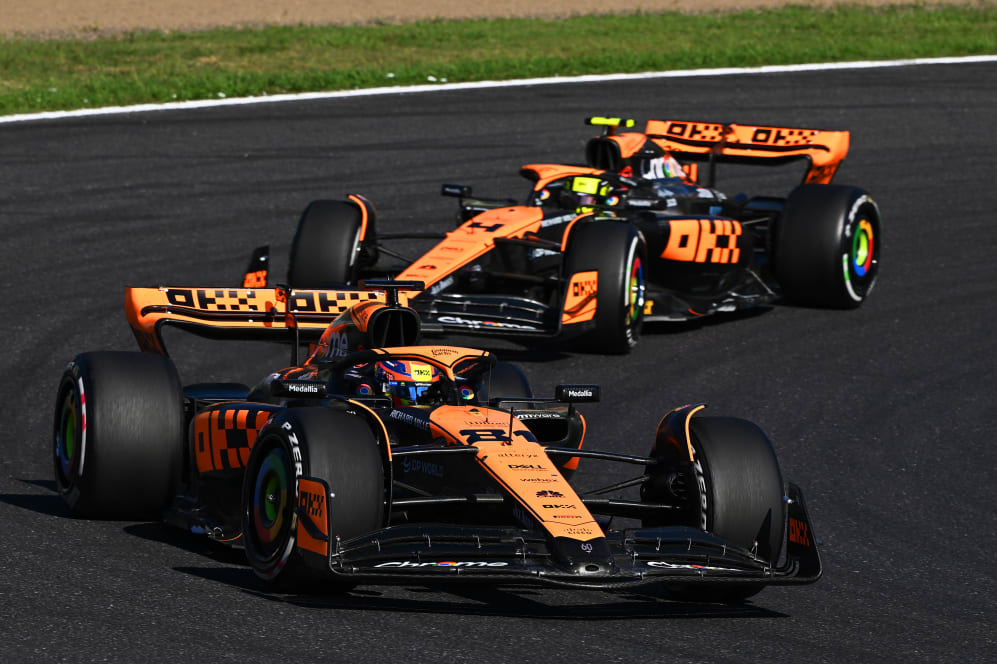 Motorsport is unique among most sports in that while a team competes with the other teams to win the constructors' championship, the drivers within each team are also competing with each other.
That fundamental reality of F1 can often mean conflict between team mates – especially when the pit wall need them to work together to achieve the best overall team result. Former Aston Martin strategist Bernie Collins takes a look at how it worked out for the teams who tried to do just that in the Japanese Grand Prix…
READ MORE: 5 Winners and 5 Losers from the Japanese GP – Who impressed around Suzuka's famous corners?
In F1 teams, most of the track-side crew work on one car or the other, with a smaller number of central roles working across both drivers. It is in everyone's interest for the team as a whole to do well, but equally the driver is always judged by his performance against his team mate – and this is the first driver he is keen to beat.
The Japanese Grand Prix in particular saw a number of team mates heavily interact with each other throughout the race. Mercedes, Ferrari, Alpine, AlphaTauri and McLaren all fall into this category. All took slightly different approaches to the problem of how best to keep things under control. Many, I'm sure, had heated debriefs afterwards.
At the first round of pit stops, McLaren initially prioritised Lando Norris as the car ahead, but then – with a Safety Car looking likely for debris in Turn 11 – switched to stop Oscar Piastri as he had the best chance to pick up the Safety Car if it was thrown late.
McLaren were then slow to switch the cars when Norris closed the gap to Piastri in the second stint, which lost Norris time – but not enough to risk positions to others in the end.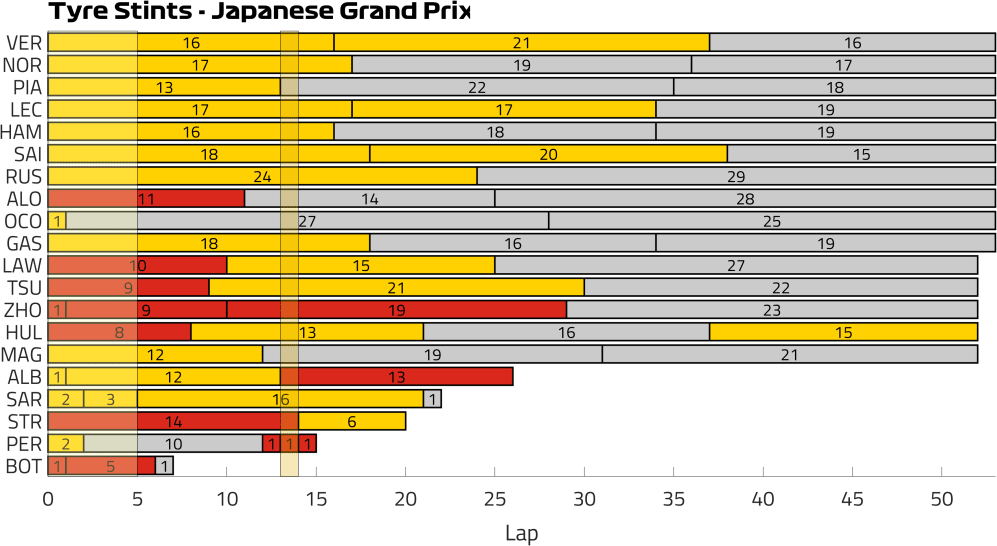 Norris told his race engineer over the radio: "It's just ruining the race now, or do you want [Mercedes' George] Russell to beat us?"
At the second stop, again Piastri stopped first, but this time as the driver most at risk of undercut from Ferrari behind. But apart from a few laps of unhappiness from Norris when he was stuck behind Piastri, all ended well for McLaren as they got both drivers on the podium.
READ MORE: Norris hails 'outstanding' progress as McLaren claim their first double podium of the season
Ferrari stopped their lead driver (Charles Leclerc) on track first each time to protect position, despite Carlos Sainz behind being at most risk.
This avoided one driver undercutting the other accidentally but ultimately resulted in Sainz being undercut by Lewis Hamilton and the team losing a finishing position. We heard no complaints on the radio though, so perhaps it was all discussed in advance.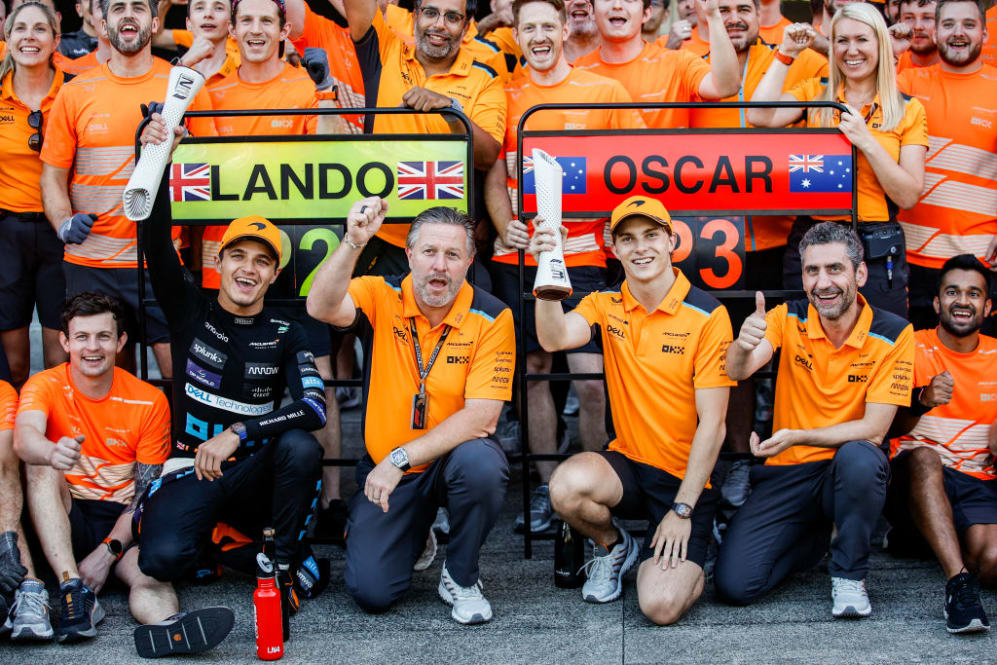 But we did hear some spicy radio comments from the Mercedes drivers Russell and Lewis Hamilton.
They fought hard against each other in the opening laps post-Safety Car with Hamilton eventually emerging ahead, at which point Russell commented "not too sure how we lost out on the straight there", potentially indicating perceived foul play.
READ MORE: Hamilton and Russell reflect on their wheel-to-wheel battles during the Japanese GP
Hamilton as the lead driver was then given the first chance to pit and Russell – potentially keen not to spend an entire race behind Hamilton – converted to a one-stop strategy.
When told Hamilton's lap times, Russell responded: "I don't care what he is doing, give me what I need to do to fight for a proper result."
In the closing stint – with Sainz chasing Hamilton – Russell was ordered to move over for his team mate. He did so and Hamilton was then ordered to slow down to give Russell the DRS in an attempt to protect the latter from being overtaken by Sainz – a variation on the tactic Sainz had used to win in Singapore.
WATCH: Intra-team squabbles, crashes galore and Verstappen's joy all feature in the best team radio from Japan
"They are using my trick against me!" the Spaniard told his engineer over the radio. This time however, it didn't work for Russell, with Sainz sweeping past, and Hamilton commenting that he had "wasted all that time for no reason".
After some robust racing between the two Mercedes team mates – and the various strategy calls – their post-race debrief may have been a little more heated than usual.
The Alpine drivers' strategies were split due to Esteban Ocon being forced to stop on Lap 1 with a puncture. At the first stop for Pierre Gasly, they pitted to avoid interaction with Ocon, and at the second stop for Ocon they pitted to avoid Gasly.
This nicely kept the drivers apart until the crucial final stint. Gasly – with fresher tyres – was closing to Ocon and Alonso ahead at around 0.8 seconds each lap. Ocon was asked to let Gasly by earlier than was optimum for him, losing three seconds in a single lap in the process.
READ MORE: 'I don't fully understand it' – Gasly left 'frustrated' by Alpine's call to let Ocon through on the final lap in Japan
Crucially, Ocon was told Gasly would later give the position back. Gasly was told Ocon will let him through, but apparently wasn't told about giving back the position later on.
This led to fireworks at the end of the race as Gasly said he could have easily overtaken Ocon anyway. He repeatedly asked if the pit wall was joking, before eventually complying with the instruction. Gasly was clearly very unhappy and I'd imagine this was the most heated post-race discussion in the paddock on Sunday night.
AlphaTauri, when defending the undercut threat from Nico Hulkenberg, stopped the car behind, Yuki Tsunoda, who was most at risk first. This resulted in Liam Lawson – who was in front – being undercut by Tsunoda, and spending the second stint stuck behind the Japanese racer, with faster pace he was unable to make use of.
They then corrected this at the second stop and from there appeared to allow the drivers to race. However the offset pit stop laps resulted in Tsunoda being the one faster and stuck behind his team mate in the final stint. This resulted in both drivers being unhappy and feeling they were faster and stuck behind at various points in the race.
F1 NATION: A dominant Verstappen victory as Red Bull seal a sixth constructors' crown – it's our Japanese GP review
When the drivers are close together on track every decision for a strategist becomes amplified. Thinking through the knock-on consequences becomes crucial.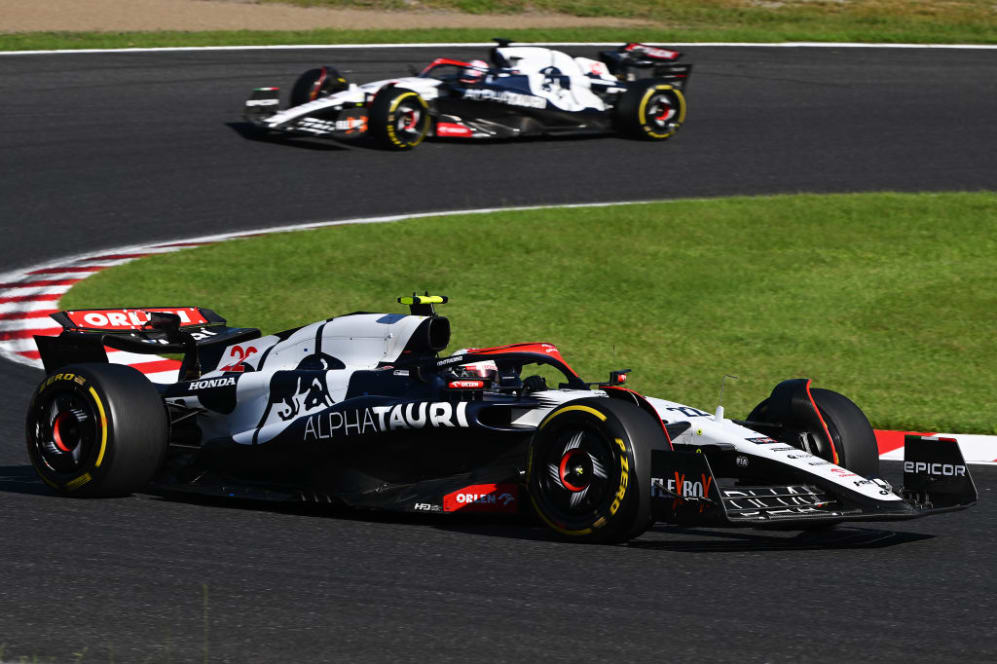 Even a simple Safety Car pit stop decision is compromised by gaps on track and the question of which car to stop first.
Often, even in normal racing conditions, you'd want to stop both cars on the same lap – but that usually isn't possible with a single pit crew, at least not without losing time double stacking the cars.
Many teams operate standard rules of engagement – for example, the lead car has stop lap preference – which they aim to stick to unless not doing so will benefit of the team.
READ MORE: HINCH'S HEROES – Who does Hinch reckon was super in Suzuka?
However, as discussed, the benefit of the team often doesn't align with the benefit of one driver or another, leading to friction and angry radio messages.
In Japan, I'd guess both Ferrari and Mercedes will feel they could have walked away with more points overall had they not tried to keep the drivers apart – or stuck to the rules of engagement.
To read on, sign up to F1 Unlocked for free
You'll unlock this article and get access to:
Live leaderboard data
Epic experiences and rewards
Money-can't-buy competitions