Feature
The Winners and Losers of the Canadian Grand Prix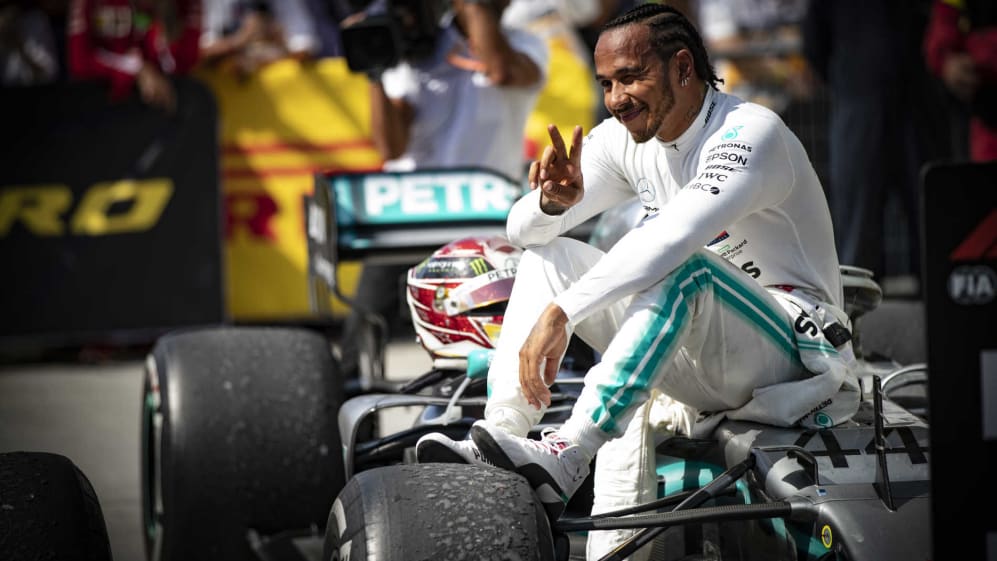 It looked pretty rosy for one driver and his team for much of Sunday afternoon at the Circuit Gilles-Villeneuve, but then it all went wrong. Others suffered similar frustration while some left Montreal with beaming smiles. We pick out the winners and losers of the Canadian Grand Prix…
Winner: Lewis Hamilton
Mistakes are a rarity for Lewis Hamilton these days, but he made one in Friday practice when he clipped the wall and damaged the car so severely that he missed the remainder of the session. Pipped to pole position by Sebastian Vettel, he then faced an anxious Sunday morning as his team battled to fix the source of a hydraulics leak in time for the race.
Once the Grand Prix was underway, he ran a decent first stint and then started to pile the pressure on leader Vettel. Persistence paid off, as Vettel made a mistake, running off track and rejoining in the path of Hamilton. The stewards handed the Ferrari driver a five-second time penalty, and that gifted Hamilton the victory.
The reigning five-time world champion admitted this was not the way he wanted to win. Nonetheless, it was his fifth victory in seven races this year to continue his best-ever start to a season.
It is also his seventh success in Canada, which incidentally is the first time he's ever won any Grand Prix seven times in his career. He now leads Mercedes team mate Valtteri Bottas by 30 points – more than one race victory – while his next closest rival Vettel is 60 points behind. What a run he's on…
Loser: Sebastian Vettel
For 47 laps of the Canadian Grand Prix, Sebastian Vettel looked strong enough to end his winless run that stretches back to last year's Belgian Grand Prix. But then he made a mistake, when under pressure from Hamilton and while he retained the lead after his off-track excursion, things were about to get worse.
The stewards handed him a five-second time penalty – and two penalty points for his licence – to be applied at the end of the race which meant all Hamilton had to do was to stay within five seconds of the Ferrari and he would get the win. Vettel crossed the line first, but was ultimately classified second.
You could gauge his mood from his team radio. His frustration was understandable – this was a golden opportunity to clinch a win that would mean not just big points, but a confidence boost and reward for a Ferrari team that have had a rough time of it this year.
But he leaves Canada 60 points behind Hamilton, his championship hopes fading fast mathematically, as Mercedes took their seventh win in as many races.
Winner: Sebastian Vettel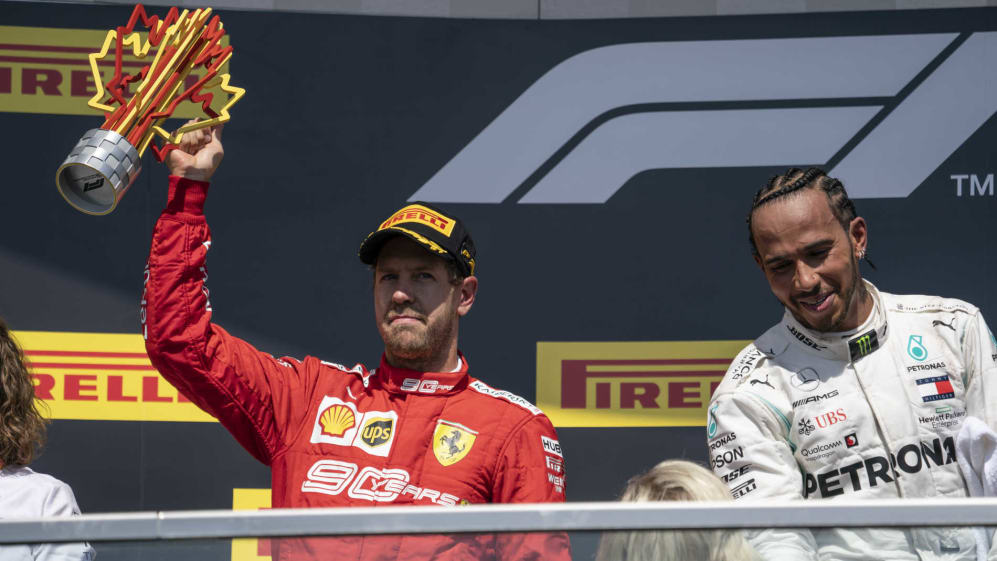 Having said all that above, Vettel can still take positives from Sunday's race. He was the first driver to take the chequered flag and that was on a weekend where he drove well throughout, including qualifying where he delivered a sensational lap to take pole position.
Of course this was not the result he wanted, and he would have preferred not to make that mistake that pitched him off the grass and led to the incident that handed him a penalty. But once the dust settles, Vettel can look back on this weekend and rightly feel that his season may have turned a corner.
He handled himself well on the podium, telling the crowd not to boo Lewis Hamilton as the Mercedes driver wasn't to blame for what happened with the result. And while he was furious on team radio, he didn't throw his toys out of the pram. Instead, he articulated his frustrations well.
This was almost a great weekend – and given the season so far, that is a step forward for the German.
Losers: Haas
For the fourth time this year, Haas leave a Grand Prix venue without adding any points to their kitty. There was a smidgen of hope when the American team's car looked to have top 10 pace in qualifying.
But then Kevin Magnussen crashed late in Q2, which in turn forced Romain Grosjean to back off and miss out on progressing to the top 10 shoot-out.
Come race day, Grosjean took evasive action at Turn 1 as Alexander Albon clashed with Sergio Perez and Antonio Giovinazzi, the Frenchman having to throw out debris from that incident that landed in his cockpit.
That dropped him to the back, with Magnussen who had started from the pit lane, and they were unable to make any progress. "This is the worst experience I have ever had in any race car ever," said Magnussen on team radio before later apologising to his team for the negativity.
Challenging times for Haas, who still have no real idea how to get the best out of the current generation of Pirelli tyres…
Winners: Renault
This was a great weekend for the boys and girls at Renault, with Daniel Ricciardo and Nico Hulkenberg giving the French manufacturer their first double points of the season.
First there was the high of Ricciardo taking fourth on the grid, out-qualifying both Red Bulls and scoring the works team's best qualifying performance in F1 since Robert Kubica was third on the grid in Japan 2010.
Then he didn't put a foot wrong in the race to take sixth, Renault's best finish in Canada since 2011 and his best result for the team since joining from Red Bull.
Hulkenberg, meanwhile, scored points for the first time since the season-opening Australian Grand Prix, where incidentally he also finished seventh. He has finished eighth or better in each of the last six Canadian Grands Prix, so there's clearly something about him and the Circuit Gilles-Villeneuve that works.
Losers: McLaren
This was shaping up to be a pretty decent weekend for Lando Norris, the rookie out-qualifying team mate Carlos Sainz, who has been in fine form of late.
The start of the race was promising, too, with Norris doing an excellent job battling the quicker Red Bull of Max Verstappen. But then he encountered a problem with overheating at the rear of the car and retired.
It looked better for Sainz, even after he was forced into an early pit stop when a helmet visor tear-off got caught in a brake duct. The Spaniard showed good pace and made the hard tyres last as long as he could – but ultimately 67 laps were a step too far and he dropped out of the points, ending up 11th.
Their failure to score points for the third time this season means McLaren are now just two points clear of Renault in the fight for fourth in the constructors' championship.
Winner: Daniil Kvyat
In terms of points finishes in 2019, only six drivers have a better record than Daniil Kvyat – and they all drive for F1's leading teams, Mercedes, Ferrari or Red Bull.
The Russian, who earned an F1 reprieve this year after losing his seat in 2017, has been quick and consistent all season and his 10th place finish in Montreal only served to highlight that, given Toro Rosso expected Montreal's power-sensitive circuit to prove challenging.
This was his third successive finish in the points – which is his best run of results since the end of 2015, when he was driving for Red Bull. So far, he's making the most of his second chance.
Losers: Alfa Romeo
Team Principal Fred Vasseur said the fact his team were close to getting into Q3 led them to believe they would have good performance in the race. But unfortunately, they didn't really get the chance to find out.
Antonio Giovinazzi suffered contact on Lap 1, while Kimi Raikkonen was forced into an unscheduled pit stop after a visor strip got stuck in a brake duct – and that essentially ruined their afternoon before it even had the chance to begin.
For Raikkonen, he reported a mixed feeling with the car. Sometimes, he felt the car was good, other times he struggled to find grip. Giovinazzi said the team need to understand why the car is reasonable over one-lap but has then started to lose competiveness dramatically come race day.
A series of developments planned for the next few races can't come soon enough…
Winner: Lance Stroll
The weekend appeared to be unravelling for Lance Stroll when his new spec Mercedes engine expired in final practice and he was forced to take a performance hit and revert to the old spec.
And though he failed to get out of the first part of qualifying for the 11th successive weekend, he made up for it on Sunday in front of his home crowd.
Starting 17th, he made up a couple of places immediately and then ran a long first stint, with competitive lap times, to help him move up the order and into the points.
He then used his tyre advantage, from stopping later, to chase down and pass Sainz for ninth place – an improvement of eight places on his starting position – to score some crucial points for the team.
Loser: Alexander Albon
Outperformed by his team mate Kvyat in qualifying, Albon was then put on the back foot in the race when he was involved in contact with Sergio Perez and Giovinazzi, which broke his front wing. That forced a pit stop, which dropped him to the back of the field and from there a recovery was unlikely.
His pace thereafter was not great, with Toro Rosso opting to retire the damaged car with 11 laps to go.
The Thai driver admitted he has been struggling to get to grips with the car on the long runs and says that's an area he needs to work on to understand why.