Feature
The Winners and Losers of the Belgian Grand Prix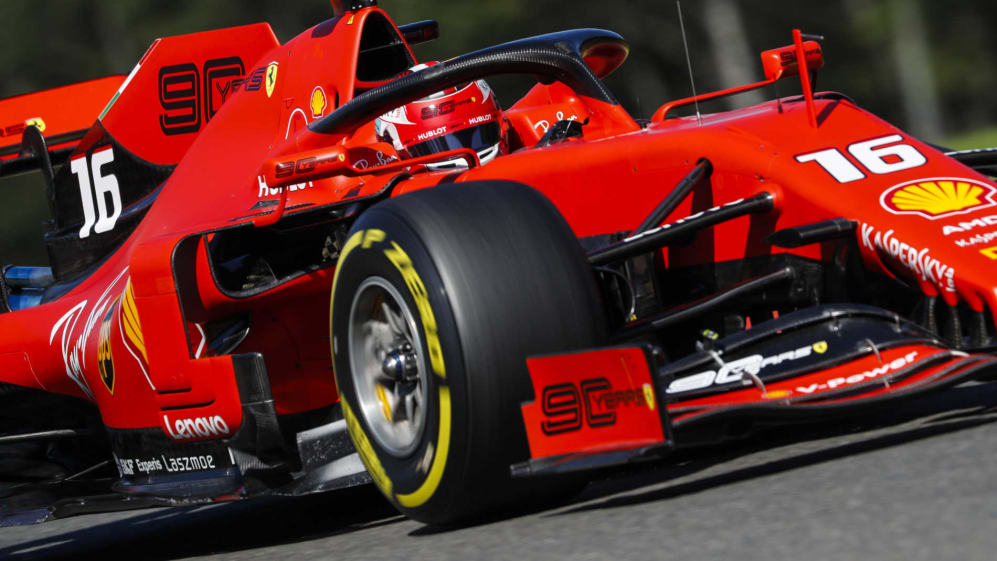 On a weekend when there were no real winners, Charles Leclerc took his first Formula 1 victory in emotional circumstances at Spa-Francorchamps. But who else did fortune favour - or forget - in the Belgian Grand Prix?
Winner: Charles Leclerc
This was a tough weekend for Charles Leclerc, whose close friend and F2 racer Anthoine Hubert passed away after a crash on Saturday at Spa.
The Ferrari driver was visibly emotional and was consoled by Ferrari Team Principal Mattia Binotto after F1 held a minute of silence for Hubert on Sunday morning ahead of the F3 race.
In the Grand Prix, he was imperious, reinforcing the supreme pace he had shown in two of the three practice sessions and all three segments of qualifying to secure his first career victory in Formula 1.
In doing so, he becomes Ferrari's 39th winner and the first driver to win his maiden Grand Prix at Spa since seven-time world champion Michael Schumacher in 1992.
It was a phenomenal performance, in the most difficult of circumstances.
Loser: Max Verstappen
It's not often you find Max Verstappen in the losers' section, so impressive has the Dutchman been in the last 21 races, where he has always finished in the top five.
But Spa was not one of his finest. Most of his adoring orange-clad contingent, who dutifully follow him around the globe, didn't even get to see him complete a racing lap.
After a poor getaway, he clattered into Kimi Raikkonen at La Source. With a damaged car, he tried to negotiate Eau Rouge, but went straight on into the barriers. Race over.
He retained third in the drivers' standings, but Leclerc's victory makes the battle for that spot very enticing, with the Monegasque now just 24 points behind in fifth place, and Sebastian Vettel only 12 points away in fourth. You'd expect, though, that this was merely a blip for Verstappen.
Winners: Ferrari
This has been a dismal season for Ferrari, the pre-season favourites reaching the summer break without a victory to their name.
But at last, their pain was eased when Leclerc took a win, in a race where Ferrari executed their plan perfectly for arguably the first time this season.
Their 63rd front row lock-out moves them just one behind Mercedes in the all-time list, while first and fourth at Spa gives them some vital breathing space in their fight with Red Bull for second in the constructors' championship.
They are far from a force capable of consistently challenging Mercedes for the top honours, but this was a step in the right direction on a track where they expected to shine.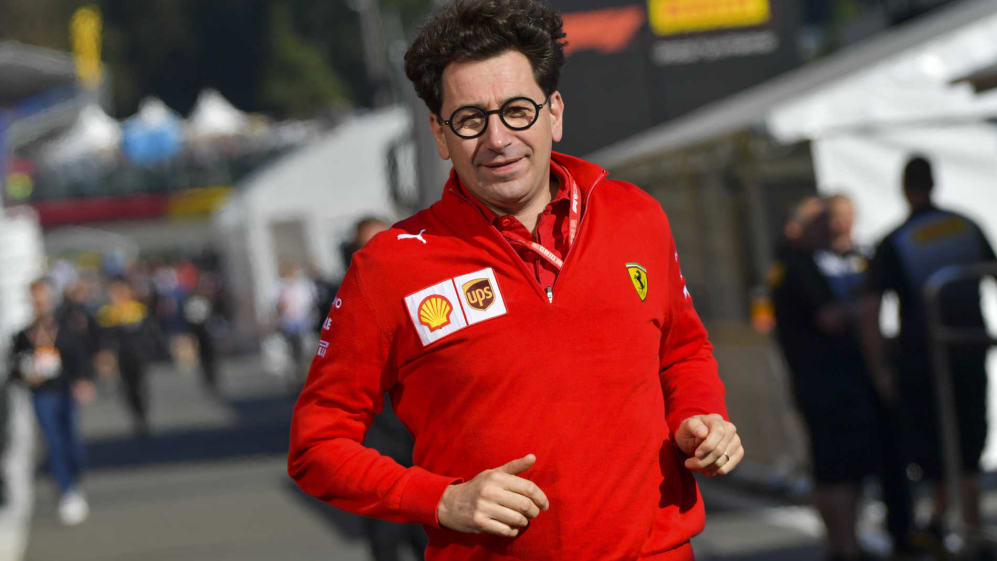 Loser: Lando Norris
What does Lando Norris have to do to get some luck? The British rookie has been a revelation at McLaren this season, with the iconic team signing him up early for 2020.
But he has had the lion's share of misfortune on track this year, with his latest misery occurring on the final lap at Spa after a sensational race.
Norris navigated the start beautifully to rise up from 11th to fifth, behind the two Mercedes and two Ferraris, and had a lonely race in that position, well clear of the chasing pack.
But a suspected engine problem forced his retirement, meaning he has now failed to see the chequered flag on four occasions this season.
READ MORE: Norris philosophical on loss of season-best result
Winner: Pierre Gasly
Like Leclerc, this was a challenging weekend for Pierre Gasly. The Frenchman was another close friend of Hubert, the two having holidayed together in the past.
On top of that, he was facing his first race back with Toro Rosso, after being demoted by Red Bull during the summer break.
But Gasly's response was impressive. He out-qualified his team mate Daniil Kvyat and then scored points for the eighth time in nine races.
Losers: Alfa Romeo
This was a race that promised so much, especially with Kimi Raikkonen starting sixth. But the Finn's hopes of converting that into a strong result were over in seconds when Verstappen hit him at La Source.
His team mate Antonio Giovinazzi gave Alfa Romeo hope as he made progress from the back of the grid and was in the points until the final lap, when he crashed.
As a result they dropped one place to eighth in the constructors' championship, with Racing Point gaining a position at their expense.
They'll be hoping for better luck at their upcoming home race at Monza.
READ MORE: Giovinazzi apologises to Alfa Romeo for late Spa shunt
Winner: Alexander Albon
Red Bull's swap had positive impacts all round at Spa, with Alexander Albon making a strong start to life at the senior team, just 12 months after his racing career had looked bleak.
Starting 17th following a series of grid penalties, Albon made a solid if unspectacular start at Spa. But once he'd fitted the soft tyres in the second stint, his RB15 came alive.
He pulled off a string of brilliant overtakes, most notably his one on Daniel Ricciardo, to rise up into the points, and was on course to finish sixth before inheriting fifth from Norris for a career-best result.
Not a bad way to start the next chapter of his career, eh?
READ MORE: 'He just dialled himself in' – Horner impressed by Albon on Red Bull debut
Losers: Haas
The Haas Formula 1 team's woes continued after the summer break, despite a bright start to the Grand Prix. Both Romain Grosjean and Kevin Magnussen initially ran comfortably in the top 10, but their lack of top speed on the straights hurt them.
Both started to fall down the pack, Magnussen in particular at an alarming rate, and the team ultimately ended another race without any points – their ninth non-score in 13 Grands Prix.
They remain ninth in the constructors' championship, ahead of only Williams, with Alfa Romeo six points ahead. With Monza and its long straights next up, it could be a painful end to the European season for the American team.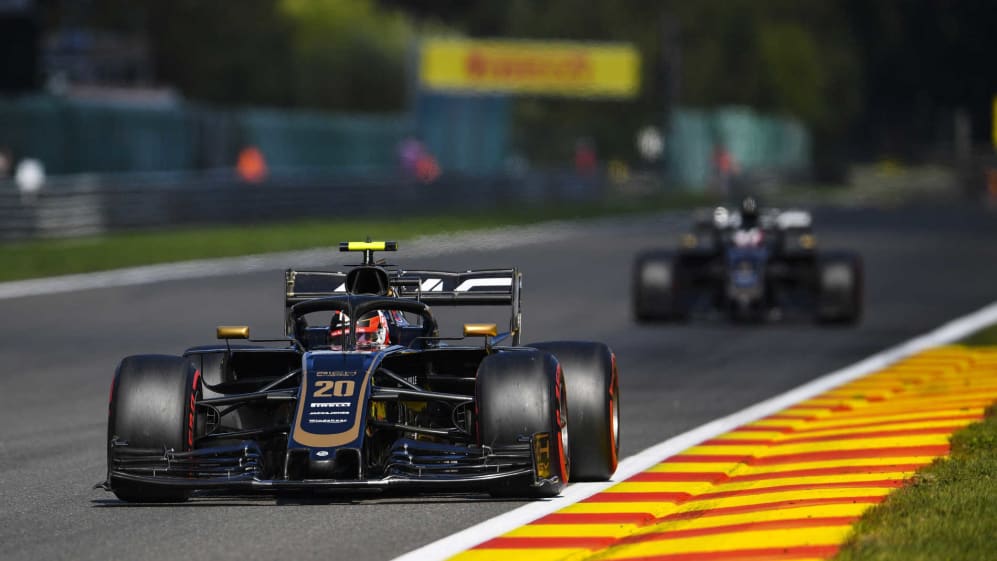 Winners: Mercedes
Okay, so Mercedes didn't win the Belgian Grand Prix. But second and third was a stronger-than-expected result – even their Team Principal Toto Wolff admitted as much.
Despite their power deficit, they competed well against Ferrari across the various phases of the race, which will give them hope heading to high-speed Monza.
They retained their healthy lead in the constructors' championship, while Lewis Hamilton extended his own lead in the drivers' standings, as he reached 25 consecutive points finishes.
Meanwhile, Valtteri Bottas took his first ever podium at Spa, on the week of his 30th birthday, to maintain his 100% finishing record in Belgium.
All in all, a job well done.
READ MORE: Hamilton happy to end 'wobbly weekend' with 'really strong race'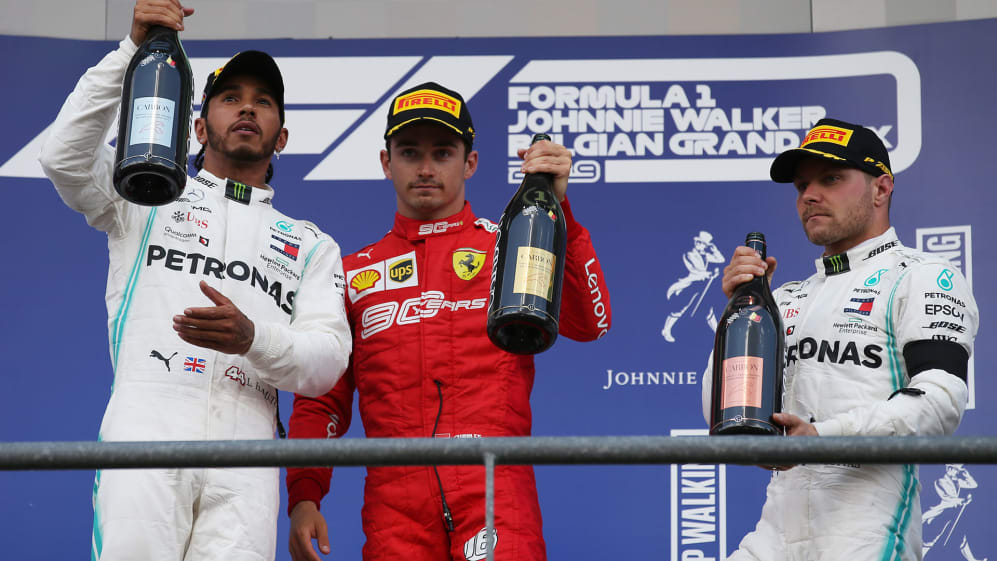 Loser: Sebastian Vettel
The fact Sebastian Vettel has now gone more than a full calendar year without a Formula 1 Grand Prix victory tells you all you need know about the mire he's currently in.
He was outpaced in qualifying by team mate Leclerc for the sixth consecutive race and had no answer to the Monegasque's race pace.
The German still has the advantage over Leclerc in the drivers' standings, but that has shrunk to just 12 points with eight races still to go – while there's no denying that Vettel's team mate is in the ascendancy.
READ MORE: When win was lost, I served the team, says Vettel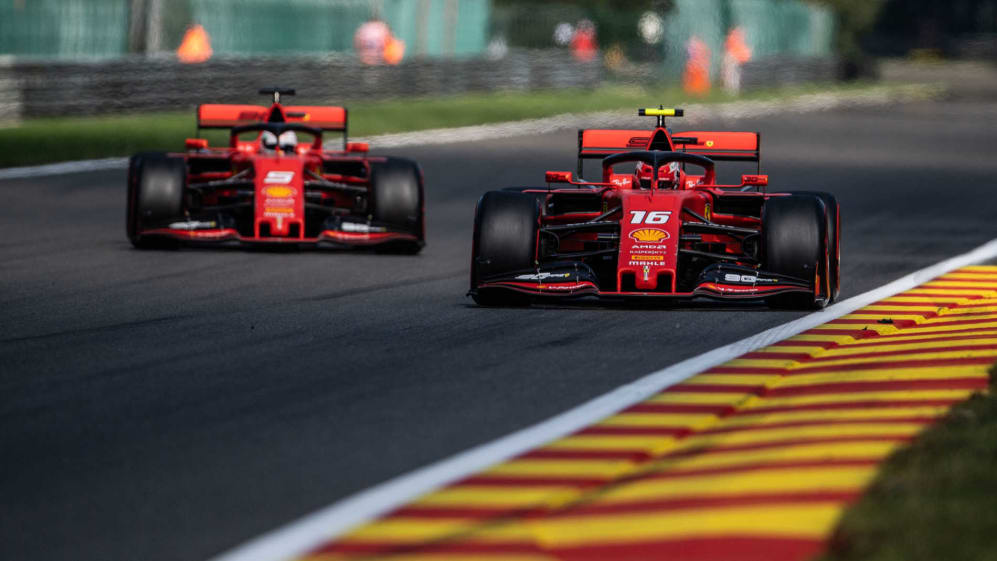 Winners: Racing Point
Double points finishes have been hard to come by for Racing Point this season, but the team – which was saved from extinction this time last year – scored their second of the year at Spa.
Sergio Perez usually runs well in Belgium, and he made no mistake this time round, finishing sixth at the venue for the fourth time in the last five years in what was only his second top-six finish of the year.
His team mate Lance Stroll made it into the top 10 in the closing stages, having started down in 16th, to claim his fifth points finish of the season, and second in three races.
Their healthy points haul also helped them jump up to seventh in the constructors' championship, the team now just three points adrift of Renault and only eight behind Toro Rosso.