'There are certain rules' – Bottas has no qualms with Mercedes' Singapore strategy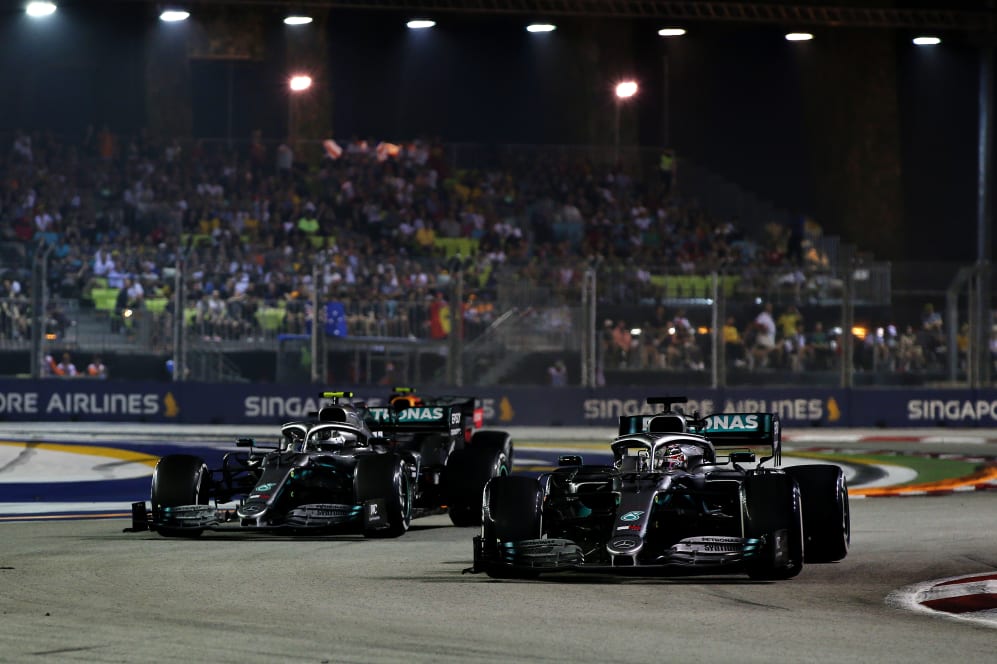 Under normal circumstances, Valtteri Bottas would have finished ahead of team mate Lewis Hamilton in Singapore. But when the championship leader was left in a hole by the team's strategy, Bottas got the call to slow down, allowing Hamilton to pit and stay ahead - and the Finn says he had no issues with following team orders - even if it was tough to take.
It's always a tough call to choose when to pit in Singapore, but under the lights this year the pressure was building up, with the leading six cars - led by Ferrari's Charles Leclerc - keeping their powder dry in the opening stint.
READ MORE: Vettel dedicates victory to fans after 'difficult' few weeks
But then the race was blown wide open when Ferrari stopped Sebastian Vettel from third, with Red Bull's Max Verstappen right behind. Leclerc stopped a lap later, with Hamilton instructed to do the opposite of the Monagasque. The Briton put the hammer down, but it soon became clear that not only would he not be able to overcut Leclerc, he would also be undercut by Vettel and Verstappen - and Bottas too when the Finn made his stop.
It was at this point that Mercedes strategist James Vowles stepped in, instructing Bottas to slow his pace so that Hamilton could pit and slot in ahead of him - and behind Vettel, Leclerc and Verstappen.
As a team we could've done better today
Understandably, Bottas wasn't thrilled by the request, but he accepted it as he unpacked the situation post-race.
"Yeah for sure, we have certain rules," he explained, "the car ahead always gets the priority with the strategy and then if you try to offset the car who was behind first, if he benefits from it like I did, and if I wanted to get ahead [of Hamilton] it would've been easy.
READ MORE: Singapore Grand Prix 2019 race report and highlights
"But we have certain rules and it's both ways, so next time I'll be in his situation it's going to be the same for me, so that's fine. Obviously there was potential for better today but those are the rules."
2019
Constructors' standings after Singapore
POSITION
POINTS

1

Mercedes

527

2

Ferrari

394
If Bottas had been ahead, did he see potential to overtake the Red Bull in front or the Ferraris in the lead?
WATCH: Russell furious after being tipped into the wall by Grosjean
"I don't know," he said. "It felt like I really had a good pace today but obviously you need a big, big pace delta to overtake the cars ahead. For sure we'll analyse all the things but for sure as a team we could've done better today."
It's now been three races since the Silver Arrows have been on the top step of the podium. Regardless, with Russia on the horizon, Mercedes still have a comfortable 133-point lead over Ferrari in the constructors' championship.