'They can't race with velvet gloves on' – Horner and Wolff won't rule out more Hamilton-Verstappen contact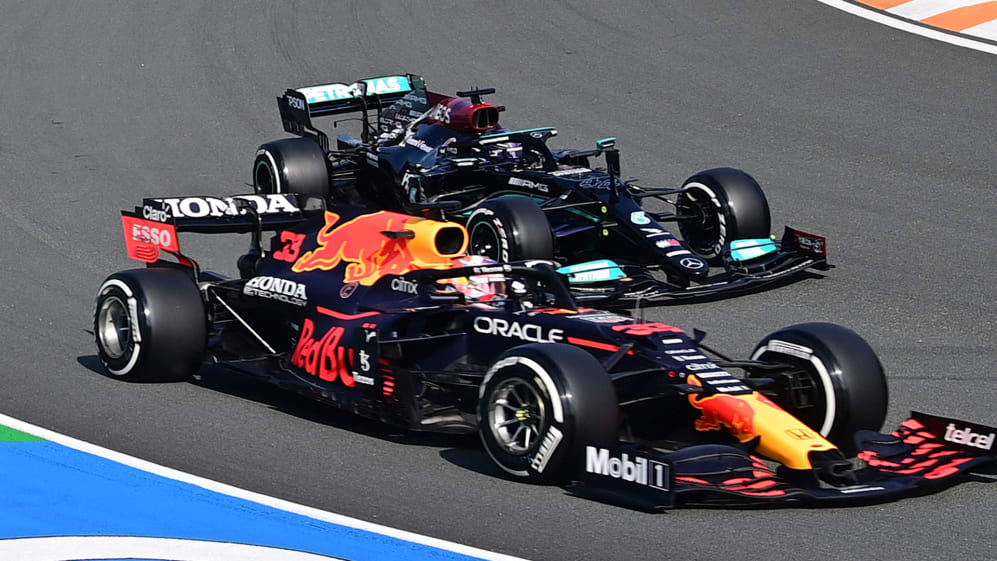 Two weeks on from their drivers' infamous crash at the Italian Grand Prix, Mercedes and Red Bull Team Principals Toto Wolff and Christian Horner have both said they won't rule out more contact between Lewis Hamilton and Max Verstappen this season, with eight races still to run.
Hamilton and Verstappen came together on Lap 26 of 53 of the Italian Grand Prix, with Verstappen's Red Bull coming to rest on top of Hamilton's Mercedes – and with the Dutchman receiving a three-place grid penalty for his part in the crash.
READ MORE: 'I've no doubt we will both be professional' – Hamilton on racing Verstappen after Monza crash
It was another in a series of ill-tempered on-track moments between the two drivers this season – and speaking ahead of the Russian Grand Prix at Sochi, Wolff said he expected to see a few more flashpoints before the end of the year.
"The point is that these two are racing for a drivers' championship, and you can't expect them to have velvet gloves on," said Wolff. "That's why we are going to see harsh moments like this.
"I think [Verstappen and Hamilton] pretty much know what [they're doing], in my opinion," he added. "If both wanted to avoid collisions, we would have less collisions. If they don't avoid collisions because they feel it's right to not bail out, or not give room, then we will have more."
Horner agreed with his opposite number, meanwhile, adding: "They're racers and they're going to race, and to sit here and say they're never going to touch each other again in the next eight races – I doubt very much that Toto has that control over Lewis, and we don't over Max.
"It's down to them in their car, racing for the biggest trophy in motor racing, and there's eight races to go, obviously we want it to be a really competitive, clean run in to the end of the season.
READ MORE: 'It shows he doesn't know me' – Verstappen brushes off Hamilton's suggestion title race pressure is getting to him
"But inevitably when the drivers are starting next to each other so often and they're racing at venues that are very, very tight – Max is a no quarter kind of guy, Lewis has demonstrated that he doesn't want to give anything either, and when you get two racers of that mentality, you get incidents."
Asked, meanwhile, if he felt that Verstappen was showing signs of being under pressure, Horner replied: "I don't see any change in him at all. I think Max is a young guy, he's going for it, he's got nothing to lose. He's not sitting there with a bunch of World Championships defending the title, he's the challenger, and I think that that's the way he's attacking this championship.
"When you see the pressure he was under with the home crowd in Zandvoort, you don't get bigger pressure than that, and I think the way he handled that in particular was truly impressive. I think he's just really enjoying and relishing this battle. It's been a long, long time since we've been in a position like this, and of course that's exciting for him, it's exciting and motivating for the whole team."
READ MORE: FP1: Bottas leads Mercedes 1-2 in opening Russian GP practice session at Sochi
Wolff, too, denied that Hamilton was feeling the strain, saying: "Both of them throughout their career have been racing at the very front of every single karting and junior series championship, and as always, there is an angle that people don't get to see, and that's the focus, the concentration, the amount of work that [Lewis] puts into the sport.
"[Lewis is] actually [in a] very upbeat, positive mood, enjoying the battle."