'They've done a tremendous job' – Perez praises Red Bull's performance after victory in Baku Sprint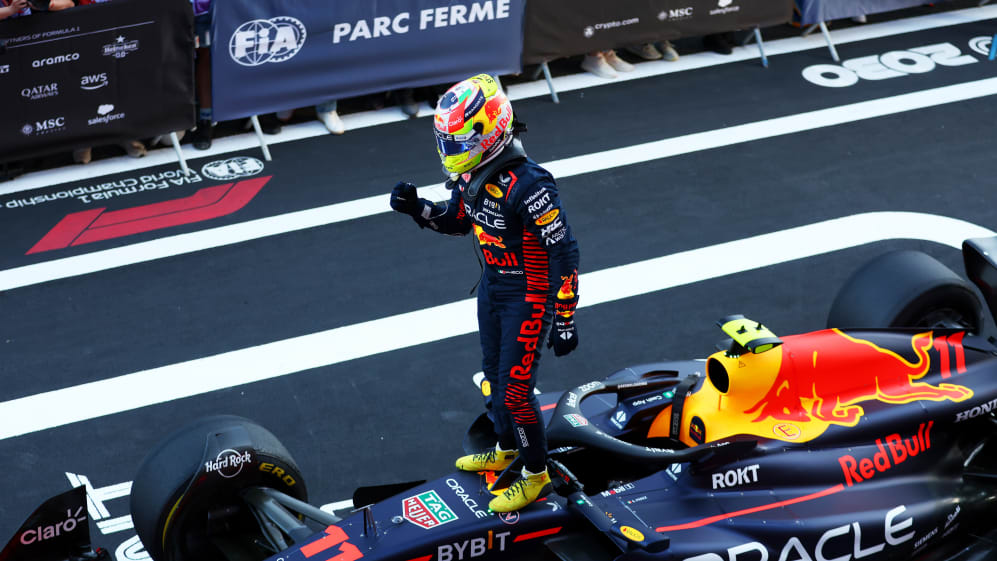 Sergio Perez overcame rival Charles Leclerc to win the Sprint in Baku on Saturday and, while the Mexican was full of praise for the "tremendous" work done by his Red Bull team, he had his eyes set firmly on winning Sunday's Grand Prix.
Perez lost out to Leclerc in the Sprint shootout pole earlier on Saturday, but made up for it in the 100KM dash as, starting second, he kept the pressure on the Monegasque racer, before making the move for the lead down the inside at Turn 1 on Lap 8.
READ MORE: Perez beats Leclerc and Verstappen to victory in action-packed Baku Sprint race
Reflecting on his Sprint victory, Perez said: "Really happy, pleased for the whole team. They've done a tremendous job. It's not easy this format, it puts a lot of pressure on drivers, mechanics and engineers. So, to be able to come away with the maximum points, it's a good start.
"I think it was key to make sure that we had good pace, good rhythm, that we pushed in the key moments of the race, and that really made the difference. In the end, it was a really nice executed weekend from the whole team.
"I did have a bit of degradation on my tyres, so when Charles was staying on my DRS I could not pull the gap early enough to break that DRS, so that made it a little bit tricky."
He concluded: "I'm really proud of my guys, because if you look back, we come from a four week break and straight into this new type of format. I think we've done a great job, but tomorrow is what matters and we need to focus on that."
READ MORE: Verstappen and Russell at odds after dramatic first-lap Sprint skirmish in Baku
Perez starts third in tomorrow's Grand Prix and, when quizzed on what he had learned in the Sprint that he could take forward to Sunday, he replied: "We were able to learn a bit, but obviously tomorrow we are going to be on much higher fuel loads, track conditions are going to be different.
"I think there is good learning today. P3 is not ideal for tomorrow's race, but I will give it a go and fight for the win. I'm confident that I will be fighting for the win, but let's see. It's Baku, anything can happen. I just want to make sure I deliver when it matters."