Verstappen and Russell at odds after dramatic first-lap Sprint skirmish in Baku
Max Verstappen and George Russell offered opposing views after coming to blows on and off the track at the Baku City Circuit on Saturday, with the first Sprint race of the season serving up plenty of drama.
Verstappen started the 17-lap race from third on the grid but was attacked by a fast-starting Russell as the lights went out, with the pair going on to race wheel-to-wheel across the first three corners.
READ MORE: Perez beats Leclerc and Verstappen to victory in action-packed Baku Sprint race
After some contact at Turn 2, Verstappen had to give up the position on the outside of Turn 3 and struck the wall, but got his own back after a Safety Car restart to reclaim the position and ultimately round out the podium.
Post-race, television cameras picked up a frosty exchange between Verstappen and Russell in parc ferme, with both drivers going on to give their thoughts on the battle – and the conversation that followed.
"No, it's not clarified," sighed Verstappen, when asked if the talk with Russell cleared things up. "I just don't understand why you need to take some much risk on Lap 1. Understeering into my sidepod, created a hole…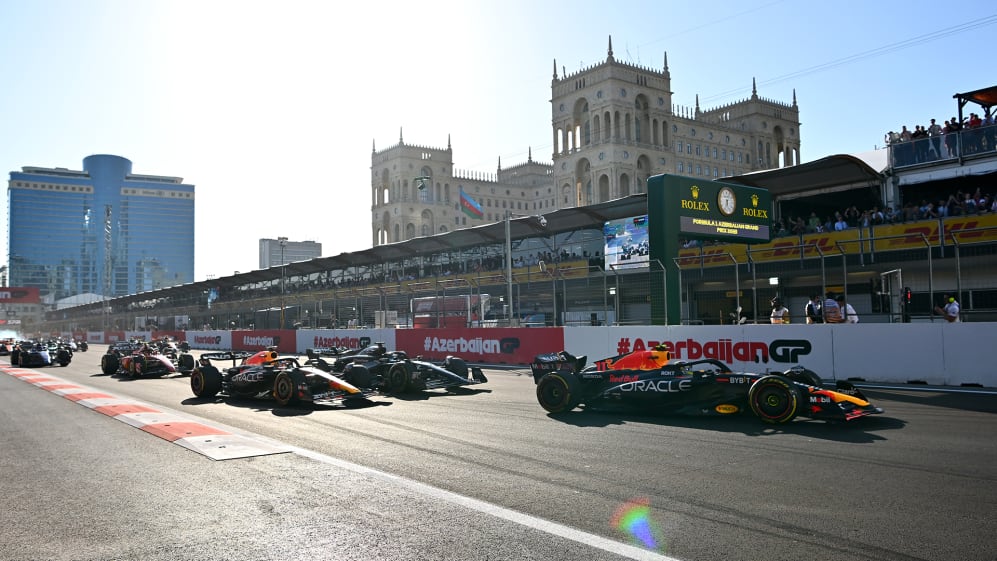 "We all have cold tyres, it's all easy to lock up, but in his beautiful way of explaining, 'Oh mate, locked up, look at the onboard', it doesn't make sense. It's fine, we still got into P3, got some good points, but it is what it is."
Clarifying where his sidepod damage came from, Verstappen said: "Not the wall, just Turn 2, I think, where he tapped me. There is a hole in the sidepod. It doesn't look that great, but it is what it is now, and we will focus on tomorrow."
FACTS AND STATS: Perez sets an unexpected record with Baku Sprint victory as Leclerc cashes in the points
Russell crossed the line in fourth place, a result he feels "probably exceeded where we deserved to finish", and explained that he was taken aback by Verstappen's behaviour when they stepped out of the car.
"I don't really know if it was a chat," Russell commented. "I was quite surprised, I thought he was coming over to say 'good battle', to be honest.
"From my side, I was on the inside, the position was already lost from him, and I was really quite surprised he was still trying to hold in round the outside. Ever since we were eight years old in go karting, if you are on the inside on the apex, it's your corner, and if you try and hold it round the outside, you are taking the risk.
"I'm here to fight, I'm here to win. I'm not just going to wave him by because he's Max Verstappen in a Red Bull. [There's] nothing really more to say. I thought the move was on and that's about it, really."
Offering a Team Principals' perspective on the incident, Mercedes boss Toto Wolff chimed in: "If I'm George, I'm doing exactly the same; if I'm Max, I'm upset. I think [Russell] defended well.
F1 SPRINT: Who gained and lost the most positions in the Baku Sprint?
"I think it's dangerous to overtake round the outside, because you could either end up in the run-off or end up in the wall, or you could have somebody on the inside who is weak and gives you all the place in the world.
"But, you know, on the inside it's quite an angle you need to achieve, and if you try to turn around there tightly, you're going to lose out on the next straight."
Wolff added: "If it's your team mate winning and you finish third, and you don't have performance in the car because you have a big hole, absolutely you're upset, and each of them vents that differently. As long as you're authentic, that's good. And Max is quite outspoken – probably [he] forgets about it one hour later – that's OK."