'This is the best day of my life' says Gasly after stunning Brazil podium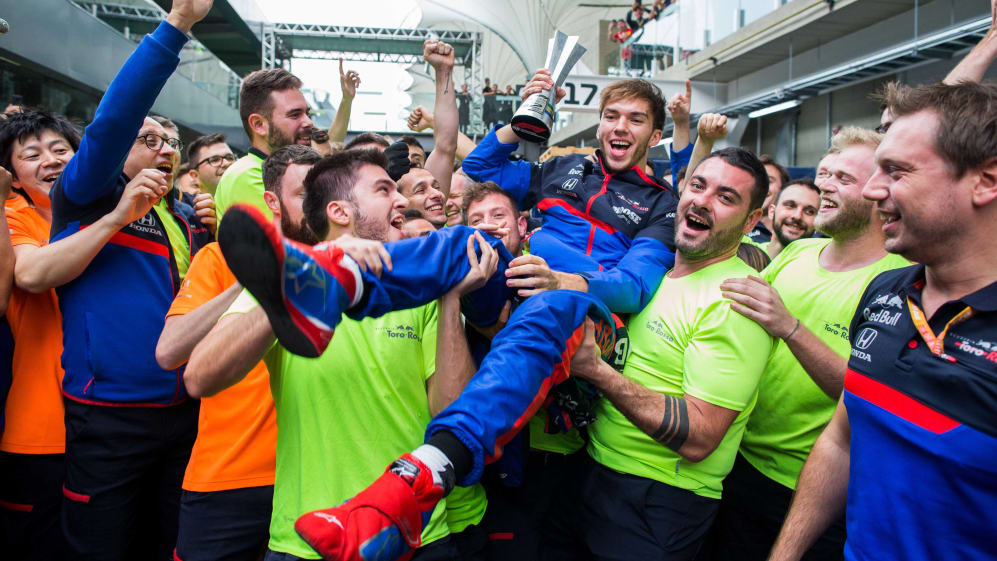 Pierre Gasly has been through the wringer this year, the Frenchman enduring a difficult time at Red Bull before being demoted to Toro Rosso after the summer break and then losing his friend Anthoine Hubert in a Formula 2 crash. But his resilience in the face of disappointment has been remarkable – and it was rewarded with a stunning maiden podium in Sunday's Brazilian Grand Prix…
Gasly's confidence was dealt a hammer blow when Red Bull opted to demote him in favour of Alexander Albon, the senior team feeling his results were not up to scratch. But he has looked like a driver reborn at Toro Rosso, scoring points in four out of seven races ahead of Brazil.
Then at Interlagos, he emerged as the 'best of the rest' driver, starting Sunday's race from sixth on the grid and showing the pace throughout to suggest he could finish seventh at the very least. But then the race got spicy with not one but two Safety Cars and suddenly Gasly found himself in third place, behind the two Red Bulls but clear of Lewis Hamilton.
READ MORE: Verstappen wins wild race in Brazil, as Ferraris clash and Gasly nets first podium
At the restart, he quickly lost a place to Hamilton – his podium hopes appearing all but over. But then Hamilton collided with Albon, allowing Gasly to sneak into second. Hamilton regrouped and attacked, even pulling alongside on the drag to the start-finish line and flag – but Gasly held him off to take second.
"It's the best day of my life," he said. "As a kid, you dream of being in F1 and when it happens, it becomes the best day of your life. Then you dream of your first podium.
"When I came back to Toro Rosso, I just kept working on myself, I tried to push the team as much as much as I could, and I've been careful to make the best of all my opportunities.
"Today just came to us, we had a strong race before that. All weekend the car has felt good and I was controlling the gap to the guys behind. When started to battle first with the Ferrari, I thought okay, this looks similar to Bahrain 2018 when we took P4. Then it was quite an intense finish and incredible to get my first podium in F1."
It's not often a midfield car gets to fight a world champion for a podium, but that's exactly what Gasly faced in the closing laps at Interlagos – and he relished it.
"It was intense," he said. "With my first podium [in reach] I have a world champion behind pushing me to the limit. I tried to defend in the best way I could, trying to go flat-out and hope the engine gives you every single horsepower.
"I was pressing the overtake button. I could see his front wing and I was thinking please don't pass me on the line. I would have been pissed off if he did. I really wanted to keep that second place."
Second place pushed Gasly back up to sixth in the drivers' standings. It's also the best finish for a French driver since Romain Grosjean at the 2013 United States Grand Prix and the 22nd French podium in history. Chapeau.