Title challenge 'not impossible' – Ricciardo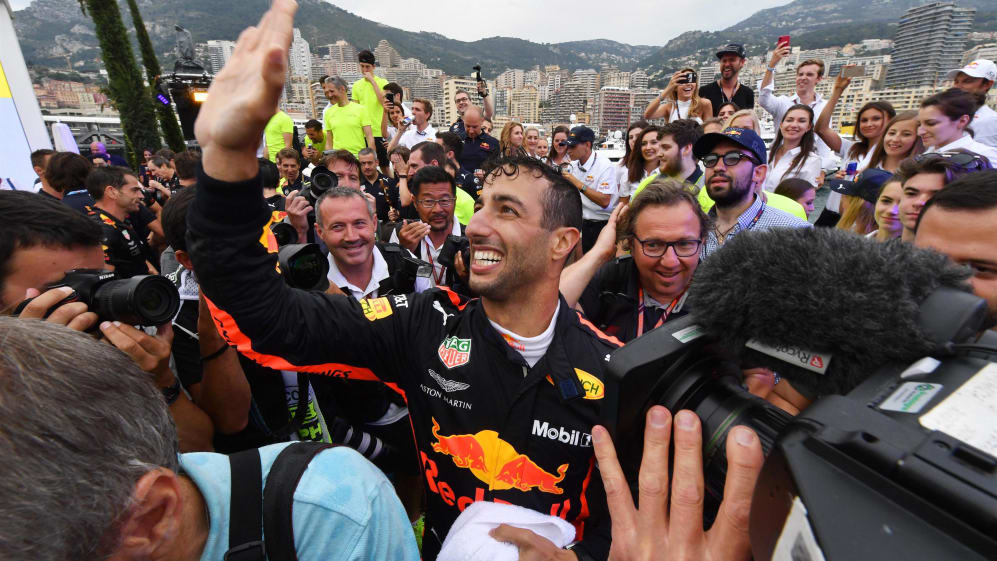 Daniel Ricciardo is a man who often wears a broad smile - but it was even broader than usual on Sunday evening in Monaco. With his stunning win, not only had the Australian banished the memories of Monaco 2016, when he saw victory snatched away by a botched pit stop, he'd also edged himself back towards title contention...
The Red Bull driver's triumph in Monte Carlo was his second in six races this season, matching Lewis Hamilton and Sebastian Vettel's tally. He trails Hamilton and Vettel by 38 and 24 points respectively in the standings, the legacy of a harmful retirements in Bahrain and Azerbaijan, but after such a strong performance, does Ricciardo feel like he's now a contender for the drivers' crown?
"I think it's a natural question after a victory," he said. "I think I got asked after China if it means we're in the title hunt.
"Lewis still has a pretty good buffer on me, so we're still on the outside of that. It's not impossible but not really at the forefront of my mind yet. But, even if it was, I'm not going to change obviously the way that I'm driving or trying to attack."
One thing that could work in Ricciardo's favour is the fact that Renault are set to introduce an engine update for the next race in Canada.
"So, yeah, Montreal will be interesting," added Ricciardo. "[I'll] try to get a few more podiums, but yeah, we've got to probably prove on at least one other circuit before the summer break that we can win again. And then maybe we're a nice little outside chance."
Red Bull Team Principal Christian Horner is hoping his team can kick on from here, particularly if Renault can deliver gains in qualifying trim, an area where the team is lacking relative to Mercedes and Ferrari.
"I think we've had a good chassis from the first race, the problem has always been on Saturday," said Horner. "Here we got the pole position and we won the race even with a problem.
"If we can improve our Saturdays then our races will be competitive. That is our fourth fastest lap we have set in six races now in race conditions.
"I think if we can just improve our performances on Saturday and get a little bit more in Q3 on peak power then there is no reason why we shouldn't be able to give Mercedes and Ferrari a hard time."