Toro Rosso drivers enjoy 'good fight' but challenging day in Sochi
The 2019 Russian Grand Prix won't go down as one of Toro Rosso's happiest weekends, with Daniil Kvyat and Pierre Gasly both finishing out of the points, having taken grid penalties ahead of the race for power unit changes. But the drivers had at least had some good on-track scraps with each other to keep them busy around the Sochi Autodrom...
The Kvyat/Gasly fights began right away, in fact, with Kvyat launching himself from P19 on the grid – where he'd started after a full power unit change at the beginning of the weekend, and having missed qualifying – and briefly sneaking past the P16-starting Gasly around the outside of Turn 3, before the Frenchman re-took the position into Turn 4.
READ MORE: Hamilton snatches Sochi win after Ferrari fail to make advantage count
They then met again on Lap 37, as Gasly – who'd had his own five-place grid drop for changing his internal combustion engine – slung his STR14 up the inside of his team mate into Turn 2, the pair narrowly avoiding contact as Gasly failed to slow his car in time to make the corner and skipped through the run-off instead, allowing Kimi Raikkonen to slip past into 13th place.
We didn't have the pace to fight for points , but I had a good fight with Dany – you always have to try to fight for positions
That was how they finished, with Kvyat in 12th relatively pleased with his recovery, after ending the race just three seconds off Nico Hulkenberg's 10th-placed Renault, while Gasly was less positive about his 14th place, especially considering he'd ended Friday's FP2 session in a strong P6.
"It was a pretty challenging day for us," said Gasly. "We didn't have the pace to fight for points today. I tried to do everything I could inside the cockpit but there wasn't much we could do. I had a good fight with Dany, as you always have to try to fight for positions.
"At the time, I was pushing for P12, a position that allows you to think that something can always happen in front of you and you can finish in P10. I tried to do what I could, but we didn't have enough speed, so it was a tricky day.
"We now need to analyse and understand why to come back with better pace in Suzuka."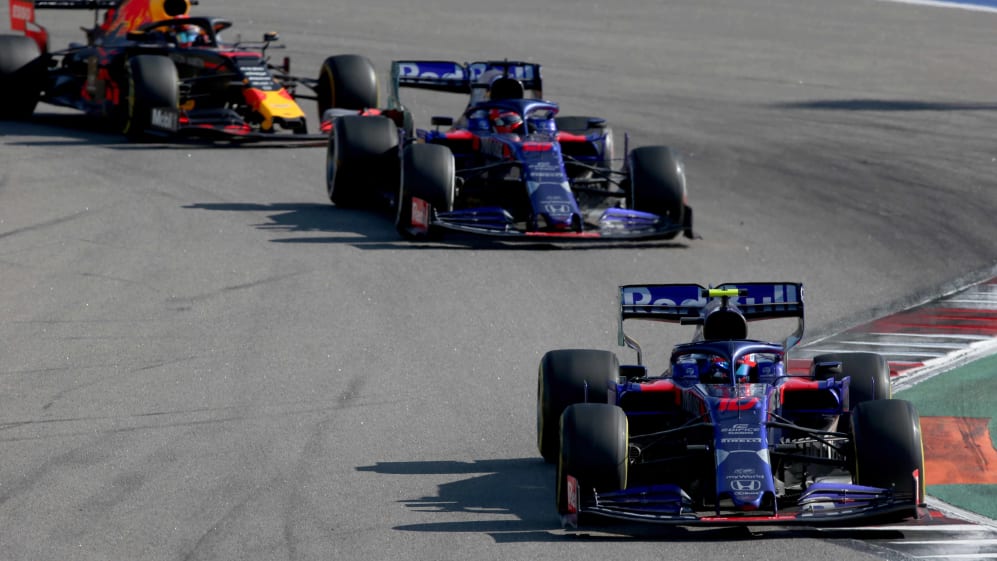 "I had a strong and competitive race today," was Kvyat's view of how his home Grand Prix had played out. "It was a good effort from the team to start from the back of the grid and finish very close to the points. I had a good start and some enjoyable battles. I was really fighting until the very last lap, so I'm happy with my race."
Toro Rosso have never performed particularly well in Sochi, the team having netted just two points in Russia across the six Grands Prix held there so far. And while the last time the team took points in Suzuka was in 2015, they'll be hoping to add to that tally next time out in Japan, given that it's power unit supplier Honda's home Grand Prix.
READ MORE: Albon makes up 15 places in 'bounce back' run to fifth in Sochi