Toro Rosso 'to my liking' says Kvyat after topping test times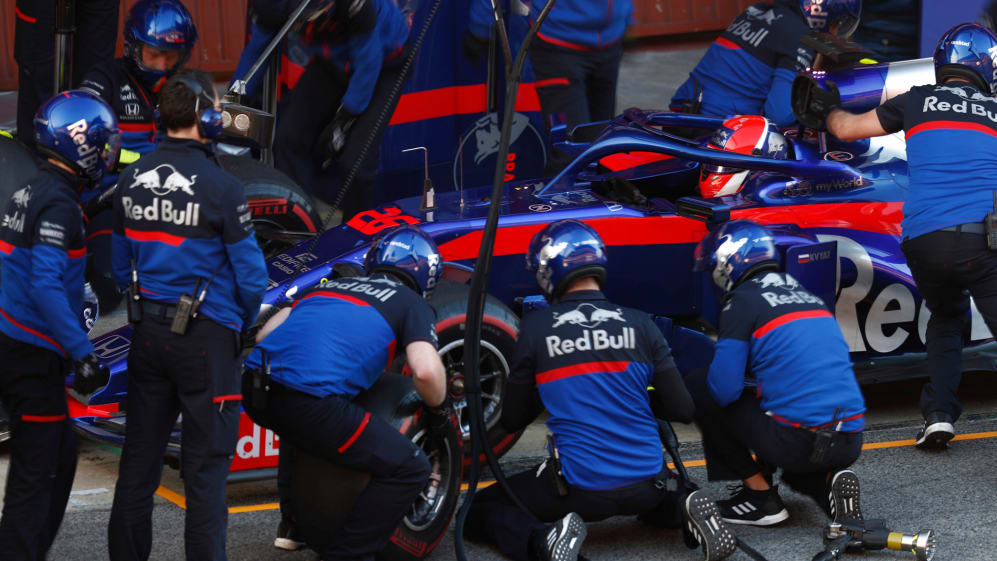 Twelve months ago, the chances of Daniil Kvyat returning to F1, let alone topping the timesheets in testing, were very unlikely. And yet that's exactly what happened on day three of pre-season running in Barcelona, with Kvyat saying his new Toro Rosso felt "to my liking"…
The Russian, who left the Red Bull family in 2017 before getting his recall for this year, comfortably cleared the 100-lap barrier, clocking up 137 in total, one short of the top tally of the day by Kimi Raikkonen. And with 15 minutes to go he didn't just set the quickest lap of the day - he set the benchmark for the entire test so far.
"Honestly, I would like to say it does feel good, it feels to my liking so far," said Kvyat of his new machine. "Every time I'm out there, I pretty much know what the car is going to do for me so it's a nice feeling so far.
"Of course it's early days but the better the start, it's always welcome. We plan to keep improving and keep working on the car.
"The amount of laps we did and how pretty much on programme we were all the time. We didn't have any setbacks. We were really banging through the programme and we had no major issues. The guys did a great job so I am happy to be a little bit tired today."
The Honda power unit continues to run reliably, after three days of testing, while also showing favourably in the speed traps. While Kvyat wouldn't be drawn on the performance of the unit, he was pleased they have been able to run without power unit issues.
"We obviously don't know what settings the engineers were running today, it's up to the engineers to analyse this kind of data," he said.
"But from my side, the point was that we got all the reliability to do all the laps. We did many laps today, one shy of Kimi, unfortunately - I feel bad about it! But many laps, that's what I'm looking for and it's important and Honda is providing this good reliability."
Kvyat's new team mate Alexander Albon, who makes his F1 debut this year, will be back in the STR14 on Thursday – the final day of the first four-day test.