Opinion F1 Unlocked
TREMAYNE: Did the Australian GP create fresh hope or just a false horizon for Mercedes and Ferrari?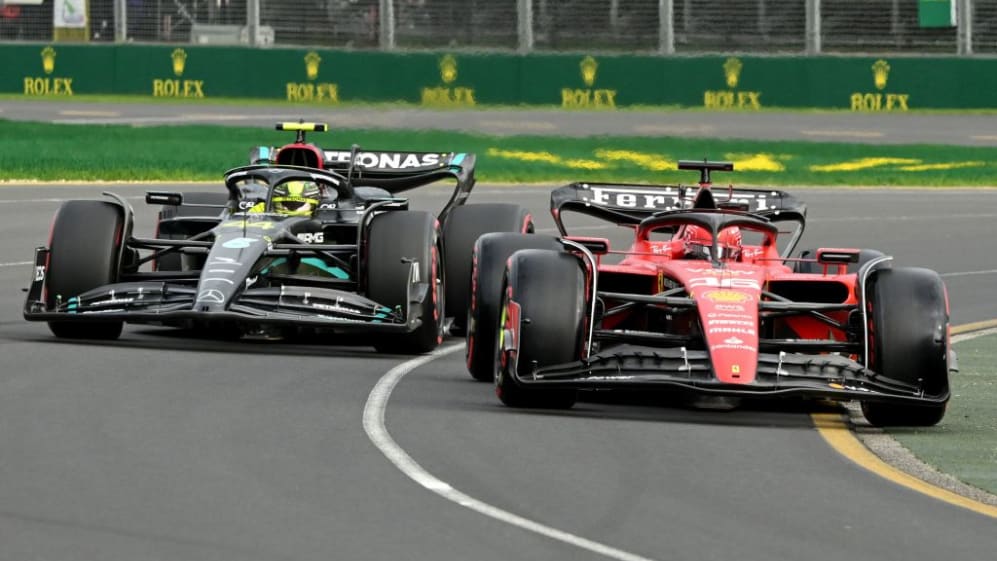 Statistically, the Australian GP looked pretty good for Mercedes, with Lewis Hamilton finishing just 0.1s adrift of first-time Down Under winner Max Verstappen. A bit like the old times of 2021 before the Silver Arrows lost their mojo, if you just read the result on paper.
But, of course, the outcome of a chaotic race which was red flagged a record three times was skewed further when it ultimately ended behind the Safety Car.
In reality, the Red Bull was still light years ahead of the Mercedes in race performance, especially, as we have seen already this year, under DRS. It's as if Adrian Newey and his team have come up with a turbine-like reheat once that is activated.
Nevertheless, it was a brighter experience for the Brackley team than either Bahrain or Jeddah, and there was a little sliver of hope for Ferrari too, though they ultimately came away empty-handed for reasons we'll touch on later.
6 Winners and 5 Losers from Australia – Who finished on a high Down Under?
Naturally, the way things currently are in F1, Red Bull were still clearly in charge, with Max taking pole and having full control once he'd deprived Lewis of the lead on lap 12. Thereafter he just checked out.
I liked Jonathan McEvoy's comment in the Daily Mail that he then just switched to Jazz FM for the rest of the afternoon. That's exactly what it looked like, especially as both he and the recovering Sergio Perez were the principal setters of fastest lap, that point-winning accolade ultimately going to the Mexican.
But considering that Mercedes had done very little to their difficult W14 bar some set-up honing based on better understanding of the car in general and the addition of some underfloor strakes to redirect airflow – ahead of the major update that is due around Imola time – their qualifying form was the major surprise of the first two days.
George Russell getting within 0.236s of Max's Red Bull in Q3 was quite outstanding, and Lewis would have been closer than 0.372s had he not got into a territorial battle with Nico Hulkenberg which comprised his preparation for his best lap.
POWER RANKINGS: Team mates share the top spot as the judges' scores come in from a dramatic Australian GP
Then both of the black cars led the race – who would ever have bet on that based on their performance in the first two races? – George beating a slightly cautious Max off the line, and Lewis muscling past him in a bit of neat role reversal in Turn 3 on that opening lap.
In the end, of course, the first red flag hurt George just after an early pit stop under the Alex Albon-triggered Safety Car had looked quite clever, and then his ICE failure stymied what was beginning to look like a strong recovery from seventh.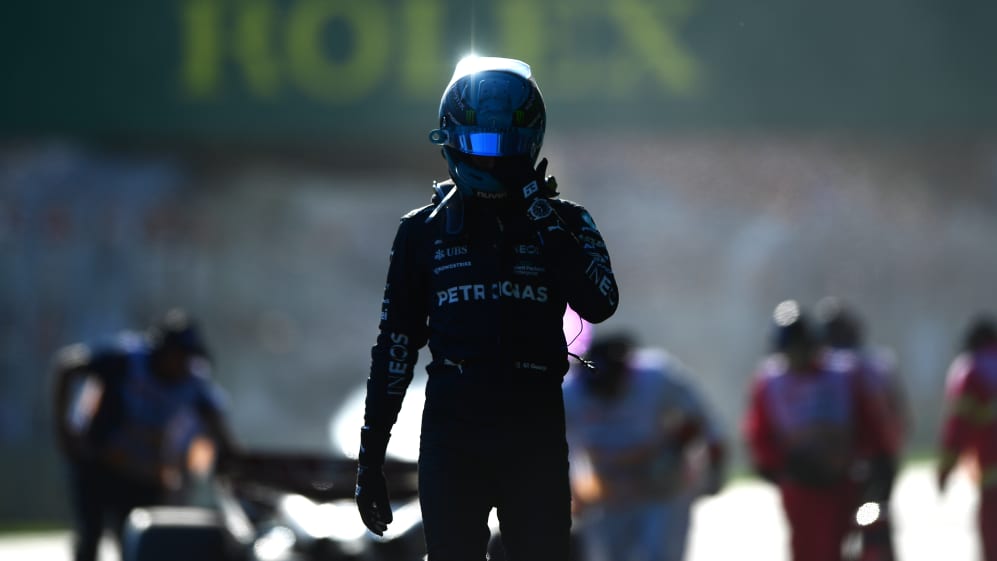 But though Lewis lost the lead, looking as Mario Andretti used to say like he was painted to the wall when Max attacked, he nevertheless took a decent second after a great nip-and-tuck mind game with Fernando Alonso.
For Lewis this was a fine balance between tyre management and defending; for Fernando, a race of pause then attack. Both needed to conserve their hard rubber to the finish but the Spaniard had to balance that with keeping the pressure on Lewis in the hope that the Englishman fell into the trap of pushing too hard whenever he threatened to get close enough to benefit from DRS.
READ MORE: Hamilton hails 'amazing' Melbourne podium as he says Mercedes closing gap to Red Bull will be 'tough but not impossible'
It wasn't a thrilling wheel-to-wheel duel, much more a very cerebral and sophisticated fight between a couple of pure racers who've been round the block many times.
Both likened it to the old days when they were teamed together at McLaren, and I liked the camaraderie they displayed in the green room while awaiting the podium ceremony. It was also nice to see the talented but under-written Red Bull chief designer Rob Marshall on the podium. A thoroughly good bloke.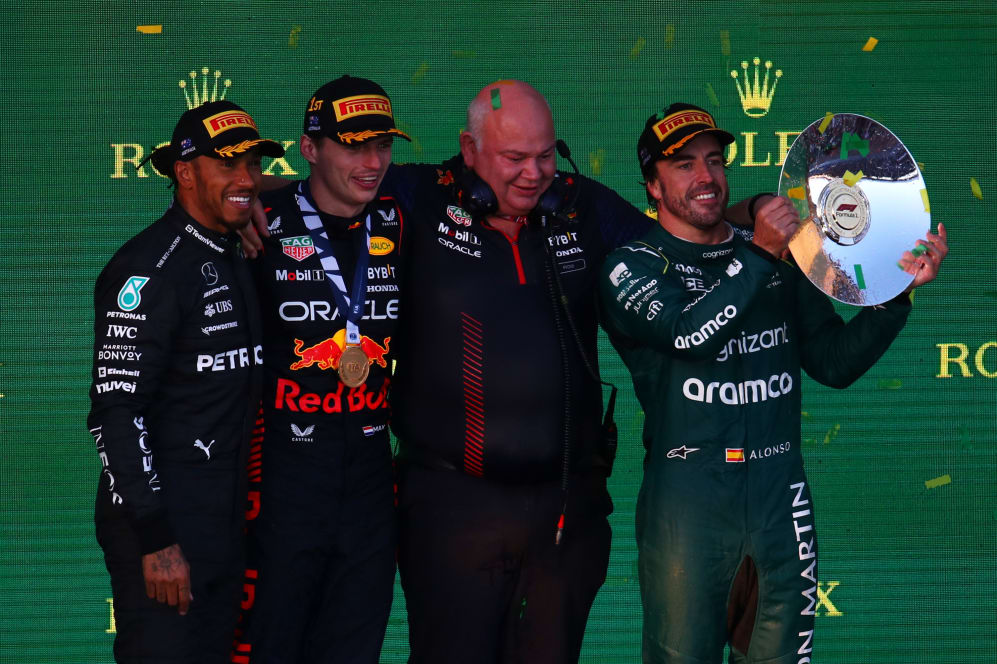 Typically, the effervescent George believed that Mercedes could have fought for the win if both had been out there against Max. The lap times might suggest otherwise, but he's better placed to express that opinion than anyone else so one has to respect it.
Certainly, Mercedes made a step forward this weekend, both on one-lap and race pace. They maximised what was available, and can now trawl through the data to enhance their cars as best they can until that upgrade comes on stream. Let's hope it wasn't just a circuit-specific spike.
READ MORE: Mercedes made 'a good step' in Melbourne says Wolff – but worries remain over Red Bull's 'mind-boggling' pace
On the downside, George's unexpected ICE failure will have been a significant cause for concern.
Ferrari, meanwhile, struggled in qualifying on a circuit where they were dominant last year, but their race pace looked a lot better than in Jeddah.
With Carlos Sainz fifth and Charles Leclerc seventh – 0.506s and 0.605s off the pole and with the Aston Martins of Fernando and Lance Stroll separating them – qualifying was tough for the reds. Each driver was compromised.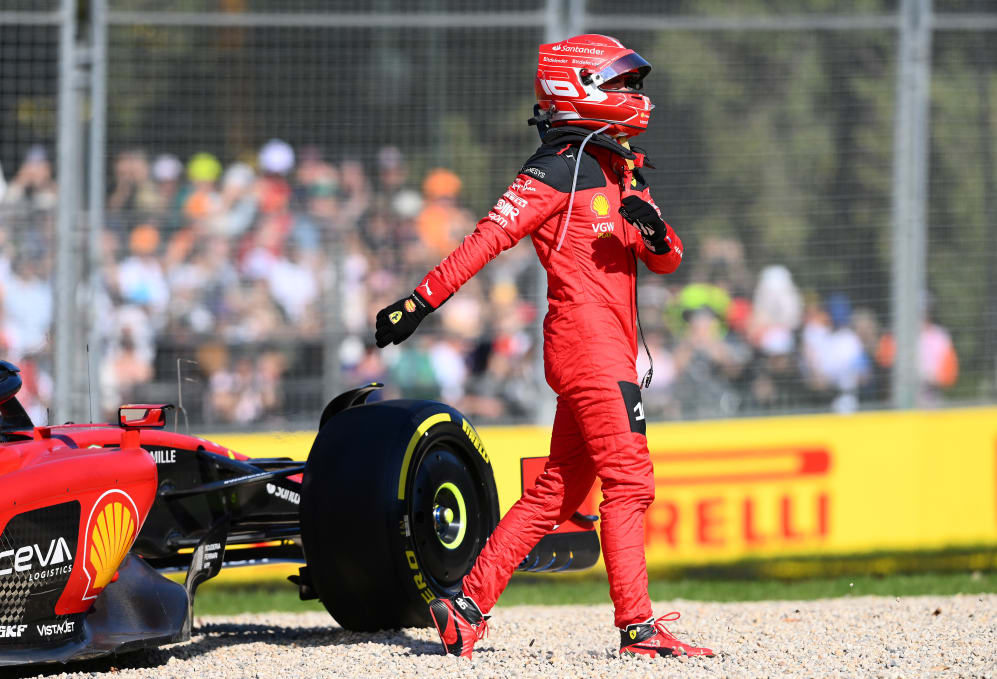 Carlos encountered traffic on his preparation lap and having to slow down too much lost him crucial tyre temperature; that particularly hurt in Turn 1 where he lost a few tenths of a second.
It was agreed that since Charles had little time left in the session he would have to make do without a preparation lap, whereas for much of the weekend several drivers were gaining better results on the softs by doing a fast run then a slow one before pushing again.
READ MORE: 'Overall we did a good job' – Vasseur keen to take the 'positives' from Melbourne despite point-less outing for Ferrari
In the circumstances his 1m 17.369s lap was respectable, but nonetheless disappointing. And the 2022 winner's weekend-of-what-might-have-been ended, of course, when he got eased off the track and into gravelly retirement by Lance in Turn 3 in the usual first-lap traffic.
It was thus left to Carlos to demonstrate that Ferrari had at least made progress in terms of race pace compared to the opening two races.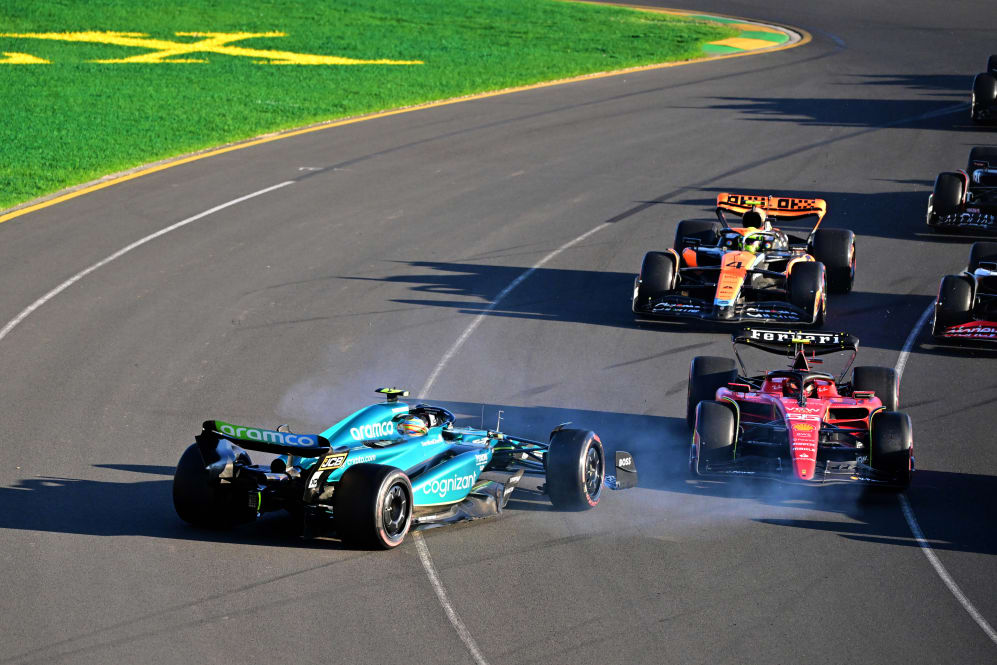 He got away well from fifth on the grid, quickly demoting Fernando, but like George he was caught out after an early switch from the medium to the hard Pirellis on lap seven when the Albon Safety Car became the first red flag stoppage.
STRATEGY UNPACKED: Bernie Collins dissects the red flag dilemma facing the teams in Melbourne
That dropped him to 11th, triggering a feisty recovery which saw him get back up to fourth place by Lap 25 – where he was for the third restart.
But that was when it all went wrong as he went into Turn 1 too hard, ran wide and tapped Fernando into the spin which resulted in car #55 being given a five-second penalty.
He duly crossed the finish line still behind Max, Lewis and Fernando after the fourth and final restart behind the Safety Car, but plunged to a very unhappy 12th when the penalty – which he vehemently declaimed – was applied.
On the bright side he had been able to match the lap times of Lewis and Fernando, while still managing to look after his tyres, so Ferrari could at least be satisfied to have made some decent progress in terms of race pace.
PALMER'S ANALYSIS: Was Sainz's five-second penalty in Melbourne too harsh or fair punishment?
For the record, while Checo and Max set the fastest laps with 1m 20.235s and 1m 20.342s respectively, Carlos' had the third best time of 1m 20.467s, so Ferrari's pointless race wasn't far from an accurate reflection of their progress.
But did the Australian GP create fresh hope or just a false horizon for Mercedes and Ferrari? Time will tell, but with that long front straight coming in Baku I won't be holding my breath for any toppling of Red Bull just yet.
To read on, sign up to F1 Unlocked for free
You'll unlock this article and get access to:
Live leaderboard data
Epic experiences and rewards
Money-can't-buy competitions