Feature F1 Unlocked
TREMAYNE: Does Ferrari's Baku performance mean they're on the right path to catch Red Bull?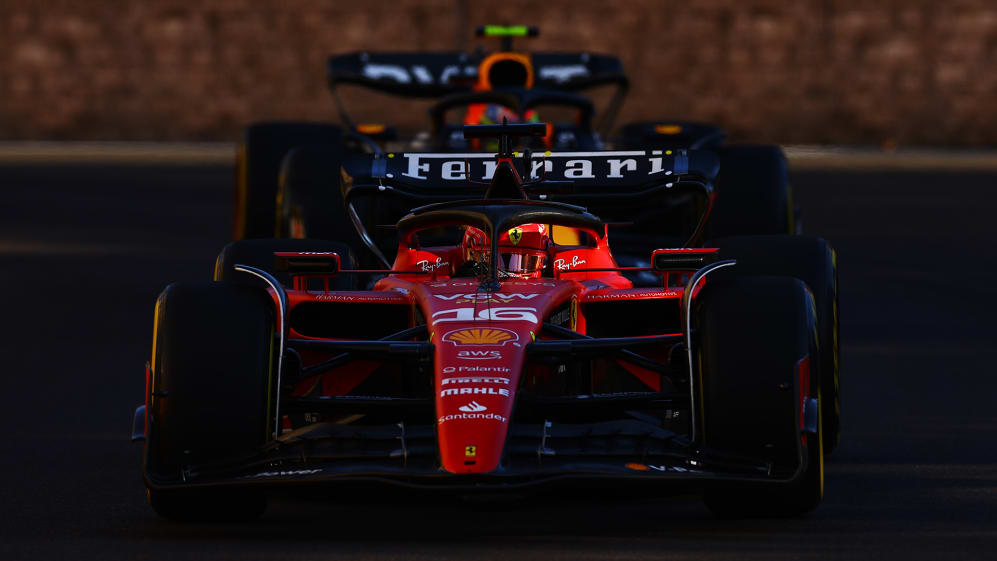 Mercedes are clearly taking some very significant steps amid a shake-up in their technical concept and management, trying to resolve the current car issues that have left Lewis Hamilton and George Russell as also-rans in the chase for another World Championship to add to the eight on the bounce they achieved as a constructor in the first iteration of the turbo-hybrid era. How long ago that now seems, at a time when Red Bull have won 14 of the last 15 races!
Meanwhile, Ferrari, also struggling to do something about Red Bull since their early promise faded away last year, are taking a different view, determined to soldier on massaging their existing concept. In a Zoom hook-up prior to the race in Azerbaijan, new boss Fred Vasseur made it clear to us that his team have no plan to deviate from their existing car, nor their planned developmental path.
READ MORE: Leclerc says Ferrari 'absolutely maximised' Azerbaijan weekend after claiming first podium of season
So, which of them have it right? In Baku, as the Mercs lacked sheer grunt on the straights and some crucial downforce and grip exiting Turn 16, Charles Leclerc was a star, especially in qualifying, the Sprint Shootout, and the Sprint itself.
But at the end of the Grand Prix, he was 21.217s adrift of winner Sergio Perez, with Carlos Sainz 45.491s and Lewis Hamilton 46.145s away from the top step of the podium. That's respective single-lap deficits of 0.416s, 0.892s and 0.904s. Ouch!
And George? Well, his race time was skewed by the fact that he made that late stop on Lap 49 for a set of softs. And how satisfying must it have been for him, after being a little abused by an irate Max Verstappen after their early skirmish in the Sprint, to deprive the world champion of the fastest lap he thought he had claimed as the Dutchman crossed the line 2.1s drift of his team-mate.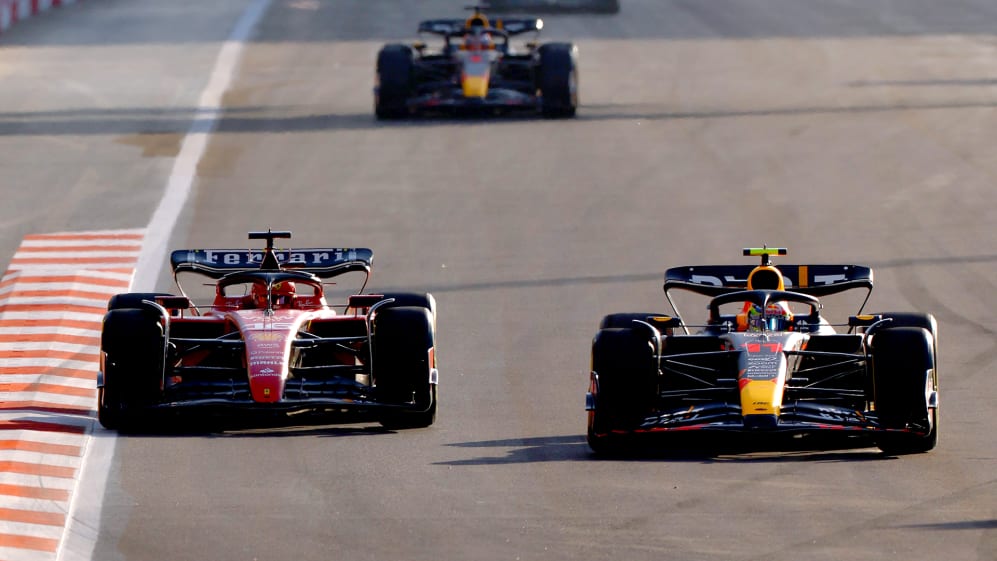 Clearly, when it comes to speed Ferrari's apparent resurgence in beating Red Bull on one-lap pace, built upon adjustments to the set-up which had helped their race performance in Melbourne, was something of a chimera.
But while one might, perhaps optimistically, see Mercedes' upcoming concept change enhancing their competitiveness, one wonders if just fiddling with the SF-23's balance is going to work the oracle for the red team, who appear to be somewhat on their back foot still.
MONDAY MORNING DEBRIEF: Would Perez have beaten Verstappen in Baku without the Safety Car?
The days leading up to Azerbaijan brought the unexpected news – divulged to the world, it seems, before it was to Ferrari – that their number two Laurent Mekies will at some stage this season depart to become Team Principal at AlphaTauri. Which, as we all know, is Red Bull's junior team…
This, at a time when Fred, personally fighting ongoing back problems, is still finding his feet in a team known for polemics and which always attracts the sort of huge media pressure better known in the UK to Premier League football teams rather than F1 operations.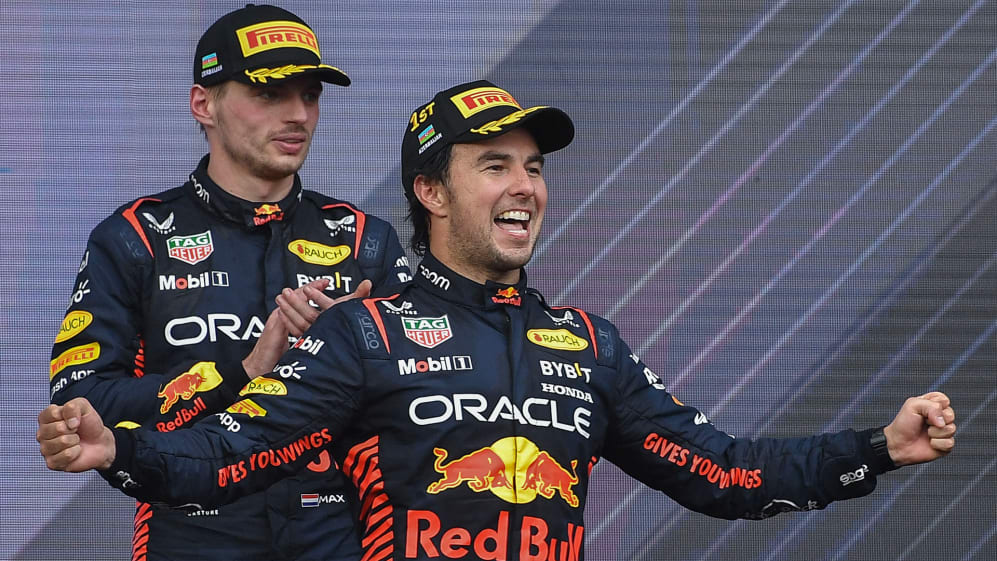 Then there are Carlos Sainz's performances. The likable Spaniard can produce Leclerc-like pace but only, it seems, when he is really happy with the way the rear-end of his car performs. And while Charles seems able to drive it on the nose, Michael Schumacher- and Max Verstappen-style, Carlos can't.
You can see the pain of that etched on his face whenever he is interviewed after qualifying or a race, and the loss of fourth place in Melbourne did nothing to help his psychological state. He saw that as a betrayal of his intense effort.
FACTS AND STATS: Red Bull take 25th one-two as Perez makes it five street wins in a row
Vasseur meanwhile – in contrast to the Mercedes management – remains sure that it is more a case of being able to extract the potential of the car, rather than that the fundamental concept is flawed. And he makes some good points with regard to Ferrari's ongoing strategy.
"To be focused on Red Bull or Mercedes or Aston Martin, I think it would be a mistake," he said. "We have to get the best from what we are doing, and to be focused on ourselves. But we made a good step, for me, between race two and race three.
"And if we're able to bring a couple of updates... I think the issue in Melbourne was not the potential of the car, it was more the job that we did as a team to extract the best from it, and we have to be focused on that.
"I think we have the right concept. We did some adjustment in terms of balance and it was much better. We always have a plan of development before the season and then you have to react due to the prevailing circumstances and the competitiveness of the car. We took action very quickly.
READ MORE: 5 Winners and 5 Losers from the Azerbaijan Grand Prix – Who lit up the Land of Fire?
"We had some good events in Melbourne and we will continue what we can do to push and try to speed up this process, but we can't change massively the plan.
"There are budget cap restrictions against going in another direction, if we have to start from scratch. I don't want to say that it makes no sense, but it would be very difficult.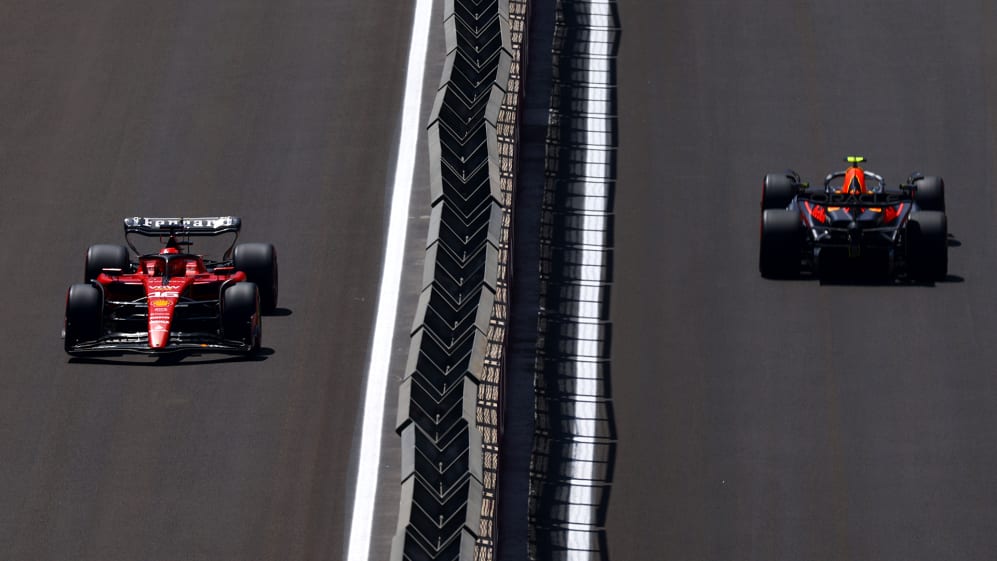 "So we will adapt due to circumstances, we will put all the resources to speed up the process and we have a plan for Barcelona. But you can't change massively something in the course of a season. We cannot switch to do a new car, so we will continue in this direction and try to update faster."
Early last year Charles Leclerc was on top of the world with two victories to Max Verstappen's one, but while Fred denied any drop in his drivers' morale after Australia, he had another issue to consider in Azerbaijan, besides the lack of race speed.
F1 NATION: King of the streets Perez strikes again as Ferrari edge closer – it's our Azerbaijan GP review
Rumours abound that Charles and Mercedes have been 'talking' about a possible relationship in the post-Hamilton era. That may not be much before 2026, if Lewis were to retire at the end of 2025 – and Charles himself was at great pains last week to deny that conversations have taken place – but such things have a habit at eating away at team morale.
Nobody wants to believe that their star might have wandering eyes. Yet who could blame the man who suffered several times from the team's muddled strategic thinking in 2022 from wondering how green the grass might be elsewhere?
Leading Ferrari is sometimes seen as a poisoned chalice because of all the pressures it entails – though it appeared that nobody told Jean Todt that! And right now, after those Red Bulls unleashed their true race pace last weekend in response to Ferrari's uplift over the two preceding days, another season is more likely to be challenging than fulfilling.
To read on, sign up to F1 Unlocked for free
You'll unlock this article and get access to:
Live leaderboard data
Epic experiences and rewards
Money-can't-buy competitions