Feature F1 Unlocked
TREMAYNE ON STEWART: Celebrating the Flying Scot – 50 years after his third and final championship title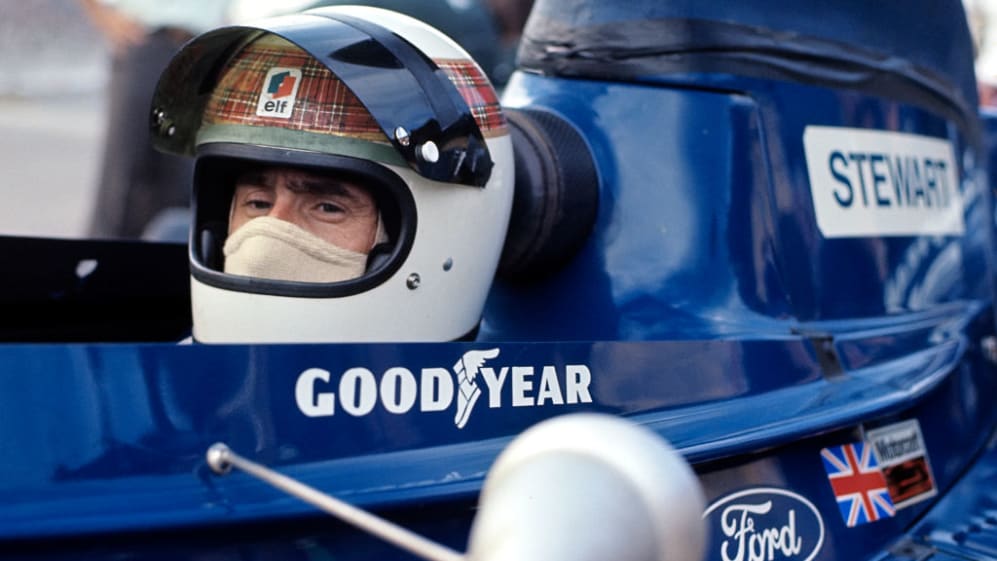 If ever there was a perfect ambassador for the sport, it's John Young Stewart, who celebrates this year the 50th anniversary of his third and final World Championship.
It's been a long 'retirement' for the man from Dumbuck, but the fact that he still works hard and is as famous today as he was back then – unless you are a security man on the grid in Miami – is a reflection of how canny this Scot has been as the curator of his own legacy. And how, without being boorish or self-obsessed about it, he has maintained his reputation so deftly that he remains just as well-loved by the British public.
BEYOND THE GRID: Sir Jackie Stewart on surviving and thriving in F1's most ferocious era
Today, just turned 84, he still attends many races as an ambassador for Heineken and Rolex among others, characterised by his habitual and good-natured mickey-taking with journalist friends, and that endearing Spring-heeled Jack walk that is so nearly as jaunty as it was in his heyday behind the wheel.
Together with old rival and friend Emerson Fittipaldi he is always a welcome addition to the paddock. And I warmly remember the May day, 41 years after a photograph of him driving a BRM H16 at Silverstone in 1967 had triggered my love affair with F1 as a boy, when I sat between them over lunch at Jackie's house to discuss their memories of Jochen Rindt for a book I was writing.
For fleeting moments I remembered what it was like to be a teenager again… While I was speaking with Emerson about Jochen, one of Jackie's grandchildren came in and proffered pen and paper for an autograph.
Emerson immediately obliged, and asked if he had his grandfather's autograph too, "because he was a much better driver than me." The boy's what-are-you-talking-about expression was a picture.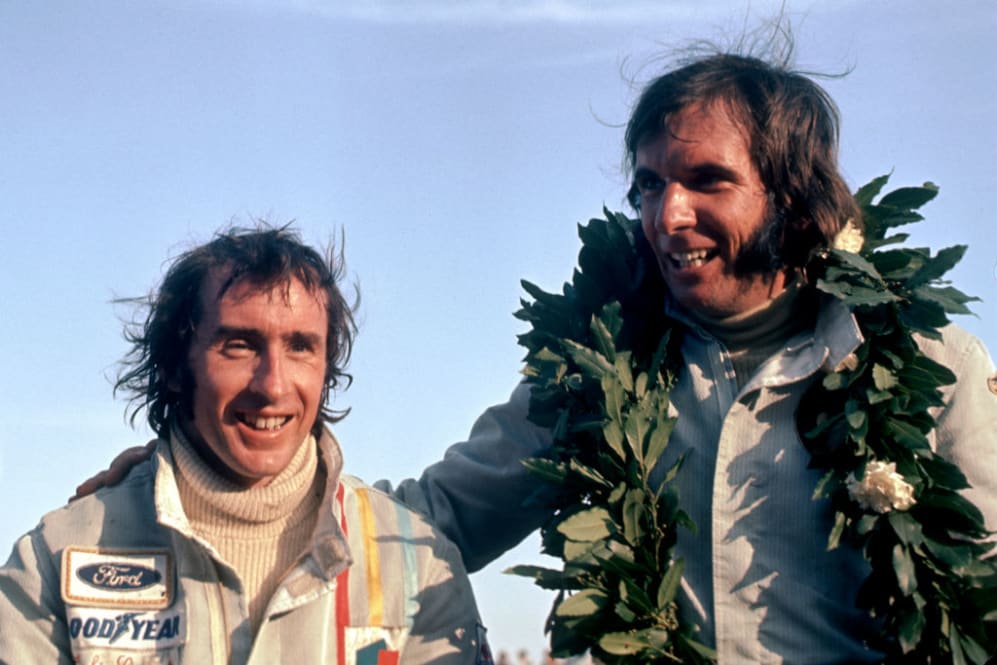 Emerson's words spoke volumes for the regard in which he is still held, as did Jackie's greeting of another old rival, Jacky Ickx, in Abu Dhabi last year.
They hugged warmly and laughed about old memories, even though Jacky's fatalism in his racing days had never sat any better with JYS than JYS's safety crusade had sat with him. Today, they know how lucky they were to survive such a dangerous era, each on his own terms.
WATCH: From his first win to a Nurburgring masterclass – 10 moments of Jackie Stewart brilliance
In terms of material reward the sport has, rightly, smiled on Jackie, but it also exacted a high price. He spoke once of the time when he and his wife Helen counted up all the friends it had taken from them, and stopped when they got beyond 50.
Without doubt he invested more than he got in return, as that crusade via the Grand Prix Drivers' Association after his crash in Belgium in 1966 triggered wholesale change at a time when dignitaries of the sport once reacted to his request to have a dangerous tree removed before somebody hit it and was killed, with the crass comment: "If Stewart wants the trees cut down, he knows where the saws are."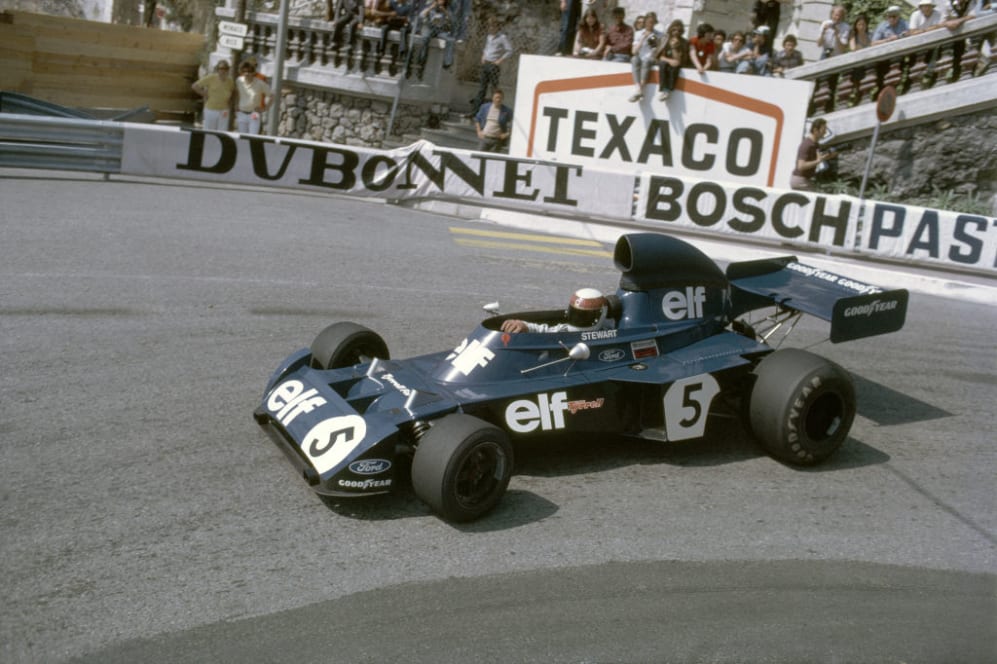 Without his unflinching determination the sport might never have progressed from the senseless risk-taking of the pre-Armco days to the multi-billion enterprise it is today, and there would have been many more drivers who would not otherwise have survived.
His record of 27 victories from 99 starts is testament to his stature, together with his three World Championships and countless wins in other racing categories, and all of them were achieved without the need to push any other driver off the circuit or to behave in anything other than an honourable manner.
READ MORE: F1's Best Drives #1 – Stewart conquers The Green Hell
One story in particular reflects his ethics. In his rookie season of F1 in 1965 he scored his first World Championship win at Monza in the Italian GP, narrowly pipping Graham Hill.
In total there were 40 changes of lead between Graham, Jim Clark, John Surtees and Jackie. But after Surtees and Clark retired, the 76-lap race came down to a straight fight between the BRM team mates.
They remained embroiled in battle until Graham got the approach to Parabolica wrong on the final lap. He ran wide and lost time bouncing along the grass, as Jackie pounced down the inside to take back the lead which he retained to the flag.
"At first I was slightly worried that I had done something improper in racing Graham," he admitted. "Not in what I had done on the track, just whether I should have kept pushing him.
READ MORE: A letter to my younger self – Sir Jackie Stewart
"But it wasn't as if I hadn't already beaten him earlier in the season. And he made the mistake himself, I had nothing to do with that. By the flag he was 3.3s back, and I wasn't going to pass up the chance to overtake when it was presented."
Their relationship remained close until Graham's death in 1975. "I learned so much from him and he never held back in giving me any information," Jackie said. "He was very tolerant of having a young puppy in the team!"
His relationship with fellow Scot Clark also really burgeoned that year, as they shared a flat known as the Scottish Embassy in London and terrorised the circuits of the world. More than once Jimmy was the only man ahead of Jackie at the end of a race.
Of Clark he once said with simple, unforced humility: "In a car, Jimmy was everything I aspired to be… He and I were good friends and it was getting to the point where they called he and I Batman and Robin, and there was never any doubt which was which!"
READ MORE: Jim Clark - What made him so good?
Jackie likes talking, and he likes his reputation to be acknowledged, but one of the things I have always admired is his fundamental modesty and humanity.
He has the nous to let his achievements speak for themselves and has never felt the need to seek continuous reassurance of his place in racing's society, and its acceptance of him.
Another thing is that he has never fallen into the trap of trying to suggest that he might have been better than Jimmy, whose record of 25 Grand Prix victories he bettered by two in 1973. He has always had the self-assurance to leave it to others draw their own conclusions about their respective merits.
When Juan Manuel Fangio was buried in Balcarce in 1995, Jackie moved heaven and earth to ensure that he and Stirling Moss were present, though the journey involved trials and tribulations that would have daunted a less principled fellow.
LISTEN: Jochen Rindt remembered – by Helmut Marko, Jackie Stewart and Bernie Ecclestone
"If I had not been there," he said, "I would never have forgiven myself." He was deeply affected when they were invited to be pallbearers.
In defeat he was gracious – never was that better demonstrated than when engine failure stole what seemed a certain imminent rookie victory in the Indianapolis 500 in 1966 – and even though Clay Regazzoni's tactics in Germany in 1972 left him incensed he retained his outward composure.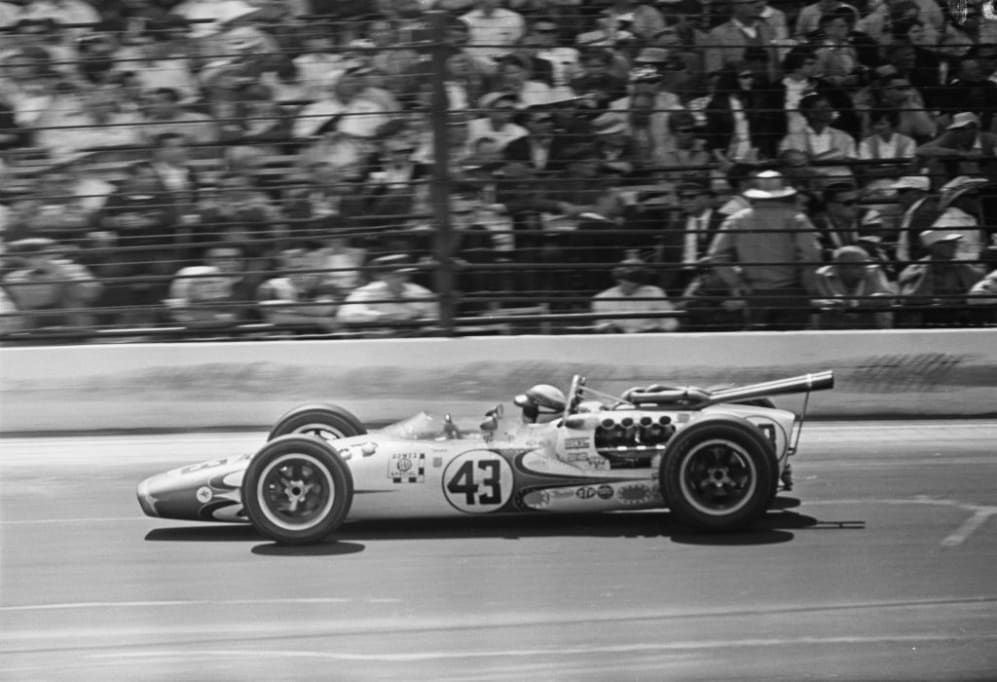 In victory he never crowed. Indeed, he once told me that the whole time he was racing he lived expecting somebody faster to come long. In his era he raced against Jimmy, his other great friends Graham, Emerson and Jochen, and stars of the calibre of Dan Gurney, Chris Amon, Jack Brabham, John Surtees, Pedro Rodriguez, Jo Siffert and Ronnie Peterson.
He's been there, seen it, and done it. And he's been there in the darkest times, has seen it from the depths – not least when 'younger brother' Francois Cevert died – and faced it all with style and courage. And, more tellingly, without malice, controversy or dishonesty.
Being a champion doesn't just mean winning races.
In just three years, he and son Paul massaged Stewart Grand Prix into a winning team in F1 in 1999, courtesy of Johnny Herbert. Meanwhile many kids in the East End of London had cause to be grateful for his work with the Springfield Boys' Club, and there are racing mechanics who have benefited from the Grand Prix Mechanics' Charitable Trust.
READ MORE: The inside story of Stewart GP's fairytale '99 European Grand Prix victory
His fund-raising efforts on behalf of the latter echo the old saying about no sight being more impressive than a Scotsman on the make. His test work with Ford has led to generations of safer road cars.
And dyslexics the world over have found in him a valuable role model who has imbued them with hope and self-confidence. He has coped with his own dyslexia with fortitude and determination, despite the lack of its diagnosis leading his teachers to label him a dunce at school, and only recently disclosed that even as world champion he could barely read and write.
More recently, his battle against the dementia now affecting Helen has been as tireless as his safety campaign, and just as moving.
READ MORE: The lost champion? Jackie Stewart on ill-fated protégé Francois Cevert
He was the epitome of the sixties sports star, with the long hair and sideburns, the trademark Beatle cap and thick sunglasses, just as today the natty tartan trews and cap leave no doubt of his identity. In the soundbite era of 10 second attention spans, brusque, sportsman's arrogance, and personal vendettas, he stands as a beacon of integrity.
He has always known how to conduct himself with dignity while communicating with a global audience, and retains the same strong sense of, and reverence for, the history of the sport he had as a child.
To read on, sign up to F1 Unlocked for free
You'll unlock this article and get access to:
Live leaderboard data
Epic experiences and rewards
Money-can't-buy competitions