'Tremendously painful day' for Mercedes – Wolff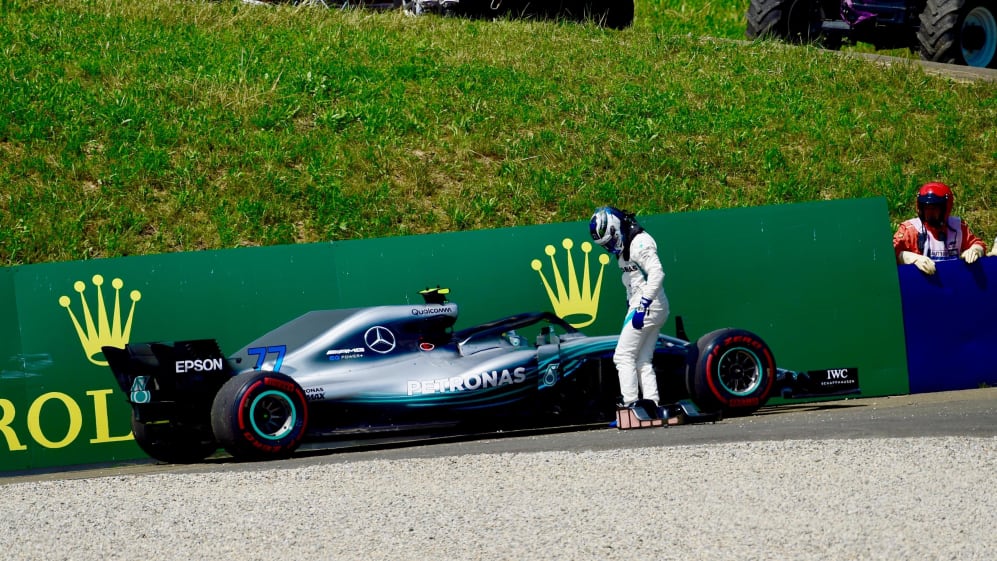 You're leading one-two. First one car fails. Then a catastrophic strategy error costs your other car the chance of victory. And then that car fails too, losing its driver the championship lead. It's hard to see how things could have gone much worse for Mercedes in Austria – and team boss Toto Wolff wasn't arguing…
"It's a tremendously painful day for us, for me personally the most painful in six years," said Wolff, after the world champions suffered their first double DNF since Spain 2016.
"We were one and two on the grid, Lewis had a fantastic first lap and then DNF-ing twice – and obviously losing the race under the Virtual Safety Car (VSC): it doesn't get more cruel for us."
Valtteri Bottas was the first Mercedes to suffer. Starting from pole the Finn had a poor getaway, dropping to fourth, as team mate Lewis Hamilton led. He recovered in emphatic fashion, brilliantly passing Kimi Raikkonen and Max Verstappen on the run to Turn 4, only his car to suffer a hydraulic problem after 13 laps.
The VSC was deployed as the Finn's stricken Silver Arrow – and ironically that prompted the start of Hamilton's downfall, his rivals opportunistically dashing for the pits and fresh tyres, while Mercedes kept the Briton on track.
"We decided to leave Lewis on track for one lap, because we thought it would take longer to clear the car from its position, and be able to react what the cars behind us did on the following lap," explained Wolff. "But the VSC cleared sooner than predicted; we simply made the wrong decision."
Mercedes pitted Hamilton soon after, but though he came out in fourth ahead of title rival Sebastian Vettel, he was later passed by the German. He then blistered his tyres as he tried to make up ground and had to pit again, but was then forced to retire with a loss of fuel pressure – ending the world champion's record streak of 33 races in the points.
"Ultimately the guys on the pit wall, you have to put 100% confidence and faith in," said Hamilton, after strategist James Vowles had apologised over team radio for making the wrong call on the VSC.
"They have the picture... all I can see is the guy in front of me and the guy behind me, I don't really know and actually at the time I was in the lead, so I couldn't even see where they were. So in those circumstances you have to rely fully on those guys on the pit wall.
"We've got to definitely work hard to understand where we've gone wrong, on both ends. Everyone in the team will be feeling pain today but we've got to take out the positives of this weekend. Ultimately we were the quickest, we should have won, so we've got to keep working hard."
For Bottas, his retirement from a race he won last year was another bitter blow, especially having beaten Hamilton to pole, and especially after the disappointment of Baku earlier in the year, where he lost an almost certain win to an unlikely late puncture.
"The luck I'm having this year feels like a bit of a bad joke at the moment," he said. "My start was not ideal; I had quite a bit of wheel spin and there was less grip than we expected, so I dropped a few places. Going into Turn 3, I could recover two places and was back in second place.
"After that the car felt strong, we were running well, but then I suddenly experienced a loss of hydraulic pressure. There was nothing I could have done to prevent the DNF. We need to investigate and find the cause of the issues we had today, but I'm sure we will recover from this result. I guess it was just not meant to be today - but one day it will be."
Summing up Mercedes' disastrous day – they also lost the constructors' championship lead to Ferrari – Trackside Engineering Director Andrew Shovlin said the team didn't have any excuses.
"We weren't reliable enough, we didn't make the right strategy call, our starts weren't good enough and we didn't manage the tyres as well as we could have done. We have a lot to improve by Silverstone and we need to put all our focus into remedying our weaknesses today.
"This is one of the hardest days at the race track that we have faced as a team but it's not the only difficult day that we have ever had. We know how to fix problems and we've always returned stronger than before."
With the British Grand Prix at Silverstone just a week away, Mercedes are going to have to find those fixes pretty quickly...