Tyre wear management compromised Leclerc's Hungarian race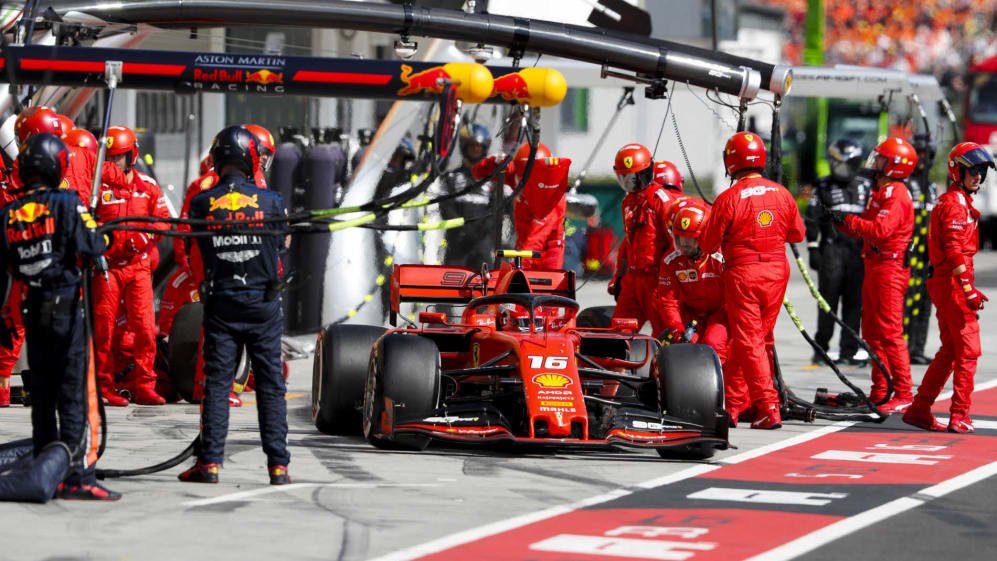 Charles Leclerc revealed that he struggled with tyre management in Sunday's Hungarian Grand Prix, which forced him to pit earlier than Ferrari team mate Sebastian Vettel – who ultimately finished third.
Leclerc has had a tough end to the first half of the 2019 season, having spun off in Germany from P2, and then conceding P3 to his team mate in Hungary.
Both Ferrari drivers began on medium tyres, but Leclerc had to pit 12 laps before his team mate and end the race on the hard compound; Vettel took a set of softs and passed his team mate for third place with three laps left.
"We pitted quite early on the first stint mostly because I was struggling with tyres, and then on the second stint towards the end I was struggling with tyres again – the rears," said Leclerc after his fourth place in Budapest.
"So there is definitely something that Seb is doing better than me in the long runs when there's degradation, so I need to understand from where it's coming from, and try to improve that."
Vettel has rebounded from a 16th-place finish at the British Grand Prix to take second in his home race and another podium in Hungary. Leclerc conceded that he has "much to learn" after being beaten by his team mate again.
"I need to learn from it, there's much to learn. I've been struggling towards the end of the race with the rears, at the end of the first stint also with the rears.
"That's a few races I seemed strong with qualifying, but with the race I seemed to struggle always with the rear tyres," he explained. "I need to find out if there is a compromise to find there, and also with my driving, to improve a little bit and try and keep the tyres more towards the end of the race."
Of course, it wasn't just his tyres but Ferrari overall that faded in Hungary, showing strongly in the final practice session as Vettel finished just 0.082s off the pace, but ending up behind both Mercedes and pole-sitter Max Verstappen in qualifying. The Scuderia pairing then finished more than a minute behind Hamilton in the race.
"Yeah, we are struggling at the moment, we knew we would struggle more at this race but probably more than expected," concluded Leclerc.
The summer break will be a learning experience not only for the 21-year-old Monegasque driver, but also for Ferrari, 150 points off Mercedes in the constructors' standings with nine races remaining.