Feature F1 Unlocked
UNDERDOG TALES: When Bianchi charged to the points with minnows Marussia and made an everlasting mark on F1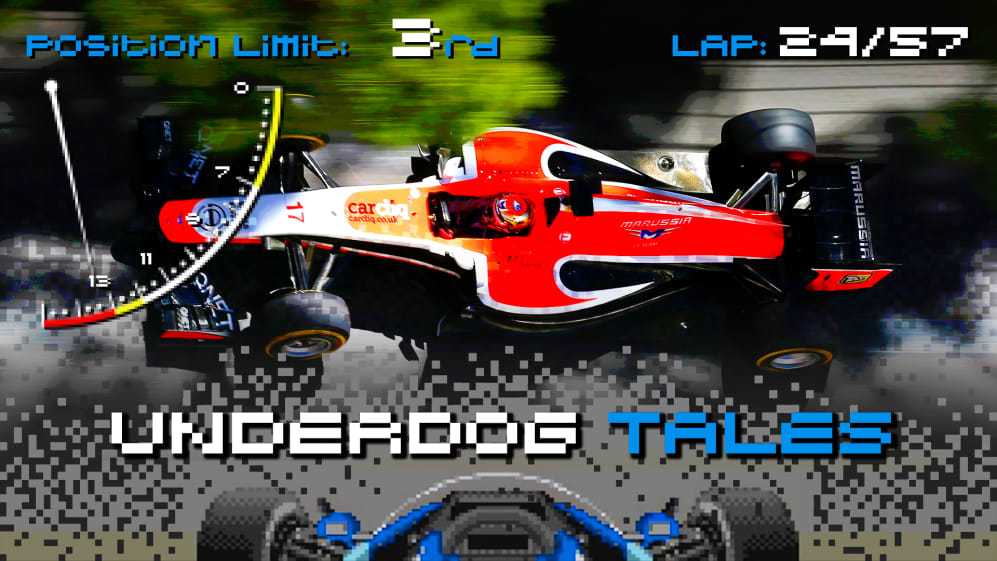 Back in 2014, a determined drive from burgeoning talent Jules Bianchi around the streets of Monte-Carlo earned the Frenchman and backmarkers Marussia their first-ever points in F1. It would prove to be a particularly poignant result for driver and team, with Bianchi tragically passing away just over a year later and the squad dropping off the grid not long after. We sat down with his former team mate, Max Chilton, to go behind-the-scenes of that Monaco weekend and reflect on Bianchi's legacy in the sport.
Chilton and Bianchi's motorsport paths crossed long before their time together at Marussia, with their journeys to single-seaters and eventually F1 starting like many others: pounding around kart tracks across Europe and trying to make an impression.
UNDERDOG TALES: When Fisichella put Force India on top of the world with a Spa weekend to remember
That's exactly what Bianchi – who was in a go-kart as a toddler and made his father's own track a second home – managed to do as he blitzed competition after competition and caught the eye of the sport's movers and shakers.
Chilton and Bianchi team up for the first time
It's something Chilton saw first-hand when they shared a spell as team mates at the Maranello Kart works team (pictured below) and gave the Briton a clear feeling that Bianchi would be one to watch for the years to come.
"It's really weird, when you're like 11, 12 years old, you see them as like the F1 world champion," says Chilton as we sit down to remember Bianchi. "They're the ones you've got to compare against and he's the go-to guy. I always knew he was really good.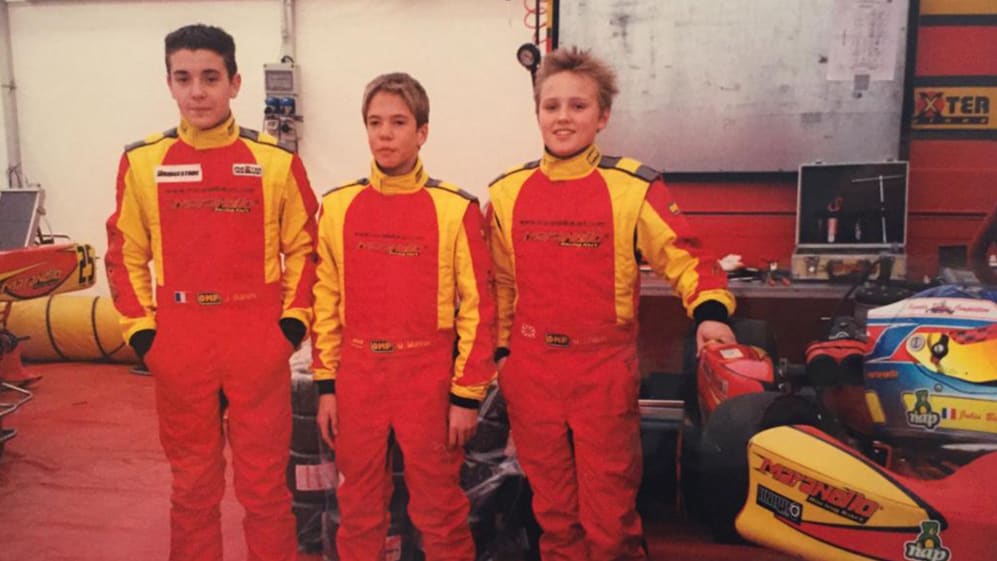 "He was in a kart from the age of three or four, in bambinos. You couldn't race bambinos back then, but there were bambino karts you could drive. He had years and years of experience, so he was just brilliant in a go-kart."
While Chilton made the jump to single-seaters sooner, heading to the British T Cars series for 2005 and 2006, Bianchi continued to rack up mileage in karting before making his bow in the French Formula Renault 2.0 series in 2007 – winning the title at the first attempt.
BEYOND THE GRID: Herbie Blash on his journey from race mechanic to Race Control
Their motorsport adventures would soon converge again, though, as they shared the track for the Monaco round of the 2009 Formula Renault 3.5 series – a venue that would be central to their time as F1 team mates – and then a handful of races in British Formula 3 later that year.
Following stints in GP2 – Bianchi finishing third in the main series and runner-up in the Asia spin-off in 2011, then tackling a full FR3.5 campaign and placing second, and Chilton rising to fourth in 2012 – both drivers were knocking on the door of F1.
Bianchi, who had been managed by Nicolas Todt from his teenage years, was embedded in Ferrari's junior programme and had a series of test and free practice runs under his belt at Force India – with whom Chilton was also afforded a first taste of F1 via a young driver outing.
Getting back together on the F1 grid
Then came 2013 and, after a winter of upheaval at back-of-the-grid runners Marussia, the newly-signed Chilton was initially braced to race alongside a former F1 world champion in Jacques Villeneuve, only for that bold move to never materialise.
A couple of months later, via further driver shuffling, Chilton remembers the moment a swarm of Ferrari employees – and Bianchi – appeared at the Circuit de Barcelona-Catalunya for testing…
READ MORE: From Brawn GP's fairytale to Aston Martin's super start – The biggest year-on-year performance jumps in F1 history
"The rumours in pre-season were that it was going to be Jacques, but I never saw him and nothing happened of that," Chilton recalls. "It was then going to be Luiz Razia, who I'd been in GP2 with.
"Suddenly Jules turned up and the rest is history. He was very, very good and had always won in everything he had done coming up. The moment he got in the car, he set ridiculous lap times.
"He had a lot more experience in F1 than me, because the first time I got into the car at Barcelona, I'd only driven a Force India at a rookie test. I can't remember, he'd maybe done a Ferrari test, but he'd also driven quite a few F1 test days, so he got straight in it and was on it, and he was the man I had to chase."
Chasing his team mate initially proved difficult for Chilton, with Bianchi often coming out on top and leading Marussia's charge during the 2013 season.
Given that Marussia, along with fellow 2010 newcomers Caterham, were cut adrift at the back of the F1 pack and often in a race of their own, it was a contest that became even more important as the two drivers attempted to assert their authority.
"The first year was tough and he beat me a lot more than I beat him," Chilton says. "When I did beat him, it was epic. I really worked hard that 2013/14 off-season… I trained ridiculously hard, every day, and my trainer made me fitter than ever.
SILVERSTONE 2008: 'He was determined to be the best that day' – Hamilton's mesmerising first home win remembered by team mate Kovalainen
"We started the season really strong, during pre-season testing I was quicker than him, and the ratio of him beating me was a lot more level for the 2014 season."
Bianchi's magic on the streets of Monaco
Part of that 2014 campaign – which saw Marussia benefit from swapping Cosworth engines for Ferrari units, albeit not enough to move them into the midfield – was a spectacular weekend for Bianchi and Marussia in Monaco, just a stone's throw away from his birthplace of Nice.
After placing 17th during final practice, ahead of Pastor Maldonado's Lotus and Esteban Gutierrez's Sauber, Bianchi was comfortably quickest out of the Marussia/Caterham battle in qualifying, even feeling that a Q2 berth would have been possible without yellow flags and traffic.
With a gearbox change and five-place grid penalty dropping him to the very back of the 22-strong field, the only way was forward for Bianchi on race day, but few in the paddock could have foreseen the rise that followed.
In a race full of incidents, reliability issues and bold moves from Bianchi, the local hero was up to 15th by Lap 5 of 78 and steadily made up more places to break into the points on Lap 60, giving him and Marussia the very real opportunity to bag a reward.
READ MORE: 'He was walking on water' – Senna's magical Donington 'Lap of the Gods' remembered by his fellow drivers
Despite a five-second penalty for lining up in the incorrect grid slot (Maldonado not taking the start and catching out several drivers), Bianchi entered the final 10 laps holding 10th position, which became a scarcely believable eighth when Ferrari's Kimi Raikkonen and McLaren's Kevin Magnussen clashed.
At this point, Bianchi was told that he needed to be five seconds clear of Romain Grosjean's Lotus and the chasing pack behind to cancel out an additional five-second penalty for serving his original sanction under the Safety Car, setting up a nervy finale.
But while Bianchi could not stretch out a big enough gap to keep Grosjean behind, meaning he lost eighth position after the chequered flag, nobody could take ninth away from him – a result that marked a massive breakthrough for the Marussia team.
Amid jubilant scenes in the Marussia camp that started post-race and went well into the night, it was an outcome that initially left Chilton with mixed feelings, given that an F1 driver's number one aim is to beat the person on the other side of the garage.
"Street races for me were always my strength, and that was where I could really sort of be as close as I could to Jules," explains Chilton. "It was obviously his home race, so he was always trying hard, but I was always good in Monaco, I'd been on the podium there in GP2.
UNDERDOG TALES: When Senna took the F1 paddock by storm with Toleman and made Monaco's streets his own
"I remember driving and I just couldn't get the car to do what I wanted it to do and I finished 14th, but he got the points. It was amazing for the team, we needed it, and to get a point basically guaranteed we were going to beat Caterham [in the standings], because getting a point in our cars was nigh on impossible.
"You had to like celebrate with the team, but for me it was always a bit like, 'I wish that was me'. I got a phone call from [Team Principal] John Booth two days later when the car got back to the factory and he said, 'I'm really sorry, but we had completely the wrong springs for what we thought we had in the car for the set-up, so no wonder you were moaning about the balance in your car'."
However, with the events that would follow later in the year, Chilton's feelings changed.
"Part of me was like, 'I could have been pretty quick', and that maybe could have been me getting the points," he continues. "But the way I look at it is I'm bloody glad it was Jules, because he got the points, that was what he was destined to do, it was great that he actually got them, and that was his sort of crowning moment in motorsport that year."
The lessons Chilton learned alongside Bianchi
Chilton pointed to Bianchi's maximum-attack, bodywork-rubbing move on Caterham rival Kamui Kobayashi around the outside at La Rascasse shortly before the halfway mark of the race as one that proved crucial in his charge towards the points.
READ MORE: 'It doesn't come easy' – Max Verstappen on pressure, breaking records, and the search for perfection
"He made it happen," Chilton emphasises. "If it wasn't him in that [car], that wouldn't have happened that day. That overtake he did at the second to last corner, I would not have done it, that's just not the way I drive. If I hadn't have done that, I wouldn't have got the points.
"He absolutely made those points and that's why he deserved it, the team deserved it. He's a born racer and you've got to be a born racer to do moves like that. It was the perfect scenario. You've got to do everything you can and he did everything he could that day."
Bianchi's approach in wheel-to-wheel combat – epitomised by the scenario above – is something Chilton admits he took note of and learned from as his stint in F1 developed, along with the time he spent studying the data from their two cars after sessions.
"That year was the technical stuff," Chilton comments. "His braking was absolutely pure. The art of driving was basically the steepest braking pedal you could get, to then a lovely ski slope. The perfect ski slope doesn't exist, but the nearest to it was usually Jules.
"I really improved that year, and that's a tiny element, but lots of different bits like that I improved. Again, going for gaps which are maybe not there, but trying to force it on another driver to see if they're willing to back out. I did that a couple of times, it did work, and I wouldn't have done that without Jules."
LIGHTS TO FLAG: Coulthard on replacing Senna, dealing with Ron Dennis and racing against Hakkinen
A career and life devastatingly cut short
Just over four months on from that stunning performance in Monte-Carlo, Bianchi was involved in an accident at the rain-hit Japanese Grand Prix that would tragically lead to him passing away on July 17, 2015, aged 25.
It was a heartbreaking end to not only a highly promising F1 career but also the life of a much-loved member of the F1 paddock – and one who will never be forgotten, not least by Chilton.
"I think about Jules pretty much every week," Chilton adds, with the emotion in his eyes clear to see. "I think you've got to make the most of your life, because you genuinely don't know when it's going to come to an end.
"I went to his funeral and there was obviously a good turnout of drivers. Time has gone by since then, but it's just really tough. He was destined for good things and I'd loved to have known where he got to."
While that question will sadly never be answered, Chilton has taken heart from Bianchi's godson and karting protege, Charles Leclerc, arriving on the F1 scene several years ago and forging his own successful career.
BEYOND THE GRID: Charles Leclerc on racing for Ferrari, overcoming loss and mental strength
In a path many expected Bianchi to take, Leclerc shone with Sauber in 2017 and 2018 before making the dream move to Ferrari for 2019 – a season that yielded his first pole positions and race wins.
"The weird thing for me is I've never met Charles and he suddenly came on the scene three or four years later, and for me, he is Jules," says Chilton. "It's uncanny with his looks, personality, driving… He's at the same team.
"It's like he's sort of arisen again. What Charles is doing is what I feel like Jules was going to do."
The image of Bianchi that Chilton holds dear
All of the above aside, from their scraps in karting to that dogged drive in Monaco, there is an image of Bianchi that Chilton will cherish forever – a photo he captured on his phone during the drivers' parade ahead of that fateful race in Japan.
"We all got in our own car, and Jules was in the car behind me," says Chilton. "He hated the cold and the rain. He was like, 'You're used to it because you're British!' He had the umbrella up, and I don't know if I had an umbrella or not, but I turned around and took a photo of him, sheltering under this umbrella.
READ MORE: 'Bianchi would have been a race winner by now' – Ricciardo
"The last photo I've got of him is him smiling, laughing at me, because I was taking a photo of him in the rain with an umbrella over him. I didn't speak to him on the grid, so that was the last memory and connection we had with each other.
"The thing I would say is he was an absolute motorsport lover, he did it his whole life, and he died doing what he absolutely loved most."
#JB17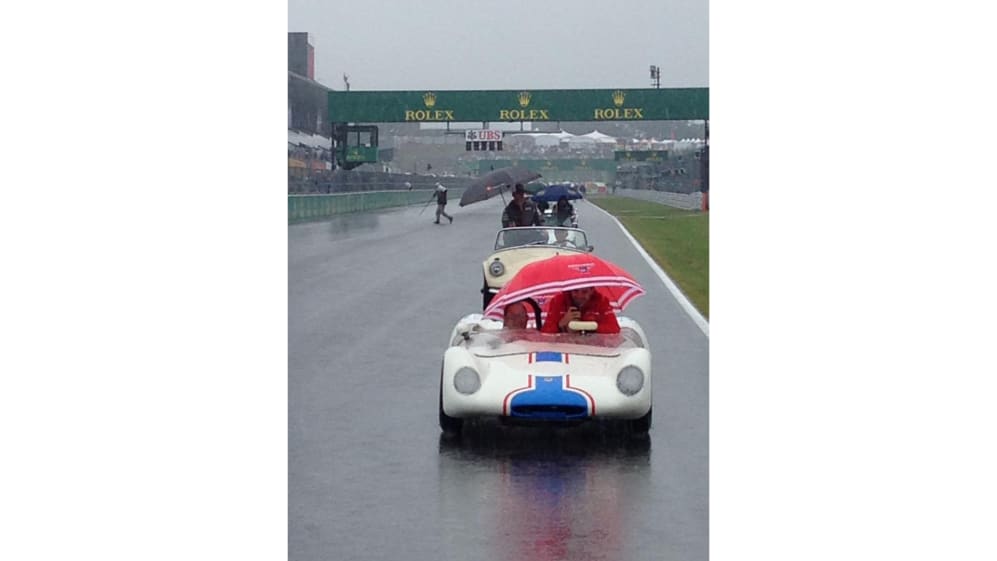 To read on, sign up to F1 Unlocked for free
You'll unlock this article and get access to:
Live leaderboard data
Epic experiences and rewards
Money-can't-buy competitions