Feature F1 Unlocked
UNDERDOG TALES: When Maldonado took Williams back to the top on a remarkable day in the Spanish sun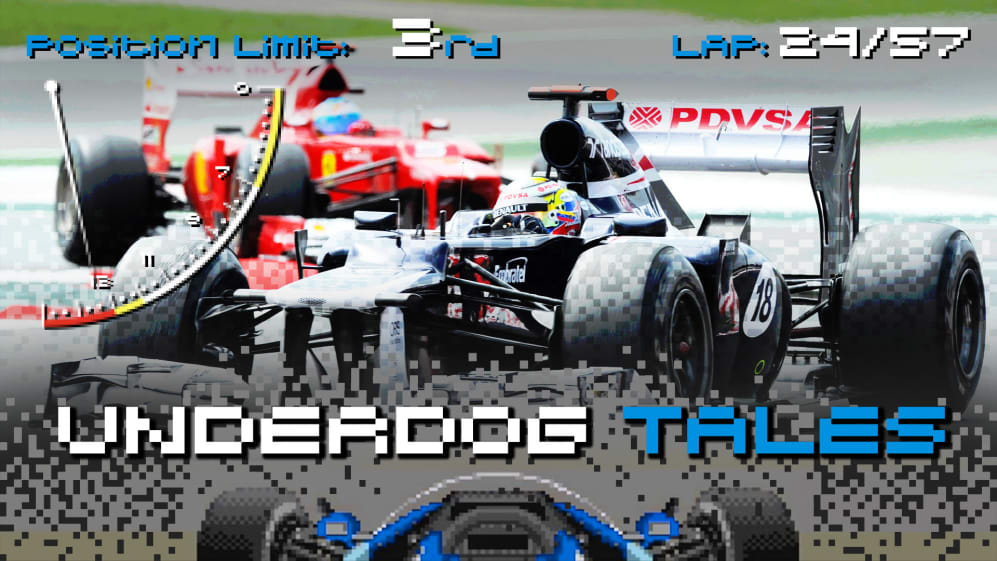 Just over a decade ago, Pastor Maldonado delivered one of the greatest underdog victories in F1 history as he hauled his Williams to pole position and victory – via a scrap with Ferrari's Fernando Alonso – at the 2012 Spanish Grand Prix. We sat down with the Venezuelan to remember a special performance that marked the first F1 triumph for his country – and remains the most recent win for the famous British team...
Pastor Maldonado's promotion to F1 in 2011 made plenty of headlines across the media. Despite winning races in Formula Renault, Euroseries 3000, Formula Renault 3.5 and GP2, where he beat Sergio Perez to the title, many focused on the financial backing the Venezuelan brought to Williams, who had freed up a space by parting ways with Nico Hulkenberg at the end of a promising rookie season.
UNDERDOG TALES: When Senna took the F1 paddock by storm with Toleman and made Monaco's streets his own
Maldonado finds his feet with Williams
But amid all the noise, and despite a tough campaign for Williams with their disappointing FW33 package, Maldonado held his own against veteran team mate Rubens Barrichello. He also managed to catch the eye in qualifying on several occasions, landing top 10 starts in Spain, Monaco and Britain, where he took the team's season-best qualifying result of seventh on the grid.
While Maldonado's debut year yielded little in the way of rewards on race days, his sole point coming via a run to 10th in Belgium, Williams took decisive action during the winter with wholesale technical changes, spearheaded by swapping out their previous Cosworth engine for Renault's potent unit.
Term two, it seemed, had the potential to deliver much more for the Maldonado/Williams combination....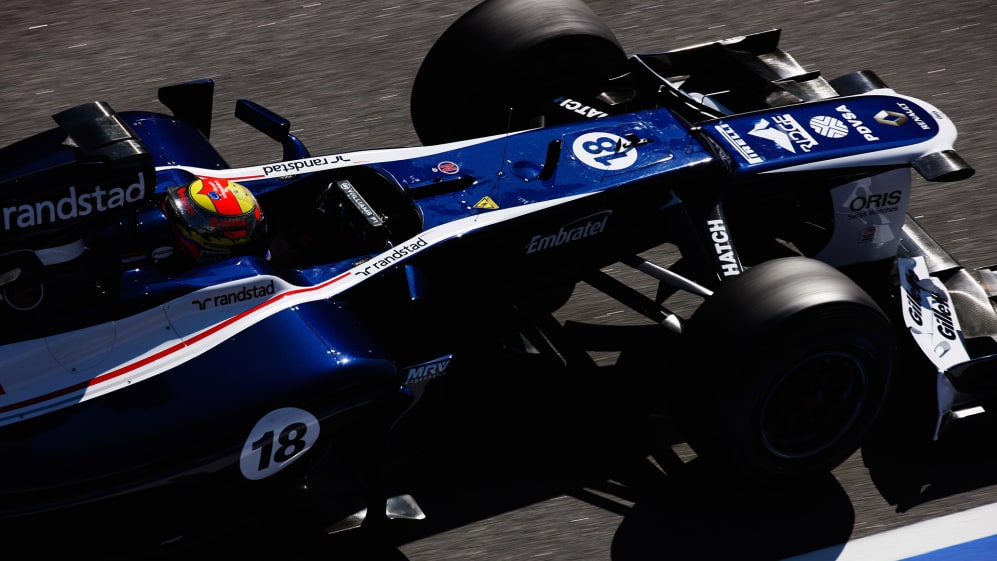 "Starting the year, the car was a little bit late, because of all the changes in very little time," recalls Maldonado, speaking from his Monaco home. "We were trying to put it all together for the first test and I immediately felt that the car was much better than previously – much better. It was very encouraging from a driving point of view, much more balance, and the reliability of the engine."
That promise carried over to the Australia season opener, where Maldonado made it into Q3 and ran inside the top six positions until late in the race, crashing out during the final lap as he attempted to put pressure on Ferrari rival Fernando Alonso – a driver he would soon meet again.
READ MORE: Pastor Maldonado and F1's other 'one-win wonders' over the years
Upgrades launch Williams into contention
After that missed opportunity, Maldonado scored his first points of the season in China, sitting alongside a pair of solid top 10 finishes from new team mate Bruno Senna, but Williams were chasing more and, as the European season approached, excitement built at Grove over a raft of aerodynamic upgrades.
"When we arrived in Barcelona for the Spanish Grand Prix, we expected to have a new aero package," says Maldonado. "Really, everything was new… A new floor, new front wing, new rear wing, new sidepods. It was quite big in terms of an aerodynamic change.
"The package was late for many reasons and only arrived on Saturday morning. In the meeting before FP3, we decided to use the package anyway, just to see… It was very important for the factory just to get the feedback and how it behaved on the car.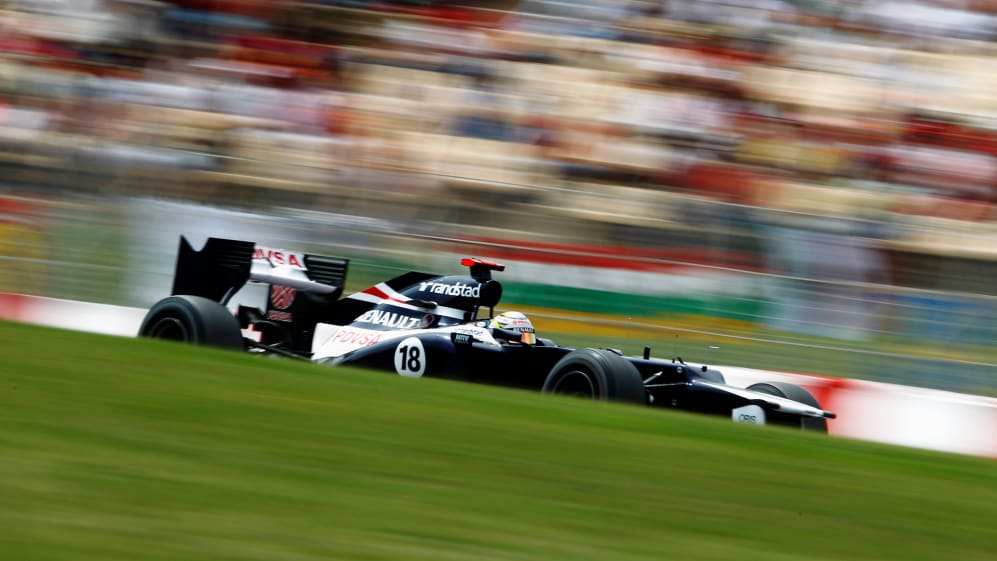 "On Friday I was P13, and on Saturday morning with this package we were P2, so we improved by 11 positions. The feedback was very good; there were good improvements in terms of feeling and I had the car to my driving style with a good front-end. I really like the car when it's precise in the front, just to attack the corner."
Then came a dilemma for Maldonado and Williams, for while the various updates were working well according to the lap times and data collected, they had only been run across a one-hour session, meaning plenty of question marks remained as to their performance and reliability over a race distance.
READ MORE: From Hamilton's crystal ball to Mansell's McLaren nightmare… 5 bold driver moves that paid off – and 5 that didn't
"After practice, we sat down and I said, 'OK, we should use the package'," Maldonado explains. "The engineers were a little bit scared, because the package was not running with a minimum time limit, just to see the reliability of the parts. Normally, the team has the policy to use it and come back to the factory to check everything is all in place, then put it back on the car.
"Of course, some parts of the team, we were pushing to have it, because it was quite impressive, but other parts were very conservative and said, 'OK, we have more races to come, we can use it from the next race onwards'. In the end, we decided to go for quali with the new package."
Maldonado proves Williams' speed is genuine
In qualifying, the flash of FP3 pace proved to be genuine as Maldonado easily made it out of Q1, stormed to the top of the timesheets in Q2 and then pushed for pole position in Q3 until McLaren's Lewis Hamilton pulled out a particularly rapid lap.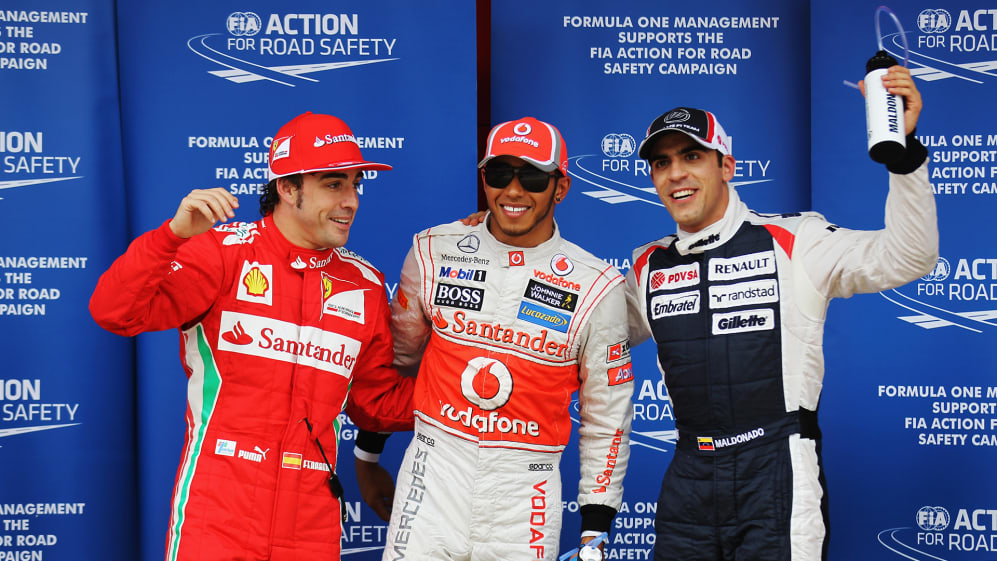 Huge celebrations erupted in the Williams camp and they reached a new level when the stewards excluded Hamilton from qualifying for failing to return to the pits under his own power and supply a fuel sample, meaning Maldonado assumed an unlikely but very welcome pole.
It was a stark contrast to the previous round in Bahrain, where Maldonado had qualified 17th and then dropped to the penultimate row of the grid due to a gearbox change.
READ MORE: Formula 1 and DHL introduce biofueled trucks for European races in 2023 to reduce carbon emissions
"We were performing from Q1 to Q3 very good, driving very safely, very clean and safe – all the laps were coming easily, one by one," says Maldonado. "The strategy was to use all the soft tyres for qualifying; it's a little bit different now with the number of tyres, and it was working perfectly.
"Hamilton was a little bit quicker but he got penalised because he was running out of fuel in the lap, and these are the rules. He was [running] lighter than us, so the difference should be down to the lightness of the car, and I got the pole position. It was a good one for the team, because they didn't expect to be on pole – honestly, nobody did!"
Maldonado wants more as race day looms
And what was Maldonado's mindset ahead of this unexpected chance to start from the front of the grid? Did he feel a shock pole could be turned into a shock win? Or would he be happy to let the established runners slot ahead and bag a solid haul of points?
"[I thought] 'OK, this is our chance'," he makes clear, with a grin on his face. "I was still a rookie, because I'd had a year and four races. I said to myself, 'OK, I've been always winning in any category, this is the place where I've spent the most time in my life, starting from pole or the first row, so I should do exactly the same as the past, and I will go for victory!'
"The team was very conservative because of the points… It was very important for them [and their position in the constructors' championship]. Still, before the race, nobody realised the chances we had to win the race, but I was fully convinced – at least to deliver my best and fight for the victory."
DESTINATION GUIDE: What fans can eat, see and do when they visit Barcelona for the Spanish Grand Prix
Maldonado's hopes of winning were dented at the start when Alonso made a cleaner getaway from the grid and out-dragged him on the lengthy run down to the first corner, where the two-time world champion positioned his car expertly to slot ahead.
Maldonado keeps his cool in the Barcelona heat
However, Maldonado was undeterred and clung onto the back of Alonso's car as the opening stint developed, while pulling away from the third-placed Lotus of Kimi Raikkonen. When the first round of pit stops arrived, where starting soft tyres were swapped for the more favourable hard rubber, the top two could not be separated.
"In the race, as expected, the Ferrari started much better than us – it was the most powerful car at the time," Maldonado comments. "In any case, I focused on the start, and it was the best start of the year for Williams. We were always trying to make the best of the chances we had at the time, but it wasn't enough to keep first place in the first corner.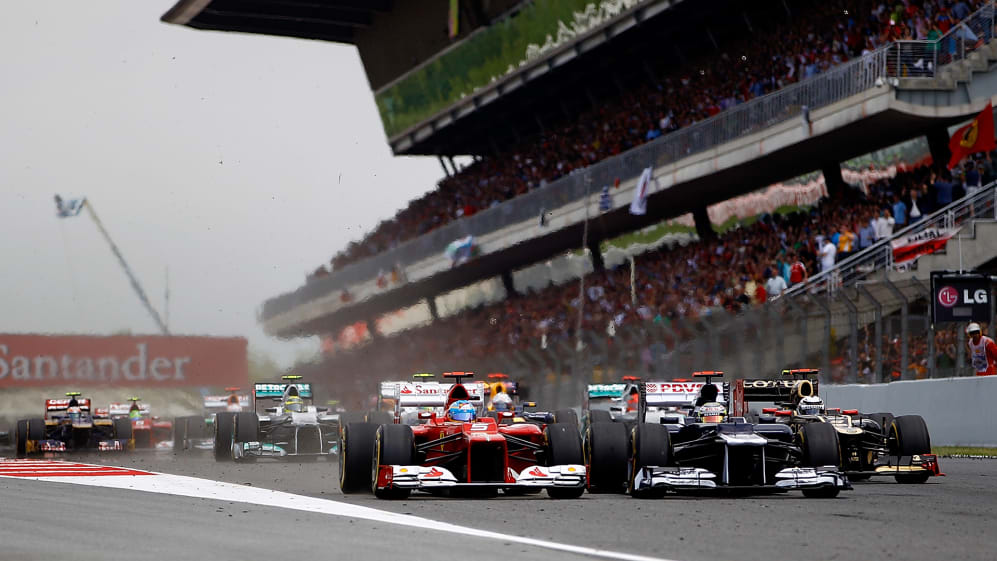 "I said, 'OK, I'll follow the strategy'. The strategy was, if we were P2 running behind Alonso, just follow closely, no more than two seconds, because the strategy was working well. I was faster than Alonso, maybe a tenth or a tenth-and-a-half per lap, the difference wasn't that big, but we had good pace.
"I was arriving closer to him, one-and-a-half seconds to two seconds, always in that margin. We told Ferrari that we were not fighting with them. How? By reacting right after they stopped. Alonso stopped first at the first pit stop, and we stopped the lap after, and when you stop the lap after, you tell the team that you are not trying to gain the position in the pits."
F1 ICONS: Alfa Romeo's Valtteri Bottas on fellow Finn and double world champion Mika Hakkinen
But from his longer runs during Friday practice, Maldonado knew he had a handle on Pirelli's softer and influential 2012 tyres amid the hot conditions, which were coupled with the demanding Barcelona track layout – featuring a mixture of high-speed, medium-speed and low-speed sections.
Maldonado and Williams make their move
With this in mind, Williams turned the tables on their rivals at the second round of stops. While Alonso began Lap 25 of 66, Maldonado aimed for the pits to bolt on another set of hard tyres and tee up a fascinating strategic battle over the remaining stints.
"Now Williams are forcing Ferrari's hand," said an excited Martin Brundle during his commentary for Sky Sports F1. "This needs to be the out-lap of his life… He's got clear air, has Pastor Maldonado. He needs to spot every braking point, every apex, pick up the throttle freely. He's got a chance now to jump into the lead!"
With Brundle's description lived up to and the lead Ferrari hitting traffic in the form of Marussia's Charles Pic, the positions were duly swapped when Alonso pitted two tours later – Maldonado flashing past along the start/finish straight and pumping in a new fastest lap for good measure.
Having trailed by just over a second before their second stops, Maldonado was now leading by four seconds, a gap he stretched out to around seven before once again pitting ahead of Alonso, this time by three laps and leaving himself with a sizeable final stint to manage.
READ MORE: From Brawn GP's fairytale to Aston Martin's super start – The biggest year-on-year performance jumps in F1 history
"We did a move that nobody expected," says Maldonado. "If I remember well, Pirelli told all the teams that the hard tyres [could do no more than] 22 laps, that was the maximum. We stopped 25 laps to the end, which was tricky, because at that time it was all in my hands to manage the race, the pace, the tyre degradation, the gap with Alonso…
"Certainly, we forced Ferrari to pit [sooner], but at the time they [would have been thinking], 'Wow, if we pit right now we're going to have problems to [make] the end of the race, because there is not a margin to finish the race with this number of laps'.
"Barcelona is a place I know very well, where it's impossible to overtake and where a driver can take a risk… In these places I was defending and trying to protect myself 100%. In the rest of the lap I was chilling and trying to save energy, save the tyres, the car, the engine... I knew the end of the race was going to be very hard."
I wanted to fight with Fernando, because he is a very tough fighter, body-to-body. My dream was not [to fight with] Hamilton, not [Sebastian] Vettel, not Kimi, I wanted a body-to-body fight with Fernando. I wanted to learn from him and enjoy it.
Maldonado's 'dream' battle with Alonso
Indeed, Maldonado faced an awkward balancing act of looking down the road and in his mirrors during the early stages of that final stint, with Raikkonen holding the lead on an alternate tyre strategy and Alonso – who was slightly closer after a compromised tyre change from the Williams crew – pushing to apply the pressure.
After Maldonado and Alonso cleared Raikkonen with some 20 laps remaining, there was a final test for the upstart to navigate – staving off an attack from one of the sport's most determined racers. But rather than fearing the situation, he savoured the moment.
READ MORE: 'He was walking on water' – Senna's magical Donington 'Lap of the Gods' remembered by his fellow drivers
"That was one of my dreams before coming into F1… I wanted to fight with Fernando, because he is a very tough fighter, body-to-body," Maldonado says. "My dream was not [to fight with] Hamilton, not [Sebastian] Vettel, not Kimi, I wanted a body-to-body fight with Fernando. I wanted to learn from him and enjoy it.
"I was doing my best in any case, the pit stops, the out-laps, the in-laps, managing the tyres, the lapped drivers, and also I needed to look behind most of the race, with the attack of Fernando. But I was in my environment, I was where I wanted to be, where I knew it was my strongest characteristic, and I was enjoying and delivering my best.
"With 10 laps remaining, after [dealing with] this mega pressure from Fernando, I started to open up the gap. We didn't have the information that [drivers] have now in the steering wheel. It was more like a feeling, 'OK, 10 laps with the tyres we have, I can easily afford [to push]'. It was done, I just needed to take care of the car, keep my rhythm, and go to the end."
A result that could so easily have been scuppered
As he reached the chequered flag to become the fifth different winner from five Grands Prix in a dramatic start of the 2012 season, Maldonado felt fortunate not only to have overcome his battle with Alonso's charging Ferrari, which he ultimately led home by three seconds, but to make the finish at all after encountering a – quite literally – alarming situation midway through the race.
"We had a problem with an alarm on the car," he says. "I saw the water temperature alarm was going up. The team were monitoring all the parameters and they saw that we were losing water pressure in the engine. We had, let's say, to recharge the water system, and they called me to do the procedure. It wasn't an easy procedure. I needed to, 'bop, bop, bop, bop', do all the settings.
LIGHTS TO FLAG: How 1979 F1 champion Jody Scheckter 'hustled' his way to F1 and ended up farming
"We recharged the water system and recovered the temperature and water pressure on the car, but when we arrived at the end of the race, the team were looking at what happened and they discovered a big hole in the radiator. Maybe a stone or something [hit it], opened a big hole and, for [whatever] reason, we managed to finish the race – it was nearly a miracle!"
Victory, though, was Maldonado's – and it was one that ended an eight-year winning drought for Williams, while elevating his status across the F1 paddock, with help from former champions Alonso and Raikkonen and the show of respect they offered up during the podium ceremony.
Maldonado sits on top of the world (champions)
"I had a very good relationship with Alonso," Maldonado states. "Since I became an F1 driver, we were always talking Spanish and we were quite close. He's a nice guy and we built a nice relationship, which is not easy in Formula 1, I need to say. He came to me immediately after the race to hug me, to congratulate me.
"But something that surprised me completely was the approach Fernando had with Kimi, to put me on their shoulders on the podium – that was very, very special. I don't remember in my life following F1 when someone put a driver on their shoulders. Two champions, very popular people, recognising my victory... It was maybe the most spectacular moment of the race and I was in shock at the time."
Unfortunately, the celebrations were cut short when a fire broke out in Williams' garage after the race, leaving several mechanics with injuries and leading to another show of strength from Maldonado, who ensured the safety of others around him while carrying his cousin, Manuel, away from the flames.
READ MORE: From Hamilton and Villeneuve to Schumacher and Senna – The best rookie seasons in F1 history
"I can remember Frank Williams, his wife [Virginia], the Williams family, all there celebrating," explains Maldonado, keen to underline that it was "not a lucky race" and "we had the pace to win" on merit. "It was also the comeback of Williams-Renault, the legacy of that combination in F1.
"The atmosphere we were living at the time was something amazing, but it took only an hour, half an hour, because we got the fire in the pit lane. Some mechanics were injured, and that was a sad moment, a very sad moment, especially because we deserved to celebrate and to enjoy our victory."
A piece of F1 history for a proud Venezuelan
But some 11 years on, the positive memories of that day remain at the forefront of Maldonado's mind, having become the 104th different winner in F1 history and the first from his home country of Venezuela, as well as taking what remains the last Grand Prix victory for once perennial champions Williams.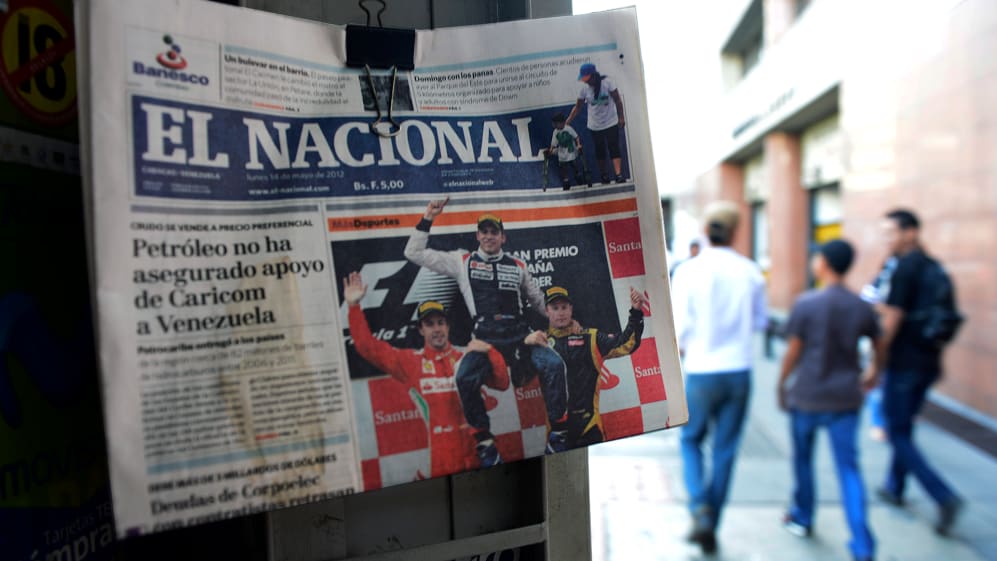 "It's a place in history," stresses Maldonado, who spent the rest of the 2012 season scrapping for occasional points, with Williams' rivals also bringing upgrades aplenty as the races ticked by.
"Coming from Venezuela… F1 wasn't that popular, but when I became an F1 driver it changed completely the approach of the country. When you achieve these results, you go back and think about all the sacrifices… My family, friends, all the people who believed in the project, who believed in Pastor.
READ MORE: From childhood number plates to football heroes – Why each driver picked their F1 race number
"Somebody told me right after the race that the achievement was something very impressive, just because so many drivers pass in the history of F1 and never achieve a point, so many drivers pass and never score a podium, and so many drivers pass without a victory.
"You always want to win more, to win all the races, but it was very, very difficult to compete against Mercedes, Red Bull, Ferrari, Lotus, McLaren… I feel proud of the achievement, the team, the opportunity and the experience I had, not only in this race, but my entire career in F1."
Maldonado's F1 career brought a handful more points finishes across another season with Williams and a subsequent two-year stint at Lotus. None, though, would get close to that memorable, historic afternoon in Barcelona…
To read on, sign up to F1 Unlocked for free
You'll unlock this article and get access to:
Live leaderboard data
Epic experiences and rewards
Money-can't-buy competitions