United States preview quotes - Force India, McLaren, Williams & more on Austin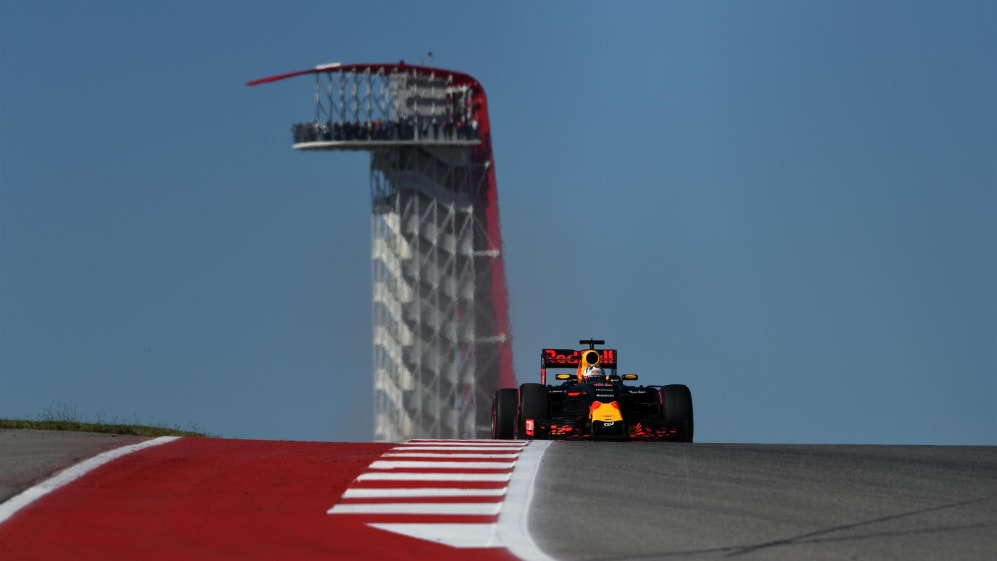 The teams and drivers look ahead to round 17 of the championship in the United States...
Force India
Sergio Perez
"The race in Austin is one of my favourite weekends of the year. There are so many Mexican fans in the grandstands and the support I feel is just amazing. My family and friends always come to spend time with me at the circuit, which is an added bonus.
"It's an interesting circuit with some very exciting corners. I think the esses in sector one will feel amazing with this year's cars. I also enjoy turn one: it's very hard to get your braking just right and you can easily miss the blind apex. You can't really see where you are going until you are at the top of the hill and it's easy to turn in late and run wide.
"I'm feeling happy with how things have gone during the last few races. I'm proud of the job we have done and the results we have achieved. It's great that we are still bringing new parts to the car and making progress. The car is working well and Austin should be another chance to score good points."
Esteban Ocon
"I was really pleased with our performance in Suzuka. It was definitely one of my best races this year and it's always enjoyable when you come away on the Sunday night feeling that you achieved the maximum that was possible. The car was quick from the very start of practice and the same was true in Malaysia. It feels as though we've taken a big step forward recently and I believe we will be strong in all of the remaining races.
"I think everybody enjoys visiting Austin. It's a fun city and I enjoyed myself there last year. Even though we have to focus on the racing, you stay in the city and you get to soak up the atmosphere. There's a lot of live music going on during the race week and some great restaurants in the city.
"Austin is a satisfying track to drive because there are so many different types of corner. The high-speed section is similar to Silverstone; there are long straights like Monza, and there is the tight and twisty section at the end of the lap. The unusual turn one is also a special feature of the lap. Because it's uphill, you can brake really late and there are a few different lines you can take through the corner. It's not easy to overtake, but turn one can give you a decent opportunity."
Vijay Mallya, Team Principal
"The last few races have seen us take some significant steps forward with the performance of the VJM10. In Malaysia and Japan, we were the fourth fastest team and I'm confident we can remain there for the upcoming races. In Japan, for example, we finished over 20 seconds clear of the eighth-placed car, which is a big statement on such a technical track. It's thanks to all the hard work in the wind tunnel, the factory, and trackside that we are sitting in a very strong fourth place in the championship with 81 points advantage to fifth place. The next race in Austin will be another opportunity to score well and consolidate our position."
Tom McCullough, Chief Race Engineer
"The Circuit of the Americas is one of the few anti-clockwise circuits and is a real test for the car: with its mix of low, medium and high-speed corners, finding the perfect set-up is a challenge. There is a significant gradient in several parts of the circuit and especially in the steep uphill run-up to the braking zone in turn one. The first sector winds through multiple changes of direction at high speed, in a way that is reminiscent of Suzuka's first sector: it's a part of the track the drivers love and it will be particularly interesting to see this year's cars on it. With each passing year, the track has become more of a challenge when it comes to ride, so it will be interesting to see how bumpy the track surface is going to be this year."
Sauber
Marcus Ericsson
"Going to Austin is always lots of fun. It's a great race on an interesting track. In my opinion, it is one of the best of the newer tracks on the calendar. The city of Austin has a lot to offer, which makes it even more enjoyable to be there. Straight afterwards, we are heading to Mexico City – another great race weekend. We usually have lots of support from the fans there which makes the atmosphere very special. I look forward to being back in the car and getting the maximum out of the car in both races."
Pascal Wehrlein
"I'm looking forward to the next races. The US Grand Prix takes place close to Austin – a vibrant city with character. The track is challenging but at the same time fun to drive, especially due to the wide variety of fast and slow corners it features. There will also be events taking place around the track which will make the experience great for the fans. As for the Mexican Grand Prix, I like the atmosphere at the track as the fans are very passionate. The last sector is especially impressive, giving the feel of driving into a stadium."
McLaren
Fernando Alonso
"After a couple of frustrating races where we haven't been able to show the improving pace we know we have in our package, I'm excited to head back to the United States. I had a great time over summer there this year with everything going on around the Indy 500, and I know the fans are incredibly passionate and enthusiastic, so I'm expecting a really good atmosphere around Austin.
"The COTA track is a really fun track to race on – every sector is different and achieving the perfect compromise with set-up to suit the constantly-changing characteristics of the lap is what makes the challenge there so unique. COTA is also wider than a lot of the circuits we've been to recently so there are usually some good chances to overtake, which hopefully we can make the most of on Sunday.
"I really enjoy spending time in the States and I have lots of happy memories there. I hope in Austin we can build on the momentum we know we've been gathering behind the scenes, despite not being able to show the results on the final timesheets, and I think there's the potential to score points if we can pull everything together. There are a lot of factors to take into account and anything can happen at this race – we've seen quite a lot of drama both on-track and off it over the last few years – but I'm optimistic we can have a positive weekend if we can maximise every opportunity."
Stoffel Vandoorne
"I'm really looking forward to this double-header in the USA and Mexico and discovering two new tracks that I've never experienced before. I've heard a lot of good things about COTA and it's a circuit a lot of drivers love racing on as it has a bit of everything. Austin is a really cool place to visit too – I've been going there with the team for a couple of years now in my former role as reserve driver – and it's always nice to make the most of our downtown location and sample the local restaurants.
"Going to a new track doesn't make me any more nervous than going to a circuit I've raced on before – the opposite, actually. We prepare for each grand prix with our engineers in the same way for every race weekend, and although I've never driven on this track in the real world, I've done many laps in the virtual world in our simulator, so I'm keen to get going with set-up work straight away on Friday and get the car dialled-in to the track as soon as possible.
"After a couple of positive races for me, Japan was trickier for us and we struggled to make up any ground on Sunday after an unfortunate start. Austin should be a bit better for us in terms of power sensitivity, although there's a wide range of corners which each give us a different challenge, so the key will be to balance the set-up all the way around the lap. There should be more overtaking opportunities there too and I'm hopeful we can have a more positive weekend."
Eric Boullier, Racing Director
"The United States Grand Prix has built an impressive reputation since COTA hosted its first race there in 2012, and it's fast becoming one of the flagship events on the Formula 1 calendar. Austin is a buzzing host city, with plenty going on for fans and teams to enjoy, and a great atmosphere thanks to the Austinites that really embrace the Formula 1 circus coming to town every year.
"For the drivers, it's a fantastic circuit, and one on which I – along with thousands of fans, I'm sure – am intrigued to see the speeds the new cars can reach down the long straights and through the sweeping bends. Watching the drivers tackle the steep uphill climb to the first corner is becoming one of the iconic sights of the US Grand Prix and the complexities of the circuit make for great racing. To top it off, the weather is notoriously changeable which means the form book can often be ripped up from one day to the next.
"Given that our sport's organisers are from the US, I'm really looking forward to seeing the show they put on at their 'home' venue and I think we can expect a pretty exciting spectacle. The atmosphere there is always great, we get a huge welcome from the American fans – more and more of whom seem to be falling in love with our sport year after year – and the whole team loves returning to the USA. We are all 'gearheads' and racers at heart, and there's no better place to go racing than at COTA."
Yusuke Hasegawa, Honda R&D Co. Ltd Head of F1 Project & Executive Chief Engineer
"After the very busy few weeks in Asia, we're now on the home stretch of the 2017 season and heading to The Americas.
"At our final home grand prix as McLaren Honda at Suzuka we did not achieve the results we were looking for, but despite not collecting any points we were encouraged by our competitiveness.
"The Circuit of The Americas is a very different challenge in its configuration. It's a technical track with plenty of variation including great hard-braking corners, an undulating 'S' curve inspired by the famous Silverstone corners, and slow twisting turns. It will be important to us to refine and tune the power unit properly for each of these sectors to ensure good drivability.
"We think this track suits our package and gives us the best chance out of the remaining four rounds. McLaren Honda had a good race here last year with a double-points finish, and we hope we can do the same and cross the line inside the top ten."
Williams
Felipe Massa
"Austin is definitely one of the best new tracks on the calendar. Although I love the classics like Suzuka and Spa, Austin is also a very nice track to drive. It's a nice town, with nice steaks, so you always enjoy going there. It's a place that I enjoy racing at but I also like to visit because the people are very welcoming. It's great to see all the people in Downtown Austin enjoying themselves and having fun, there is a really nice atmosphere. I'm really looking forward to having a good race there and enjoying myself in Texas."
Lance Stroll
"I am really looking forward to going to Austin and also spending a bit of time in America. From what I have seen, racing in the States, and particularly in Texas, is a lot of fun and then you have the barbeques and cowboy boots that they are famous for. The track itself has a great flow to it. There is the first sector with the esses and the elevation going up into Turn One is quite impressive. I think driving a lap there should be a lot of fun."
Paddy Lowe
"The teams all enjoy going to Austin as it is such a fun city. Formula One fans from across the USA and other neighbouring areas make this a destination event. The Circuit of the Americas itself has a very spectacular layout and has created some fantastic races in its short history. It contains some very challenging sequences and is a good all round test of the aerodynamics, power unit, suspension and of course, the driver. We have been showing better performance during the last couple of races and we hope for this pattern to continue into this race weekend. Our ambition, as always, is to score points with both drivers and we believe this is a realistic target."
Red Bull
Max Verstappen
"The first time I drove at COTA (Circuit of The Americas) was just after making my Formula One debut in Japan in 2014. It rained in the morning so I went out on intermediates. It's a hard track to learn in the dry and the 1 hour 30 minutes in the wet didn't help. It is a really good circuit to drive though and I enjoyed my first experience regardless, especially the first sector.
"In 2015 I finished fourth in very wet conditions. There was so much water but I still had a really fun race as I like driving in the wet. Even when it started to dry it made things a bit more interesting in the latter stages.
"COTA has elements of other circuits from the F1 calendar, for example Silverstone, but it also has its own unique features. It's shorter and faster than other tracks with a similar layout. Turn 1 is a really fun corner. You can brake very late as you head up the hill but then hitting the apex is hard as you're literally blind. It takes a few laps to get your references on where to turn in."
Daniel Ricciardo
"Everyone knows I love the city of Austin but I also love the circuit. It's certainly unique with the wide apexes, you can pass in more than three areas, it's fast, it flows well and it's definitely one of the best tracks on the calendar for overtaking.
"In the city there is so much to see, I like going to the well-known places like Pete's Piano Bar but also some of the more local places for live music and food. I have done Barton Springs, visited a ranch and this year I'm doing Austin City limits, there's so much to do and it's all so good.
"Some people are asking if I have a beard plan for Austin this year, I haven't thought that far ahead yet but I still feel my little beard in 2014 was my best, so I might just bring that one back."
Renault
Nico Hulkenberg
"Austin is a cool town and a great place to be, I really like going to Texas. I love the track a lot and, out of all the modern tracks built in the last few years, this is a standout. The design is outstanding with a lot of cool corner combinations which flow really well. Sector one reminds me of Silverstone as it's very quick and flowing. That's what us drivers are after and it puts a big smile on our faces! Finding a good balance is important because, if you don't, it will mean you will struggle. Austin is high on brake wear and fuel consumption, so it's quite demanding in that regard, but nevertheless one of the really fun race weekends.
"I'm looking forward to working with Carlos. We need to finish off the season well together to help the team in the Constructors' standings. I'll be doing everything I can to help him hit the ground running with the team, but he is a very capable driver with a bright future. He has shown what he can do in Formula 1 and we'll be aiming for a positive start to our partnership in Austin."
Carlos Sainz
"I'm very excited to joining the team and I hope to hit the ground running. We have some hard work ahead of us going into Austin with lots of things to learn and many people to meet. I'm going to give everything to be on the pace as soon as possible even though I know it can take a bit of time to adapt, but I'm confident we can do it.
"It's key to have this immediate taste with Renault and get to know the people and the car. It's a big challenge, but it motivates me. We have this last push for the season and I have to find where the limit of the car is, get used to the steering wheel, things like that. That's the procedure and I will embrace the challenge. It's good to see the people at Enstone putting the work in to get back to the top. They can be sure all the effort being put in is being matched on my side of things and I will be pushing flat out to help the team.
"Austin is one of my favourite tracks and I had one of my best races in Formula 1 there last year, finishing sixth. I can go there with confidence as I know how to go fast in Austin. I just need that adaptation to the car and the engineers. The first sector is special, it's one of these modern tracks which is well designed, very fast with quick changes of direction and high G-forces. I love these sort of tracks and it's a good opportunity for me to test the limit of the R.S.17.
"[Nico and I] are very close together in the championship, but we haven't had too many on-track battles. I'm really looking forward to working with Nico. I think he is a great driver and one of the most talented on the grid. He has lots of experience in Formula 1 so I will learn from him as soon as I can. Hopefully we can both help the team move further up in the championship before the end of the season.
Cyril Abiteboul, Renault Sport Racing Managing Director
"Austin is the seventeenth race on the 2017 calendar and the first of three races in the Americas as we concentrate on reaching our objective and finishing the season on a bright note.
I want to start by mentioning Carlos' arrival to the team. We would like to thank Jolyon for his efforts with the Renault Sport team over the last two seasons. He has worked extremely hard to help the team and we have always appreciated his professionalism and loyalty. We wish him the very best for his future.
We welcome Carlos to the team ready for the US Grand Prix and we are looking forward to working with him. His arrival is important for the remainder of this season, and also for our 2018 season preparations. It gives us an advantage to use these final four races with Carlos in the car as a transitional period and get him up to speed with the car and the team.
The US Grand Prix is an important race for us, as we remain in the fight for fifth place in the Constructors' standings. We are hugely disappointed to go back-to-back races without scoring a point, which has benefitted our rival teams. Our strategy with both cars on Sunday in Japan put us into a good position, but a flap pivot bracket failed on the rear wing of Nico's car and forced him out. We are missing out on points due to reliability and it's essential that we have an error-free weekend in Austin. We must not let anything go and we head into the final four races with a different dynamic. The car will benefit from upgrades and it's therefore essential we score points."
Nick Chester, Technical Director
"It's an exciting track with a real mixture of corners. The first sector is quite high speed except for the uphill hairpin of turn one. After that, it's right, left, right through the S-like bends at high speed. Then you've got a decent back straight and sector three has some low speed sections which will be hard on the rear tyres. It's a real blend of interesting corners which means it's hard to get a good balance all the way around.
"We have a fairly decent knowledge of the track and a good understanding of the varying temperatures throughout the day which again affect car balance.We will have some bodywork updates to the bargeboards and diffuser, as well as updated drum flicks. We're still bringing updates to the R.S.17 whenever we can."
Haas
Romain Grosjean
"Austin is always a special one for us. It shows that we're growing up. We're going there for the second time in our history, and off the back of eighth- and ninth-place finishes, which is pretty good.
"The truth of one race is not the truth of the next one. It was a good result for us in Japan, for Gene (Haas) – who was there – it was a very proud moment. I'm proud of all of us, but for Austin we need to focus on what we can do. We need the right setup, get the right tools and just work as we do, normally. It was pretty good in Japan, but it doesn't necessarily mean that it'll be the same in Austin. We need to work hard to make it good.
"I've always loved Austin, but since I've been a Haas driver, I love it even more. I haven't had the chance to have a national grand prix – that'll come next year in France – but Austin is the one where I get to represent America."
Kevin Magnussen
"It's fantastic being on an American team, racing at an American venue. COTA is a really cool track. It's one of the better new tracks on the F1 calendar. They've done a really good job there.
"The braking zone for Turn 1 is really uphill, so you can brake really late. You can't see the apex of the exit, but the track is so wide you can choose different lines.
"It's certainly one of the better tracks for overtaking. It always makes for a good show.
"The city's just great for going out. There are great restaurants and great places for having fun. Having a Formula One race there is the perfect package for having a good weekend."
Guenther Steiner, Team Principal
"As I always say, to make predictions this year, in the midfield, is impossible. Nobody can predict it. People wrote us off after Malaysia. They said we'd scored the last of our points this year. Then we came back in Japan with two cars in the points. Anything can happen. It doesn't depend only on how we are doing, but how good the other teams are. That's obvious, but by being so tight, anything can happen. Last year we scored a point at COTA and we'll try to do better this year.
"[COTA sees] the last upgrade for our car this year. The modifications are on the bargeboard sides and on the floor of the car. It's easily recognizable when you see the car what has changed."
"Austin is a cool city. There's a lot of stuff you don't have anywhere else. It's not like just any other city we go to. It's a cool city with a good vibe. People like it there. The climate is good, the racetrack is good and the facilities are nice. That's why everybody loves going to Austin."
Mercedes
Toto Wolff, Head of Motorsport
Still four races to go and 100 points to score: we can take nothing for granted as we fly to Austin this week. We approach every race with a healthy dose of scepticism rather than wishful thinking, and our focus must be on making sure we score every point within our reach this weekend in Austin.
Since we began the final flyaway leg of the season, we have seen a strong points swing in our favour in both championships. Good fortune has played its part, of course - and we have put ourselves in the right position to make the most of the opportunities that have come our way. But nobody within the team is allowing those good results to disguise the challenges we have faced.
We returned from those races with a lot more understanding of our car and of the reasons for the performance swings we have experienced this season. Some of that understanding is already being applied to the final races, some of it will flow into next year's project. But the bitter taste of our defeat in Malaysia once again confirmed that the tough days are the ones when you learn most - and when you lay the foundations for future success.
Likewise, we have maintained clear sight of the reasons for our success this year. The team is operating at an incredibly high level in every area and continuing to develop; we have applied an obsessive attention to detail to how we go racing over the past three seasons; and we have continued to develop our car at a competitive rate through the season. Our mindset has always been one of constant improvement, regardless of the results we were enjoying, and this is now paying off.
We must also add our drivers to our list of strengths. Lewis has driven brilliantly this year - and since the summer break in particular, he has been on another level. It has been impressive to watch him extracting everything from the car and working with the team to solve problems and improve even further. Valtteri has had a tougher time in recent races - but he demonstrated his work ethic and character to deliver a strong weekend in Suzuka, and he will be aiming to build on this performance in the final four rounds.
As a venue, Austin offers our sport a fantastic home in the United States, combining a state-of-the-art race track with an exciting destination city. The organisers have worked hard to build the event character of the weekend and there are some exciting moments planned for this weekend, too. We will be aiming to play our part by delivering an exciting and successful performance on the track.
More to follow.