Feature
Valtteri Rebooted – How Bottas levelled up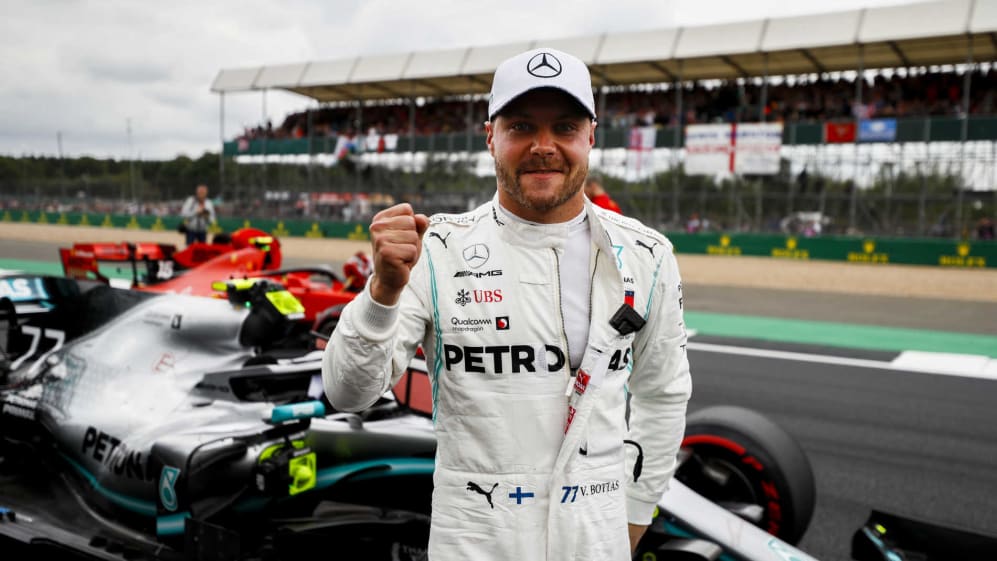 Is there a tougher task in Formula 1 than trying to beat five-time champion Lewis Hamilton? That's the challenge Valtteri Bottas has faced since joining Mercedes in 2017. His first two campaigns were challenging, to the point that the Finn couldn't wait for 2018 to be over. Many would have given up, but not Bottas. He went away, reset and came back stronger, more aggressive and more determined than ever. And the hard work is paying off…
Stepping into the cockpit vacated by a reigning world champion can be seen as an honour – but also a curse. Repeat the feat and you're doing what was expected, fail to do so and you've underdelivered.
In Valtteri Bottas' case, the challenge was even trickier, in replacing Nico Rosberg he was taking over from someone who was mentally and physically exhausted from having stretched every fibre of his being to breaking point in order to wrestle the title from Lewis Hamilton, arguably the greatest driver of his generation.
It was a momentous achievement, but also immensely draining and it's no wonder that Rosberg's first act as champion was to call time on his F1 career. Bottas stepped into big shoes and performed admirably in his first season as Rosberg's replacement.
The 2018 campaign, though, wasn't so kind. Four second places in the first seven races set the tone – this was not going to be his year, and despite a title-winning car underneath him the season would be a winless one. The winter couldn't come soon enough. So where did he go from there?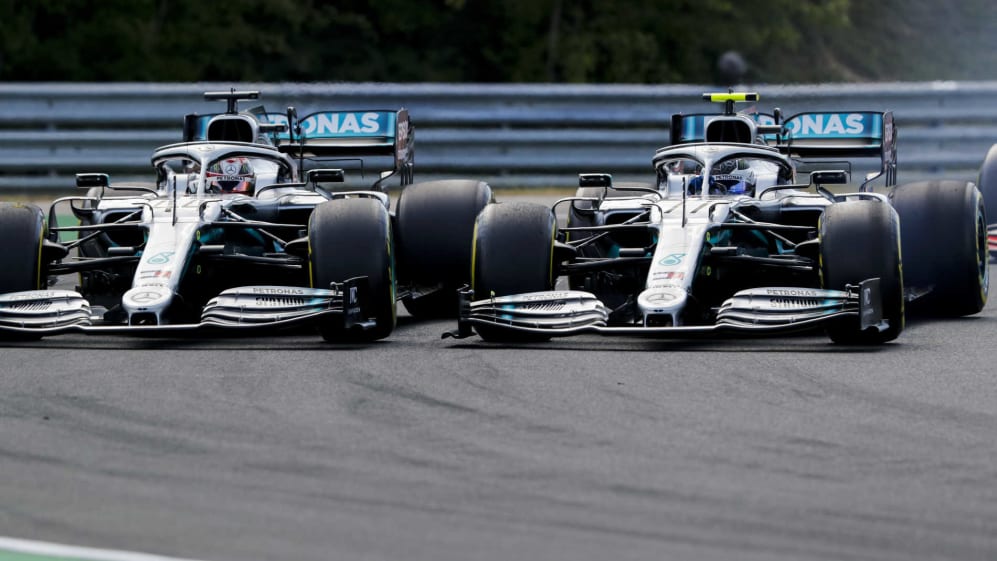 Recalibrating your mindset
Control-Alt-Delete. It's often the last course of action, but sometimes it's just what is needed to get back up and running. And it's exactly the course Bottas pursued over the winter. A period of reflection in the build up to Christmas was followed by a press of the reset button.
On January 1 2019, everything would be different. Bottas would be a new man. And it was needed, because the Finn had begun to fall out of love with racing, the very way of life he had always dreamed of making his career. For a professional athlete, this is when alarm bells start ringing. "It was quite a negative period, the way last year ended," he admits as we meet in the inner sanctum of the Mercedes hospitality unit in the F1 paddock.
"I wasn't feeling very positive about anything, especially Formula 1. But I managed to turn those feelings into more energy and a bit of attitude. I found a way to understand what I was feeling and realised that maybe I needed to prioritise myself more because in the end, I only have one career."
To admit there was a problem is challenging enough, but to do something about it – and quickly – is even tougher. But, as Bottas says, it had to be done.
"I'm taking things day by day instead of looking too far ahead and really trying to make the most out of every situation. It was a bit of a wake-up call last year. Obviously there are different reasons that led me into that difficult last part of the year, but maybe there was a purpose – so I could find the next level for my performance by being in a different kind of mindset."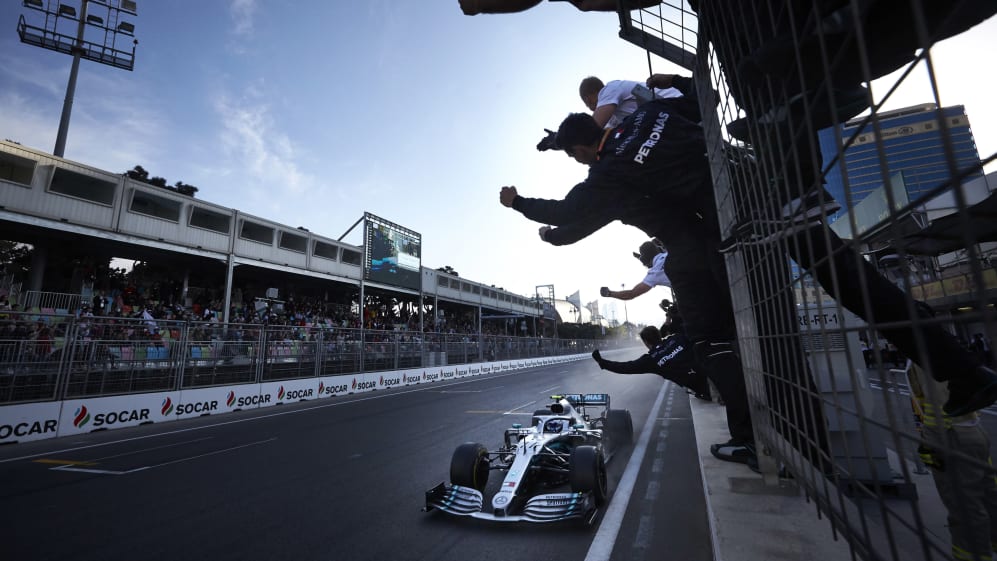 Relighting the fire
When Bottas burst onto the scene with Williams in 2013, he did so with an impressive CV that featured the FIA GP3 title and a year as a test driver with the British team that saw him drive in all but five Friday FP1 sessions in 2012. A superb third in Canadian Grand Prix qualifying in his maiden season offered a glimpse of what he was capable of and over the next three years, he scored nine podiums.
It wasn't a race-winning car, but Bottas was making the most of what he had – and more importantly, he absolutely loved the challenge. And when Rosberg announced his shock retirement, Bottas' growing reputation led Mercedes to his door. Suddenly, he had a machine not only capable of winning races, but also the Holy Grail – the F1 World Championship.
His first campaign was strong, especially considering it was a late deal to get him in the car, and he walked away with three wins and third in the drivers' championship. Last year, though, he slumped. A cruel puncture while in the lead in Baku and just a handful of laps from home sparked a drop of the head and in form. By the end of the season he was still without a win and was just fifth in the drivers' standings. The love had gone.
"From not enjoying the sport very much, I decided to turn that into 'let's give it a go, let's give everything'," he says. "I'm enjoying driving more than for many, many years." Had he been ground down by the tough times? "Yeah, for sure," he says.
"Feelings go up and down and obviously the better you feel, the better you're performing. I had to remind myself that I'm pretty lucky to be able to do this and it's better to make the most out of it and enjoy it, because it's not going to last forever."
To get to this positive frame of mind, Bottas took a route many of his fellow Finns have taken – he went rallying. Competing in the Arctic Lapland Rally, he finished a very credible fifth. The position, though, was irrelevant.
"It was the plan, to do something completely different and for fun," he says. "It was my first ever rally and I only had two test days before it, so for that it was really good and I really enjoyed it. I found the love for driving again. So, actually I still do some test days every now and then with the rally car and I'm planning also to do more in the future. For me, it's just purely fun and truly enjoyable.
"With these small events and test days, there's no politics or anything, it's just purely driving, enjoying it, discovering how to be quicker and so on." He got his skates on, too, during the winter, picking up another sport that he loved when he was a kid and this time caring a little less about the risks.
"Ice hockey is sport very close to my heart," he says. "I still play a lot and played a lot more last winter than before. There's always a small risk of injury, but I cared maybe a bit less and it was all good fun."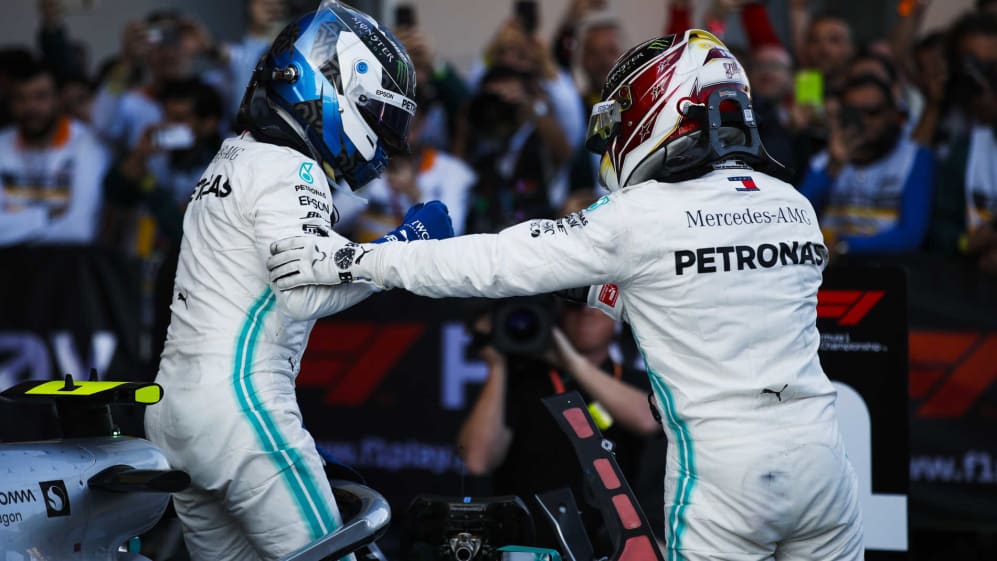 Charting his own course
There's no handbook for Formula 1 drivers, a manual to help with the often complex situations that crop up over the course of a racing career. You simply have to crack on, lean on the experience you've gathered on your way up the racing ladder and surround yourself with the right people.
"I feel like I need to be more open-minded and do the things I feel like, rather than following a set path or the theoretically best preparation," says Bottas. "So I'm trying to focus more on my mental health and being in a happy place."
Some drivers have teams of people around them at every race, providing a support network that allows them to get the best out of themselves. Bottas brings family, including his Finnish 50m butterfly record-holding swimmer wife Emilia, to some races, but generally he travels with just one person – Antti Vierula, his trainer, and he finds that making some time for himself, rather than discussing problems with others, often works best for him.
"Family is very important and people like Antti," he says. "I feel like I have all the support I need. If I need to talk with someone or open up or whatever, I have many, many people I can speak with. But so far I've still always found what works for me is to talk to the guy in the mirror.
"Maybe I'm bit of a lone wolf in that sense but many things are processed on my own. A big thing for me is being able to escape humans, whether it's a hike or a bike ride or whatever. Nature works very well for me, to gather the thoughts, that's a very healthy way to clear my head."
When things don't go well, as humans, the tendency – no matter what the scenario – is to over-think it and that can often have a detrimental effect on the outcome. As his 2018 campaign tailed off, and he failed to replicate the kind of form Hamilton was delivering – the Briton won 11 races including six of the last eight – Bottas admits he fell into the over-thinking trap.
"I've done that mistake a few times over the years," he says. "But it's always easy in this sport. There's so much day time, so many things to think about and at some point there's a limit on when it's too much and I feel like your vision and thinking narrows down. Then it's time to step back and look at the big picture."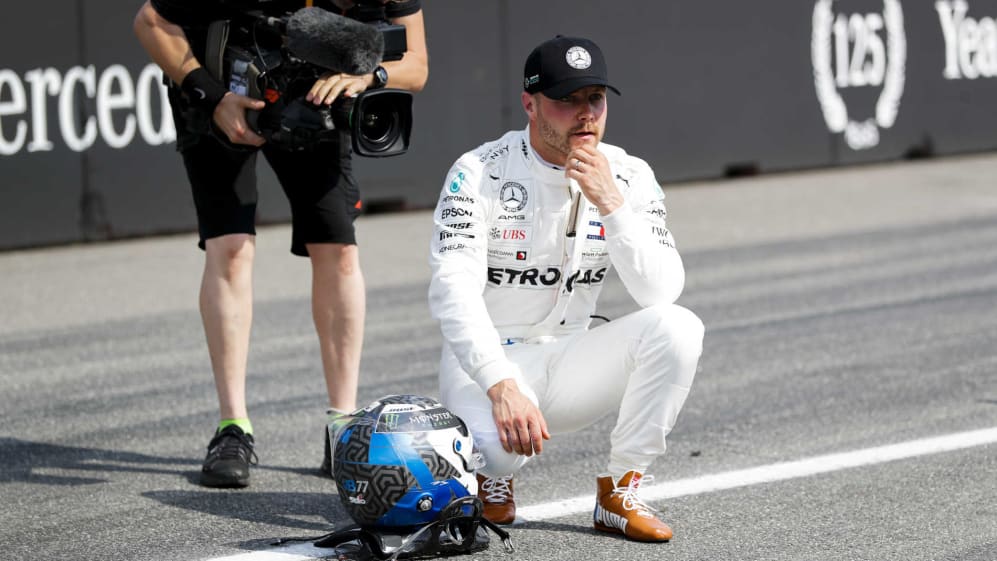 Looking the part
Bottas isn't just thinking stronger; he's looking stronger. The previously baby-faced Finn turned up for winter testing sporting a more rugged look, complete with beard. "I have no need or will to get rid of it and it purely came about because I had such a good time off in December that I just forgot to shave," he says.
"I looked in the mirror and just decided to keep the beard." That new look coincided with stronger form on track, the Finn winning two of the opening four races to lead the championship. But he's not keeping the beard because it's a good luck charm – 'I'm not superstitious' – but because the beard "chose me!"
It's noticeable this year that Bottas has been carrying himself in a different way. There's certainly more confidence. And he just looks and feels tougher. When he's at a track, he's completely focused on the job in hand. When he leaves, he can switch off, like flicking a switch, something he admits he wasn't always able to do. That has helped get him into a different, better place.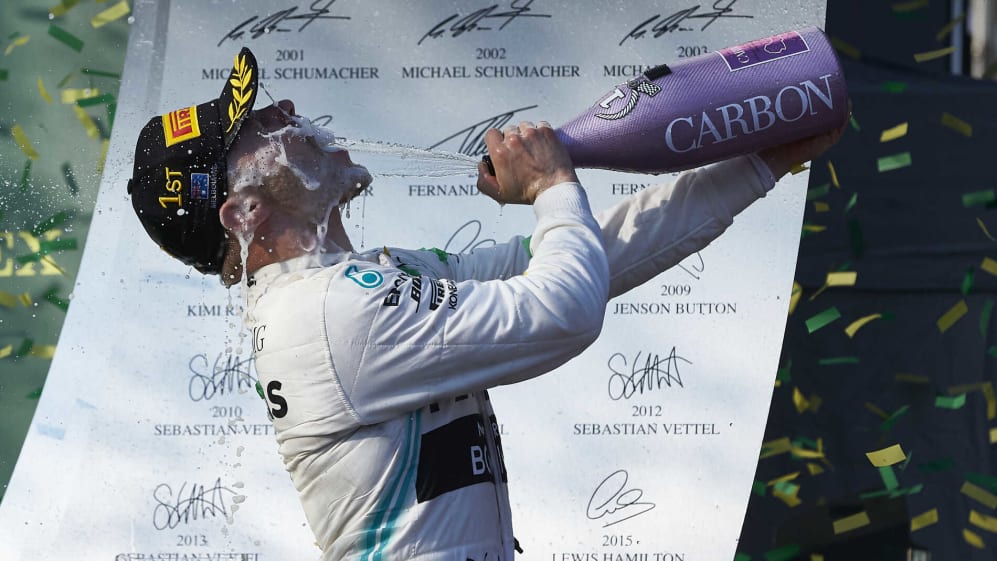 Technical development
Since joining Mercedes, Bottas has traditionally been closer to Hamilton in qualifying than the race. That has remained the case this year – only there appears to have been a vast improvement in one-lap pace, to the point where he has arguably had the edge over his more decorated team-mate.
That has helped give him a stronger foundation come race day, but he's also not been afraid to hold his own. Baku is a prime example. As Hamilton attacked the pole-sitter, running through the opening three turns, the Finn refused to relent to retain a lead he would ultimately convert into victory.
There was a similar show of strength in Silverstone. Hamilton pressed pole-sitter Bottas hard in the opening corners after the start and managed to get past. In the past that might have been job done, but this time Bottas returned the attack, powering past Hamilton with a superb move through the high-speed Copse Corner.
It's aggression backed by confidence and that stems not just from a mental reset but from the team behind him in the Mercedes garage. This year, a change of personnel saw Riccardo Musconi leave his role as performance engineer for Hamilton to join Bottas as race engineer. And rather than it being a disruption, Bottas sees it as part of the reset he had instigated.
"It's a combination of things," says Bottas when trying to explain his upturn in on-track results. "It's also learning each year something new. When you come back to a track, you analyse last year and look at the corners you need to focus on. There are still a few tricks to unlock. Even the years before, it's been quite close on average in qualifying so it's more race pace that I still need to work on. But definitely by numbers and by my feeling, it's been the best year so far that I've had in Formula 1 in terms of my performance."
The task facing Bottas remains daunting. Beating Hamilton in his current form, with the same machinery, is no easy feat, as the previous incumbent to Bottas's seat, Rosberg, will attest.
But a stronger, more aggressive, more determined Finn – a Bottas 2.0 if you will - who is happier than he's ever been when behind the wheel of a racing car, looks like a force to be reckoned with this year, even if the last couple of races haven't quite gone his way. Let's see if it proves to be enough.