Vandoorne 'hurt' by Hungary retirement
You had to feel for Stoffel Vandoorne on Sunday. After struggling for a number of races, the Belgian driver finally looked set for a strong point-scoring finish in Budapest - until reliability issues agonisingly intervened.
McLaren gave Vandoorne a different chassis in Hungary in order to try and solve his recent woes, with the 26-year-old having been comfortably off the pace of team mate Fernando Alonso and complaining of a handling issue since Silverstone. The move appeared to pay off, with Vandoorne more competitive in Budapest and running close behind Alonso in ninth with 20 laps remaining when he was forced to retire with a suspected gearbox problem.
"I think as a team we did everything right and it hurts, definitely, not to finish with points here," Vandoorne said.
"It shows it's a mechanical sport I think. Really disappointing today. I think we did everything right. We had a superb start, gained a few places on the opening lap. We had really good tyre management, really good pace when it mattered. We managed to go long, do the overcut and make the tyres last.
"The team had good pit stops, we had both cars in eighth and ninth very comfortably actually, so we only had to bring the car home and we would have had some points. But unfortunately we had a technical issue, I think something gearbox-related, so it's not a nice feeling to end the race like this.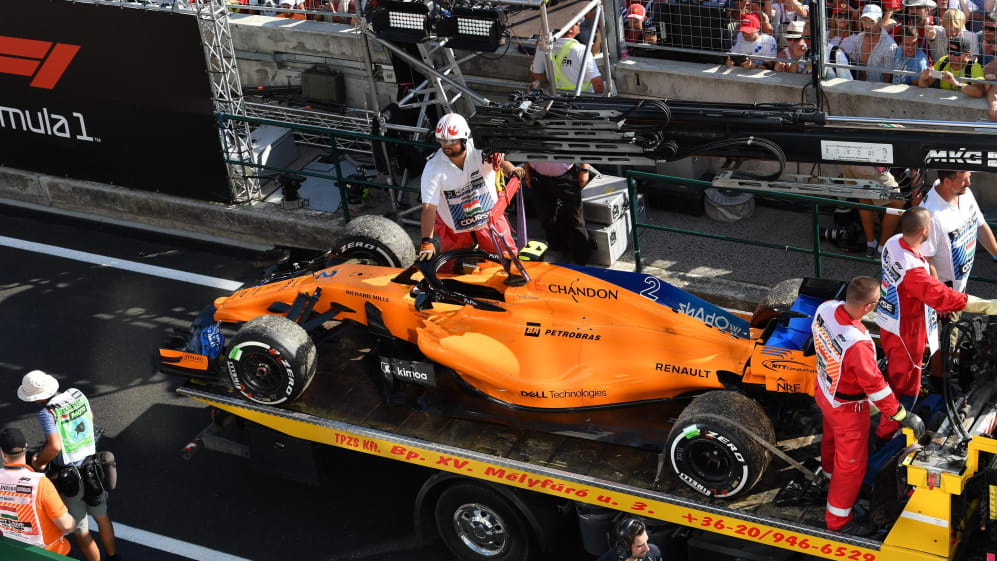 "It's disappointing to finish like that but I think as a team we've done everything right today, we got ourselves as high as we could but it's just a shame not to finish the first part of the season with a few more points."
While obviously disappointed with the lack of a result, Vandoorne still takes a number of positives from the Hungary weekend having made progress from a performance point of view, giving him a confidence boost ahead of his home Grand Prix in Belgium after the summer break.
"From a personal side, it felt good this weekend," he said. "I think we've shown today that the pace was back to where it has always been, let's say, and I think on a personal note I can happy. It's just a shame we couldn't finish it off today with a double-points score.
"I'm not thinking about [my future] to be honest. I'm just doing the best I can. I think I've been focusing on that all the time and this weekend was a good sign that everything is back to normal. So I'm looking forward to the summer break to relax a bit, get my head clear and then turn up in Spa for my home race."
Vandoorne is currently 16th in the drivers' standings with eight points – 36 fewer than Alonso.