Verstappen and Gasly hit the track at Zandvoort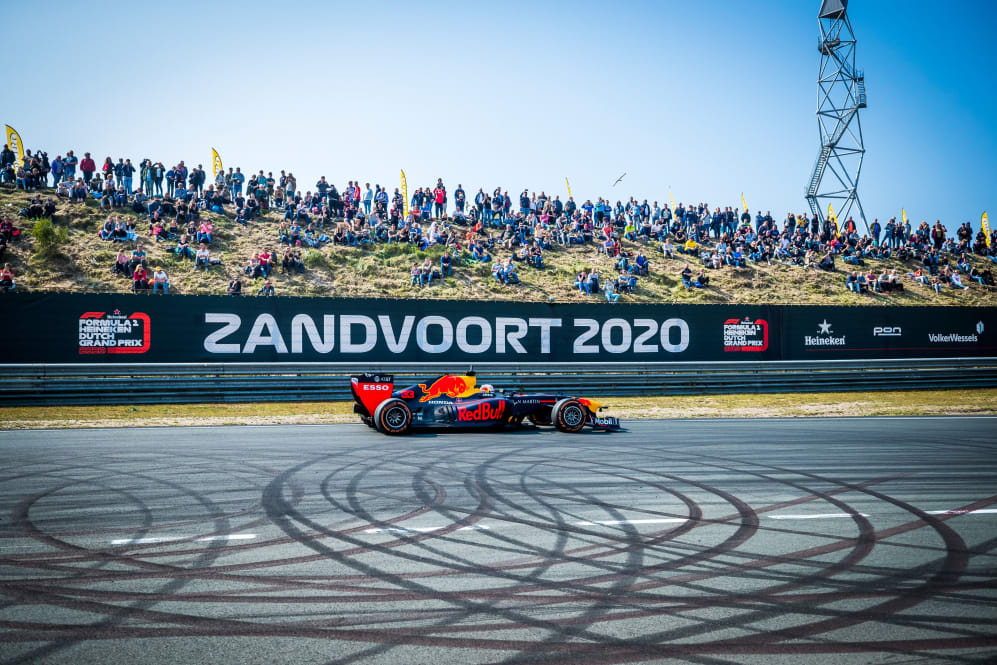 Ahead of the return of his home Grand Prix in 2020, Max Verstappen and Red Bull team mate Pierre Gasly took a pair of RB7s for a spin around the iconic Zandvoort circuit at the weekend and gave the fans a taste of what to expect next season…
Zandvoort hasn't hosted a Grand Prix since 1985, when McLaren's Niki Lauda was victorious, but it has staged a plethora of racing series and events since, including the Jumbo Racedagen, which Verstappen has attended for the last four years.
READ MORE: Dutch Grand Prix: What you need to know about F1's spectacular new beachside race
Verstappen and Gasly pulled off a trio of runs on Saturday and repeated the feat the following day in double-championship-winning RB7s, darting between the dunes on high-speed runs and lighting up the rears with an impressive display of burnouts and donuts, in front of packed grandstands.
"It's the fourth edition of the Jumbo Racedagen and it has been crazy here," said Verstappen. "We've been growing together over the years and it's amazing to see so many Dutch fans coming to this event. It's very special that you are so close to your fans here.
"At a race weekend we're very restricted in what we can do, so this is definitely a great event for the fans. The track itself is very challenging and there are not many run-off areas. It's amazing that the track will come back on the F1 calendar next year and you will see a lot of orange in the dunes."
Gasly added: "I didn't really know what to expect before I came here this weekend and I'm really impressed with the number of people here to support us and it's really cool to drive an F1 car on this track.
"I came to Zandvoort in 2012 with Formula Renault 2.0, but it is like a completely different track when you take an F1 car here. It's super narrow with really high-speed corners and you need big balls to go fast around this track. It's going to be challenging to race here but really exciting."
The Dutch Grand Prix will return at Zandvoort next season after agreeing a multi-year deal.