Verstappen and Perez share their views after 'hairy' battle on first lap of Austria Sprint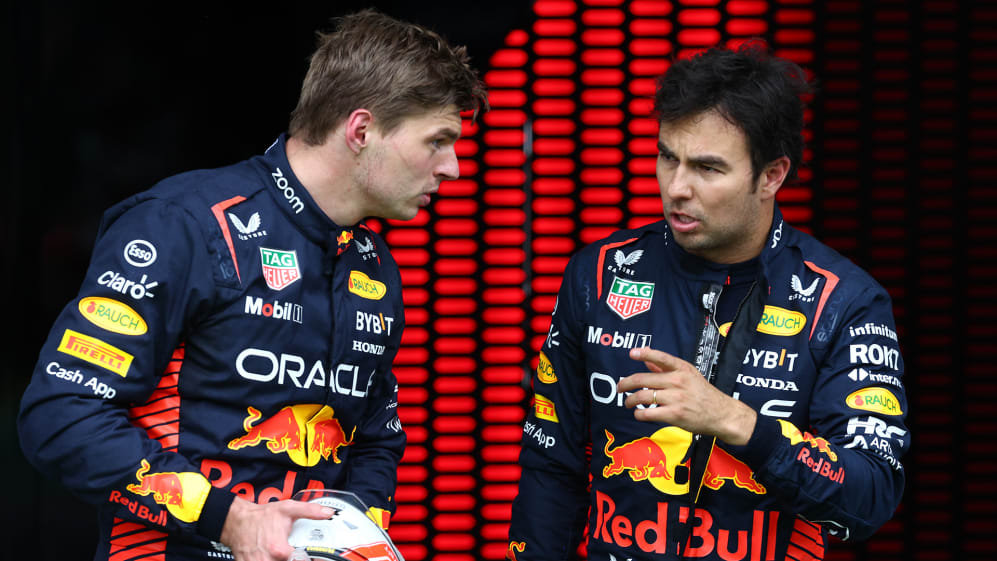 Max Verstappen and Sergio Perez have offered up initial reactions to their close battle on the opening lap of the Austrian Grand Prix Sprint race, which saw the pair go wheel-to-wheel on several occasions.
Perez got the jump on pole-sitter Verstappen when the race began, but a compromised line through Turn 1 saw the Dutchman fight back at the exit, only to be sent to the right-hand side of the track and dip two wheels on the wet grass.
READ MORE: Verstappen battles back against Perez for victory during frenetic wet-dry Sprint in Austria
Having regained his composure, Verstappen made a move up the inside of Perez under braking for Turn 3, where they came close to colliding again – Verstappen managing to emerge in the lead and Perez taking to the run-off at the exit.
Giving his thoughts on the exchange, Verstappen said: "It was a little bit of a hairy moment out of Turn 1. Of course when you get forced onto the grass it's very slippery, but we managed to keep the car under control and from there onwards we just did our race."
As for the remainder of the wet-dry 24-lap encounter, he added: "The start was not ideal, a bit of wheelspin, but after that, after Lap 1, once we got back in the lead, it was good.
"We were just managing the tyres, knowing that if it wasn't going to rain anymore, then you know 24 laps on an intermediate is quite a lot, but they were hanging in there.
FACTS AND STATS: Verstappen hoping to banish Austria 2022 jinx after Sprint win
"I think, of course, the last five laps the slicks were quite a bit faster, but I think for us, so far in the lead, it didn't make sense to pit. We just hung in there with the inters which worked well."
Perez crossed the line some 20 seconds behind Verstappen to complete a Red Bull one-two, having initially lost another position to Haas rival Nico Hulkenberg – who took advantage of the top two's scrap – at the exit of Turn 4.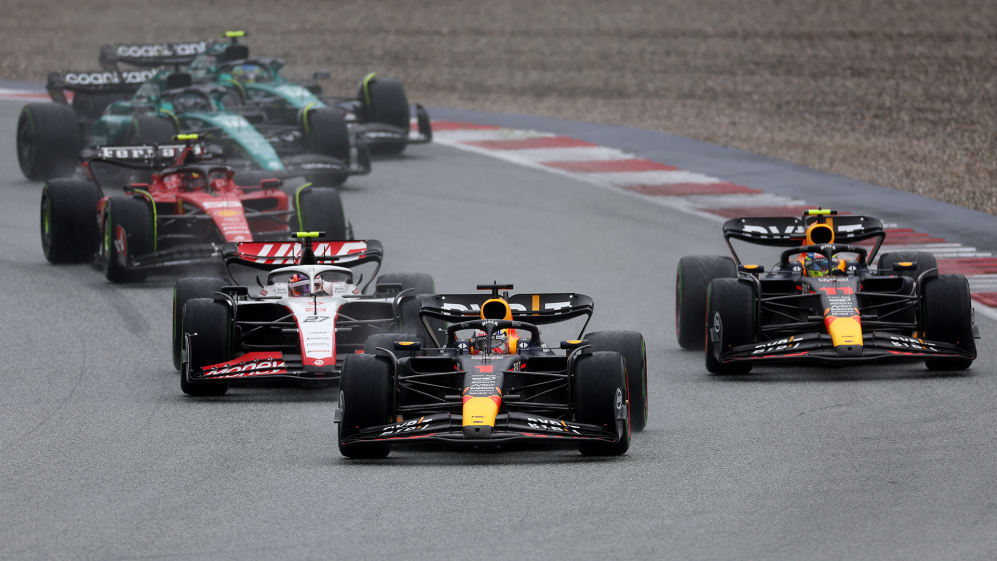 "I think Max was angry that I went into Turn 2, but I didn't see him there," said Perez after stepping out of the car. "I just had a very bad Turn 1, so I tried to protect, but once I realised that he was there, I opened up the door and gave the place back into Turn 2.
"It's all fine, we just spoke about it, because the visibility… Although we were [running] one and two, it was very bad, the visibility out there."
AS IT HAPPENED: Follow all the action from the F1 Sprint in Austria
He added: "I think once I got Nico it was all about managing the tyre to make sure that we made it to the end, because otherwise it would have been really easy to really miss out, especially with people boxing onto the slicks. Once I went by Nico, it was just bringing it home."
Verstappen and Perez will line up first and 15th respectively for Sunday's Austrian Grand Prix, with the reigning double world champion's advantage over his team mate in the drivers' standings now up to 70 points.