Report
Verstappen beats Hamilton to United States GP victory as Red Bull secure an emotional constructors' title win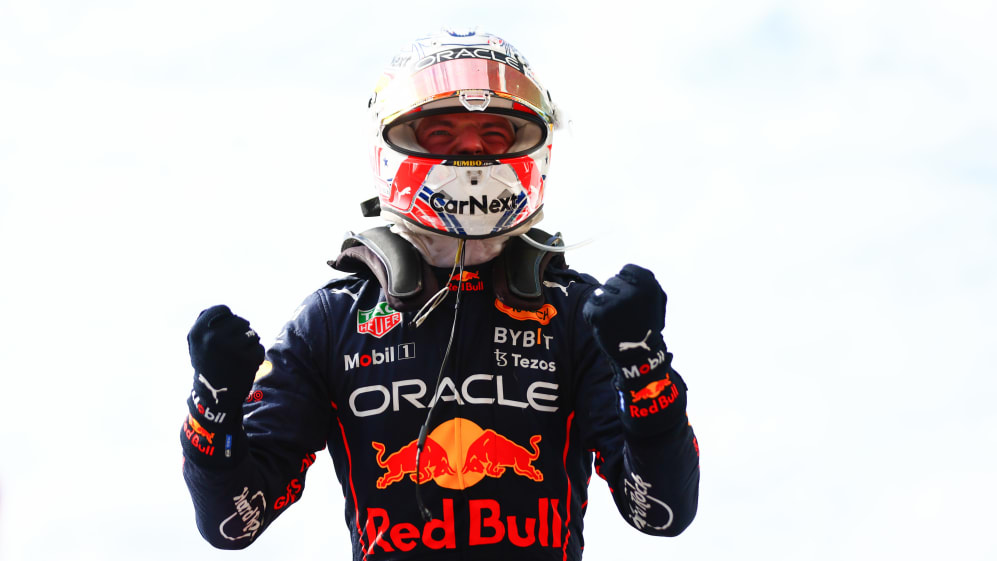 Max Verstappen emerged victorious at the end of an action-packed United States Grand Prix, overhauling and fending off Lewis Hamilton in a tense finale, while his Red Bull team wrapped up their first constructors' title since 2013.
Verstappen's record-equalling 13th win of the season, and the squad's championship triumph, came a day after Red Bull co-founder and owner Dietrich Mateschitz passed away – a milestone fifth F1 constructors' title for the Milton Keynes operation sparking emotional celebrations.
Having moved into the lead at the start, avoiding the drama behind as Carlos Sainz and George Russell clashed at Turn 1, Verstappen had looked set for a comfortable victory at the Circuit of The Americas, dealing with multiple Safety Car restarts and managing his pace expertly.
But a slow final pit stop opened the door for Hamilton and the recovering Charles Leclerc, the reigning world champion having to pass both of them to take the chequered flag first – his move on Hamilton coming with just six laps remaining.
Despite his sterling efforts, Hamilton had to settle for second place, with Mercedes' wait for a 2022 victory continuing, while Leclerc salvaged a podium finish for Ferrari as the Italian team mathematically dropped out of contention for the constructors' crown.
FORMULA 1 ARAMCO UNITED STATES GRAND PRIX 2022
United States
2022
Race results
POSITION
TIME
POINTS

1

Max

Verstappen VER

Red Bull Racing

1:42:11.687

25

2

Lewis

Hamilton HAM

Mercedes

+5.023s

18

3

Charles

Leclerc LEC

Ferrari

+7.501s

15

4

Sergio

Perez PER

Red Bull Racing

+8.293s

12

5

George

Russell RUS

Mercedes

+44.815s

11
Leclerc benefitted from a cheap stop under an early Safety Car – brought out by Valtteri Bottas's spin into the gravel – to rise from P12 on the grid after his power unit changes, with Perez taking fourth after his own engine penalty.
Russell took a five-second time penalty for his incident with Sainz en route to fifth, pitting late on to set the fastest lap on soft tyres, having held enough of a window over sixth-placed McLaren driver Lando Norris.
Fernando Alonso bounced back from an engine penalty and a dramatic collision with Lance Stroll midway through the race, which briefly sent him airborne, to claim seventh position, followed by Aston Martin's Sebastian Vettel and the one-stopping Haas of Kevin Magnussen.
Like Verstappen, Vettel's efforts were dented by a slow final stop and, having initially held a strong points position, he had to fight his way back to eighth, passing Magnussen at the final corner on the final lap – earning the 'Driver of the Day' award in the process. However, a post-race 30-second penalty following a protest would ultimately drop Alonso to P15, as the drivers in between all moved up a spot.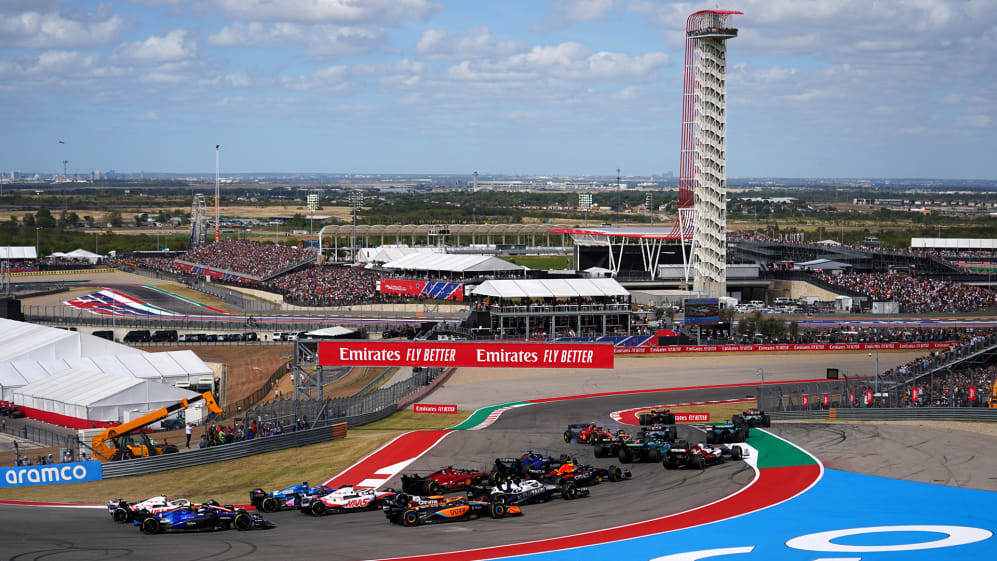 AlphaTauri driver Yuki Tsunoda, who started at the back of the grid after an engine penalty, also used the drama to his advantage to take a point in 10th (later elevated to P9), ahead of Alpine's Esteban Ocon (who started from the pits), Williams' Alex Albon and Alfa Romeo's Zhou Guanyu.
After his qualifying woes, Pierre Gasly experienced another dramatic race, picking up a time penalty behind the Safety Car that was not served properly in the pits, leaving him to come home in 13th once Alonso's penalty had been applied.
Mick Schumacher could not repeat team mate Magnussen's points-scoring efforts on the more conventional two-stop strategy as he took P15 (later P14), with the McLaren of Daniel Ricciardo and Williams of Nicholas Latifi the final cars to finish behind Alonso.
AS IT HAPPENED
After the sad passing of Dietrich Mateschitz, and a flood of tributes overnight, the F1 paddock assembled on the grid ahead of Sunday's race to remember the Austrian entrepreneur with a round of applause – the record Austin crowd ensuring it was a fitting tribute.
Lining up on the front row for the start were Sainz and Verstappen, with second-placed qualifier Leclerc dropping all the way down to 12th due to power unit component changes, and Perez falling from P4 to P9 thanks to an engine change of his own.
Additional penalties saw Alonso (engine), Zhou (engine) and Tsunoda (gearbox) all lose five places, while Ocon moved from the grid to the end of the pit lane after taking on a host of new power unit elements in the wake of his disappointing run to P18 in qualifying.
As the 56-lap race got underway, the 10th at COTA and the first dry F1 encounter since last month's Italian Grand Prix, it was Verstappen who made the best start to jump Sainz off the line, and before the Turn 1 bottleneck took full effect.
A lunge up the inside from Russell backfired as he locked up and ran into Sainz's car, sending the pole-sitter into a spin and an early retirement due to a resulting water leak – the stewards promptly handing the Mercedes driver a five-second time penalty for his actions.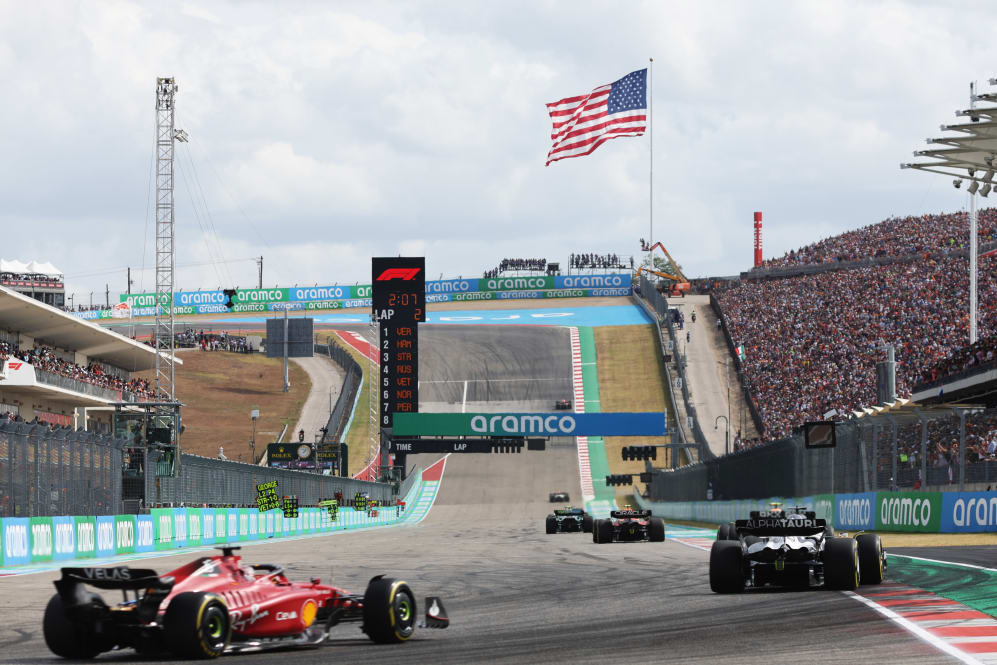 Behind, Stroll was a big winner as he slotted in behind Verstappen and Hamilton, the latter doing well to avoid the clashing Russell and Sainz after some pre-race drama that saw his mechanics carry out a rapid front brake change.
It was a short-lived podium spot for the Canadian, however, with Russell finding a way past at Turn 12 on Lap 6, and the recovering Perez mirroring that pass one tour later – albeit damaging a front wing endplate after some early contact.
Aston Martin therefore found themselves occupying P5 and P6 with Stroll and Vettel respectively, while Leclerc's charge saw him climb from P12 to P7 in 10 laps, ahead of Gasly, Norris and Bottas – the latter leading a train of midfield runners into the pits on Lap 11 for fresh tyres.
Up front, Verstappen was managing his race – and the continued windy conditions – well to edge out a near five-second lead over Hamilton, while Russell resisted the advances of Perez behind and Leclerc disposed of Vettel for P6.
After being given the famous 'Hammer Time' radio message from race engineer Peter Bonnington, Hamilton was the first of the front-runners to pit on Lap 13, swapping his medium tyres for softs, with Verstappen and Russell boxing for the same compound a lap later – the Briton also serving his time penalty.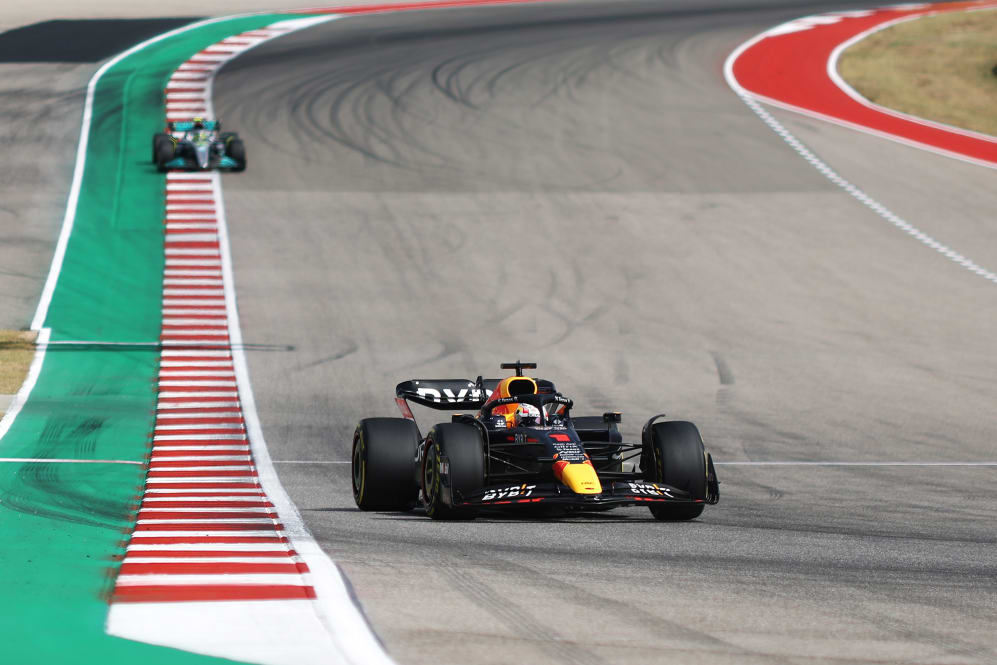 Having rejoined the action just ahead of Stroll, it was not long before Verstappen moved back into the lead, with team mate Perez pitting on Lap 15 and subsequently slotting in between the Silver Arrows of Hamilton and Russell.
At this point, Leclerc ran second to Verstappen as he extended his opening stint on the medium tyres, telling his Ferrari team to consider 'Plan E', with Vettel another pressing ahead on ageing rubber, ready to capitalise on any drama.
It would pay off for the former team mates, and Alonso a little further back, when Bottas spun into the gravel at Turn 19 on Lap 18 and triggered a Safety Car, meaning their stay in the pits was significantly shorter than it would have been under racing conditions.
After the stops, Verstappen held P1 from Hamilton and Perez, with Leclerc jumping a host of cars to sit P4, ahead of Russell, Vettel, Stroll, Gasly, Alonso and Norris – the race neutralised for three laps while Bottas's car was cleared away.
Verstappen mastered the restart to hold onto the lead, but the Safety Car would be back out on track just moments later due to a frightening collision between Alonso and Stroll down the back straight that littered debris all over the circuit.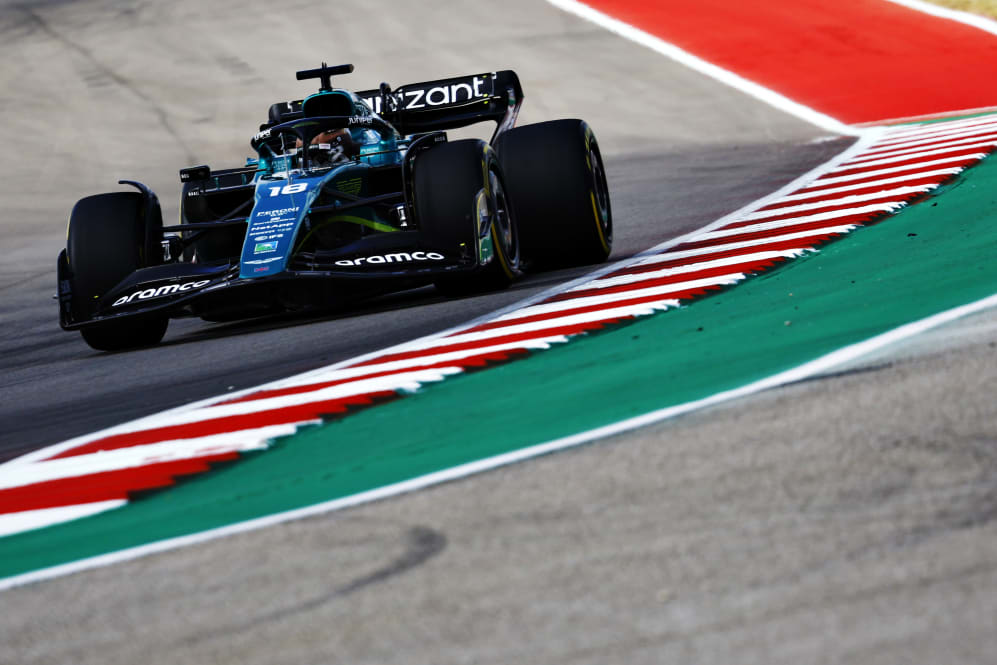 Replays showed Alonso hitting the back of Stroll's car as he pulled out of the slipstream and attempted to make a move, sending the Spaniard airborne and both drivers into the barriers at speed. While Alonso pitted for a change of front wing, Stroll was out on the spot with extensive car damage.
In response to Stroll's defensive driving, Alonso jumped on the radio to criticise a "very late move" across the track, with Race Control noting that the stewards would be taking a closer look at the incident after the race.
A rapid clean-up allowed the action to resume on Lap 26, with Verstappen surviving another restart to lead from Hamilton, Perez and Leclerc – the Ferrari man holding a tyre life advantage of several laps after his later stop.
Leclerc started to put that advantage to good use as he closed in on third-placed Perez, initially launching a failed attack at Turn 12 on Lap 29, before getting the job done one lap later with a bold overtake up the inside.
On Lap 35, Hamilton kicked off the second round of pit stops for the front-runners as he moved to a fresh set of hards, prompting Verstappen to box a lap later and fend off the undercut attempt – only for a botched stop to cost him crucial time.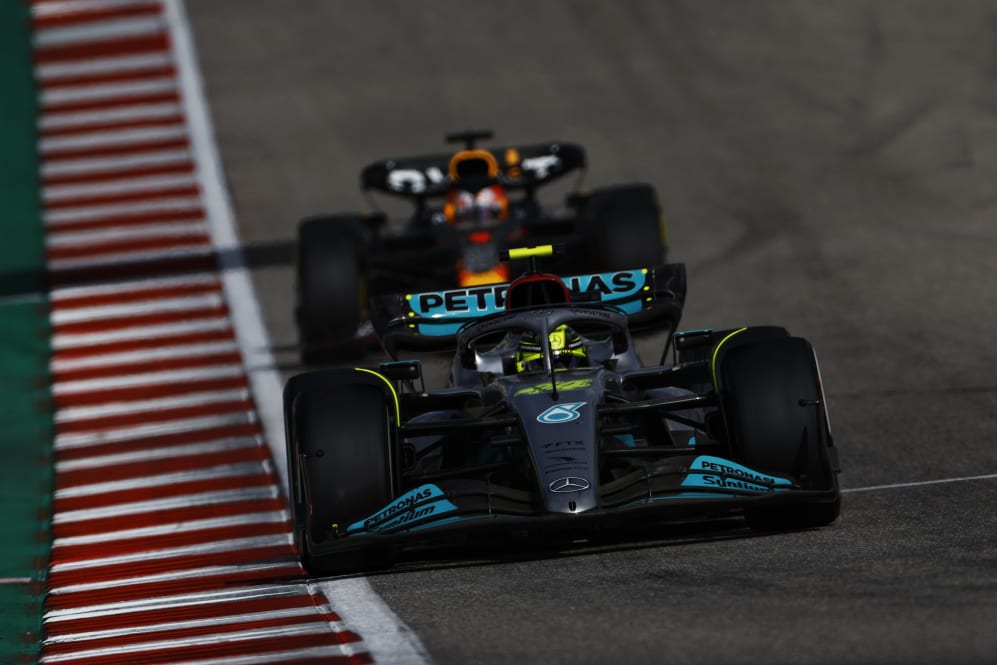 "Beautiful," Verstappen sarcastically commented over the radio as he rejoined behind Hamilton and Leclerc – the Red Bull and Ferrari running the softer medium compound, as opposed to Hamilton's hard-shod strategy.
Lap 39 led to more breathless drama as Verstappen attacked Leclerc into Turn 1, initially getting ahead before his rival completed the cutback – but another go at Turn 12 saw the Dutchman move into a net P2, some four seconds behind Hamilton.
With Perez pitting and seeing off Russell as he rejoined the action, Vettel led the 3,500th lap of his F1 career ahead of retiring from the sport at the end of the season, only for the celebratory moment to be undone by a 16.8s stop that dropped him out of the points.
Up front, Verstappen posted a series of fastest laps to close in on Hamilton, setting up a grandstand finish as the race entered its final stages, while Leclerc settled into third, ahead of Perez and Russell.
Verstappen's rapid pace was unrelenting and, with six laps to go, he used his recently-acquired DRS to pounce on Hamilton into Turn 12, proceeding to cleverly place his car over the next sequence of corners and hold position.
Despite a brief response from Hamilton, the race was Verstappen and Red Bull's, with emotional words being exchanged between driver and pit wall after he crossed the line some five seconds clear to secure victory and the constructors' crown – with more tributes paid to Dietrich Mateschitz and his impact on the sport.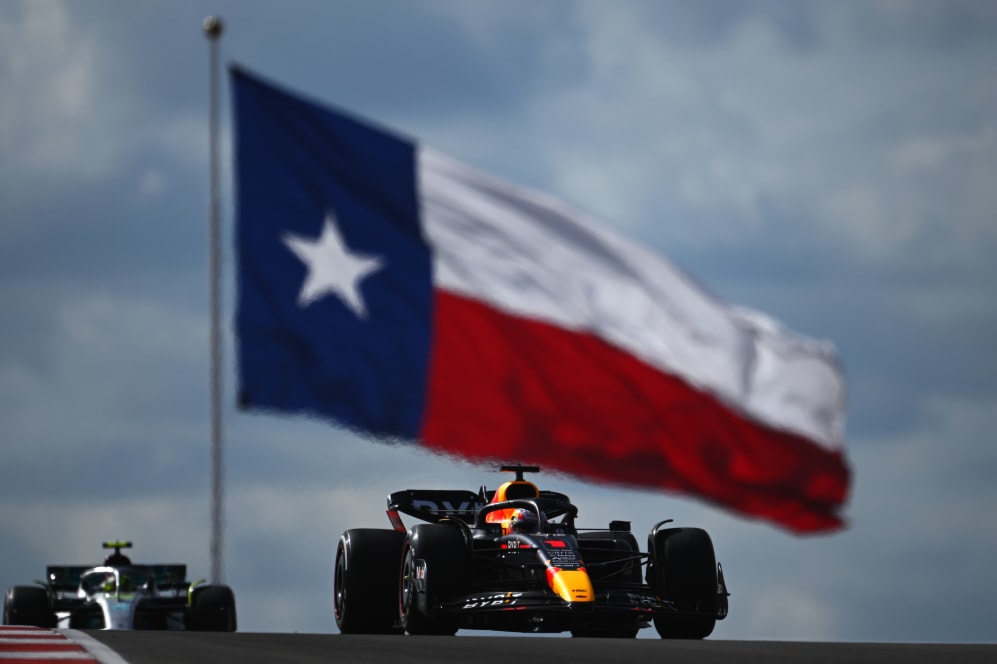 Leclerc stayed within DRS range of Verstappen for several laps after being overtaken, but his pace on the mediums faded and he made do with third, as Perez and Russell rounded out the top five positions.
Norris picked up some damage when he ran through the debris following Stroll and Alonso's crash, but a late charge was rewarded with P6, ahead of Alonso, as the McLaren/Alpine battle for P4 in the constructors' standings continues. However, a Haas protest against Alonso's car would later see him dropped to P15.
Vettel arguably deserved much more than eighth place on the road before his aforementioned slow stop, but he stayed cool to recover several lost places, the last of the lot a fine move up the inside of Magnussen into the newly-named Andretti corner. However, he was at least promoted by Alonso's penalty.
Tsunoda led a gaggle of cars across the line for the final point (later two points after Alonso's penalty), comprising himself, Ocon, Albon and Zhou – Albon involved in an early incident with Gasly that was noted but not investigated further.
Gasly wound up 13th after being penalised for failing to stay within 10 car lengths of the vehicle ahead under the Safety Car, that sanction compounded when it was not served correctly during a subsequent pit stop.
Schumacher and Ricciardo finished in the shadow of high-flying team mates Magnussen and Norris, with Latifi the final finisher after a spin in his first stint forced him into an earlier-than-planned stop.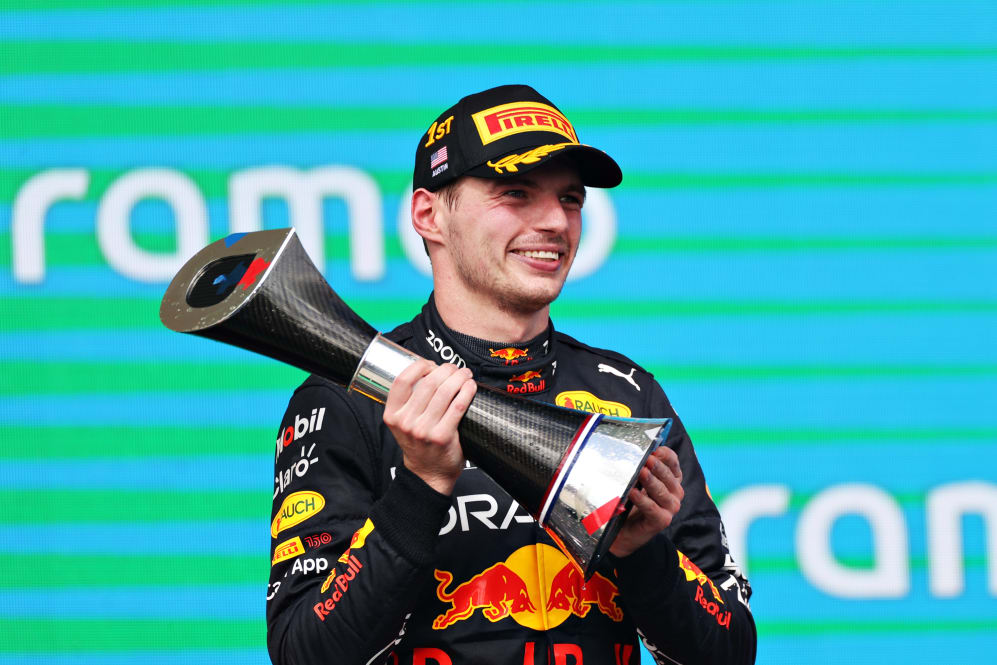 Key quote
"It was tough one. It was all looking good and then, of course, the pit stop was a bit longer than we would like, so I had to fight my way forward again. But we gave it everything out there today," said race winner Verstappen.
"Of course, it's a very difficult weekend for us, so this one is definitely dedicated to Dietrich himself. What he has done for everyone... the only thing we could do today was win and, even though after the pit stop it was not looking great, I gave it everything out there and pushed it to the limit to come back."
What's next?
F1 heads straight from the United States to Mexico for the next round of the World Championship at the Autodromo Hermanos Rodriguez from October 28-30.