Verstappen calls Red Bull double-podium in Turkey 'a very good result' as Perez revels in Hamilton battle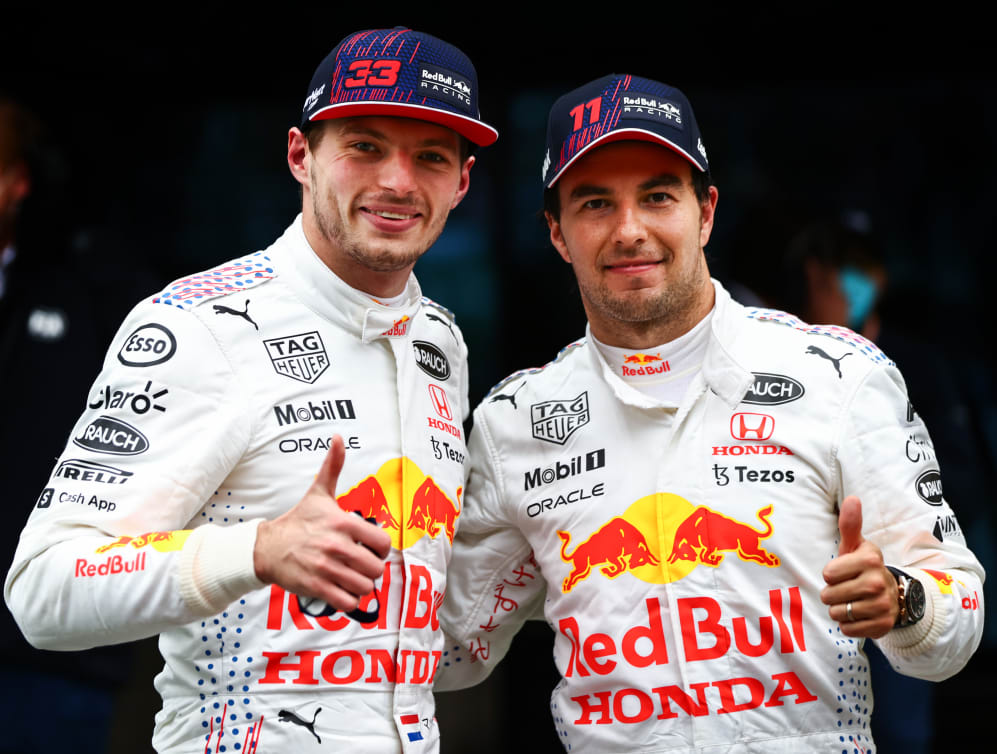 The championship lead has changed hands for the fourth time in the last six races and now Max Verstappen is the frontrunner having finished second in Turkey to lead a Red Bull double podium. It's a result he and team mate Sergio Perez said was the maximum they could have achieved – with Perez now adamant they can bring that constructors' championship trophy home…
Verstappen started second in a damp Turkish GP, with Valtteri Bottas on pole. The two finished there, with the Red Bull driver keeping up with the Finn in the first stint – but struggling to stay in touch after the Lap 37-38 pit stops. He explained that Bottas's pace meant it was a case of just keeping tabs on the Mercedes driver, who ultimately proved flawless on Sunday.
READ MORE: Bottas relieved to win with 'one of the best races I've ever had' after dominant display in Turkey
"I think we managed to maximise the result – Valtteri was of course a bit faster – but I think this whole weekend we were a bit behind in pace compared to Mercedes, and this race was all about just managing the tyres to a certain lap," he said. "But as a team to finish second and third here was a very good result."
With six races left and Verstappen aiming to consolidate his six-point lead in the drivers' standings, he added: "I wish I had a bit more pace in the car so it would have been a bit more easier but we are in the fight and we keep fighting, and we'll see in the coming races how competitive we are going to be."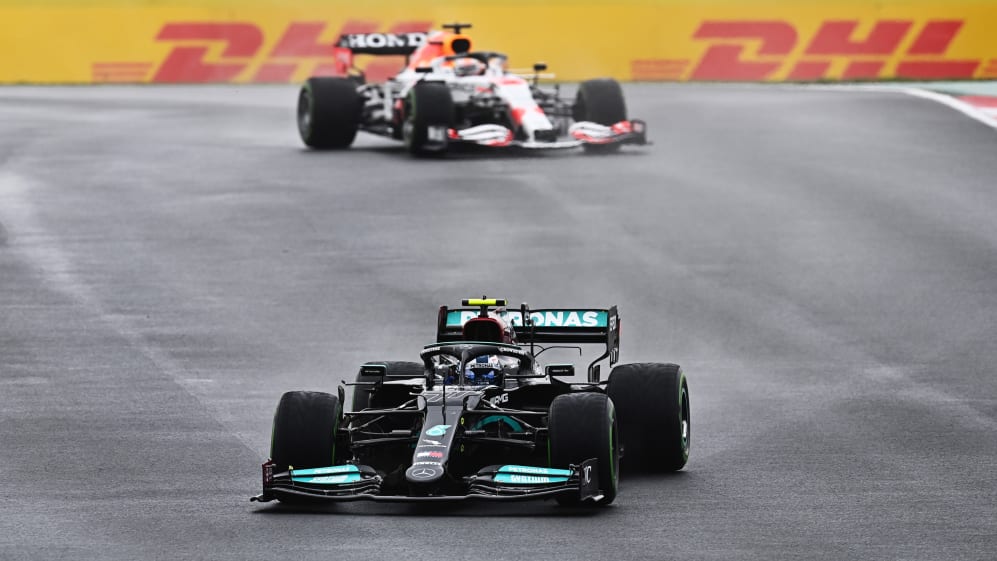 As for Perez, who managed to take his first podium since June's French Grand Prix (Round 7), the Mexican started sixth and ended up third with a late pass on Charles Leclerc, while Pierre Gasly was penalised for spinning Fernando Alonso out of contention and Lewis Hamilton's gamble to stay out on inters didn't pay off. Perez said his podium finish was a long time coming.
"Honestly, the last few races I have been so unlucky. In Monza I finished on the podium, but I had a penalty; Russia, three laps to go I was on the podium. It's been coming for many races. But certainly it's nice, especially in a race today [because] I felt so uncomfortable with the car and we didn't have quite the pace to match the Mercs, and I feel like we maximised our result today. I'm sure that if we are able to do that for the next six races, we can still win this championship," he asserted.
READ MORE: 'I should have trusted my gut' – Hamilton reveals why he was left frustrated by Mercedes strategy in Turkish GP
Not only did he score a third-place finish, but Perez came out top in a terrific Lap 35 battle with Hamilton (which you can watch above). He remarked: "It was pretty intense at that point because I think Lewis really got me at... my worst point of my race today because I was struggling so much with my tyres at that point. That first stint was so difficult for me, especially towards the end, and Lewis was pretty fast, I think he was at the time the fastest car on track.
"So to hold him back at that time was pretty challenging; we had a good fight, I had to go and avoid the pit bollard on the pit entry, but it was a good fight overall, managed to stay ahead," recalled the Mexican.
Despite the result in Turkey, Mercedes managed to outscore Red Bull by 36 points to 33, meaning the Silver Arrows grew their lead to 36 points.