Verstappen counting on 'a little bit of chaos' on race day to turn around 'tricky' Monaco weekend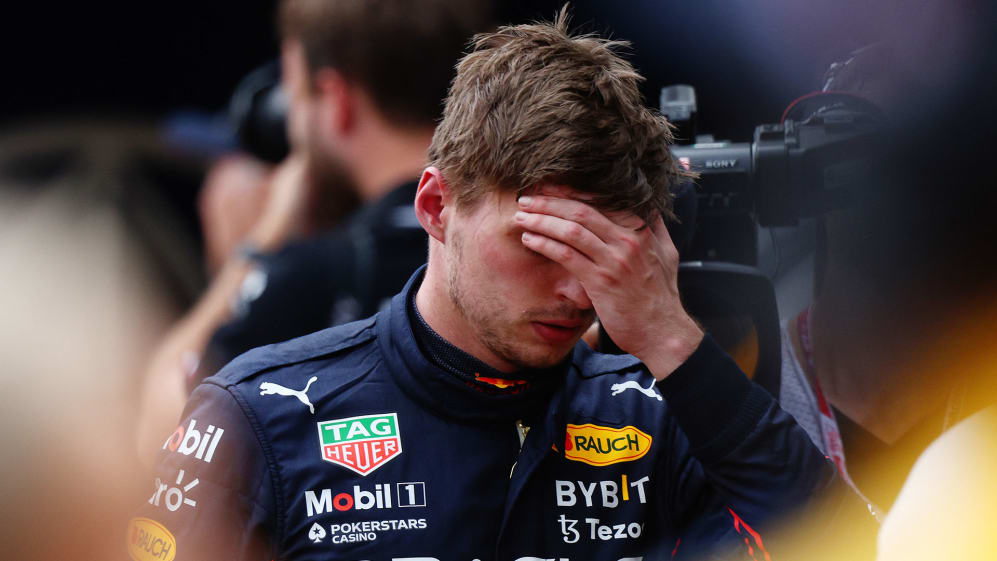 Max Verstappen hasn't finished a session higher than P4 all weekend in Monaco – with the championship leader saying after qualifying in that position on Saturday that he was counting on some "chaos" to help him get on terms with his title rival and pole-sitter Charles Leclerc in the race.
On a weekend where team mate Sergio Perez has looked the more comfortable of the two Red Bull drivers thus far, Verstappen was sitting P4 ahead of his final run in Q3. Up on his previous effort, Verstappen was forced to call off the lap when he came across the spun cars of Perez and Carlos Sainz at Portier – leaving the Dutchman to reflect on a tough session.
READ MORE: 'I feel sorry for Carlos' – Perez and Sainz weigh in on their chaotic qualifying-ending crash at Monaco
"Of course not," said Verstappen when asked if P4 was what he'd expected. "But I think we were improving. We were trying a few things with the car in practice, which didn't really give me a good feeling, so we went back on a few things. But then I also tried to make it better for qualifying, and I do think that it was a bit better – but then of course Q3 is all where you have to go to the limit, right?
"I was actually looking a bit better," he added. "I opted for a different strategy in my final run which I think was good for me because I couldn't switch on my tyres on the first timed lap. So, the second timed lap I did after a cool [a cool-down lap]. It was good, I was up on my lap, it was all feeling good, but then of course I saw the roadblock in Turn 8. It's unlucky, it's Monaco. We just have to deal with it, accept it, and move from there."
Verstappen is the most recent winner in Monaco, having triumphed here last year after pole-sitter Leclerc failed to take the start due to a gearbox issue. But with rain a possibility for race day on Sunday, Verstappen was asked if he expected a tough afternoon from fourth on the grid, behind Leclerc, Sainz and Perez.
READ MORE: Russell says win is possible from P6 on the grid if rain hits Monaco on race day
"It depends on what the weather will do," he said. "A little bit of chaos would be nice but if it's not then you try to score the most possible points in my position… Overall it's been a little bit more of a tricky weekend."
Verstappen currently heads Leclerc by six points in the drivers' standings.