Report
Verstappen cruises to victory in Abu Dhabi as Leclerc seals P2 in standings over Perez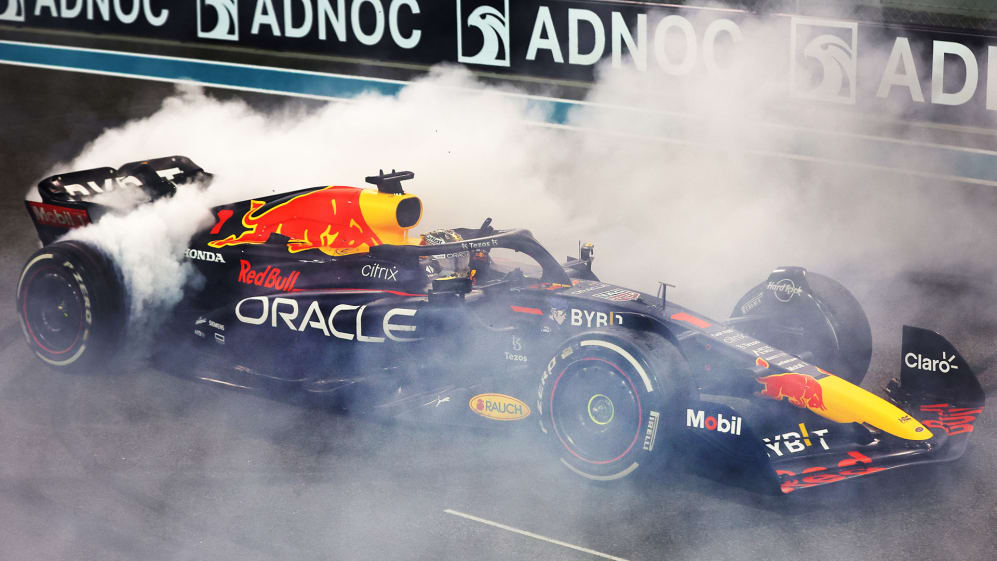 Max Verstappen won the 2022 Abu Dhabi Grand Prix in comfortable fashion – but Ferrari's Charles Leclerc took P2 to finish ahead of Sergio Perez for second in the championship.
Verstappen fended off Perez into Turn 1 and swapped his mediums for hards on Lap 20, with the Dutchman using hard tyres until the end to take his record-extending 15th win of the season.
As for Perez and Leclerc, who were tied on points for P2 in the championship heading into this race, they produced a nailbiting battle. Perez pitted early for both of his stops, while Leclerc reacted by extending his second stint and ensuring a one-stop strategy. The Red Bull driver closed in on the Ferrari with four laps remaining but couldn't make his way past for P2, and therefore finished third and fell to third in the championship behind Leclerc.
Carlos Sainz finished fourth for Ferrari as Lewis Hamilton – who sparred with the Spaniard earlier on but was forced to return P4 to the Ferrari having gone wide at Turn 6 on Lap 1 – attempted a one-stop strategy but retired in the pits three laps from the end. That left Russell a lonely fifth for Mercedes.
FORMULA 1 ETIHAD AIRWAYS ABU DHABI GRAND PRIX 2022
Abu Dhabi
2022
Race results
POSITION
TIME
POINTS

1

Max

Verstappen VER

Red Bull Racing

1:27:45.914

25

2

Charles

Leclerc LEC

Ferrari

+8.771s

18

3

Sergio

Perez PER

Red Bull Racing

+10.093s

15

4

Carlos

Sainz SAI

Ferrari

+24.892s

12

5

George

Russell RUS

Mercedes

+35.888s

10
Hamilton's retirement promoted Lando Norris to sixth for McLaren, while Esteban Ocon was P7 for Alpine, who finished fourth in the constructors' standings despite Fernando Alonso's DNF in his last race for Alpine. Lance Stroll's two-stop strategy saw him finish eighth.
Daniel Ricciardo's one-stop strategy saw him finish ninth and just six-tenths ahead of retiree Sebastian Vettel, who couldn't make it past the McLaren and took a single point to leave Aston Martin level on points with Alfa Romeo but behind the Sauber-run team in the standings.
Yuki Tsunoda missed out on points with a final stint on softs failing to pay off, while Alex Albon enjoyed a solid start and took P12 ahead of Zhou Guanyu and one-stopper Pierre Gasly – who began the race on softs.
Valtteri Bottas finished 15th ahead of Mick Schumacher, who finished 16th in his last appearance for Haas after taking a five-second penalty for clattering into Nicholas Latifi (who later retired). Kevin Magnussen was 17th as his one-stop strategy failed to pay off.
Verstappen, Leclerc, Perez and Vettel capped off Sunday's race with some celebratory donuts as the 2022 Formula 1 season came to a close in Abu Dhabi – and the four-time champion bowed out of F1 with style.
AS IT HAPPENED
Yas Marina always hosts an emotional season-finale – but Sebastian Vettel's retirement brought an extra layer of poignancy to the 2022 Abu Dhabi Grand Prix. The four-time champion was given a guard of honour after the national anthem was played in the United Arab Emirates. McLaren's Daniel Ricciardo, Haas's Mick Schumacher, Williams' Nicholas Latifi also said their farewells on the grid.
Then there were the legends that motorsport lost along the way in 2022, among those Red Bull co-founder Dietrich Mateschitz, Ferrari's legendary engineer Mauro Forghieri, six-time Grand Prix winner Tony Brooks – and many other colleagues and friends that will be greatly missed by those in the paddock and beyond.
Of the loose ends that needed tying on track, Charles Leclerc's battle with Sergio Perez for P2 in the championship took centre stage, with the pair level on points ahead of Sunday's race. Mercedes and McLaren needed a huge swing in points to overhaul their respective rivals, Ferrari and Alpine, while Alfa Romeo and Aston Martin were facing off for sixth, and Haas and AlphaTauri for eighth.
Daylight gave way to floodlights and medium tyres were chosen by all but Kevin Magnussen and Valtteri Bottas – who opted for hards – and soft-shod Pierre Gasly.
As the five red lights lit up for the last time in 2022, Max Verstappen launched from pole position, and while his team mate Perez had a better getaway, the Dutchman retained the lead into Turn 1. Leclerc attempted a pass on Perez into Turn 5 but had the door shut on him after Lewis Hamilton passed the other Ferrari of Carlos Sainz around the outside of Turn 1.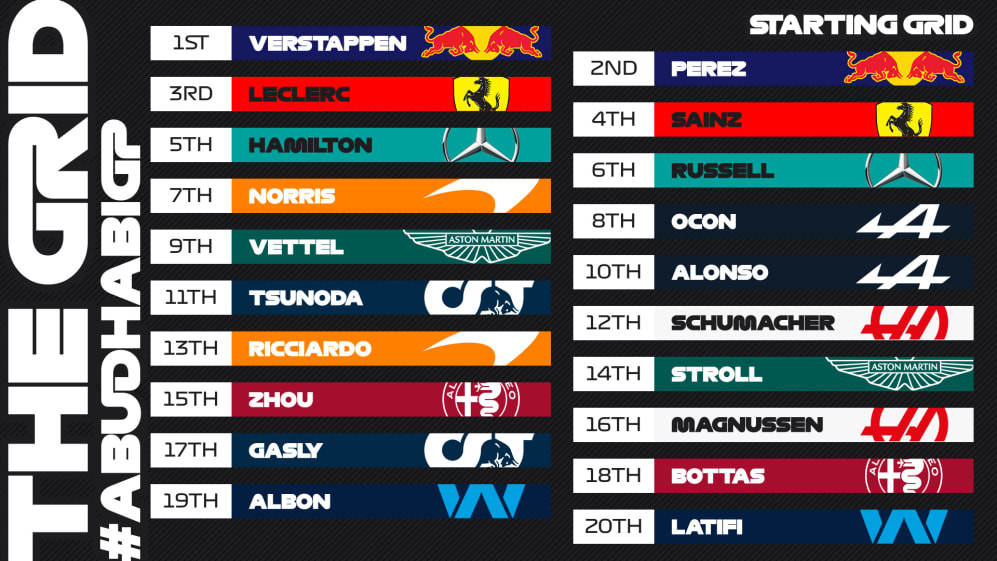 Hamilton was then squeezed off the road and briefly went airborne over the sausage kerb at Turns 6-7 but retained the place, with Sainz then complaining: "He did exactly the same last year with Verstappen." Hamilton would later return P4 to Sainz on Lap 4, as the stewards took no further action.
Hamilton went again and entered Turns 6-7 right on Sainz's tail on Lap 5 – the Mercedes driver making the pass out of Turn 8 soon after. Meanwhile, George Russell had lost a place to Lando Norris at the start but returned to P6 at the expense of the McLaren.
Other movers at the start included Schumacher, who had dropped from 12th to 16th by Lap 5, while Albon had jumped from 19th to 15th. Gasly's soft-tyred gambit seemed to be failing as he remained in 17th ahead of the hard-shod Haas of Magnussen, then Williams' Latifi and hard-shod Bottas at the back.
On Lap 9, Sainz re-took P4 off Hamilton and Russell then powered his way past his team mate for P5 at Turn 9 after being told that he was "free to race", while Hamilton complained that he was "losing power" as he soon fell out of DRS range. Alpine's Esteban Ocon and Aston Martin's Vettel had also scrapped at the same corner but the Frenchman retained P8.
Vettel tried again but couldn't make the move on Ocon stick outside Turn 9, and at the end of Lap 10 the top 10 was back to square one, with Verstappen 3.5s ahead of Perez.
The battle for P8 continued to rage with Vettel attempting another pass at Turn 9 but Ocon stayed firm into the final sector on Lap 12, which allowed Fernando Alonso to close in on the Aston Martin. That battle was allowing Norris to stretch his legs in P7, the Briton enjoying a 3.5s buffer.
A few seconds ahead, Hamilton began to struggle, relaying that there was "something up with the car" as he dropped three-tenths per lap to Russell ahead.
From 13th, Stroll opened the pit window at the end of his 13th lap – an early pit stop for hard tyres to challenge for the top 10. Ocon was the next taker as he dived into the pits on Lap 15 along with Yuki Tsnuoda, Schumacher, and Gasly, all of whom swapped to hards.
Verstappen continued in front, now enjoying a seven second lead over Perez – who had Leclerc on his tail on Lap 16. The Mexican therefore stopped for hard tyres, with Russell and Norris following suit, all three swapping for hards – and Russell's stop lasting 5.2 seconds thanks to a slow rear tyre change that then saw him released in Norris's path.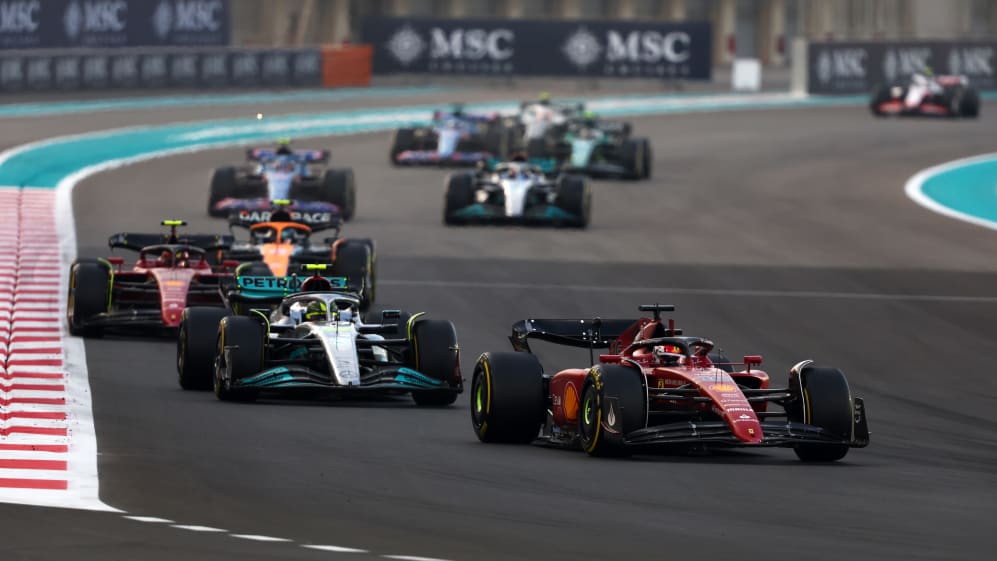 Perez emerged from the pits in the thick of the Alonso-Vettel battle, and while the Red Bull driver managed to get ahead of Vettel into Turn 6, Vettel briefly got back ahead and slowed Perez's progress.
Sainz pitted on Lap 18 but emerged 2.3s ahead of Russell, whose undercut hadn't quite worked, while Hamilton then pitted on Lap 19 and emerged five seconds behind his team mate, and suspecting that his floor had been broken in his Lap 1 scrap with Sainz.
Vettel then had Sainz on his tail on Lap 20, when Alonso took that as his cue to stop, with Ricciardo following suit. Verstappen pitted at the end of that lap, Leclerc following suit on the following tour to cover off the race leader to emerge third, having gone longer than Perez.
Vettel, still on his starting set, continued to lap on mediums and dropped back down to P8 having been passed by Norris. The four-time champion said he was a "sitting duck" but was urged by his team to continue and turn this race into a one-stopper. He would eventually pit for hards on Lap 26 in a swap that took 4.1s and released him in P19, behind Magnussen and Gasly.
Russell meanwhile had a five-second penalty to serve after an unsafe release on his Lap 16 swap for hards.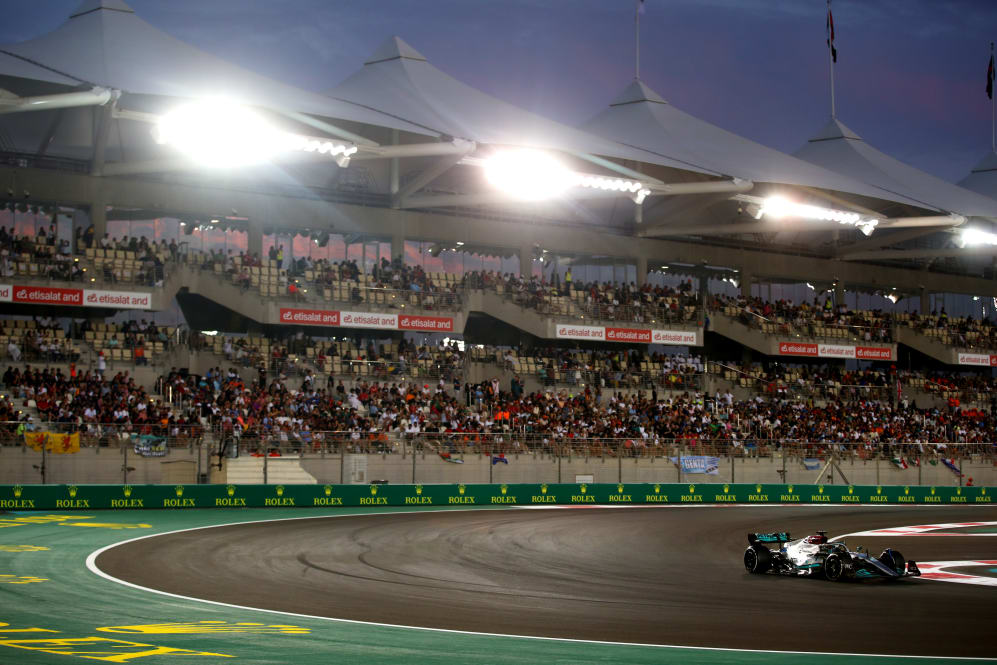 On Lap 28, Alonso's final race for Alpine ended up in the pits as he became the first retiree of the race from P10 with a suspected water leak from his A522.
At the halfway point, Verstappen led Perez by two seconds and Leclerc was another 2.5s off his rival – with Perez complaining that he was being "held up" by his team mate.
Vettel provided the action to wake up the mid-race lull by passing Magnussen – who then pitted from hards to mediums – and Gasly for P16 on the run to Turn 9. At Turn 6 on Lap 31, Vettel made easy work of Bottas, who then pitted from his starting set of hards to mediums.
Perez attempted another undercut, pitting on Lap 34 for another set of hards – a few laps before the second pit window was expected to be opened. He emerged in P6, with clear air between him and the Mercedes pair.
Verstappen, Leclerc and Sainz had to choose whether to stop again or commit to a one-stop strategy; Perez had to pass Hamilton, Russell, Sainz and Leclerc to take second in the championship.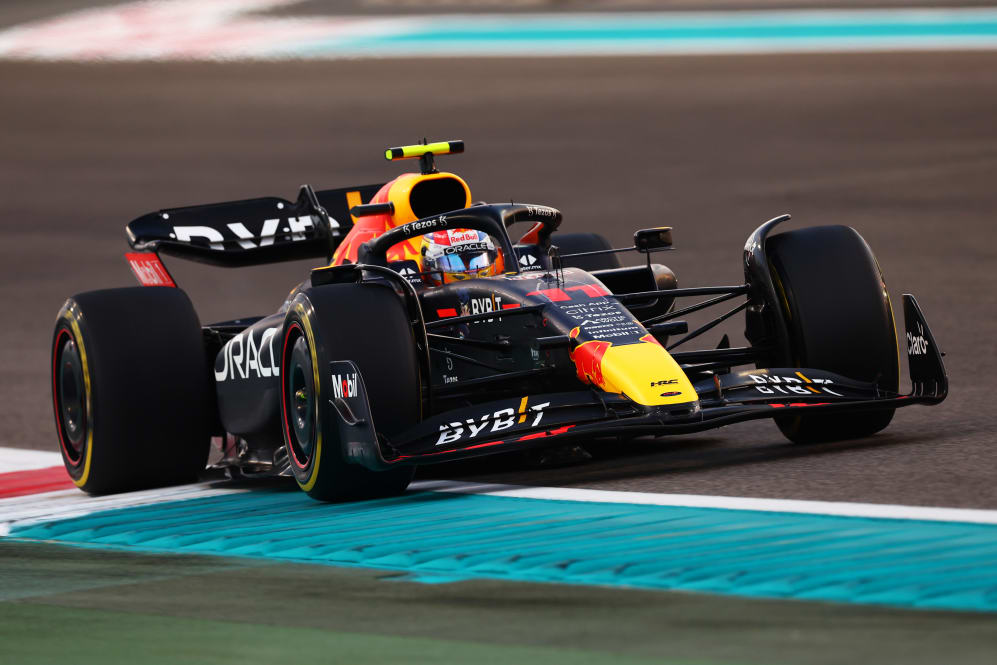 Vettel continued to make gains and was in P12 by Lap 40, when Schumacher tagged Latifi into a spin at Turn 5 at the very back of the field. The outgoing Haas driver was then given a five-second time penalty; four laps later his compatriot Vettel returned to the top 10 with a pass on Zhou.
At the very front, Verstappen was over seven seconds ahead of Leclerc, while Mercedes were also scrapping, with Hamilton bearing down on Russell, who pitted for mediums on Lap 40 and emerged eighth but gained two places back when Ocon and Norris took their second stops.
Perez was on the warpath and on Lap 45 he locked up briefly in passing Hamilton through Turns 6-7 to return into the podium places. But only briefly, as Hamilton then used DRS to get the place back into Turn 9. Perez made a similar move to pry the final podium place off Hamilton at Turn 9 on Lap 46.
With 10 laps remaining, Verstappen was still over seven seconds ahead of Leclerc, whose eight-second lead over Perez looked fragile – as did Hamilton's 10-second buffer over Sainz. The seven-time champion seemed to be lamenting his one-stop strategy, unlike Verstappen. As for Leclerc, it remained to be seen whether he could hang on for P2.
Vettel, who fell out of the top 10 having been passed by his team mate on Lap 50, also rued the one-stop gambit.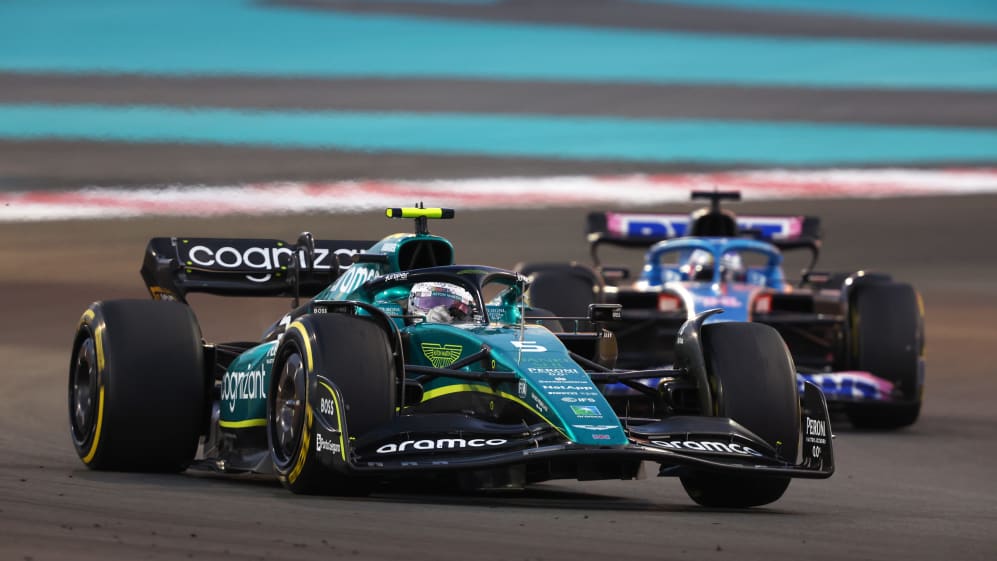 The distance between Leclerc and Perez was closing dramatically but was it enough? The Mexican was told that the battle for second in the standings would come down to the final lap, with backmarkers including Gasly and Albon giving him DRS – but slowing him down – two laps to the end.
As the ticker reached Lap 56 of 58, Mercedes had their first mechanical failure of the season and Hamilton's first winless season in F1 ended with him crawling to the pits stuck in seventh gear.
The fireworks flew, duly so, as Verstappen cruised to victory by 8.7s over Leclerc – setting a new benchmark in a season. Leclerc eventually hung on and took runner-up spot in the championship with Perez third and unable to catch and pass the Ferrari driver.
Sainz sealed fourth with neither third-placed Perez nor fifth-placed Russell within sight of the Ferrari, while Norris ended up sixth on the road ahead of Ocon – cementing Alpine's fourth-place championship finish.
KEY QUOTE
"It was a good race – it was all about tyre management. I think we looked after the mediums quite well and then on hard tyres, I was literally managing from Lap 1 to the end. Incredible to win again here and the 15th win of the season is unbelievable.
"It's been really enjoyable to work with the whole team and to be able to achieve something like this, this year. I know it's going to be hard to replicate something like this, but it is also motivation to try and do well again next year" – Max Verstappen, Red Bull
WHAT'S NEXT
That's all from the 2022 season. 2023 pre-season testing is set to take place on February 23-25 in Sakhir, Bahrain. View the 2023 Formula 1 calendar here.