Verstappen delighted to emerge on top in 'crazy' Silverstone qualifying while Perez rues 'terrible' session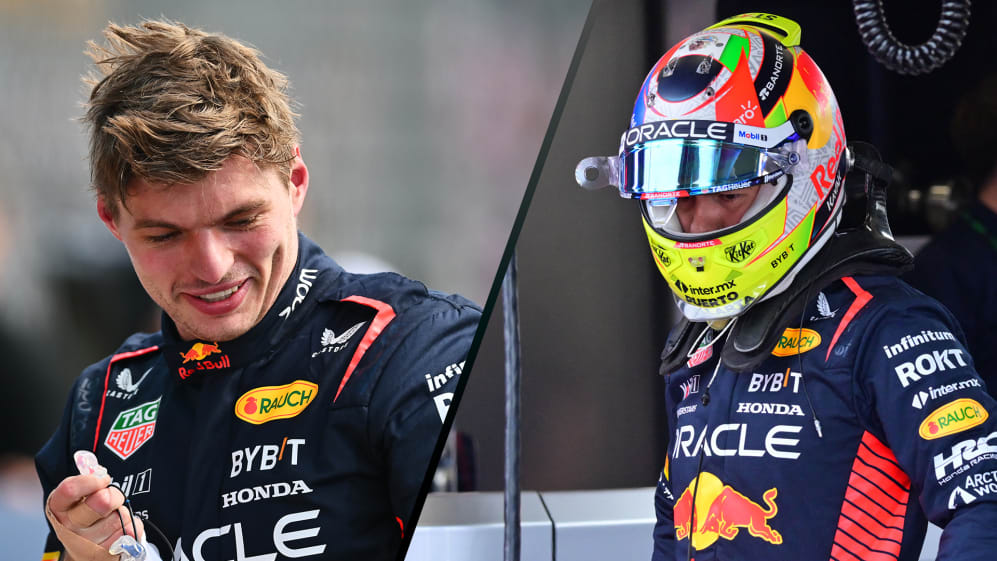 It was another case of mixed feelings at Red Bull after qualifying for the British Grand Prix, with Max Verstappen overcoming the tricky conditions to claim pole position but Sergio Perez falling foul of them and dropping out in Q1.
Verstappen fended off an attack from McLaren pair Lando Norris and Oscar Piastri to take his fifth pole in a row, and seventh of the season so far, while Perez was eliminated in Q1 for the third time this season, while missing out on Q3 for the fifth successive race.
READ MORE: Verstappen beats Norris to pole in thrilling wet-dry qualifying at Silverstone
Offering up his initial reaction to the wet-dry session, reigning double world champion Verstappen said: "It's been quite a crazy qualifying, it's been quite hectic, also quite slippery in some places.
"We did our laps and then, in Q3, I was quite surprised to see [Norris and Piastri] there, but it's great for McLaren as well to be here. From our side, very happy, of course, to be on pole!"
As for how difficult the conditions were, he continued: "Especially Q1 and Q2, there were still a few damp spots, so you had to be a little bit careful. Of course, you push close to the limit, but knowing that we have a quick car, you don't need to go to the 100% limit.
"I think that's why in Q3 when you really just go for it, I think that's where we then eked out the gap a little bit, but still, it was not a very big gap to them. For us, today, it's a great day, and I'm looking forward to tomorrow already."
Perez, now 81 points behind Verstappen in the drivers' standings, offered a blunt assessment as he faces another damage limitation exercise from 16th on the grid.
READ MORE: Norris hails 'insane' run to P2 in qualifying as team mate Piastri backs him up in McLaren 'rocket ship'
However, having been the first to line up at the end of the pit lane as drivers waited for the action to resume after a red flag triggered by Kevin Magnussen's stricken Haas, the Mexican feels this played a decisive role in his early exit.
"[It was a] terrible session," he said. "Towards the end [of Q1], I think the red flag lasted longer than we thought, and we stayed there waiting quite a long time, and I just couldn't put enough temperature into the tyre.
"It's very frustrating because we had a good Friday, the pace in the car was there, and we paid the price. I think in these tricky conditions is where I struggle the most with the car so it's something for us to understand as well."