Verstappen downplays troublesome end to first test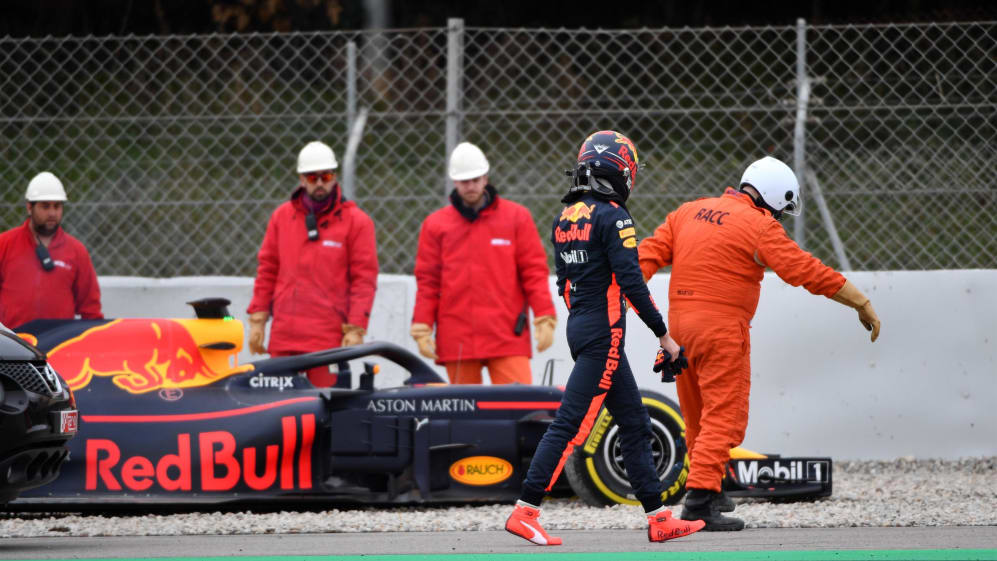 Red Bull find themselves with the third-lowest lap count from the opening pre-season test in Spain - but if he's concerned by the lack of mileage, Max Verstappen isn't showing it.
While all of the teams have seen their track time limited during the first test at the Circuit de Barcelona-Catalunya due to adverse weather conditions, Red Bull's schedule was compounded by multiple issues on Thursday. After little running in the morning, Verstappen had only completed 35 laps before a spin into the gravel at Turn 12 brought out the red flags for a second time. The RB14 remained in the garage for the rest of the day but Verstappen says some of the downtime was planned.
"We didn't want to run because when it was that wet it didn't really make sense for us," Verstappen said. "Then when the track was drying out a bit of course you went out on the intermediates, and everything seemed to work quite well. And then we did our program, just checking the car on the slick tires initially, just some short runs.
"Then actually when we wanted to go for some longer runs we had a little hiccup. We had a leak, so we were just checking the whole car, and everything was alright after that.
"It took a bit longer than expected, but once we went out again I had a little moment in Turn 12, and then reversing something happened with the gearbox, which we still need to investigate. But these things happen, and anyway the conditions this week were not great, so hopefully next week will be a bit more sunny.
"[There were] no question marks. We had some little hiccups, but that can happen. You don't want it to happen, but sometimes it can."
Despite missing out on so much track time, Verstappen insists the little running Red Bull did achieve was positive and believes there was only so much that could be learned on a cold week in Spain.
"It is a big difference the way the car is handling [compared to 2017], in a positive way. Today we didn't do any performance work, but sometimes when you have conditions like that that are not ideal, it is good just try and make sure that everything is working well in terms of the data you get from the car compared to what is happening in the wind tunnel. So that is what we did.
"Looking at lap times now doesn't make sense. Anyway this track, with the new surface it takes a long time before you actually get a lap time out of it, and we have only done runs of like two laps. So I am not too worried yet.
"You know that Mercedes and Ferrari are really strong anyway. But I am quite happy with the car so far, so the second week maybe we will show a bit more how we are comparing against the rest of the teams."