Verstappen dubs Perez an 'amazing human being' as he credits Mexican's heroics for title win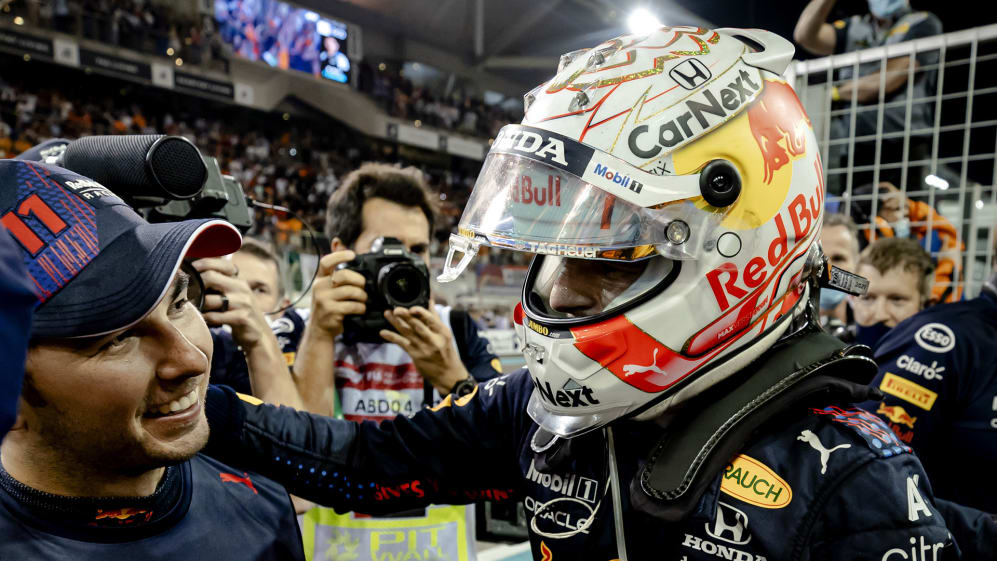 Sergio Perez produced one of the outstanding moments of the 2021 title decider in Abu Dhabi when he took on defending champion Lewis Hamilton before the halfway point, allowing his Red Bull team mate Max Verstappen to catch up to the pair.
And it was that staunch defence, with Perez in the lead for six laps having not yet pitted, which Verstappen said was crucial to his race and title win. The Mexican, who was without a seat late in 2020 before joining Red Bull as Verstappen's team mate this year, stalled Hamilton's progress in an epic duel from Lap 20 (below).
"I think without Checo I wouldn't be sitting here right now because then they would have had a pit gap with the Safety Car and stuff so definitely Checo was driving incredibly today," said Verstappen in Sunday evening's press conference in Abu Dhabi.
F1 POWER RANKINGS: Which driver finished top of the charts for the season after the 2021 Abu Dhabi GP?
The champion added that he hoped the partnership with Perez would be a long one, saying: "Of course, when we started working together, it's difficult to know exactly how it's going to work out. But... Checo is an amazing human being. Not only just to work with in F1 but a super nice person, a real family man as well, and yes, I really have a lot of good times with him and you can see he really means it, and he means well.
"It's very rare to have a team mate like that and what he showed today, he was a real team player and I really hope we can continue this for a long time," added Verstappen.
Perez, 31, has a contract running through 2022 and was called a "legend" by Verstappen over the radio after his defence of the lead in Abu Dhabi. Team Principal Christian Horner was ecstatic over his recruit's racing.
BUXTON: Born to race, lightning quick, ruthless on track – and now Max Verstappen is a world champion
"Checo's been amazing. We talked about it before the race, how can he help Max; the way he backed Lewis up, he brought Max into play. They had a quicker car than us today, it was just strategy that we were able to make play," said Horner to Sky Sports F1.
"The tow [in qualifying], we saw it in Monza; he's done such a good job for this team and he's a big part of this victory. He just sends it, and you can't ask more from a team mate than that. He made it really tough for Lewis, he didn't give up. Such a wonderful, wonderful job," concluded the Red Bull team boss.