Report
Verstappen extends championship lead after jumping both Mercedes at the start to win in Mexico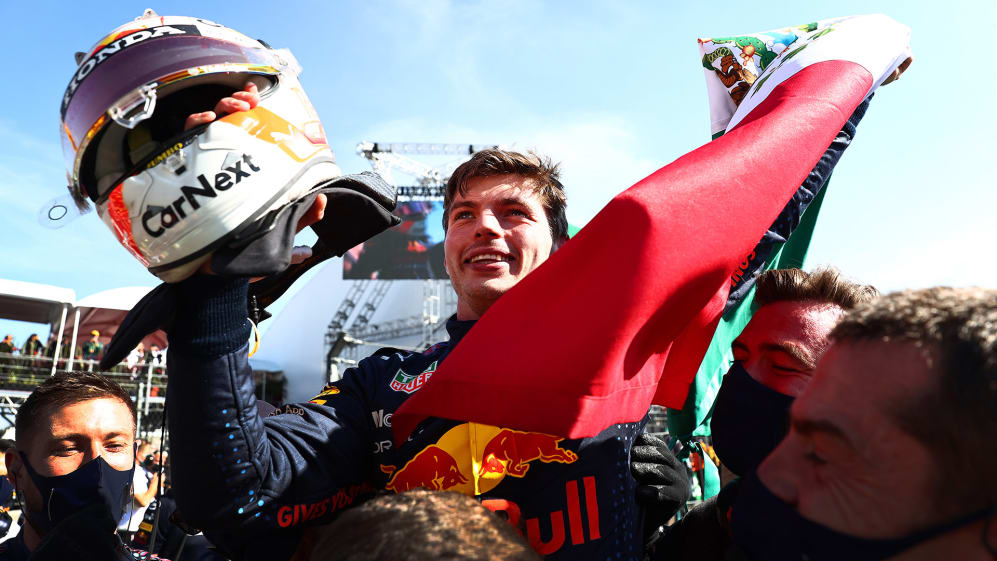 Red Bull's Max Verstappen cruised to a record third career Mexico City Grand Prix victory ahead of Mercedes' Lewis Hamilton and Red Bull team mate Sergio Perez – who became the first Mexican driver to take a Formula 1 podium at their home race.
The joy of Valtteri Bottas's shock pole position was short-lived as Verstappen swept around the outside of the two Mercedes into the first corner on the opening lap. Bottas was then tipped into a spin by McLaren's Daniel Ricciardo into Turn 2 to leave Verstappen leading Hamilton then Perez behind the Safety Car, which was called back for a Lap 5 race restart, as Bottas dropped to the back of the field.
Verstappen's pace on the medium tyres – on which everyone bar Yuki Tsunoda and Esteban Ocon started – was superior to Hamilton's in the opening stint. With the Briton losing time to the Dutchman and his team mate Perez, he pitted for hards on Lap 30 and Verstappen followed on Lap 34, emerging second to make Perez the first Mexican to lead his home race.
Perez would come in for new hard compounds on Lap 41, nine seconds behind Hamilton, and began to take chunks out of that gap to leave it at just one second on Lap 60 of 71. Huge cheers erupted when the crowds saw how close their home hero was to Hamilton and the Briton's case wasn't helped when he was told to lift and coast, but Perez couldn't make the pass and ended up third – just 1.1s behind Hamilton – despite having hard tyres that were 11 laps newer than the Mercedes driver's.
As for Bottas, he was stopped on Lap 66 for soft tyres, unlapped himself on Lap 68, but could not take fastest lap away from Verstappen. He pitted again for another new set of softs with a lap remaining, and snatched away the fastest lap from the Red Bull championship leader, before finishing 15th overall.
FORMULA 1 GRAN PREMIO DE LA CIUDAD DE MÉXICO 2021
Mexico
2021
Race results
POSITION
TIME
POINTS

1

Max

Verstappen VER

Red Bull Racing

1:38:39.086

25

2

Lewis

Hamilton HAM

Mercedes

+16.555s

18

3

Sergio

Perez PER

Red Bull Racing

+17.752s

15

4

Pierre

Gasly GAS

AlphaTauri

+63.845s

12

5

Charles

Leclerc LEC

Ferrari

+81.037s

10
Pierre Gasly qualified P5 but finished a comfortable fourth after Bottas's spin, while Carlos Sainz took sixth behind Charles Leclerc (P5) in the race, the Spaniard losing out to his Ferrari team mate at the start.
Sebastian Vettel took seventh for Aston Martin, ahead of Alfa Romeo's Kimi Raikkonen in P8.
Fernando Alonso took ninth for Alpine having started 12th, but was hampered by a slow Lap 40 pit stop. That left Lando Norris 10th from 18th, the McLaren driver having made it to P7 by Lap 45, when he pitted from mediums to hards.
Norris's team mate Ricciardo, however, could only take 12th after Lap 1 contact ruined his hopes of scoring points from P7 on the grid and promoted Leclerc, Vettel and Raikkonen a place apiece.
As it happened
The atmosphere ahead of the 2021 Mexico City Grand Prix reached fever pitch well before the race had started, the grandstands packed to the rafters with thousands of fans ready to watch a front-row of Mercedes – Valtteri Bottas on pole and Lewis Hamilton on P2 – fending off the Red Bulls of Max Verstappen and Sergio Perez behind.
With that excitement came a feeling of trepidation: what would happen on the run down to the tight and winding Turns 1-3 complex of corners? The backmarkers trickled onto the grid after their formation laps – a bit too slowly for the frontrunners' likings – with everyone on mediums bar the engine penalty-hit pair of Yuki Tsunoda and Esteban Ocon who started on softs from P17 and P19, respectively.
The lights went out, and it was Verstappen who capitalised. He braved it three-wide going into Turn 1 and made it around the outside of the Mercedes pair to take the lead. McLaren's Daniel Ricciardo enjoyed a solid start but locked up into the first corner, tagging and spinning out polesitter Bottas – who seemed to have slowed to help Hamilton past – while Alpine's Ocon accidentally collected both Haas's Mick Schumacher and AlphaTauri's Tsunoda to end their races.
The Safety Car duly appeared, causing Bottas to pit for hards and Ricciardo to take new tyres plus a McLaren wing. In the opening lap melee, the biggest gainers were Nikita Mazepin from P15 to P11 for Haas, George Russell from P16 to P9 for Williams and Antonio Giovinazzi from P11 to P6 for Alfa Romeo.
Verstappen led the restart away on Lap 5 of the 71-lap race ahead of Hamilton and Perez. The Dutchman led comfortably into Turn 1 while Giovinazzi lost P6 back to Ferrari's Carlos Sainz and Fernando Alonso took P11 off Mazepin. The Stewards, meanwhile, decided not to take action over the Lap 1 incidents.
Back to the lead battle, where Hamilton was losing pace to Verstappen, the Dutchman putting fastest laps on the board to build up a seven-second lead by Lap 21. Red Bull implored Perez to keep up with Hamilton ahead; while Mercedes asked Hamilton to pull away from the Mexican. On Lap 27, Perez was just two seconds behind the defending champion. The Silver Arrows responded by pitting Hamilton on Lap 30, the Briton emerging fifth, briefly behind Ferrari's Charles Leclerc who pitted a lap later.
Verstappen followed suit for a perfect Lap 34 stop, stationary for just 2.2 seconds as he emerged ahead of Hamilton but behind Perez – who became the first Mexican driver to lead laps at their home race before stopping for hards on Lap 41. Between Verstappen and Perez's stops, Hamilton put in a flurry of fastest laps but, once Perez pitted, the defending champion was nine seconds behind Verstappen and another nine ahead of Perez.
Perez started to take chunks out of Hamilton's nine-second lead and by Lap 50 he was just six seconds behind the Mercedes, and Red Bull added more icing to their cake when Verstappen took fastest lap on Lap 52.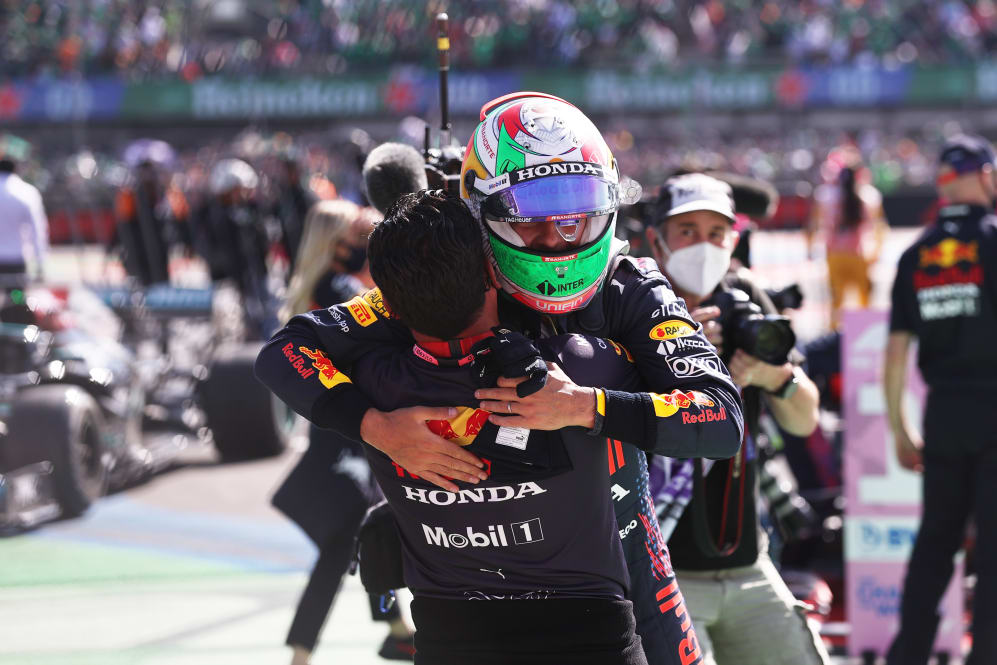 The Mexican continued, putting the crowd well on their feet as he was just a second behind Hamilton on Lap 60, the Briton struggling to lap Norris on overheating hard tyres. Verstappen was 18 seconds ahead of Hamilton by this point and now the only question was whether Perez could pass the Mercedes. But try as he might, it would be P3 for the Mexican as he came within half a second of the defending champion but could go no further.
Hamilton would end up second, exasperated, and Verstappen 16.5 seconds ahead for a third victory at this now-favourite circuit.
Pierre Gasly pitted a lap after Leclerc but emerged ahead, comfortably finishing fourth having gained one place overall when Bottas spun.
As for the Ferraris, Carlos Sainz may have qualified sixth and his Ferrari team mate Charles Leclerc eighth but the Spaniard was behind after Lap 1 and, after the restart, irked that he was behind his team mate and unable to attack AlphaTauri's Pierre Gasly in P4. The Scuderia declined to swap them at that point but pitted Leclerc 13 laps before his team mate.
On newer tyres, the Spaniard began to gain on Leclerc and the two were eventually instructed to swap by Lap 60 – but they were swapped back once it became clear that Gasly would hang onto P4. That left Leclerc fifth and Sainz sixth.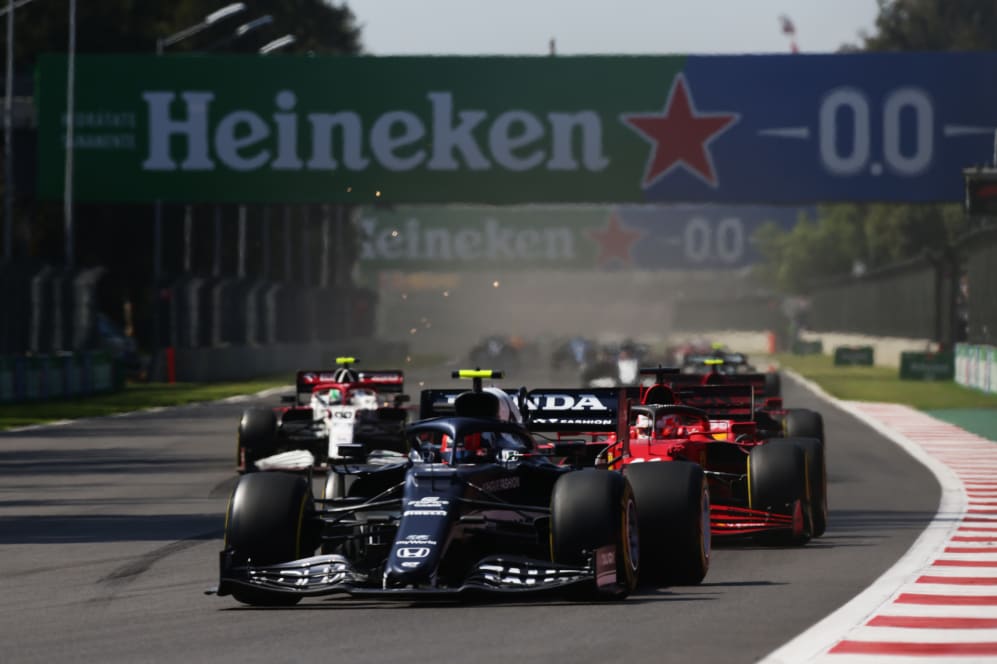 Aston Martin's Vettel made up a position at the start thanks to the Turn 1 fracas, pitted from P7 on Lap 34, and finished there ahead of his former team mate Kimi Raikkonen, the Alfa Romeo driver taking P8 from P10 on the grid at the expense of Ricciardo and Bottas.
In P9 was Alpine's Fernando Alonso, the Spaniard having gained three positions from P12 but hampered thanks to a slow Lap 40 pit stop. Hit by an engine penalty, McLaren's Lando Norris stayed out until Lap 45 and pitted from P7 for a set of hards, with which he took the final point in P10.
Antonio Giovinazzi started where he finished, in P11, while McLaren's Ricciardo could only finished 12th having pitted twice in the race, that Lap 1 contact with Bottas keeping him five places behind where he started.
Ocon swapped his starting softs to hard compounds on Lap 15, the Alpine driver finishing 13th ahead of Aston Martin's Lance Stroll in P14. That pair started 19th and 20th, respectively, and beat a beleaguered Bottas by the finish.
Bottas's day threatened to become farcical after his Lap 1 spin and pit stop, as he eventually went into the pits three more times in Mexico. The Finn was frustrated behind Ricciardo for a number of laps, pitted a second time from P12 on Lap 42 – for a stop that lasted more than 11 seconds – to emerge 15th.
With five laps remaining, he was stopped for a set of soft tyres to take the fastest lap away from Verstappen. But he needed to be stopped again to take that fastest lap point, and finally did so on the final tour of the race.
Williams' Russell may have made it up to P9 from P16 at the start but ended up 16th, losing out to the likes of Alonso, Norris, Ocon, and Stroll as his pace couldn't match up. Team mate Nicholas Latifi finished 17th, while Nikita Mazepin was the last finisher – team mate Schumacher and AlphaTauri's Tsunoda having retired – in P18 for Haas.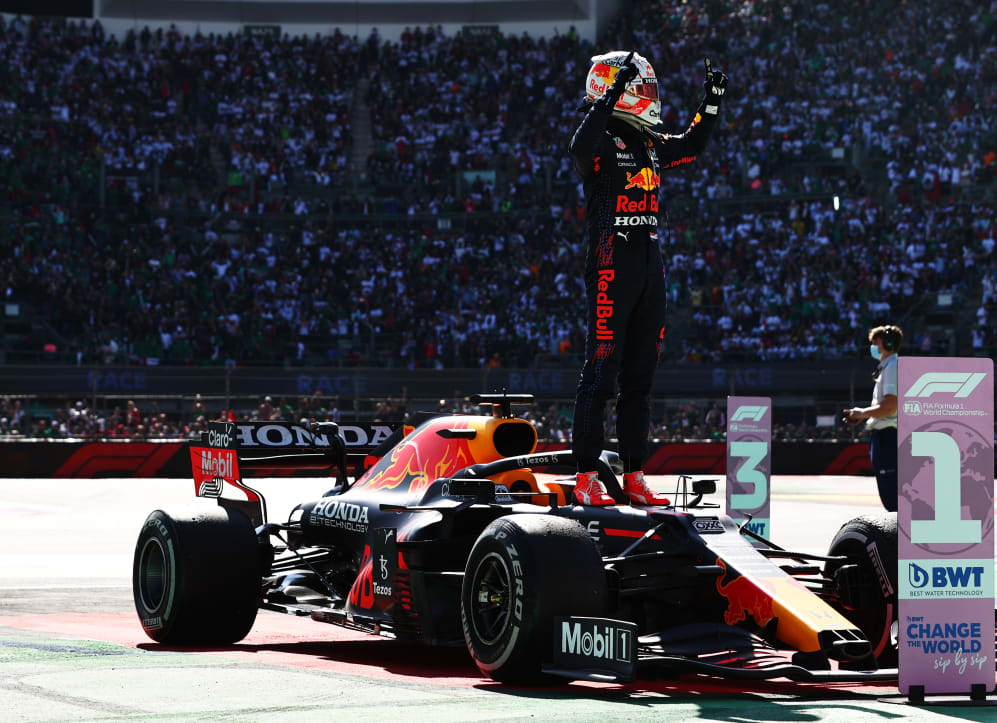 Key quote
"It's incredible. I mean, of course having Checo [Perez] as your team mate coming here to Mexico is amazing, but even before that already, all the time the fans here, they've been incredible, they love Formula 1, so it's really nice to be here.
"It's a long way to go [in the championship], but it's of course looking good, but also it can turn around very quickly. But I'm looking forward to Brazil. I have also good memories there" – Max Verstappen, Red Bull.
What's next?
Red Bull are just one point behind Mercedes while Max Verstappen is 19 points ahead of Lewis Hamilton in their respective championships, the Brazilian Grand Prix up next on November 12-14.