Report
Verstappen fends off Mercedes pair for maiden Mexico City pole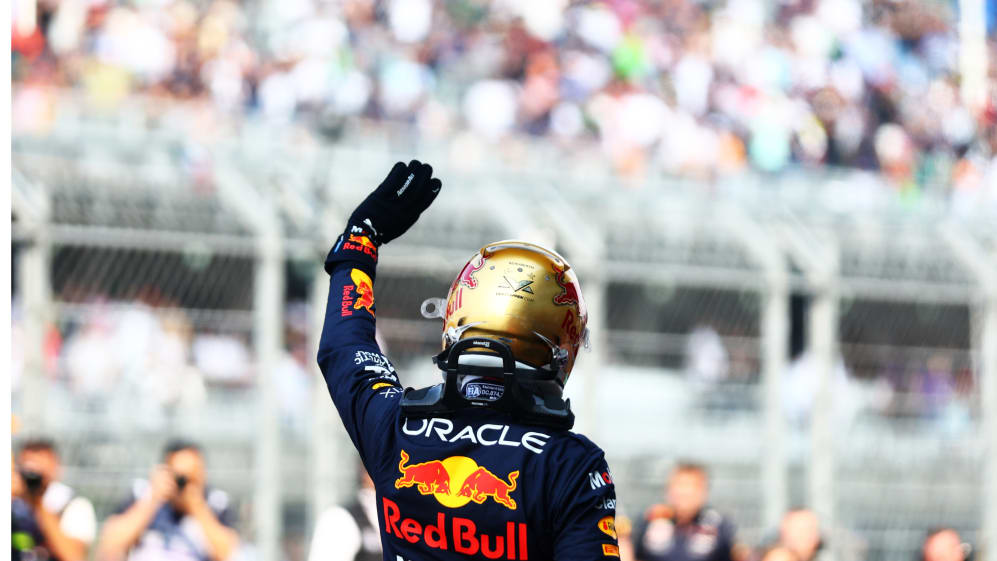 Red Bull's Max Verstappen took pole position over the Mercedes duo of George Russell and Lewis Hamilton in a scintillating qualifying session in Mexico City.
Hamilton led Q1 and repeated the feat in Q2, but his first Q3 run was chalked off for track limits, which meant Verstappen held provisional pole over Russell. Final flying runs saw Verstappen improve again, this time to a benchmark of 1m 17.775s, to leave Russell second by 0.304s – as he had his final run chalked off for track limits – and Hamilton another 0.005s off in P3.
Home favourite Sergio Perez qualified fourth, 0.353s off the pace, and Carlos Sainz took fifth – over half a second off pole.
Valtteri Bottas split the Ferraris, with the Alfa Romeo driver taking sixth ahead of Charles Leclerc, while Lando Norris qualified eighth for McLaren. The Alpines lined up ninth and 10th, Fernando Alonso ahead of Esteban Ocon to seal the intra-team qualifying battle.
FORMULA 1 HEINEKEN GRAN PREMIO DE LA CIUDAD DE MÉXICO 2022
Mexico
2022
Qualifying results
POSITION
TIME

1

Max

Verstappen VER

Red Bull Racing

1:17.775

2

George

Russell RUS

Mercedes

1:18.079

3

Lewis

Hamilton HAM

Mercedes

1:18.084

4

Sergio

Perez PER

Red Bull Racing

1:18.128

5

Carlos

Sainz SAI

Ferrari

1:18.351
McLaren's Daniel Ricciardo missed out on Q3 as he qualified 11th, ahead of Zhou Guanyu and then the AlphaTauris of Yuki Tsunoda and Pierre Gasly. Kevin Magnussen qualified 15th for Haas but will start 19th as he has a five-place penalty for taking his sixth engine of the season.
Mick Schumacher had a time deleted in Q1 and finished 16th, with the same time as Aston Martin's Sebastian Vettel in P17 – having set his time after the Haas. Lance Stroll, who qualified 18th for Aston Martin, is set to start 20th as he has a three-place penalty after a collision with Alonso in Austin.
Alex Albon and Nicholas Latifi, who rounded out the standings in that order for Williams, will therefore be promoted two places apiece for Sunday's race.
Q1 – Hamilton fastest over Verstappen
Though there was a 60% risk of rain for qualifying, temperatures were high and the clouds were scattered above Autodromo Hermanos Rodriguez in Q1. Williams and Haas – whose driver Magnussen has a five-place grid penalty having taken his sixth engine – began their runs first, the rest of the field waiting a minute or two to hit the track.
Verstappen's first run was compromised by oversteer into Turns 1 and 2 but he set the early benchmark with a time of 1m 19.222s, fastest in Sector 3, to go 0.283s faster than Leclerc, who was another 0.018s faster than Bottas – the Finn in turn 0.004s faster than Hamilton, who lost time in Sector 3.
In the provisional drop zone was Schumacher in 16th, leading Albon, then Vettel, Magnussen and Latifi. Schumacher improved with three minutes left but his lap was chalked off for track limits at Turn 2.
There was plenty of margin left on the table but neither Ferrari emerged for a final run, while Verstappen and Perez – who had to set a second flying lap with four minutes remaining – also declined another go.
Hamilton shot to the top thereafter, bumping Verstappen to second by 0.053s, while Leclerc ended up third ahead of Bottas. Sainz rounded out the top five ahead of Russell and Perez settled for seventh, almost half a second off his team mate.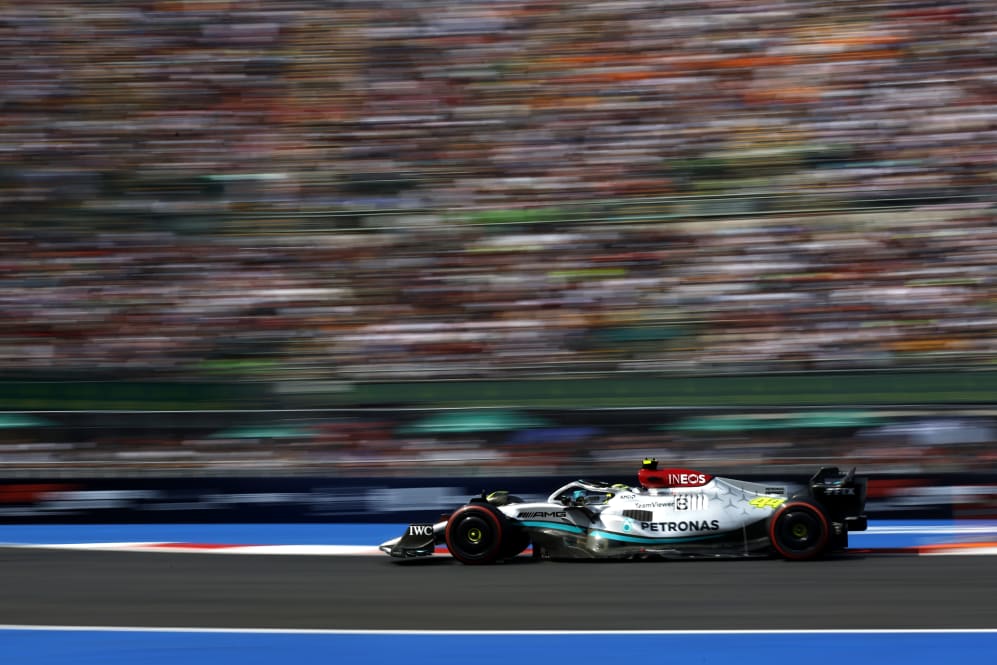 With a big hit of the kerbs at Turn 10, Norris took eighth, Tsunoda ninth, and then Ocon rounded out the top 10 ahead of Alpine team mate Alonso. Gasly, Ricciardo, Zhou and Magnussen made it to Q2 – but Schumacher missed out on his 15th-place team mate by 0.126s.
Vettel set the same time as Schumacher, just later than his compatriot, for 17th, while Aston Martin team mate Stroll – who has a three-place penalty for his Austin collision with Alonso – took 18th. A baffled Albon took 19th for Williams, and Latifi rounded out the standings.
Knocked out: Schumacher, Vettel, Stroll, Albon, Latifi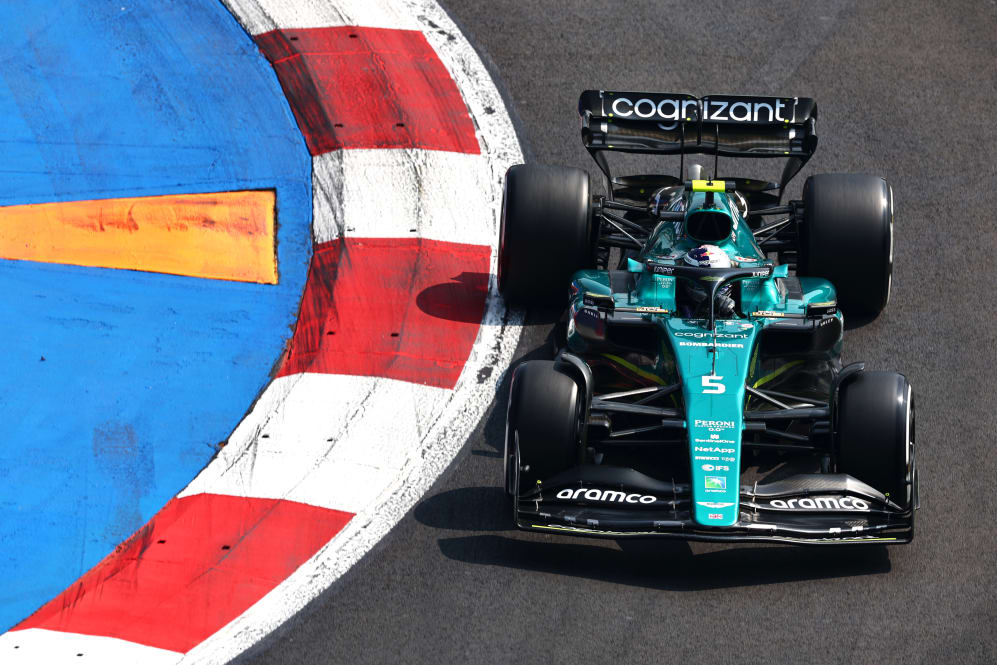 Q2 – Just 0.014s splits the top four as Hamilton leads again
Having headed the previous session, Hamilton led Russell out for Q2 as Mercedes got the session under way. With a time of 1m 18.552s, Hamilton set the fastest time early on with Russell – who relayed on the radio that he was worried about his brakes – 0.013s behind and Bottas another two-tenths off in P3.
Verstappen, meanwhile, was 0.382s off the pace with his first run, taking P4 ahead of Ocon. A huge tow on the front straight saw Leclerc begin his lap with an advantage, but he lost time in Sector 2 and ended up 0.557s off the pace in P6.
With three minutes left, Perez – who was sitting 12th – once again emerged on a clear track and this time he found more than a second. Ricciardo, Tsunoda, Zhou, Gasly and Magnussen were in the drop zone, but the final runs were incoming.
Hamilton retained top spot but Sainz improved to go 0.008s off the Mercedes, Russell keeping third as he suffered a front-right lock-up on his final run, and Verstappen going 0.001s behind the Briton in P4, leaving Perez fifth – just 0.063s off the pace.
Bottas therefore ended up sixth, ahead of Ocon then Leclerc, who had aborted his final run despite setting a fastest Sector 2. In ninth was Norris, and in 10th was Alonso – leaving Ricciardo 11th by a margin of 0.053s to the two-time champion ahead.
Zhou qualified 12th ahead of AlphaTauri drivers Tsunoda – unhappy with his track position – and Gasly, while Magnussen qualified 15th before his five-place penalty kicked in.
Knocked out: Ricciardo, Zhou, Tsunoda, Gasly, Magnussen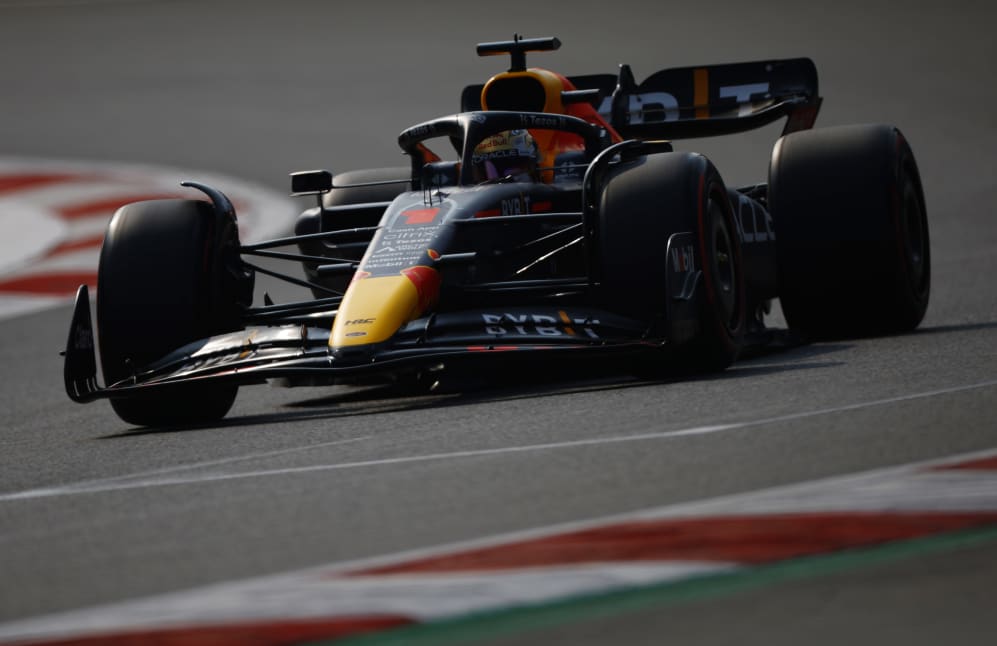 Q3 – Verstappen storms to pole as Mercedes fumble
Mercedes held the cards going into Q3 but there was evidently a three-team fight for pole on the table. Perez began the shootout, packed-out Foro Sol grandstands emitting a goosebump-inducing roar for their home driver as he set a time of 1m 18.153s.
Perez would drop down to third after Verstappen eclipsed him by two-tenths, Russell going a provisional second by 0.132s and Hamilton P3 by 0.147s – before track limits at Turn 3 cost him that flying lap. Worries compounded for Hamilton as he reported drivability issues soon after. Sainz, then Bottas, rounded out the top five.
The Mexican driver went out first once again, followed closely by his rivals, but could not improve beyond P3. He had time for another run. Verstappen meanwhile improved to a 1m 17.775s, and Russell had his final time chalked off to finish 0.304s off the champion's pace.
Hamilton couldn't sweep the sessions and for the 11th-straight year, there would be a different pole-sitter at the Mexican Grand Prix: Verstappen's time would not be toppled. Later admitting his final effort was a "terrible lap", Russell ended up second on the grid, however, and Hamilton third – just 0.005s off his team mate.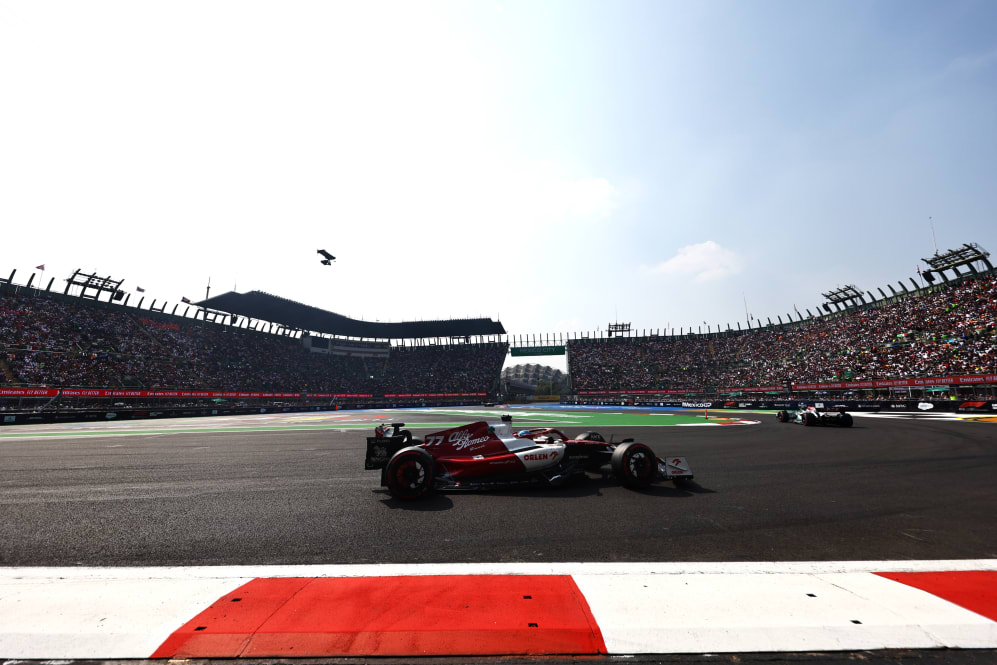 Perez settled for fourth, but was backed to recover by his team mate as the crowd cheered for the Mexican long after the chequered flag flew, while Sainz rounded out the top five, more than half a second off the pace.
Bottas took P6 to split the Ferraris in a stunning performance for Alfa Romeo, while Leclerc settled for seventh, 0.780s off pole. That left Norris in eighth, with Alpine's Alonso ninth and Ocon rounding out the top 10.
Verstappen now holds the advantage, but not since 2016 has the pole-sitter won in Mexico City.
KEY QUOTE
"It was a good qualifying. I think it was a close one, but I think after FP3 we made a few adjustments and the car got into a better rhythm. To be on pole here is of course amazing. It is a very long run down to Turn 1, so we do need a good start but anyway I think we have a quick car and that is of course what is most important" – Max Verstappen, Red Bull
WHAT'S NEXT?
The 2022 Mexico City Grand Prix is set to begin at 1400 local time on Sunday, with Red Bull's Max Verstappen leading away a pair of Mercedes. Head to the RACE HUB to find out how, when, and where you can catch the action.