Report
Verstappen heads local heroes Norris and Hamilton to claim British Grand Prix win
Red Bull's Max Verstappen overcame an early attack from McLaren rival Lando Norris to triumph in an action-packed British Grand Prix, marking his first-ever victory at this event and extending his current winning run to six races.
Norris jumped Verstappen for the lead at the start, with team mate Oscar Piastri almost following him through, meaning it was a Red Bull in a McLaren sandwich over the first few laps – but the reigning double world champion soon fought back.
AS IT HAPPENED: Follow all the action from the 2023 British Grand Prix
By Lap 5, and with DRS at his disposal, Verstappen reclaimed P1 from Norris and never looked troubled, pulling away from the home favourite as the race developed and then managing a late Safety Car period – caused by Kevin Magnussen's smoking Haas – that saw the leaders go for different tyre strategies.
While the majority of the front-runners chose soft tyres under the Safety Car, Norris went for hards, meaning he had to pull off some impressive defending to remain P2 over fellow Briton Lewis Hamilton, who jumped Piastri when the race was neutralised.
Piastri had held third for the majority of the 52-lap encounter, only to pit just before the aforementioned Safety Car, but fourth – a couple of seconds up on the other Mercedes of George Russell – still represented the best result of the Australian rookie's burgeoning F1 career.
FORMULA 1 ARAMCO BRITISH GRAND PRIX 2023
Great Britain
2023
Race results
POSITION
TIME
POINTS

1

Max

Verstappen VER

Red Bull Racing

1:25:16.938

26

2

Lando

Norris NOR

McLaren

+3.798s

18

3

Lewis

Hamilton HAM

Mercedes

+6.783s

15

4

Oscar

Piastri PIA

McLaren

+7.776s

12

5

George

Russell RUS

Mercedes

+11.206s

10
Sergio Perez delivered another solid recovery drive to sixth after the Red Bull driver's latest qualifying woes, making a series of late moves to finish ahead of Aston Martin's Fernando Alonso, Williams' Alex Albon and the Ferraris of Charles Leclerc and Carlos Sainz.
Williams almost had two cars in the points on home soil, with Logan Sargeant a personal best 11th, followed by the Alfa Romeo of Valtteri Bottas, who started at the back after being excluded from qualifying, and Nico Hulkenberg, who dropped to the rear early on when he picked up front wing damage on his Haas.
Lance Stroll wound up 14th after being penalised for causing a collision with Pierre Gasly, who was forced to retire thereafter, joining team mate Esteban Ocon, who pitted early on amid apparent technical trouble – and Magnussen on the sidelines.
Zhou Guanyu was 15th in the other Alfa Romeo, having made three pit stops (one more than anyone else), with AlphaTauri pair Yuki Tsunoda and Nyck de Vries the final drivers to cross the line after Gasly's aforementioned dramas.
After the chequered flag, there was no hiding Verstappen's excitement as he not only moved 99 points clear of Perez in the drivers' standings, but also gave Red Bull a record-equalling 11th successive F1 win.
AS IT HAPPENED
A change to the starting grid post-qualifying saw Bottas dropped from 15th to 20th and last, having been excluded from the session after his Alfa Romeo stopped out on track in Q1 and the team failed to provide a sufficient fuel sample thereafter.
As the drivers returned to Silverstone for race day, the rain seen in that grid-deciding session had cleared and been replaced by brighter skies, but the threat of further showers could not be counted out, while strong winds added to the challenge once again.
A couple of minutes before the race start, the tyre blankets came off to reveal that most drivers had chosen medium tyres for their first stints, while Russell, Ocon, Tsunoda and De Vries chose softs and Hulkenberg and Bottas opted for hards.
When the lights went out, Norris sent the home crowd wild as he bolted off the line and charged his way past Verstappen for the lead into Turn 1, with the Dutchman having to go defensive to keep the other McLaren of Piastri behind over the next few corners.
Behind the top three runners, Leclerc held fourth from the fellow fast-starting Russell, who made the most of his soft tyres, with Sainz, Alonso, Gasly, Hamilton (having run wide and lost a place at Village) and Albon holding the final top 10 positions.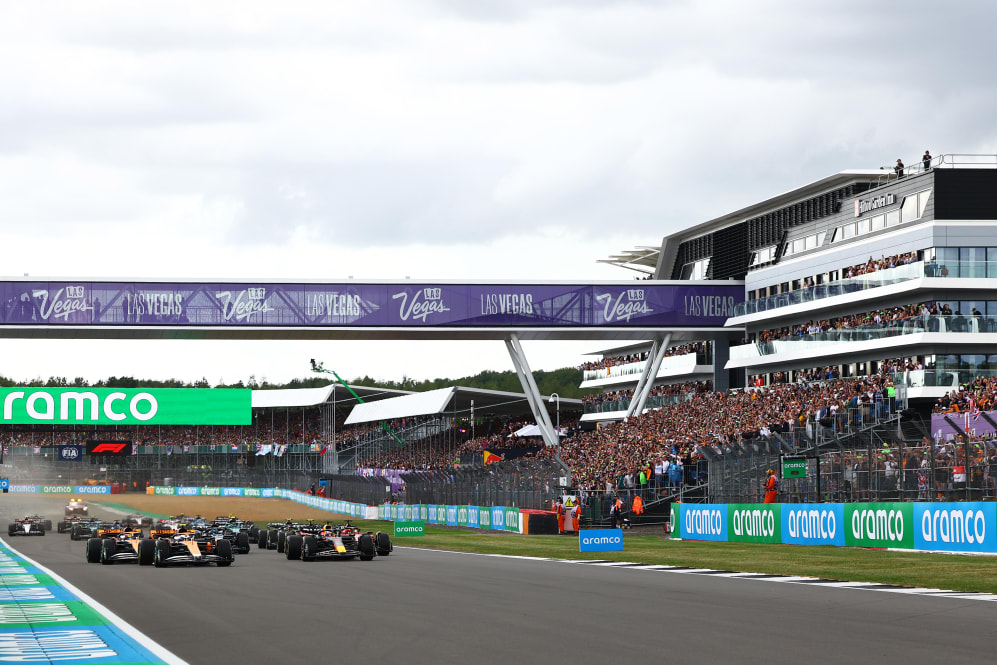 Verstappen crucially stayed within a second of Norris to give him the benefit of DRS when the overtaking aid came into play on Lap 2 of 52 and, just five tours in, he reclaimed P1 by tucking in behind along the Wellington Straight and diving past into Brooklands.
A few cars back, Russell and Sainz went wheel-to-wheel through Stowe, coming perilously close to contact, while the other Mercedes of Hamilton set about overhauling Alonso for P8, repeating Verstappen's move on Norris on Lap 7.
With Norris and Piastri back in the positions they started, the message from the McLaren pit wall was that the Australian rookie would hold station, as they looked to work together to keep Verstappen – who reported "weird pulling" on his car – in their sights.
The first pit stop of the day went to Hulkenberg and Haas, but not for a strategic reason, with replays showing him losing a front wing endplate after the recovering Red Bull of Perez muscled his way past at The Loop for 13th position.
Heading onto Lap 10, which saw Ocon pull into the pits and retire, Verstappen led Norris by little more than a second, with Piastri a similar margin back, the trio in turn putting some breathing space between themselves and the Leclerc/Russell/Sainz gaggle behind.
Some mixed weather reports followed, with Verstappen being informed by his Red Bull team that rain could arrive in a couple of minutes, while Mercedes told Russell "it's going to miss us on the radar" – the latter expressing doubts given how dark some of the clouds were looking.
With any showers holding off for the time being, Verstappen began to stretch his legs and bring his advantage over Norris up to three seconds, with the latter getting two lap times deleted for exceeding track limits and putting him at risk of a penalty.
Perez's recovery drive continued at pace as he worked his way into the points by Lap 17 via moves on Stroll and Albon, making the Mexican – just over 20 seconds adrift of team mate and leader Verstappen – the biggest improver with five spots gained overall.
Leclerc was the first of the front-runners to pit on Lap 19, swapping his mediums for a set of hards. "I saw a Ferrari pit, I guess we just stick to our strategy?" Verstappen asked the Red Bull pit wall in response, to which his engineer agreed.
"I'm happy, it's consistent, I can maintain this for now," said Norris when asked for an update from the McLaren camp, though lap times several tenths slower than Verstappen meant the leader was now almost five seconds clear.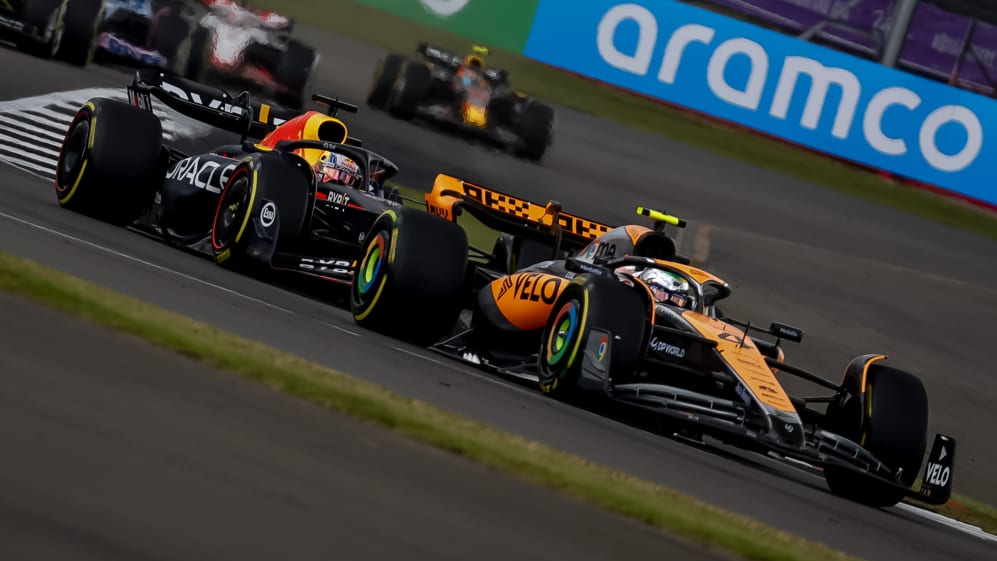 Norris doubled down on those comments as the race approached the halfway mark, the majority appearing to go for a one-stop strategy, leaving Leclerc to provide the action as he worked his way back into the points on his alternate strategy.
Sainz was the next front-runner to pit on Lap 27, moving to hards, with Russell (going to mediums) and Perez (going to softs) stopping two tours later – the Mercedes coming back out just behind the aforementioned Leclerc after an issue at the front-right.
Then came some pit stop action from the sharp end as Piastri pitted on Lap 30, moving to hards and rejoining the action in sixth position, between Gasly and Albon, as attention turned to when team mate Norris and Verstappen would blink.
Russell soon made up for his sluggish stop to clear Leclerc for P8 with a fine move at Luffield before Gasly and Stroll also took the opportunity to put on fresh tyres – Verstappen and Norris biding their time up front as they extended their stints.
With Verstappen, Norris, Hamilton, Alonso and Albon all still yet to stop, the Virtual Safety Car was deployed when Magnussen ground to a halt in his smoking Haas on Lap 33. However, only Albon was in a position to react immediately and pit.
On Lap 34, the full Safety Car was deployed, with the rest of the leading group coming into the pits, but while Verstappen, Hamilton and Alonso took on softs, Norris went for hards – setting up an intriguing tyre offset for the final stint. Leclerc also stopped for a second time to bolt on mediums.
As the order filtered through after those stops, Verstappen (softs) held P1 from Norris (hards), with Hamilton (softs) jumping Piastri (hards) for third, Russell (mediums) holding fifth and lamenting a missed opportunity over the radio, Alonso (softs) in sixth and Sainz (hards), Perez (softs), Albon (softs) and Leclerc (mediums) rounding out the top 10.
"Wonderful, huh?" Norris sarcastically commented when his engineer informed him of the tyres the cars around him were running, given that only 15 laps remained – the Safety Car still circulating – and both McLarens were on the hardest tyres.
At the end of Lap 38, the Safety Car peeled into the pits and released the pack of cars into green flag conditions once more – Verstappen mastering the restart on softer rubber to hold the lead from Norris and Hamilton, who looked lively and ready to attack his fellow Brit.
What followed was a thrilling, multi-lap exchange between the youngster and the seven-time world champion, Norris making his McLaren as wide as possible on several occasions as his tyres came up to temperature to keep the Mercedes behind.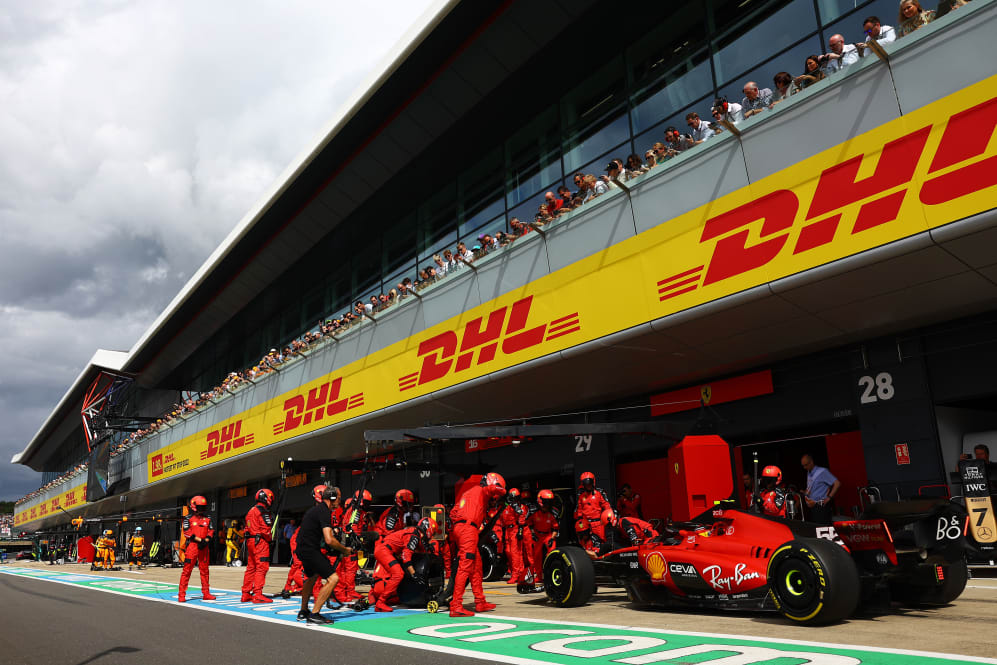 "That McLaren is so quick on those hards – impressive," Russell commented from P5, behind the other chrome-liveried MCL60 of Piastri, with Alonso, Sainz, Perez, Albon and Leclerc still holding onto the final points-paying positions. Meanwhile, Gasly jumped on the radio to demand that Stroll return P11 to him after a move around the outside of Stowe.
Up front, Verstappen commented that his soft tyres were "not feeling that good", but his times were still several tenths quicker than Norris, while team mate Perez sparked a demise for Sainz with a move at Club – Albon and Leclerc swiftly following him through.
With the stewards taking no action over Stroll's initial, bold pass on Gasly, the pair would clash again after battling Sainz for the final point, making contact into Club and leaving the Alpine with apparent suspension damage, forcing him into retirement. This time, Stroll was given a five-second penalty for his actions.
Perez's charge continued with a pass on Alonso into Stowe for P6, while Albon, Leclerc and Sainz brought back memories of previous eras as Williams – celebrating their 800th Grand Prix – went toe-to-toe with Ferrari on merit.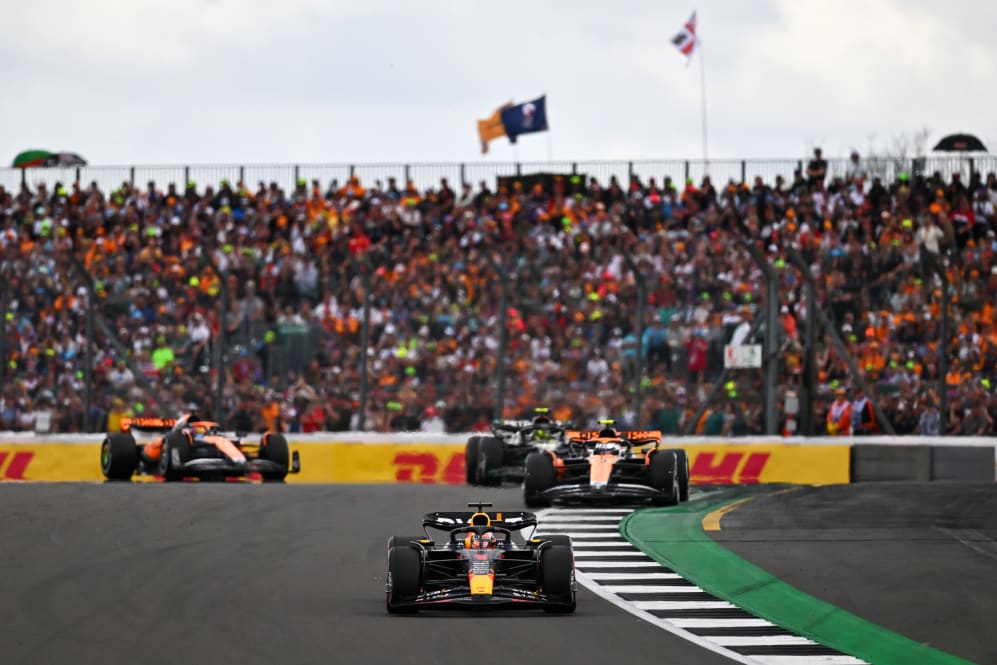 As the final laps ticked down, Verstappen continued to stretch out his lead over Norris, eventually crossing the line just under four seconds clear to bag his eighth win of the season, with Hamilton finishing three seconds further back to make it two Brits on the podium.
Piastri took a fine fourth in the other McLaren, despite the opportunity of a podium going begging, followed by Russell, Perez and Alonso, with Albon, Leclerc and Sainz scoring the final points of the day after their squabble.
Sargeant almost made it a double points finish for Williams in 11th, followed by Bottas and Hulkenberg, who recovered from their respective qualifying and early-race troubles, with the penalised Stroll ending up 14th.
Zhou was 15th after a third stop to swap to softs under the Safety Car, with Tsunoda and De Vries the last drivers to cross the line in 16th and 17th respectively – Gasly six laps down after his incident with Stroll and Magnussen and Ocon the two DNFs.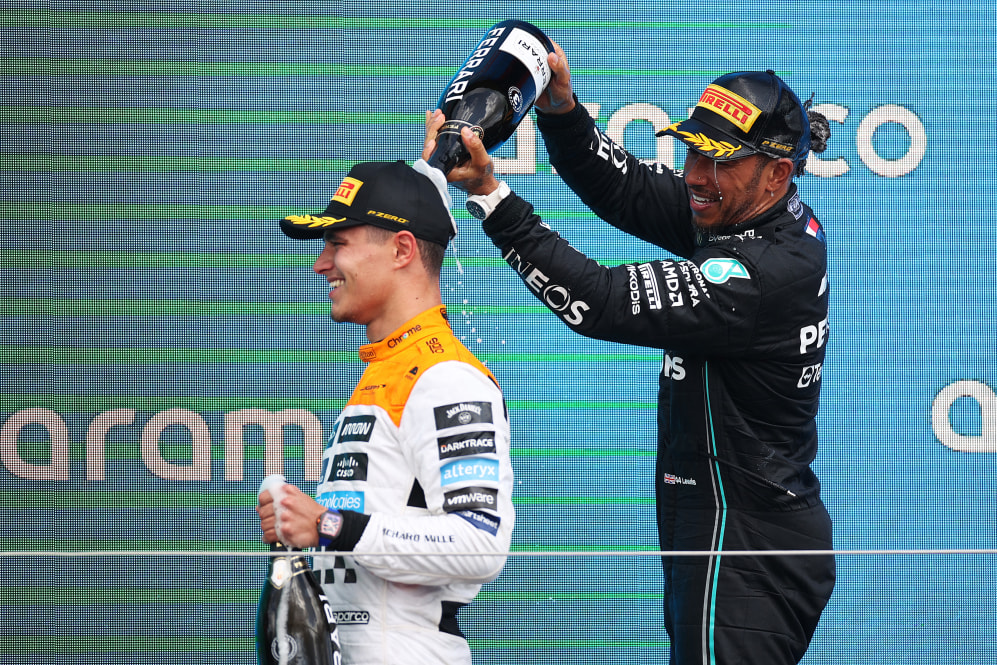 KEY QUOTE
"Of course, very happy that we won again," said Verstappen, who now leads Perez by 99 points in the drivers' standings. "I mean, 11 wins in a row for the team, I think that's pretty incredible, but it wasn't straightforward today.
"I was doing a bit of drifting on Thursday with marketing, and it felt like I was doing that also in the start, which wasn't very good – it was very bad. We'll look into that, because I think the last few starts were actually a lot better, and today wasn't that great.
"But at least it made it a bit more exciting, I had to push for it. Lando didn't really put up a fight, he was very nice to me, but then he actually came back again in the DRS, so he had a lot of pace today – he did very well today."
What's next
The next stop on the 2023 F1 calendar will be the Hungaroring in Budapest for the Hungarian Grand Prix weekend, which takes place from July 21 to 23.