'I gave it my all to get past Lewis' says Driver of the Day Verstappen
History books will show that Max Verstappen finished the 2019 Monaco Grand Prix in fourth. But the Dutchman was one of the undoubted stars of the race, providing race-long pressure to eventual winner Lewis Hamilton and crossing the line just behind the Mercedes to finish second, before a five-second penalty dropped him to fourth.
Verstappen and Red Bull were handed the penalty for an unsafe release during his Lap 11 pit stop, after Verstappen exited his pit into the path of Mercedes' Valtteri Bottas, with both of them having boxed under a Safety Car brought out to clear the debris away caused by a puncture for Ferrari's Charles Leclerc.
Of course I would have liked to have been on the podium but if we look at the pace and performance, we were strong
Verstappen, shod on hard tyres, then spent the remaining 65-odd laps of the Grand Prix hounding the medium-shod Mercedes of Hamilton in front, before, with two laps to go, he attempted a dive down the inside of Hamilton into the Nouvelle Chicane. The pair made light contact as the move ultimately failed come off, and they finished in that order – with Verstappen left to rue a missed chance to take his first Monaco podium as he subsequently fell down to fourth behind Ferrari's Sebastian Vettel and Mercedes' Valtteri Bottas.
"It's of course a shame to have a penalty," he said. "But I gave it my all today to try and get by Lewis. I knew of course that he was on softer tyres and he was taking it very easy once we had the stops, I started to push him. He had to increase his pace and at one point, he went a bit through his tyres so then I could really start to attack him. But all the time out of the tunnel, the problem is that you can't really get close enough out of the corner to have a good go at it, so I just tried to put the pressure on.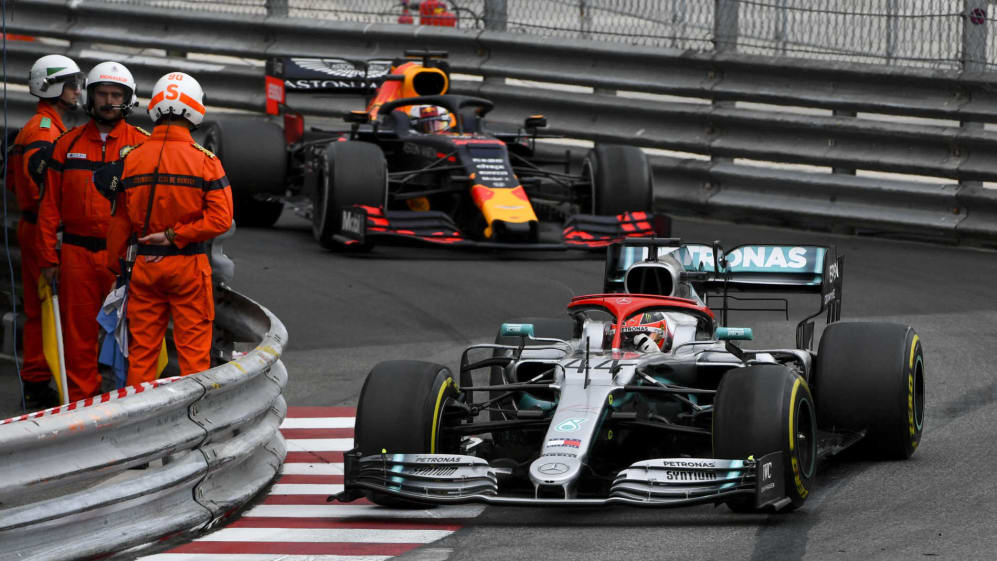 "The whole race, following that closely in the dirty air through the high speed corners is not that easy around here, but I had a fun race. Of course I would have liked to have been on the podium but if we look at the pace and performance, we were strong."
On the bright side for Red Bull, with Pierre Gasly ending up fifth in the sister Red Bull and taking an extra point for fastest lap as Leclerc failed to finish, the team outscored Ferrari for the second Grand Prix in a row to close the gap to the second-placed Scuderia in the Constructors' standings. But after arguably the best-driven Monaco Grand Prix of his career, that was no doubt cold comfort for Max Verstappen…