Verstappen in a 'class of his own' in Hockenheim, says Red Bull boss Horner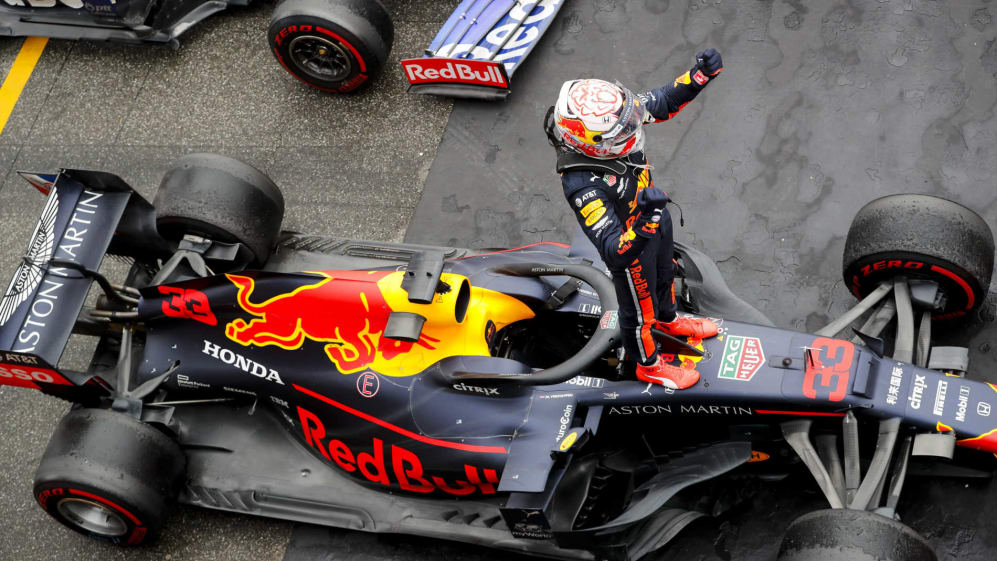 It was Max Verstappen who came out smiling from one of the most topsy-turvy Grands Prix in recent memory, making five pit stops and even surviving a 360 degree spin in the changeable conditions en route to the seventh win of his career in Hockenheim.
With the race having started in a rainstorm, the seeds of Verstappen's eventual German Grand Prix victory were sewn on Lap 29 of 64 when Ferrari's Charles Leclerc skated off the track at Turn 16, crossed Hockenheim's drag strip and speared into the Mercedes hoardings.
READ MORE: Verstappen storms to sensational win in extraordinary rain-hit German GP
That let Verstappen off the hook of what had looked to be a dicey call to switch him onto slick medium tyres in the semi-wet conditions, with the Dutchman having spun wildly in the stadium section of Hockenheim before eventually diving into the pits for intermediate tyres and emerging with the race lead.
Verstappen then endured two more Safety Cars – one for Nico Hulkenberg and a second for Valtteri Bottas – and a further two more tyre stops, for new inters first and then soft tyres as the track began to properly dry out, to close out his second win of 2019, the Dutchman joined on the podium by a delighted Sebastian Vettel and Daniil Kvyat.
"It was amazing, of course to win, but it was really tricky out there," said Verstappen after the race. "We made the right calls and you really had to be focused. We pitted onto the slick tyre, had a little moment, made a nice 360 so that was nice. Enjoyed that.
"It was all about trying to not make too many mistakes," he added. "You learn, over the years. I was very happy with the whole performance today."
Understandably, Verstappen's sterling performance drew praise from team boss Christian Horner, who said that his man had been in a "class of his own" around Hockenheim.
"Unbelievable," said Horner. "To win a race like that when conditions are like this, it's a little bit of a lottery anyway, but Max kept his head and he was brilliant out there.
"Those kind of races, he really excels at," he added, "and he was in total control when he got to the front.
"We were just trying to make sure we kept the right tyre at the right time, and in those sorts of conditions where there's no point looking at the radar, different things are happening at different corners, you've just got to try and be on the right tyre at the right time.
"We were giving him all the information we could about where he was tyre-wise compared to his opponents and he was still able to push push push – and once he'd got clean air, then he was in a class of his own."
We pitted onto the slick tyre and I made a nice 360. Enjoyed that!
By following up on his Austrian Grand Prix win from June and with Bottas failing to score after skating out of fourth place in the final part of the race, Verstappen now moves to within 22 points of the Finn's second place in the standings, adding to his joy with a an extra point for fastest lap to boot.
Could a title challenge yet be on the cards, with Verstappen 62 points behind the non-scoring Hamilton?
"Stop it!" was a smiling Horner's response when the question was put to him, but with 10 races to go, the Dutchman will have certainly caught Mercedes' attention...