Verstappen laments 'extremely painful' start to Miami GP weekend as Red Bull endure rocky Friday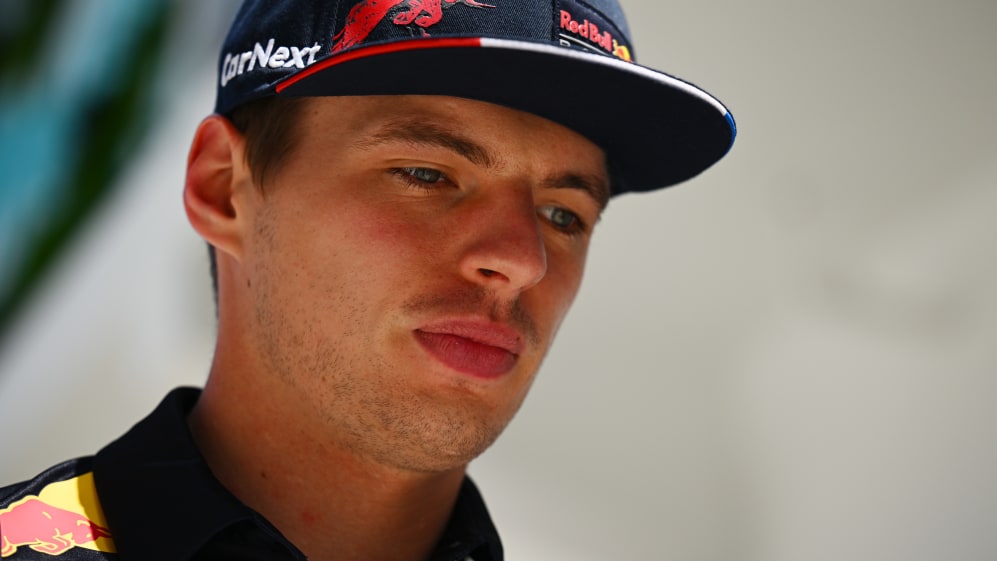 Max Verstappen was left reeling after what his Red Bull Team Principal Christian Horner called a "horrible" opening day of the Miami Grand Prix, in which the reigning champion suffered two issues over both Friday practice sessions.
The Dutchman tapped the wall in FP1 and for FP2 he had his gearbox changed as a precaution. His woes were compounded when a hydraulic issue saw him crawl through Sector 3 and limp back to the pits with a fire in his rear brake ducts.
"He's just had a horrible day," said Horner of Verstappen. "He had an issue this morning, so as a precaution we changed the gearbox and one of the coolers, and then he's driven out of the pit lane and had a hydraulic issue which has unfortunately caused some damage to the rear brakes.
FP2: Mercedes' Russell leads Leclerc in incident-filled Miami practice session
"So just a horrible [day]; he got a few laps in, I think he had five timed laps today, which were all competitive, but thankfully with the red flags he's not lost too much. But it's frustrating not to have that track time."
Verstappen, third in FP1, added: "Yes, just not a good day, and of course these days [it is] extremely painful, especially on a track like this where you want to be out there and learn the track and get up to speed. So, I basically did four or five laps today – fast laps – so that's not what you want."
"I mean, of course I'll try to catch up, but it's just not ideal. Everyone is of course a bit more into the running; but not only that, we have no information on my car with what we have to do, so yes, it's extremely painful," continued Verstappen.
The Dutch driver, who has suffered two DNFs so far in 2022 – but won the two races he's finished – added that the red flags on Friday, caused by Valtteri Bottas, Carlos Sainz and Nicholas Latifi, were not an excuse for his lack of mileage.
MUST-SEE: Go onboard with Charles Leclerc for his fastest lap in FP1 at the Miami International Autodrome
"That's not an excuse for what's happening for us today. We just have to look at ourselves and I don't care what happens on the track with red flags. We could have done a lot more today.
"I think it's more procedure things that we have to get on top of for these Friday practice sessions, but we'll talk about it."
Despite finishing fourth in FP1 then third in FP2, Verstappen's team mate Sergio Perez didn't leave Miami International Autodrome with a smile on Friday.
"I think it was a very messy session," said Perez. "I think in total I did one medium lap and two soft laps. And then on the high fuel, there was nothing we could really do with all the red flags, all the time we lost, so we're going blind into the race basically.
WATCH: Carlos Sainz crashes out of FP2 in Miami
"I think most people are in the same boat as us. Qualifying, we seem to have a bit more of an idea, but things can change very quickly with the weather around here."
Team boss Horner was more optimistic about Perez's running however.
"Checo's had a good session there – long run, short run, we got a lot of info from him, so we'll be relying heavily on all that knowledge this evening and that will influence the set-up direction that Max takes tomorrow as well. His side of the garage had a good run."
Watch the Miami GP Live on F1 TV Pro with exclusive onboard cameras, pre-race show and technical shows. Stream live ad free on your favourite device with F1 TV Pro. Subscribe now (only available in selected countries)