Report
Verstappen leads Red Bull 1-2 after Leclerc retires from rollercoaster Spanish Grand Prix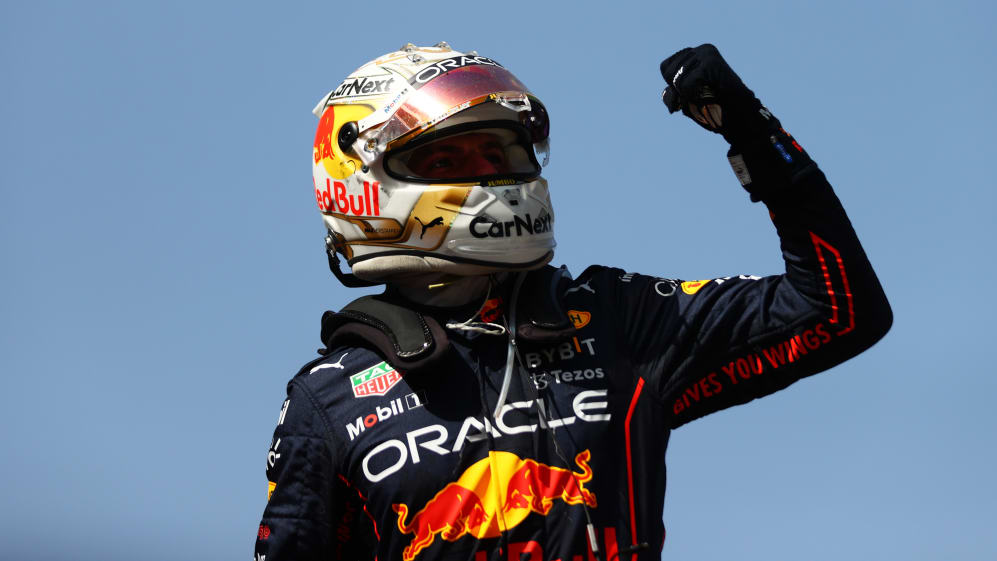 Max Verstappen won an action-packed 2022 Spanish Grand Prix as pole-sitter Charles Leclerc retired from a comfortable lead. Sergio Perez took second place to secure Red Bull's second one-two of the season, as George Russell finished third for Mercedes, having been involved in an epic bout with eventual winner Verstappen.
Soaring temperatures weren't the only problem on Sunday; huge gusts into Turn 4 caused both Carlos Sainz and Verstappen to go off track and drop down the order early on. That left Leclerc with a comfortable lead and a free pit stop by Lap 22, and it seemed a straightforward victory for Ferrari – until Leclerc's engine gave way on Lap 27.
Before that, Russell and Verstappen (whose DRS was malfunctioning) had sparred – going wheel-to-wheel on numerous breath-taking occasions – for P2. Now they were battling for the lead. So Verstappen pitted a second time from mediums back to softs on Lap 29 and caught up to Russell's tail by Lap 37, when Russell swapped for another set of mediums. Sergio Perez was briefly in the lead now – but pitted soon after for a new set of mediums.
Covering off Perez's alternate strategy and tyre life advantage, Verstappen too was pitted for softs on Lap 45, a new set of mediums now giving him a prime opportunity at prying the lead off Perez. Verstappen was allowed past and eventually won by 13 seconds; Perez took P2 and fastest lap having stopped for softs late on.
FORMULA 1 PIRELLI GRAN PREMIO DE ESPAÑA 2022
Spain
2022
Race results
POSITION
TIME
POINTS

1

Max

Verstappen VER

Red Bull Racing

1:37:20.475

25

2

Sergio

Perez PER

Red Bull Racing

+13.072s

19

3

George

Russell RUS

Mercedes

+32.927s

15

4

Carlos

Sainz SAI

Ferrari

+45.208s

12

5

Lewis

Hamilton HAM

Mercedes

+54.534s

10
Russell finished third despite having fended off Verstappen's threats for much of the race, while Sainz finished fourth despite having dropped outside the top 10 early on after his Turn 4 spin. Hamilton passed Sainz for P4 with a brilliant move at Turn 1 with five laps left, but then dropped to P5 having been told to lift off by his Mercedes team.
Valtteri Bottas's soft-medium-medium strategy saw him lose out to soft-tyred finishers Sainz and Hamilton, the Finn taking a still-solid P6 finish for Alfa Romeo. In seventh was Esteban Ocon, up five places for Alpine with two soft-tyred stints. Lando Norris mirrored the Frenchman's strategy but finished a few seconds behind in P8 from P11 for McLaren. Alpine's Fernando Alonso (from the back of the grid) and AlphaTauri's Yuki Tsunoda (from P13) rounded out the top 10 on the same soft-medium-soft-soft gambit.
Sebastian Vettel's two-stop strategy saw him finish 11th for Aston Martin, 14th-placed Mick Schumacher facing a similar fate as he dropped out of the points late on for Haas with Daniel Ricciardo and Pierre Gasly promoted to P12 and P13 respectively.
Late contact with Gasly at Turns 1-2 put Lance Stroll 15th for Aston Martin.
Kevin Magnussen made contact with Hamilton early on at Turn 4 and ended up 17th – between the Williams drivers – having opted for a soft-medium-hard strategy. At Williams, Alex Albon finished 18th and Nicholas Latifi 16th.
Along with Leclerc, Alfa Romeo's Zhou Guanyu was the other retiree in Spain.
AS IT HAPPENED
A capacity crowd endured unseasonably stifling heat to create a feverous atmosphere ahead of the 2022 Spanish Grand Prix, colours of all teams shining in the sun – but there was no doubt that Ferrari's Carlos Sainz and two-time home winner Fernando Alonso were enjoying the lion's share of support.
Alpine's Alonso was set to start at the back behind the Williams drivers having taken a new Renault power unit; Sainz third on the grid behind Max Verstappen and Ferrari team mate Charles Leclerc. Behind Sainz was George Russell, Sergio Perez from P5, and Lewis Hamilton from P6.
Mercury indicating air temperature of 36 degrees Celsius and a track temperature of 49 degrees C, the heat was most definitely on. As for the tyres, Leclerc was to start from pole on new softs – the rest of the top 10 on used softs – while Hamilton was the only one to choose a new set of mediums for his start.
Away they went: Leclerc's launch was decent, but Verstappen was almost alongside him into Turn 1. Sainz fell to fifth as Russell and Perez snuck through. Magnussen jumped from eighth to challenge Hamilton through Turn 4 but the pair banged wheels – the Haas driver taking a trip through the gravel and falling to last after pitting to mediums, and Mercedes' Hamilton emerging 19th after a pit for softs.
Hamilton was despondent as he said on the radio: "I would save this engine, guys. I'm sorry."
Leclerc retained the lead, Verstappen right on his tail – with Russell holding firm in the final podium place ahead of Perez. Further down, Esteban Ocon managed to pry P8 off Daniel Ricciardo on the main straight at the start of Lap 5 – while Alonso was up to 14th at the expense of Lance Stroll. Ocon took another one off Mick Schumacher one lap later, Alonso continuing the Alpine show with a DRS pass on Vettel for P13 soon after.
The home fans were jubilant, but only for a minute. At Turn 4 on Lap 7, Sainz spun and fell from fifth to 11th – fortunately avoiding the barriers.
Lap 9 saw more plumes of gravel on the outside of Turn 4, Verstappen going off at that corner to drop from P2 to P4 behind Perez. Tailwinds seemed to be the issue for both him and Sainz.
Leclerc enjoying a comfortable lead, Perez attempted to pry P2 off Russell on Lap 10 but was held off masterfully by the Mercedes into Turn 1. The Silver Arrow was holding not just Perez but Verstappen, who was allowed past his team mate on Lap 11 as Red Bull ordered the reigning champion to take on Russell. The Briton was getting warnings to cool the car, making his task even harder.
Lap 11 also saw Sainz, Alonso, Pierre Gasly, and Zhou Guanyu pit for mediums. One lap later, Ricciardo swapped to softs and Alex Albon mediums, Norris taking the mediums on Lap 13, and Schumacher softs, to shuffle the pack.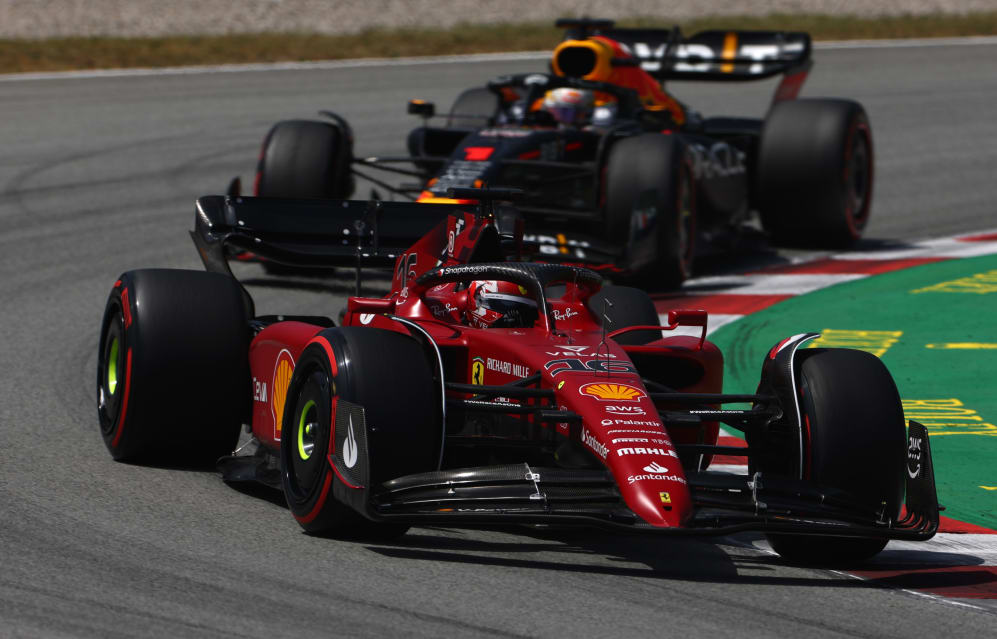 Verstappen and Russell were called in to pit at the start of Lap 14, both enjoying clean stops for mediums – the latter hoping his DRS issues from qualifying weren't making a reappearance (despite the team having changed the mechanism).
The Mercedes emerged ahead of the Red Bull in the battle for third, and on Lap 16 Verstappen was right on Russell's tail. He pressed the DRS button and the system only worked for a split second before snapping shut again. To his frustration, Verstappen's DRS was clearly malfunctioning.
Leclerc and Perez were still in the top two spots, the Monegasque over 16s seconds ahead of the Mexican by Lap 16 – neither having yet stopped. Perez would finally swap for mediums on Lap 18 to emerge fourth.
Meanwhile, Sainz was working his way back up the pack, making it up to seventh after the first pit stops – while Verstappen was gearing up for another run at Russell. Lap 19 saw Russell keep the Red Bull at bay throughout. This was progress from Mercedes and solid execution from Russell.
With a 27-second lead over Russell, Leclerc was called into the pits and emerged on Lap 22 – the free pit stop sending him back out into a five-second lead. Aston Martin's Sebastian Vettel also pitted then, having made it up from P16 to P8 by going long on his first stint.
Verstappen was still sticking on Russell's tail, frustrations over DRS continuing as his team attempted a remote diagnosis. Lap 24 saw the Dutchman breathing down Russell's neck, almost making it past at Turn 1 but Russell holding firm at Turn 3.
Agonisingly for Verstappen, even though he was within striking distance on Lap 25, that DRS just wouldn't open and give him that extra burst of pace. The following corners saw another epic display of racecraft between the two, though they were close to making contact at Turn 3.
"Get... Max out of the way so I [can] overtake quickly," Perez proposed as he had now rejoined the fray on much fresher tyres than the pair. Negative, was the answer, causing Perez to continue stating his case on the radio.
Leclerc's lead seemed assured. That was, until Lap 27. He screamed "no!" on the radio, the F1-75 slowing dramatically and a swarm of Ferrari mechanics waiting to retire his car in the pits.
The following lap began with Verstappen therefore attacking Russell for the lead, Perez vying for a starring role just behind. Red Bull responded to the situation by pitting Verstappen for softs at the start of Lap 29 – an attempted undercut to give Russell a choice to make.
Perez had his chance now; Lap 31 saw the Mexican bear down on the leading Briton and easily snatching the lead.
Verstappen had emerged fourth from his stop but around the outside of Turn 12 made a stunning move on Bottas to get back to P3 for the start of Lap 32, when Sainz took the opportunity to pit for mediums from P5.
Midway through the race it seemed that the Red Bulls would be facing off for victory. Verstappen had caught up to Russell by Lap 37 but this time the Mercedes pitted for medium compounds, intending to make it to the end of the race, emerging in P3 ahead of Bottas. Perez responded by pitting one lap later for mediums, emerging a comfortable second ahead of Russell.
Covering off Perez's tyre life advantage, Verstappen was swapped for a new set of mediums on Lap 45 and emerged second, just ahead of Russell, and with only 5.5 seconds' deficit to leader Perez. That deficit was almost halved two laps later and Perez was told that he would soon be forced to let his team mate through – that team order considered "unfair" by the Mexican driver.
But on Lap 49, Perez complied – Verstappen thanking him – before skating away to win by 13.072s and retake the championship lead. Perez would pit again on Lap 54, going for softs and taking fastest lap and P2 to give Red Bull their second one-two of the season.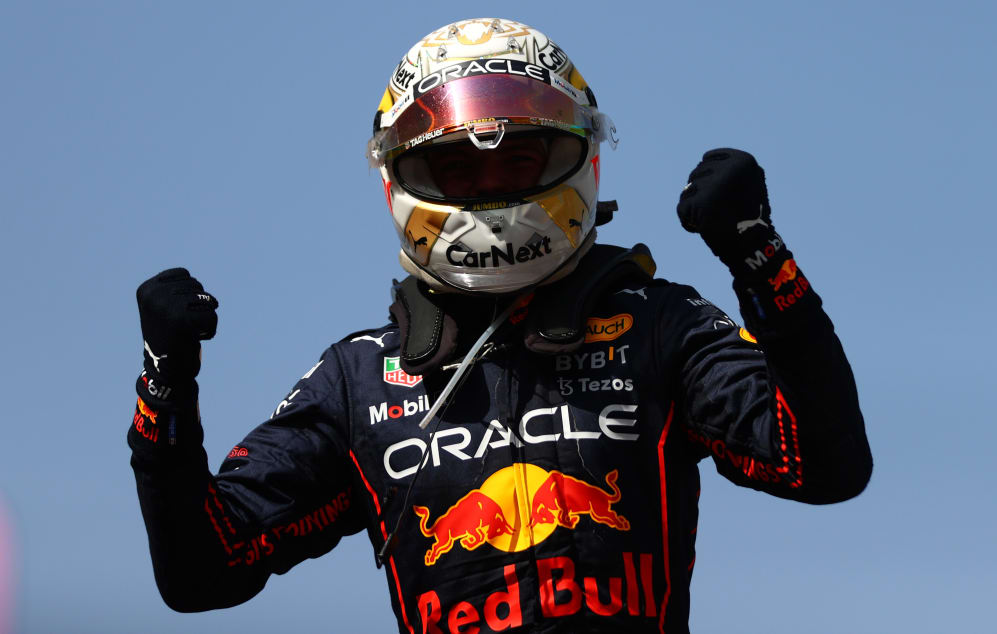 Russell completed the podium and Hamilton took P5 and Driver of The Day too. Shrugging off his early clash with Magnussen, the seven-time champion pulled off a brilliant recovery – even passing Sainz for P4 late on – but was swiftly told to lift and coast to avoid overheating. As a result, Sainz re-took P4 having passed not only Hamilton (on Lap 65) but Bottas (on Lap 57, along with Hamilton).
Bottas's two-stop strategy therefore did not pay off and he finished sixth for Alfa Romeo ahead of Ocon – seventh for Alpine. Norris, despite suffering from illness, started 11th but finished eighth on the same strategy as Ocon (soft-medium-soft-soft) while Alonso took ninth from last on the grid for Alpine with a similar strategy.
Tsunoda also used the three-stopper to take 10th place for AlphaTauri, keeping two-stopper Vettel out of the points in P11. McLaren's Daniel Ricciardo missed out on points in P12 as he couldn't keep pace with his team mate – while Schumacher dropped to 14th at the end as his medium tyres dropped off and his two-stop strategy did not pay off.
In 15th was Lance Stroll having taken damage in a duel with 13th-place Pierre Gasly late on. Stroll's compatriot Nicholas Latifi took P16 for Williams while team mate Alex Albon struggled to 18th with a five-second track limits penalty adding insult to injury.
Between them was Magnussen, damage sustained from his early squabble with Hamilton and a two-stop strategy keeping him 17th for Haas.
Neither Zhou nor Leclerc saw the chequered flag in Spain.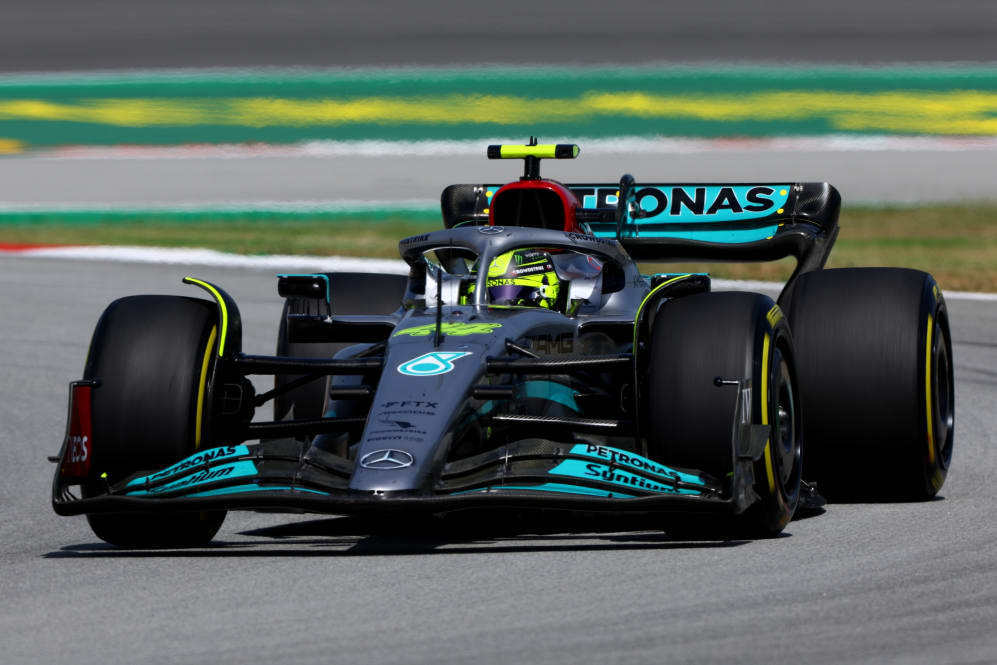 Key Quote
"I mean of course I went off – I suddenly had a lot of tail wind," explained race-winner Max Verstappen. "So I just lost the rear and went off. Of course, I was in the train and I tried to pass but my DRS was not always working, so that made it very tough but we managed, due to the strategy, to get ahead again and do our own race and eventually win the race.
"So, difficult beginning but a good end. At the end, happy to win and happy for Checo you know. It was a great result for the team."
What's next?
Verstappen leads the championship over Leclerc, and Red Bull's one-two sees them lead ahead of Ferrari. The field heads straight to another one of F1's most storied venues, the Principality of Monaco hosting Round 7 of the championship on May 27-29.