Verstappen 'learned a lot' in Sao Paulo Sprint as he aims to repeat success in Grand Prix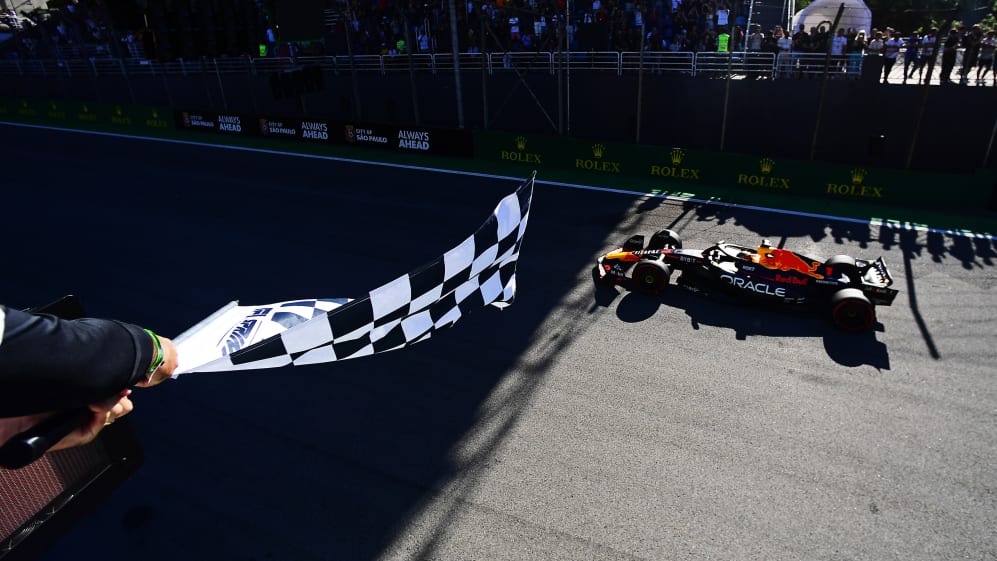 Max Verstappen believes that tyre management played a crucial role in his victory in the Sao Paulo Sprint, with the Red Bull driver feeling that he can now take plenty of learnings from the event into Sunday's race.
While both Verstappen and pole-sitter Lando Norris had a good start off the line, it was Verstappen who ultimately had the edge into Turn 1 and surged into the lead. From there on the world champion had a mostly smooth drive to the win, despite Norris managing to close the gap at stages of the 24-lap race.
READ MORE: Verstappen clinches victory from Norris and Perez in thrilling Sao Paulo Sprint
Reflecting on the event after taking his fourth Sprint win of the 2023 season, Verstappen felt that his launch was an important factor but also acknowledged the challenge of looking after the tyres, with the majority of the field running the soft compound.
"I think it was of course important to try and get ahead at the start," said Verstappen. "I think the initial launch wasn't amazing, but the second part of the start was good and we got alongside [Lando], and then it was all about management.
"Here in this track there's a lot of [degradation], the tyres are wearing a lot, so 24 laps on one tyre set is very long, so it's just trying to maintain a constant lap time and I think we managed the race quite well out there today."
With Interlagos having hosted the Sprint in every year since the format was introduced in 2021, Verstappen was able to compare his experiences in terms of tyre management with previous visits to the track.
"Last year was very difficult for us around here, today was much better," he conceded. "I think for everyone out there, you can't push flat-out, it's just about keeping the tyres under control and we did that well today."
FACTS AND STATS: AlphaTauri grab their first ever Sprint points as Tsunoda bags brilliant sixth
Attention now turns to the Sao Paulo Grand Prix on Sunday, and Verstappen felt encouraged by the pace that the RB19 displayed during Saturday's running: "It's a great start. I think we learned a lot during that race, and hopefully we can do something similar tomorrow."
It was an eventful opening few laps for Verstappen's team mate Sergio Perez. The Mexican started the race from third but initially lost out to George Russell before then surrendering another position to Lewis Hamilton.
However, a few laps later Perez made his way back past Hamilton and, by Lap 10, had overtaken Russell to reclaim P3, which he managed to hold onto until the chequered flag.
"It was not an easy one," Perez commented after the Sprint. "I had a terrible start and ended up losing a place to George, and then another place to Lewis into Turn 4, and then from then on, I was fighting.
"I had to use a lot my tyres, and then I think I paid the price towards the end. Overall, it's been a good day, going points, but unfortunately I think without the start, we could have been a lot further up." 
READ MORE: Verstappen pleased to take Sao Paulo GP pole despite 'terrible' lap as Perez rues compromised Q3
On the issue of tyre degradation, he added: "The problem I had is that I couldn't manage to push, and we know that this place is very sensitive for that, so I ended up pushing a lot, and unfortunately in the end, it ended up costing us."
Despite this, Perez came away with six points, outscoring Hamilton – his rival for P2 in the drivers' championship – by four points. While the Red Bull driver is taking the positives from this, he was more keen to build on it further in Sunday's Grand Prix.
"Obviously it's important, but it's more important to keep the momentum going now," Perez concluded. "We had a very good day overall and hopefully tomorrow, which is the main race, we can consolidate on a strong result."