Title rival Verstappen 'over the limit for sure' in Saudi Arabian GP, says race winner Hamilton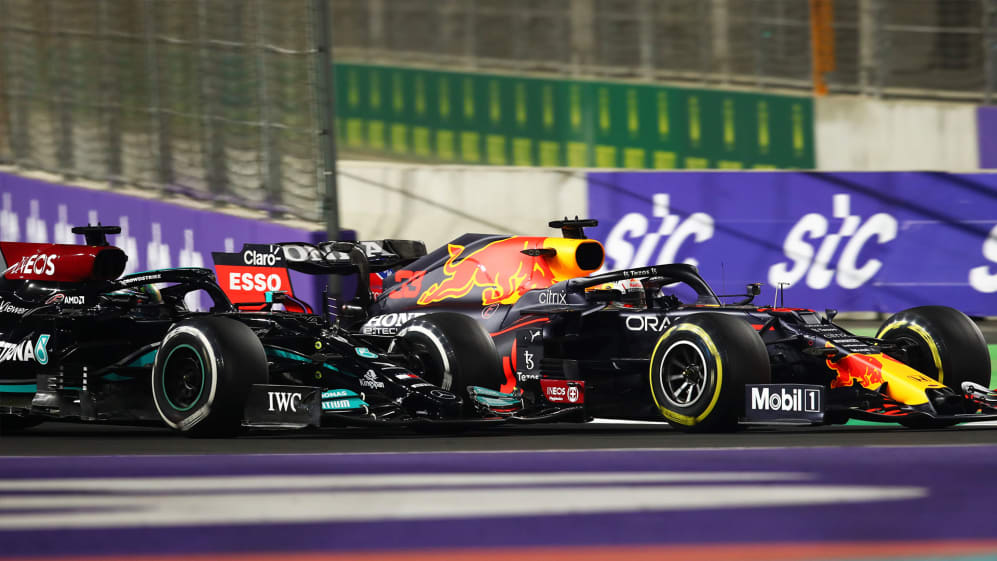 Lewis Hamilton took his third consecutive victory in the Saudi Arabian Grand Prix to draw level on points with Max Verstappen in the title race. But the Mercedes driver blasted his rival for being "over the limit" after a number of controversial incidents between the pair in the race.
Hamilton started from pole following a crash for Verstappen at the tail end of Q3. But a Lap 10 crash for Mick Schumacher saw Hamilton and team mate Valtteri Bottas dive into the pits, handing the lead to Verstappen – who was then able to change tyres for free when the race was red-flagged a few laps later.
READ MORE: Hamilton beats Verstappen in controversy-filled first ever Saudi Arabian Grand Prix as title rivals draw equal on points
At the restart, Hamilton brilliantly got back ahead, but Verstappen went off track at Turn 1 before slewing back on in front of Hamilton and regaining the lead – with Verstappen then ordered to take the subsequent race restart – following a further red flag – from P3, behind Esteban Ocon and Hamilton.
Verstappen nailed that restart on Lap 17 of 50 to pass both drivers and retake the lead, but Hamilton was piling on the pressure – and after Verstappen ran off track on Lap 37, Red Bull ordered him to give the lead to Hamilton, with Verstappen appearing to slow on the run to Turn 27, with Hamilton caught off guard as he ran into the back of his rival.
The pair weren't done, though, with Verstappen letting Hamilton past again and immediately retaking the position on Lap 42, while a lap later, Hamilton appeared to edge Verstappen off track at Turn 27 before checking out for his 103rd win – while Verstappen was later handed a five-second penalty for his Turn 1 incident with Hamilton on Lap 37.
And after all that, Hamilton had some choice words to say about his rival.
"I've raced a lot of drivers through my life in the 28 years," said Hamilton, whose third straight victory puts him equal on points heading to the season finale in Abu Dhabi next week. "I've come across a lot of different characters and there's a few at the top which are over the limit. Rules kind of don't apply, or they don't think of the rules.
MUST-SEE: Controversy as Verstappen and Hamilton nearly collide at race restart – while chaos behind leads to second red flag
"[Max] is over the limit for sure," he added. "I've avoided collisions on so many occasions with the guy, and I don't always mind being the one that does that, because you live to fight another day, which I obviously did.
"Then he obviously brake-tested [me], I think to try and get the DRS into the last corner to overtake me again back into Turn 1, so there was a commotion. I thought that I'd lost my wing."
Verstappen and Hamilton were subsequently summoned to the stewards over the incident that Hamilton described as brake-testing – with Hamilton explaining his part in the incident.
"I didn't get the information," said Hamilton, "so I didn't really understand what was going on. It was very, very confusing. All of a sudden, he started backing up and then kind of moving a little bit… I was like, is he kind of like trying to play some crazy tactic? I don't know.
DRIVER OF THE DAY: Verstappen's battling Jeddah drive gets your vote
"Then all of a sudden the message started coming through. He hit the brakes so hard, and I nearly went completely up the back of him and took us both out. For him, it doesn't matter if we don't both finish. For me, we both need to finish.
"It was apparent that he was trying to let me past, which was what he had been asked to do, but before the DRS zone, and so then it would have meant he would have just DRS'd back past me in the last corner – followed me and then DRS'd me in to Turn 1. So that was the tactic. But the worse part was just the steep heavy braking that happened at one point, which is when we collided. That was the dangerous part."
The result sets up a thrilling championship decider in Abu Dhabi. But asked if he was feeling the tension, Hamilton smiled wryly, replying: "I'm personally chilled. I feel like I'm in the boxing ring and I'm ready to go."