Verstappen questions 'racing incident' decision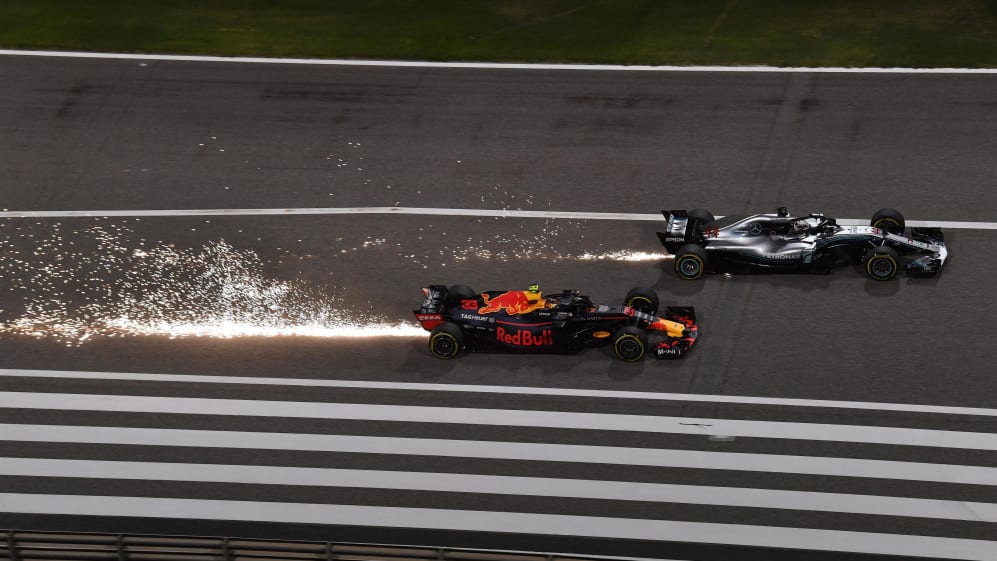 Max Verstappen described as 'harsh' the stewards' verdict that his collision with Lewis Hamilton in Bahrain was a racing incident.
The Dutchman divebombed Hamilton on the run down to Turn 1 on the second lap of the race – but with Hamilton attempting to stick it out on the outside, the pair eventually made contact exiting the corner, with Hamilton's wing clipping Verstappen's rear tyre.
The touch was light, but enough to puncture Verstappen's tyre – which then led to damage as the Red Bull man limped his way back to the pits, ultimately prompting Verstappen's retirement from the race.
"Due to the hit with Lewis we sustained some more severe damage than just the puncture," Verstappen explained.
"From the start I was enjoying the feel of the car and finding the gaps and it was shaping up to be an exciting race. I had a good tow on the straight, the last corner was really good so it allowed me to stay close to Lewis.
"We got a bit squeezed but from the middle to the end of the corner I was ahead, I then felt a nudge from behind and could feel the puncture and therefore knew the race was likely over.
"In my opinion there was plenty of room for the both of us to go around that corner and to say 'no action taken' is a bit harsh as I am now out of the race due to that contact on my left rear.
"If it was the other way around I'm sure he would want it looked into."
Hamilton though felt Verstappen had been too forceful with the move.
"I have to re-watch it to be honest, because in the heat of the moment I only have one picture in my mind," the Briton said.
"I tried to avoid… we were battling, I was on the outside and we were relatively alongside each other, but I did back out, I realised I had to.
"But he continued to come across and that didn't leave me any room and we ended up touching…"
Hamilton was able to continue and wound up third, completing a recovery from ninth on the grid. It was his 27th consecutive points finish – equalling Kimi Raikkonen's all time record.