Verstappen relieved to take P1 in Sprint after 'terrible' start at Imola
Max Verstappen was on the back foot for most of the Sprint at Imola having lost the lead to Charles Leclerc with a "terrible" start, but he managed to wrestle back the lead with a late pass on the Ferrari driver – leaving him relieved to be in P1 for Sunday's Emilia Romagna Grand Prix.
The reigning champion took pole position on Friday and therefore started first for Saturday's Sprint. He stalked Leclerc until the final couple of laps, and when the Ferrari driver struggled with tyre wear, Verstappen snatched the lead with two tours remaining. The start, however, was anything but ideal.
READ MORE: Verstappen snatches P1 from Leclerc in thrilling Imola Sprint
"Well, I mean Lando [Norris in P3] had a decent start, so there's no excuse," said Verstappen. "I mean, my start was just terrible and I didn't have gear sync for whatever reason, so yes, I need to see exactly what went wrong.
"Terrible – when I let the clutch go, just a lot of wheelspin and no traction, so my start was very, very poor. And then it was after the Safety Car restart, it seemed like initially Charles was very quick and he was actually pulling away like a tiny bit, lap after lap, but then at one point the tyre deg came into play and it seemed like from that point on, I could actually close the gap again," he added.
The Dutchman added that he relished the battle with his Monegasque rival late on, despite the difficulties he faced in getting within DRS range – and then making the move around the outside of Tamburello.
"Especially with the [degradation] we had on the softs, to get into that DRS window was hard. Once I got into it, I think on the second attempt, we had a good little battle into Turn 2. But clearly, we had a bit more pace at the end of the race.
"I think we were pretty much flat-out, you know? It's not many laps you have anyway in the race, but of course we knew that on these tyres it was going to be tough at the end of the race, like the last few laps, but it worked out for us," he concluded.
WATCH: Zhou crashes out at start of Sprint in Emilia Romagna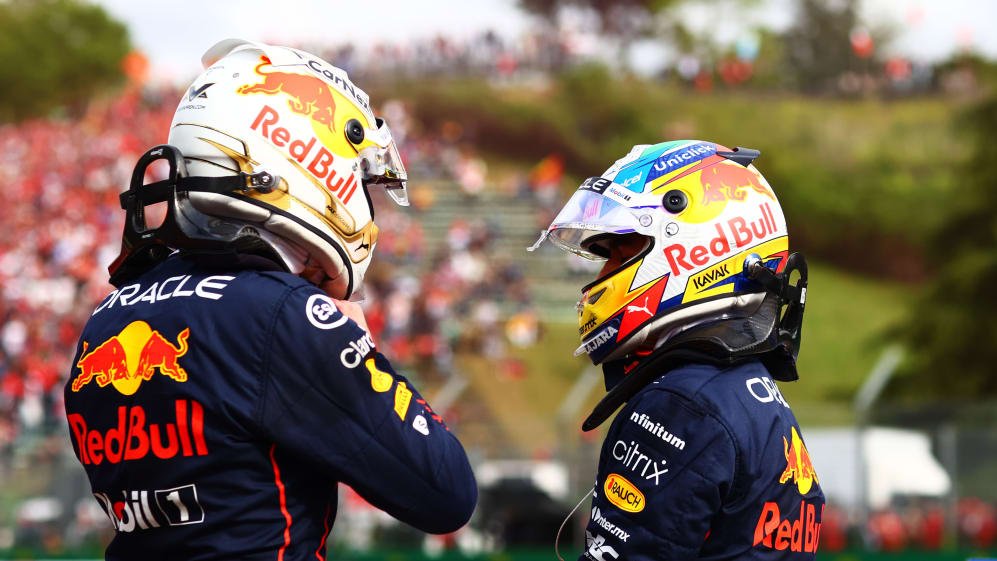 Team mate Sergio Perez managed P3 from seventh on the grid – after a red flag-hit qualifying session – in the Sprint, overhauling both McLaren drivers, Alpine's Fernando Alonso and Haas's Kevin Magnussen for third.
"[I needed] to minimise [the damage from] qualifying from yesterday," he said. "The red flags, we really struggled a lot with that, so we didn't put a lap together when it mattered. But today we managed to recover, and I think we are in a great position for the fight tomorrow."
For Perez, the goal is clear on Sunday: "It will be ideal to get a one-two – that will be great for us but probably not for the tifosi – but we will try!"