Verstappen stands firm over Brazil incidents with Ocon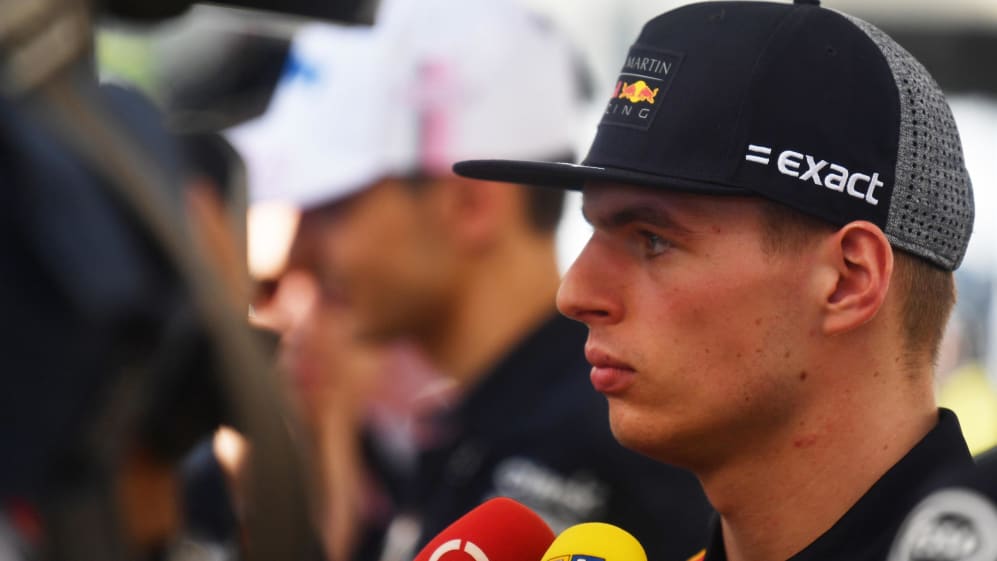 It's been almost two weeks since the Brazilian Grand Prix, but if you thought Max Verstappen's take on what happened with Esteban Ocon has softened – think again. Facing the media ahead of the season-ending Abu Dhabi showdown, with Ocon sat just three seats along, the Red Bull driver said he had no regrets for the way he played the on-track tussle or the resulting garage squabble between the pair…
An angry post-race confrontation, which saw the Dutchman push his rival during a tense exchange in the FIA garage, followed a clash between the two men on Lap 44 of the Interlagos race, during which backmarker Ocon tagged race leader Verstappen into a costly spin.
That on-track incident ultimately lost the Red Bull driver the race, with Lewis Hamilton taking advantage to seal the win for Mercedes, and when he faced the media in Brazil, an angry Verstappen laid the blame firmly on the Force India driver.
And the 21-year-old Dutchman gave a similarly firm response when asked at Yas Marina if he would do anything differently if the same on-track situation arose again.
"No I wouldn't," he replied. "From my point of view and how I look back at it, I just passed Lewis for the lead. This season it has been a lot about tyre management.
"So as soon as I got into the lead, I was just cruising to save the tyres. Somebody comes out of the pits and has fresh, superfsoft tyres I think it was at the time. In general I think Force India this season have been at least a second, a second and a half behind us.
"Yeah, for two laps maybe you feel like you have decent pace but the guys in the lead are most of the time not pushing flat out to get somewhere because once you're in the lead what do you want to do?
"Maybe you want to try and get passed and try and pull away but within two laps the peak of your tyres have gone and you end up letting us by again. That whole process to try and get passed anywhere else, you're destroying your tyres in a way so I think it's always better to stay behind and follow. Clearly that was not the case."
The incident that followed in the FIA garage landed Verstappen in hot water with the governing body, who decided that Verstappen had "started an altercation" before "pushing or hitting Ocon forcefully several times in the chest".
I was after an apology and I got a bit of a different response. So I think from my side I was really calm
But again, despite being required to take part in two days of 'public service', Verstappen felt he hadn't overstepped the mark.
He added: "I was after an apology and I got a bit of a different response. We are all emotional and just, at the time, I'd lost the victory. So I think from my side I was really calm.
"It could have been much worse. I think pushing in any sport, it happens. I actually saw it a few days ago in football again, so from my side, I thought it was quite a calm response. What did you expect me to do, shake his hand like thank you very much for being second instead of first? I think it's quite a normal response.
"Okay, I got my two days with the FIA, which we'll find out what we've got to do. But from my side... because you guys don't actually hear what's being said at the scales. You just see me pushing, but if you understand the whole conversation, I think it's a bit different."
Ocon, meanwhile, held his hands up and accepted the role he played in colliding with his counterpart on track, going as far as apologising to Verstappen.
"It's not a great thing to be involved with a crash with the leader of course," said Ocon. "It's not a thing you want to see. I'm sorry for Max. It was his race to win. He did a fantastic job during the whole race.
"On the other side, I had a slow pit stop so I came in between Lewis and Max. I got the blue flag after a couple of corners. I got away from the blue flag and was quite fast, and behind Max I was stuck. Then the team came into the radio you can unlap yourself if you want and are faster.
"As Max said he was managing the tyres. I went for it, it was important for us to get close to the top ten pack if something happened – a penalty or anything, I could have got into the points. Things like that happen. You can't come back from what has happened. That's how it is. We have to move forward."
From F3 to F1, this is a rivalry that's set to run and run...