Verstappen takes positive feeling from first RB14 run
He didn't quite match Daniel Ricciardo's pace-setting performance from day one of testing, but Max Verstappen echoed his team mate's positive impressions of Red Bull's RB14 after his first run in the car on Tuesday.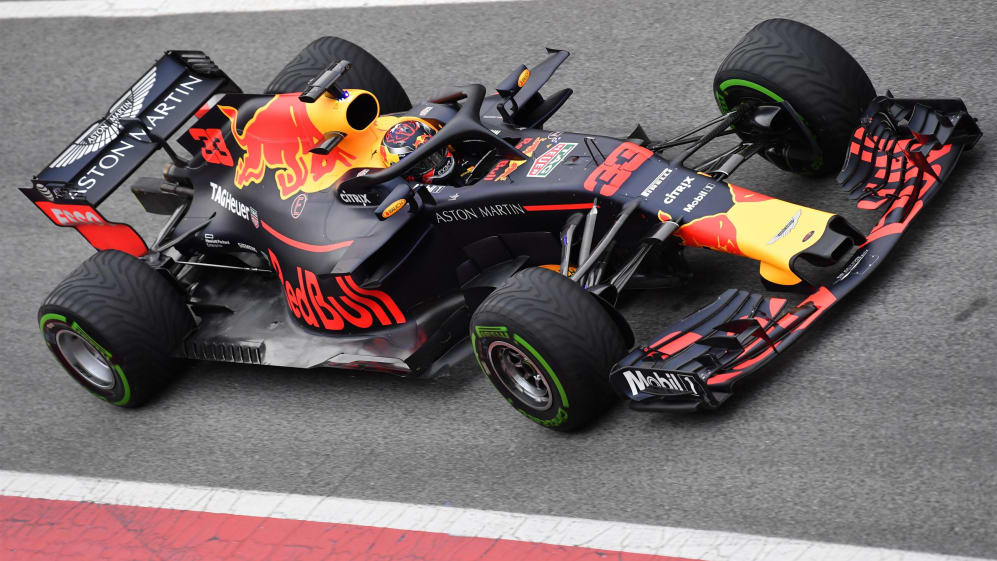 In terms of lap times we are doing well, so we don't really have big issues - that is a big difference compared to last year
Ricciardo carried out a filming day for Red Bull at Silverstone last week, and was then the first driver behind the wheel at the Circuit de Barcelona-Catalunya, posting the fastest time on Monday. Verstappen took over today and was fourth fastest, 0.653s adrift of pacesetter Sebastian Vettel and 0.147s slower than his team mate had been.
Asked for his first impressions of Red Bull's new car, Verstappen replied: "Of course it is early days, but it is positive.
"Of course you are always fine tuning the balance. But the initial feeling is very positive.
"It is handling good so far. I am happy with the balance of the car. You can always improve it but in terms of lap times we are doing well, so we don't really have big issues. That is a big difference compared to last year.
"With the weather it has been really cold so it is difficult to switch on the tyres. But we completed more or less what we wanted to do. Of course in the morning we had our little hiccup, but then afterwards all good, all happy."
Cold weather in Spain impacted on running for all the teams, with Vettel's tally of 98 laps the highest on day two. But Red Bull also suffered reliability issues as they completed just three laps and failed to set a time during the first four hours of running.
"We had a fuel leak and checked everything in the car because the track was in a very bad state anyway, so we didn't really lose track time. And then afterwards we completed quite a bit of what we wanted to do. We tested a few things on the car and I was happy so it was a positive day."
Illustrating how difficult conditions have been for the drivers on the opening two days of testing due to the cold weather, Verstappen explained: "Basically when you go out of the pits it is flat out to keep the temperatures up, and lap by lap you are going faster, it's that cold.
"And also with the new tarmac it is not that much degradation, it just makes it all a bit more difficult."
Sadly for the teams, conditions look set to get worse rather than better on Wednesday...