Report
Verstappen takes stunning win as Mercedes break down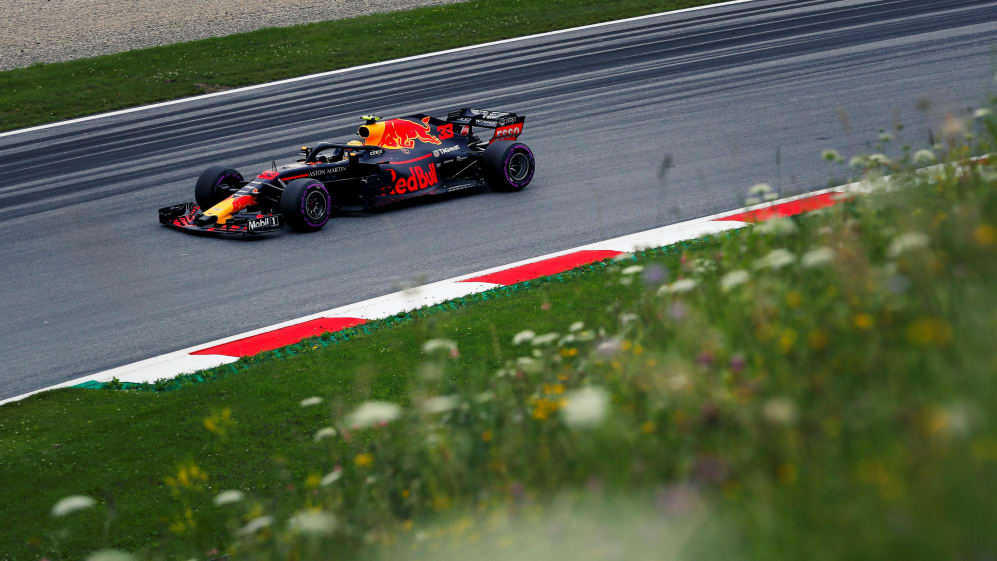 Mercedes looked like they had the Austrian Grand Prix sewn up. But disaster struck in spectacular fashion as Valtteri Bottas and Lewis Hamilton both retired. Max Verstappen took advantage and seized his first win of the season, to the delight of the swathes of Dutch fans who had made the pilgrimage to the Red Bull Ring…
Everything that could go wrong for Mercedes, did go wrong. First Bottas pulled off with a gearbox problem. Then their strategists made a mistake by not pitting leader Hamilton during the subsequent virtual safety car period. Then Hamilton rolled to a halt when he lost fuel pressure.
It meant Mercedes suffered their first double DNF since the 2016 Spanish Grand Prix. Hamilton's record 33-races-in-the-points streak came to a shuddering stop while he also relinquished the lead of the championship, with Sebastian Vettel - who finished third behind Ferrari team mate Kimi Raikkonen - overturning a 14-point deficit to lead by a single point.
Verstappen took advantage of Mercedes' misfortune to take a fourth career victory, the Red Bull driver inheriting the lead, having previously put a good early move on Raikkonen, and then managing his tyres beautifully as several of his rivals struggled with blistering.
He crossed the line just 1.5 seconds clear of Raikkonen to take a third successive podium for the first time in his career, with Vettel completing the rostrum on a very strong day for Ferrari in the foothills of the Styrian mountains.
Raikkonen made a mighty move at the start, utilising the extra grip his ultrasoft tyres afforded him to vault up in between the two Mercedes of Bottas and Hamilton into Turn 1. The Finn ran wide, but rejoined in second ahead of pole-sitter Bottas before attacking Hamilton for the lead on the run up the hill. He locked up, ran wide and then lost a position to Bottas into Turn 4.
Things got worse for the Ferrari driver as Verstappen muscled past, briefly touching the Ferrari, to take third, while Vettel was on the move further back, having dropped to eighth, passing both Haas cars for sixth. Hamilton settled down at the front, ahead of Bottas, with Verstappen third and Daniel Ricciardo fourth in the sister Red Bull – but the race was about to explode into life.
First Nico Hulkenberg's Renault engine blew in spectacular fashion and then Bottas pulled off the track citing a gearbox issue. The latter sparked a virtual safety car period. While Hamilton stayed out, Verstappen, Ricciardo, Raikkonen and Vettel all pitted and switched to the soft tyres, suggesting they could get to the end of the race.
Hamilton was unhappy. He couldn't understand why Mercedes didn't pit him too. In an unusual move, chief strategist James Vowles came on the radio and said, "It's my mistake. Do what you can." Mercedes boxed Hamilton, in a bid to cover Vettel, and he rejoined ahead. But he struggled for pace on those soft tyres, despite them being 10 laps fresher.
Meanwhile, Ricciardo had pitted, too, as his soft tyres started to blister in what were the warmest conditions of the weekend. Hamilton was struggling, too, and Vettel pounced to take third.
After complaining about his tyres for several laps, Mercedes pitted the world champion for a second time and fitted the supersofts. He rejoined in fifth, behind Ricciardo. But that became fourth when Ricciardo pulled off the track, saying on team radio that he had lost gear sync.
Hamilton looked more comfortable on the supersofts, but disaster struck when he lost fuel pressure, forcing him into retirement for the first time since the 2016 Malaysian Grand Prix.
That promoted Romain Grosjean to a brilliant fourth, the best ever result for Haas, one place ahead of team mate Kevin Magnussen, with Verstappen comfortably leading the Ferrari duo of Raikkonen and Vettel up front.
Force India's Esteban Ocon and Sergio Perez were sixth and seventh respectively, with Fernando Alonso charging from a pit-lane start to an impressive eighth.
Charles Leclerc lost a bunch of time when he ran into the gravel at the start but recovered to take ninth – his fourth points finish in five races – with Sauber team mate Marcus Ericsson taking 10th in what is only his second time in the points in 2018.
The key quote
"It was amazing. It was very hard to manage the tyres as well. We really had to look after them – there was a lot of blistering. We managed to hang on until the end. The tyres are very sensitive and it can happen in the first five laps, if you're too aggressive, the tyre starts to open up and the damage is done. From previous experience in practice sessions, I know it can happen. I tried to manage, I could see my tyres opening up. I just had to drive around the issue. Luckily I could manage it until the end of the race." – Max Verstappen
The stats that matter
Max Verstappen's fourth victory in Formula 1 ties Eddie Irvine and Bruce McLaren for the most wins by any driver without ever taking a pole position in his career.
Kimi Raikkonen secured his fifth podium of 2018, and tied his best finish on this track from 2003.
Sebastian Vettel's third-place finish coupled with Lewis Hamilton's retirement means the German now leads the world championship by one point.
Hamilton fell one lap short of being a classified finisher, bringing his 33-race points streak/finishing streak to an end. Team mate Valtteri Bottas also saw his 23-race finishing streak end.
Romain Grosjean's fourth place is only his second top-four finish of the turbo-hybrid era (he came third at the 2015 Belgian GP).
And his team mate Kevin Magnussen's fifth place tied his best finish of the year, and he's now scored twice as many top-six finishes in 2018 (4), as in the rest of his career combined (2).
Esteban Ocon and Sergio Perez came sixth and seventh at Force India's 200th Grand Prix – it was the first time they've had two cars in the top seven this season.
McLaren's Fernando Alonso finished eighth from the pit lane to end a three-race scoreless streak.
Sauber had two cars in the points for the first time since the 2015 Chinese Grand Prix.
Speaking of Sauber, Charles Leclerc has scored in five of the last six races, only beaten by Vettel (six out of six).
DHL Fastest Lap
Kimi Raikkonen 1m 06.957s (lap 71)
What's next?
The final chapter of Formula 1's first-ever triple header, the British Grand Prix, takes place at Silverstone on July 6-8.