Report
Verstappen triumphs over Hamilton after late pass in scintillating French Grand Prix
Red Bull took their third consecutive win of the season at a cracking French Grand Prix courtesy of Max Verstappen, who passed Lewis Hamilton with two laps to go to claim the thirteenth victory of his career, Hamilton finishing second as the second Red Bull of Sergio Perez completed the podium.
In a mirror of the Spanish Grand Prix – when Mercedes out-strategised Red Bull to claim the victory – Verstappen stopped twice to Hamilton's one-stop, with the Dutchman then using his fresher tyres to close up to the Mercedes, passing on Lap 52 of 53 to check out for his third win of the year.
It more than made up for Verstappen losing out to Hamilton from pole at the race start, Verstappen taking the win as well as the extra point for fastest lap – with the result also marking the first time Red Bull have won three races on the bounce in the turbo-hybrid era.
Behind, Valtteri Bottas ended up a disgruntled fourth behind Perez, having complained to Mercedes that he was ignored when he advised them to switch to a two-stop, as Red Bull did with Verstappen.
FORMULA 1 EMIRATES GRAND PRIX DE FRANCE 2021
France
2021
Race results
POSITION
TIME
POINTS

1

Max

Verstappen VER

Red Bull Racing

1:27:25.770

26

2

Lewis

Hamilton HAM

Mercedes

+2.904s

18

3

Sergio

Perez PER

Red Bull Racing

+8.811s

15

4

Valtteri

Bottas BOT

Mercedes

+14.618s

12

5

Lando

Norris NOR

McLaren

+64.032s

10
Behind the leading four, a superb day for McLaren saw Lando Norris finish a fine fifth, ahead of team mate Daniel Ricciardo, who enjoyed arguably his best race of the year to take sixth.
AlphaTauri's Pierre Gasly demonstrated strong race pace to take his best ever finish in his home Grand Prix with P7, ahead of the Alpine of Fernando Alonso.
Sebastian Vettel made a long first stint work to take his third consecutive points finish with ninth, while team mate Lance Stroll completed the top 10 thanks to a late pass on the Ferrari of Carlos Sainz – capping off a bad day for the Scuderia, who lacked race pace at Paul Ricard, with Sainz ending up 11th as Leclerc could do no better than P16.
But after a thriller of a French Grand Prix, it was all about Verstappen, who took an decisive strike at the start of the first triple header of what's turning into a phenomenal 2021 season, extending his lead over Hamilton in the drivers' standings to 12 points.
AS IT HAPPENED
With title rivals Verstappen and Hamilton side by side on the front row as the five lights went out, the key question for Lap 1 was: would one of them blink? In the event, Verstappen did, the Red Bull driver getting a snap of oversteer on the exit of Turn 1 and being forced to dive off the track into the run-off, rejoining in second as Hamilton swept through into the lead.
Behind, Valtteri Bottas and Sergio Perez held onto their third and fourth places, while further down the order, a smart start from McLaren's Daniel Ricciardo from P10 saw him move ahead of his team mate Lando Norris around the outside of Turn 1, with Norris also passed by the Alpine of Fernando Alonso as the Spaniard claimed P8 – with Norris then briefly repassing Ricciardo before running off track a lap later and ceding P9 to the Australian.
WATCH: Ricciardo overtakes McLaren team mate Norris at race start
Lap 2 and Sebastian Vettel was on the move, making a neat move on the Alpine of Esteban Ocon for P11 at the Turn 8 chicane. Ricciardo was also getting interested in an Alpine, Ricciardo sharking in his old adversary Fernando Alonso's mirrors across the first 10 laps, but unable to make his way past.
At the front, the gap between Hamilton and Verstappen was lingering around the 1.5s-2.0s mark, with the top 10 on Lap 10 of 53 Hamilton from Verstappen, Bottas, Perez, then Carlos Sainz in P5, from Pierre Gasly, Charles Leclerc, Alonso, Ricciardo and Norris.
A lap later and the McLarens pounced on the struggling Alonso, Ricciardo finally getting the two-time champion into the Turn 8 chicane for P8, while Norris then put in a brilliant, opportunistic move on the same driver three corners later, nipping past the Alpine into Le Beausset to claim ninth – while Vettel was through on Alonso two laps later at the chicane too.
WATCH: Ricciardo and Norris overtake Alonso in quick succession
By Lap 15, Ricciardo was also past Leclerc for P7, with Ferrari deciding to call their man immediately into the pits for the first stop of the day, as the Monegasque switched from his mediums to hards – with Ricciardo following suit a lap later as McLaren tried to undercut him ahead of sixth-placed Gasly.
They did better than that, with Ricciardo passing both Gasly and Sainz in the pit stops after those two drivers came in a lap later – although Leclerc had also managed to repass Ricciardo in the pits too.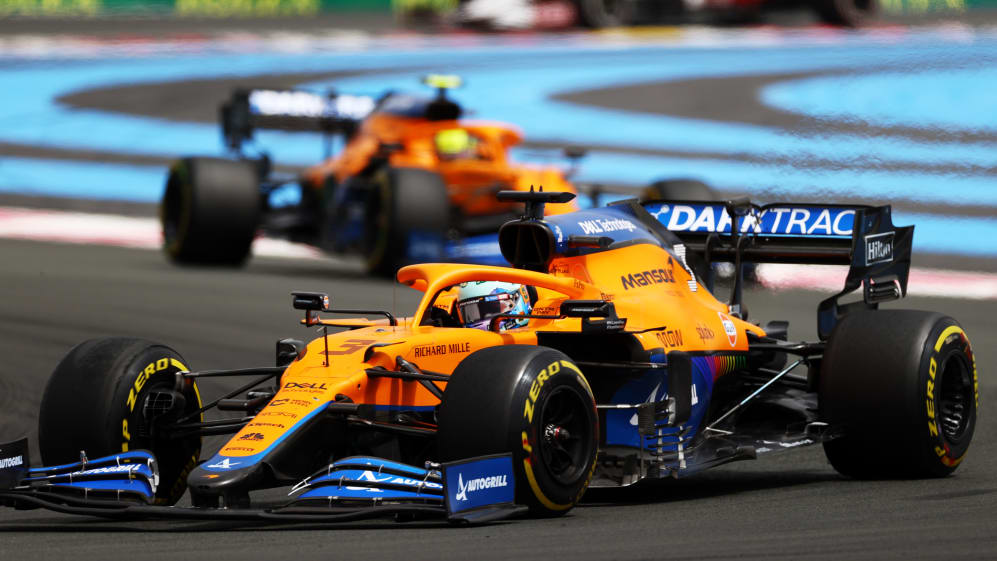 With Bottas having pitted on Lap 17, crunch time #2 of the day came on Lap 18 when Red Bull decided to bring Verstappen into the pits. Would the undercut work here, with Hamilton having managed to establish a 3s cushion over the Dutchman?
It would. Verstappen put in a blistering out-lap – and with Hamilton called in a lap later, as the Mercedes exited the pits, Verstappen flashed past and back into the net lead, with Perez actually heading the field having not yet stopped.
WATCH: Mercedes stunned as Verstappen passes Hamilton after pit stop
Hamilton's engineer Pete Bonnington was straight on the radio to apologise, with Hamilton telling his team exasperatedly: "Come on guys." The power of the undercut had also put Bottas right on the tail of his team mate, with the Finn's side of the garage willing on their man, saying: "We're enjoying this Valtteri."
Perez was eventually brought in on Lap 24 (along with the McLaren of Norris), making the order Verstappen from Hamilton and Bottas – the top three cars running within three seconds of one another – with Perez around 15s adrift when he emerged from the pits.
So Verstappen was leading – but both he, and the two Mercedes, were being vocal over their doubts about whether they could make it to the end with their tyres. And so, with memories of their Barcelona beating by Mercedes presumably fresh in their minds – when Hamilton went for a surprise two-stop to ensure himself victory over Verstappen in the Spanish Grand Prix – Red Bull pulled Verstappen in for a second stop on Lap 32, the Dutchman bolting on mediums and dropping to P4 behind Perez.
WATCH: Norris and Gasly pass struggling Leclerc
The Dutch driver now had 20 laps to haul himself up to Hamilton and Bottas and try and find a way past.
With 10 laps to go the order was Hamilton from Bottas, with Verstappen just over five seconds behind Hamilton – then Perez, from Norris in P5 (the Briton having passed Ricciardo on Lap 34) with Ricciardo sixth from Gasly, Alonso, Sainz and Vettel – the Aston Martin driver having stayed out on hards until Lap 37. Leclerc meanwhile, had fallen to P16 after opting to pit again, the Ferraris having a horrible day on race pace.
Lap 44 and Verstappen made a crucial move on second-placed Bottas, attempting and failing a pass into the chicane, but then making it stick on the inside through Les Signes – Bottas angrily shouting at Mercedes: "Why the **** did no one listen to me when I said it would be a two-stop?"
That left Verstappen with just a handful of laps to get up to Hamilton – and get past. Then on Lap 52 it happened. Having edged up to his rival with a series of searing laps, Verstappen DRS-ed his way onto the rear wing of Hamilton on the blast down the Mistral Straight begore slipping easily through into Turn 8, as the crowd of 15,000 were brought to their feet.
"Simply lovely," was how Verstappen's race engineer GianPiero Lambiase summed up his man's efforts, and it was hard to argue, with Verstappen then able to check out for his third win of the season, matching the tally of Hamilton, who held P2 – with Verstappen also claiming the bonus point for fastest lap, as well as Driver of the Day plaudits.
It was Perez who claimed P3, passing Bottas with four laps to go to compound the Finn's unhappiness, as Bottas finished fourth – at least managing to claim his first points since the Spanish Grand Prix, as Perez made it Red Bull's first double podium of the season.
Lando Norris looked to have been handed a difficult strategy from McLaren on first sight after being left out until Lap 24. But he made it work to perfection, slicing his way through the field and up to fifth, finishing just ahead of team mate Ricciardo – McLaren moving decisively back ahead of Ferrari for P3 in the standings, after the Scuderia went point-less, having suffered from poor race pace, Sainz and Leclerc winding up P11 and P16.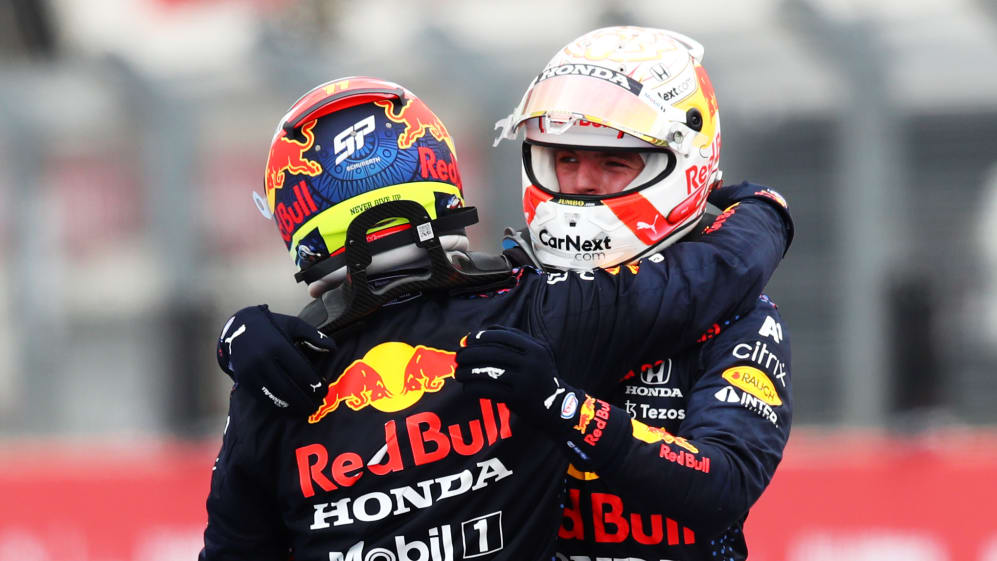 A great home race for Pierre Gasly gave him seventh, ahead of Alonso and the two Aston Martins of Sebastian Vettel and Lance Stroll – the team in green following up Vettel's podium in Baku as they rounded out the top 10 here in France.
After Sainz, George Russell took 12th for his best finish this year for Williams, ahead of Yuki Tsunoda – recovering well from a pit lane start from a change of floor and gearbox to take 13th – with the second Alpine of Esteban Ocon a disappointing 14th at home.
Alfa Romeo's Antonio Giovinazzi was 15th, ahead of a presumably bewildered Leclerc, with Kimi Raikkonen, Nicholas Latifi and the two Haas cars of Mick Schumacher and Nikita Mazepin rounding out the retirement-free field.
So, it's Verstappen who landed a big blow in the championship fight against Mercedes at the Circuit Paul Ricard – traditionally the happiest of hunting grounds for the Silver Arrows after their wins here in 2018 and 2019. But can Red Bull maintain their advantage at their home track, the Red Bull Ring, in just a week's time?
The key quote
"Once we made the first pit stop, then you could clearly see on the hard tyres [the Mercedes] were pushing me hard from behind. But once we made the call to do a two-stopper, luckily at the end that paid off. We had to work hard for it, but of course, very rewarding.
"It was difficult because there were quite a lot of backmarkers to go through. But luckily they all did well and we could have a good fight to the end" – Max Verstappen, Red Bull
What's next?
Hold onto your hats because F1 cars will be back on track for Friday practice at the Styrian Grand Prix on June 25, for part two of the first triple header of the year. But can Red Bull make it four wins on the trot as Formula 1 returns to their home track, the picturesque Red Bull Ring? Tune in next weekend to find out...