Verstappen 'very proud' to score 'incredible' 50th F1 win despite brake issues in United States GP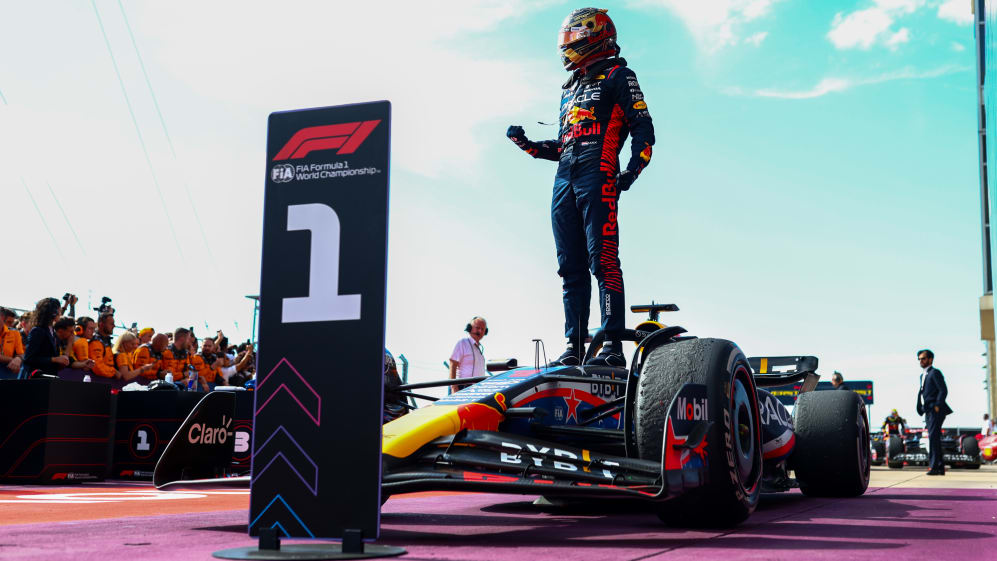 Max Verstappen says it was "incredible" to claim his 50th Formula 1 victory in the United States Grand Prix, a result that came after the world champion struggled with his brakes throughout the race.
Having started from sixth on the grid, Verstappen worked his way forwards during the early stages of the event before taking the lead from Lando Norris at the halfway point.
READ MORE: Verstappen holds off charging Hamilton to claim 50th F1 victory at the United States GP
It wasn't a completely straightforward drive from there on, though, with the Dutchman being chased down by a fast Lewis Hamilton in the final laps. Verstappen managed to hold on to P1 and crossed the line two seconds ahead of the Mercedes.
When asked after stepping out of his Red Bull whether the afternoon had been a little more complicated than normal, Verstappen responded: "Of course, it started already with starting in P6. But I think the whole race I was struggling a lot with the brakes.
"Around here there are quite a few braking points so I couldn't really have the same feeling as yesterday. So, that made my race a bit tougher out there today. You could see it was very close in the end and there were also the backmarkers. When the tyres are already going it makes it a bit more difficult."
Verstappen was forced to bide his time during the race, explaining afterwards: "You don't want to destroy the tyres but, like I said before, I was struggling a lot on the braking, so it took quite a while to at least find a bit of a middle way."
Despite the issues, the three-time title holder was thrilled to set another personal record after adding to his vast tally of wins, something that he intends to increase further in the future.
FACTS AND STATS: Verstappen joins exclusive 50-wins club as Norris closes on Heidfeld record
"It's of course incredible to win my 50th Grand Prix here as well," Verstappen said of his latest achievement. "Very proud of course and we will just keep on trying to push for more."
On the other side of the Red Bull garage, Sergio Perez ended the day in fifth place, making up four places from his starting position. However, the Mexican felt that his race had been challenging.
"It was quite tough to make progress," he reflected. "It was really difficult, especially in the beginning. I was really happy with my second stint [on] the medium [tyre], but then when I went on to the hard, I seemed to struggle a bit and it wasn't as good as I was hoping to have the pace. I was hoping to have a lot more pace left."
Perez's home race at the Autódromo Hermanos Rodríguez is next up on the calendar and he remains hopeful for what he can achieve there.
"We know we've taken a wrong direction for the weekend with the set-ups that we have to do, so I'm optimistic for Mexico," he concluded.