Report
Verstappen wins the 2022 French Grand Prix as pole-sitter Leclerc crashes out of the lead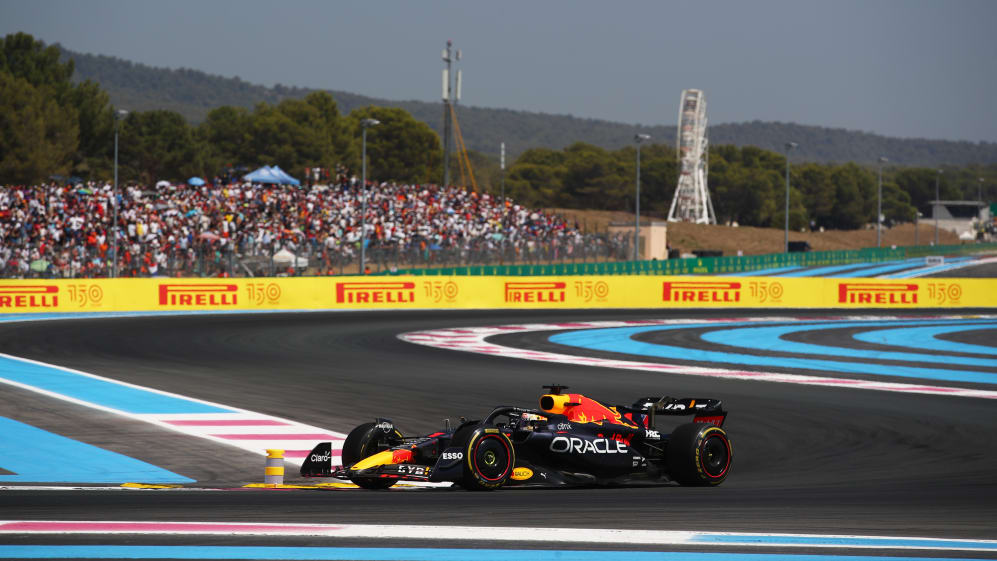 Max Verstappen won the 2022 French Grand Prix for Red Bull after Ferrari's Charles Leclerc crashed out of the race on Lap 18 – walking away unscathed – as the Mercedes duo of Lewis Hamilton and George Russell completed the podium at Paul Ricard.
High track temperatures meant tyre management was key at Le Castellet, and after Verstappen pitted on Lap 17, it was up to Leclerc to respond. A cruel snap of oversteer at Turn 11 spelled the end of his race – and cued a scream of frustration – before bringing out a Safety Car. Verstappen stayed out and inherited the lead, Hamilton and Red Bull's Sergio Perez pitting and giving chase for the restart.
Championship leader Verstappen led comfortably when the race resumed on Lap 22, opening a four-second gap over Hamilton by Lap 30 of 53 and eventually winning by a margin of over 10 seconds. Perez lost P3 to Hamilton at the start of the race and couldn't keep pace with him.
He nonetheless seemed favourite to finish third but after a late Virtual Safety Car - triggered by Zhou Guanyu's on-track stoppage in the Alfa Romeo - he lost the final podium place to Mercedes right as the VSC ended on Lap 50. Perez and Russell had previously made contact at Turn 8 – no penalties applied – in a fraught battle for the rostrum, which ended with the pair split by just 0.8s by the flag.
Driver of the Day Carlos Sainz started 19th with engine penalties, but with his Ferrari on hard tyres he made it into the top 10 by Lap 14. He pitted for mediums during the Safety Car, but an unsafe release led to him serving a stop-go penalty and pitting again for mediums on Lap 43. He passed the Alpines and McLarens to finish fifth at the chequered flag.
Alpine's Fernando Alonso passed Lando Norris early on and stayed in sixth, ahead of both McLarens for much of the race, holding them up for team mate Esteban Ocon to take P7 off Daniel Ricciardo after the Safety Car restart. McLaren started the afternoon level on points with Alpine but, with Norris finishing seventh and Ricciardo ninth, Alpine move ahead in the standings heading to Hungary.
Lance Stroll rounded out the top 10 having won out in an early battle – and last-lap scrap that threatened to boil over – against 11th-place Aston Martin team mate Sebastian Vettel for the final point.
Pierre Gasly went from hard tyres to mediums in the Safety Car restart and finished 12th, ahead of Alex Albon – the Williams driver eventually losing out to the AlphaTauri.
Alfa Romeo's Valtteri Bottas finished 14th on a hard-hard-medium strategy, while the Haas of Mick Schumacher was the last of the finishers in P15, the German having been tapped into a spin in an incident with Zhou before the half-way point.
Yuki Tsunoda spun early on having been tapped by Alpine's Ocon, the AlphaTauri driver becoming the first to retire from the race on Lap 17 with damage.
Kevin Magnussen made it from 20th to 14th after the Safety Car restart, but contact with Williams' Nicholas Latifi saw the Dane retreat to the pits to retire before Lap 40, Latifi following suit a couple of laps later.
Zhou suffered his fifth retirement of the season, pulling up just off the track to bring out a VSC late in the race.
As it happened
Just days before the 2022 French Grand Prix, it was announced that Paddy Hopkirk had passed away at the age of 89, the 1964 Monte Carlo Rally winner having carved his Mini Cooper through the treacherous Col de Turini with what Autosport at the time called a "well-nigh perfect run". To become king of Le Castellet on Sunday, Ferrari's Charles Leclerc would need to do the very same…
After all, the Monegasque would start from pole position – a healthy tow from grid penalty-hit team mate Carlos Sainz (to start P19) helping him on Saturday – ahead of championship leader Max Verstappen and Sergio Perez in the Red Bull, with Lewis Hamilton starting his 300th Grand Prix in P4. None of them would have overlooked the fact that all three of the last F1 races here had been won from pole position.
Temperatures rising, tyre management would be key – more so because the pit lane exit point had been extended by around 90 metres and the speed limit dropped to 60 km/h. Only Valtteri Bottas, Pierre Gasly and Sainz had chosen to start on hards; the rest opting for mediums as they prepared for the lights to go out.
As clutches were held and released, it was Leclerc who kept the lead, Verstappen dealing with the threat of a rapid Hamilton who jumped to third at Perez's expense and briefly pondered a wheel-to-wheel battle with the Dutchman going into the opening chicane. Fernando Alonso also enjoyed a terrific start, going from P7 to P5, to leave Mercedes driver Russell and both McLarens in his wake.
Magnussen made the most ground at the start, jumping to 13th from 20th while rivals dodged a collision between Alpine's Ocon and AlphaTauri's Yuki Tsunoda – who spun to last – two abreast into Turn 9. Ocon would soon receive a five-second penalty for that incident.
Verstappen was right on Leclerc's tail through to Lap 5, the Red Bull driver enjoying DRS as he hovered within half a second of the leading Ferrari. Perez similarly tailed Hamilton, the Mexican aiming to wrest that podium place back. As for Sainz, he didn't make headway on Lap 1 but would soon make quick work of the Alfa Romeos, Gasly, and Mick Schumacher, to reach P14 by Lap 5.
The championship leader attempted to move for the lead around the outside of Turn 11 on Lap 6 but had to back off, deciding to loom large in Leclerc's mirrors. They remained stubborn, the Red Bull still within the Ferrari's mirrors as the ticker hit Lap 10. Meanwhile, it seemed that Hamilton had opened a slight gap to Perez and Russell had begun to gain on the Mexican – an encouraging sign for the Silver Arrows…
The pit window was pried open by Magnussen, who stopped from 12th on Lap 9 for another set of hards with Haas team mate Schumacher and Alfa Romeo's Zhou Guanyu following suit a lap later.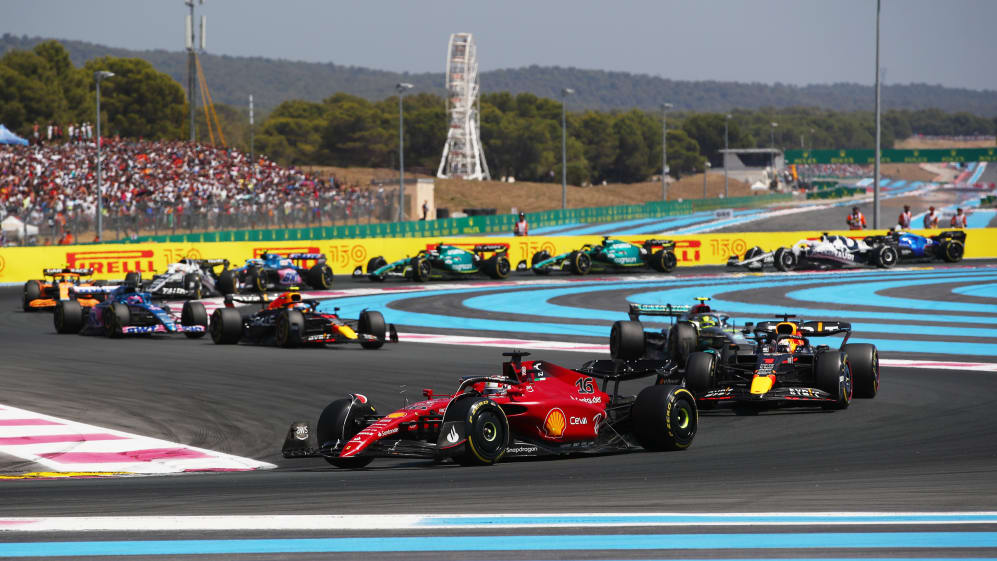 Leclerc was soon told to opt for "Plan B", Verstappen falling out of DRS range, while team mate Sainz had made it into the top 10 at Lance Stroll's expense on Lap 13. Verstappen blinked first, taking the call to pit for hards on Lap 17 and dropping from second to sixth, behind Lando Norris – though he took P5 off the McLaren at Turn 11 soon after the stop. Would Ferrari react, or opt for a one-stop strategy with their race leader?
Ferrari didn't need to concern themselves with Leclerc's strategy in the end, as on Lap 18, the leader entered Turn 11 and the rear stepped out, with the Monegasque spinning into the barriers. His race was over. Leclerc's goosebump-triggering scream over the radio evoked nothing but hurt and frustration.
The resultant Safety Car saw Hamilton pit as Russell and Perez followed, all three drivers stationary for over three seconds in their respective stops as Verstappen inherited the lead.
Everyone bar Zhou opted to stop during that caution, eighth-placed Sainz opting for mediums rather than hards along with Gasly as the others chose the hard compound. Sainz would soon receive a five-second time penalty for an unsafe release – right into the path of Williams' Alex Albon - during his Safety Car stop.
Lap 22 saw the Safety Car peel off and Verstappen lead away with ease, taking just five laps to open a gap of three seconds over Hamilton. Sainz was undeterred by his penalty and pried places off Norris and Alonso to go into fifth using the pace of those medium tyres. Next up for the sole Ferrari in the field was Russell, who lost P4 to Sainz on Lap 30 on the run to Turn 10.
Sainz was oozing confidence, his pace superior to the cars of Perez and Hamilton – who had gone off the track and clattered the exit kerbs at Turn 2 on Lap 32 – but the question remained: how long could his medium compounds last? Nine laps later, Sainz went wheel-to-wheel with Perez – shouting "not now!" to his pit wall as they asked him to box at the most inopportune time – and yet managed to take P2 off the Red Bull going into the final corner.
Russell closed in on the Red Bull on Lap 42 and made contact with Perez going into Turn 8. The Mexican retained his place, Russell's protestations shut down by his own pit wall who made it clear that he was, in fact, not ahead of the Red Bull going into the chicane. With stewards deeming it a racing incident, Mercedes boss Toto Wolff told him to 'keep his head down' and continue in the hunt of Perez, now vulnerable on his worn hard compounds.
From P3 on Lap 43, Sainz served his five-second penalty for the previous unsafe release and took a new set of mediums. Now he had another recovery drive to make with the Alpines and McLarens ahead.
The race was then neutralised as Zhou had stopped just off the track, bringing out a Virtual Safety Car and a fifth DNF for the rookie. That VSC finished just as Verstappen started Lap 51, Russell still in chase of Perez for the final podium.
Russell's next move was nothing short of cunning, as he swept past a slow-moving Perez almost instantly out of the final corner and stayed ahead. Perez attempted to hit back, noting that Russell was pushing the boundaries of the track on numerous occasions, and very nearly reclaimed P3 off the Mercedes. In the end, he finished just 0.815s behind Russell.
Verstappen, meanwhile, led comfortably until the end of the race with an eventual margin of 10.587s over runner-up Hamilton. The Dutchman now has a 63-point lead over team mate Perez in the drivers' standings. With a double-podium finish, Mercedes are just 44 points behind Ferrari in the constructors'.
Sainz easily took places off the Alpines and McLarens to finish fifth on the road, salvage some points for Ferrari and take Driver of The Day honours too.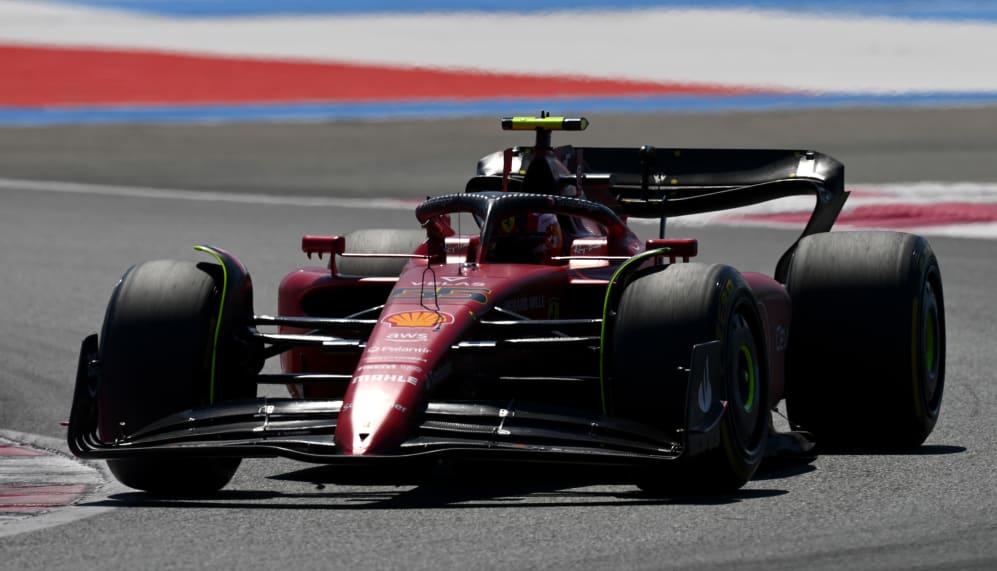 Alonso jumped to P5 for Alpine at the start but lost a place to his compatriot Sainz at the end, the two-time champion finishing comfortably ahead of the McLaren of Norris in P7. Alpine and McLaren were level on points before the French Grand Prix, but the home team forged ahead in the battle for P4 in the standings.
Eighth-placed Esteban Ocon shrugged off his early penalty and passed Daniel Ricciardo for P8 on Lap 7, placing the next McLaren of Lando Norris in his crosshairs. The Frenchman, however, lost time on the Safety Car restart and ended up back behind the orange cars on Lap 22. The home driver then passed Ricciardo again on Lap 36, leaving the Australian ninth.
At Aston Martin, Stroll pried a place off Vettel at the start and held him off in a Lap 1 wheel-to-wheel battle that reared its head again on the very last lap of the race, both cars tussling for the final point in a skirmish that was won by the Canadian. It very nearly turned ugly, however, the pair almost making major contact.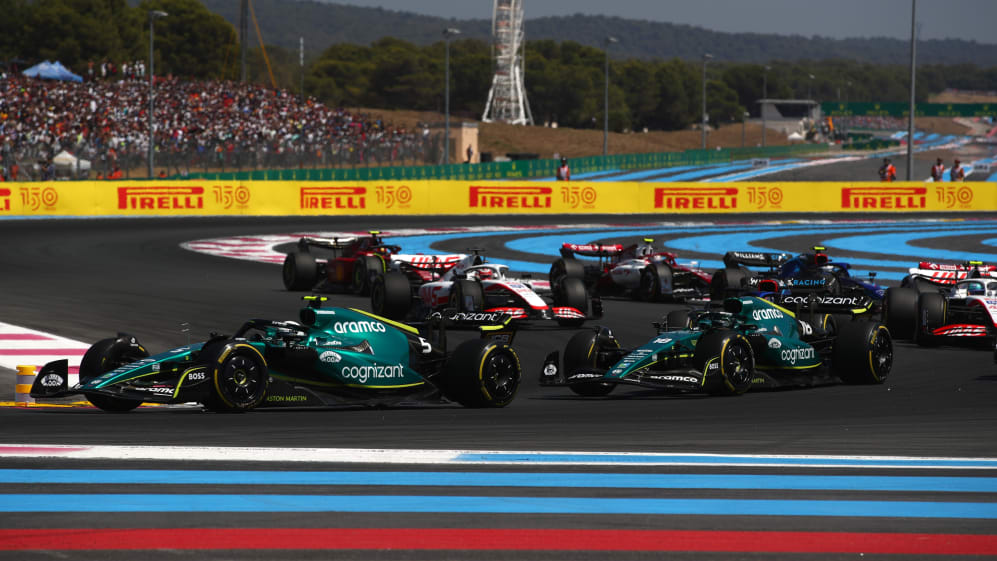 Home driver Pierre Gasly lost time as he outbraked himself at Turn 8 on Lap 28 in chase of Alex Albon, having to take the escape road, and fell from 12th to 15th. But, having completed a hard-medium one-stop race, the AlphaTauri driver recovered back to 12th as Albon also made a mistake late on to finish 13th for Williams.
Valtteri Bottas's hard-tyred start didn't pay off as he switched to another set of hards in the Safety Car period, then mediums 18 laps later, to finish 14th for Alfa Romeo. Fifteenth-place Haas finisher Mick Schumacher was tapped into a spin by Zhou at Turn 11 on Lap 22 – soon after the Safety Car. After being penalised for the clash, Zhou eventually stopped on Lap 50 with a mechanical failure and was classified 16th.
Williams' Nicholas Latifi attempted a move on Haas's Kevin Magnussen on Lap 38, but with the Dane having run out of room, the pair made contact. Magnussen retired in the pits, Latifi following suit soon after, with the stewards deeming the clash a racing incident.
Tsunoda was the first driver to bow out of the race thanks to his early collision, meaning neither AlphaTauri scored points with their updated cars in France.
So as Mercedes took their first double podium of the season, Verstappen stretched his championship legs at Paul Ricard – but the headlines will focus on Leclerc and Ferrari faltering in France.
Key quote
"I mean I think we had really good pace from the start," said race-winner Verstappen. "I was putting pressure on Charles but following around here with this heat, the tyres are overheating, I could never really go for a move, only once into Turn 11.
"But we just tried to stay calm, try to stay close. Of course, we pitted a bit early and from then onwards you never know how the race is going to go. But the car was quick today, and of course unlucky for Charles – I hope he is okay.
"From there onwards I just did my race, looked after the tyres, and because of the pit lane of course being so long, you couldn't do another stop, so you had to stay out, but the tyres were wearing a lot. It was all about looking after the tyres until the end."
What's next?
The 2022 Hungarian Grand Prix takes place next weekend on July 29-31 to cap off this double-header – with Leclerc staring down a deficit of 63 points to Verstappen and Ferrari seeking to reduce Red Bull's 82-point lead.