Vettel and Hamilton relishing prospect of title showdown
Ferrari's Sebastian Vettel and Mercedes' Lewis Hamilton say they would 'love' to battle each other in a fight for the 2017 Formula One drivers' crown.
Though both have been in F1 racing for around a decade, their only full-season championship duel came in 2010, when they were among four drivers who entered the final round with a chance of the title.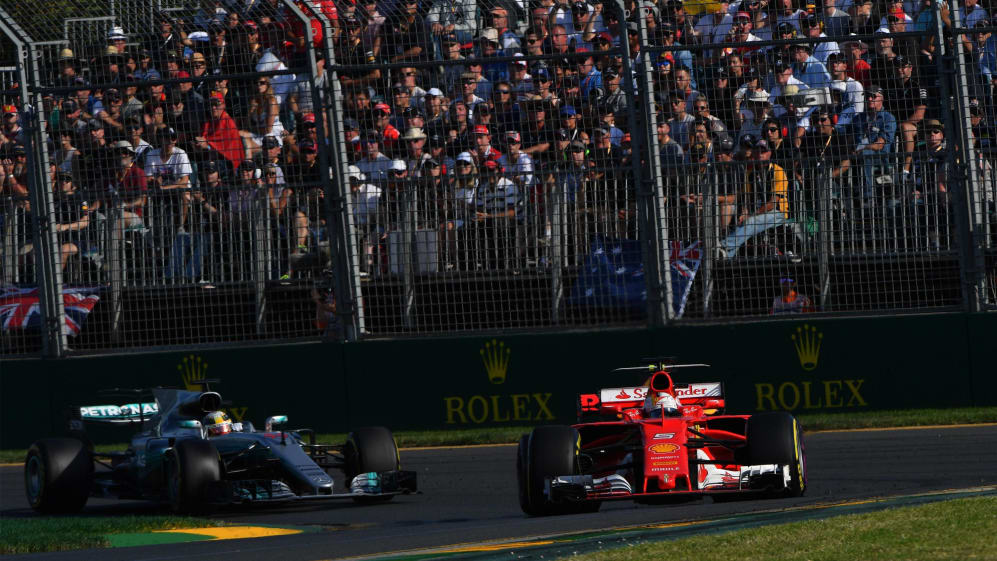 Right now it looks like we have equal machinery... I hope it stays that way
But after narrowly beating Hamilton to victory in Sunday's 2017 opener in Australia, Vettel admitted he was very excited at the prospect of a renewed season-long showdown with a man he regards as 'one of the quickest drivers on the grid'.
"For sure I would love to have a close battle," Vettel told reporters in the wake of his triumph at Albert Park.
"Right now it looks like we have equal machinery. I hope it stays that way and then we will see how it turns out.
"It's obviously a lot of fun to race for victories and a lot of fun to race against the best.
"I have great respect for Lewis - he's proven to be one of the quickest drivers on the grid, very talented but also working hard."
Hamilton said such respect was mutual, and that it was an honour to potentially square off against the four-time champion for silverware this year.
"It's been a privilege to be racing in an era with [Vettel] and we're now finally at a period of time when we can actually have a real race," he said.
"I think the fact that we are similar pace-wise… it's going to be a very, very hard slog this season I think.
"It's going to be physically and mentally demanding but as Sebastian said, racing the best is what Formula One is all about.
"I have an incredible amount of respect for Sebastian and what he's achieved in his career. And ultimately [that] makes you work that much harder, having to raise the bar - and I'm looking forward to that."
Sunday in Australia was only the 13th time that Hamilton and Vettel have finished one-two in a Grand Prix - and the first time Vettel has led the championship after the opening race since his dominant 2011 campaign with Red Bull.